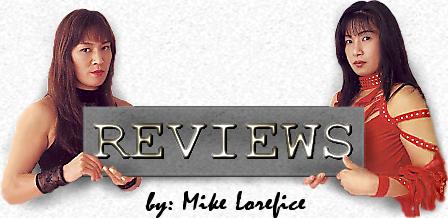 DSE SKY PerfecTV! LIVE SPECIAL PRIDE SPECIAL
Otoko Matsuri (Man Festival) 2006 -Fumetsu-
PRIDE FC Shockwave 2006
12/31/06 Saitama Super Arena
Shinya Aoki vs. Joachim Hansen R1 2:24. I'm not used to Hellboy being made to look as bad as a Guillermo del Toro video game. Aoki got the takedown and tried for the armbar when Hansen gave his back, but Hansen took the top. No matter, as Aoki used his rubber guard to prevent Hansen's offense and quickly worked into a gogoplata for the win.
Mauricio Rua vs. Kazuhiro Nakamura 3R. I expected a much different fight. Nakamura is a judo expert who does punch hard, but basically stands right in front of his opponent with an open stance, presenting a big target. I thought Shogun would take him apart in standup, but he did his best to avoid standup, wasting tons of energy battling the judoka in the clinch game. Rua did get repeated takedowns and had no trouble passing to side mount, but Nakamura would soon scramble back to his feet without getting hurt. Nakamura landed some good punches here and there, and eventually he was so far behind he was forced to let Shogun up and go for the knockout. Nakamura pushed off the ropes with an explosive leg sweep takedown, but Rua popped right back up. That was the story of the fight for Nakamura, as any advantage was brief. However, he did a good job of thwarting Rua with his defense, staying with Shogun enough to keep it competitive. Though there wasn't a lot of damage or near submissions, Rua's fights are always entertaining due to his manic pace. He didn't seem to have his usual stamina here, but that's probably due to burning so much energy in the clinch game. In any case, unless he keels over, being tired never slows Rua down. Rua won a unanimous decision. Good match.
Gilbert Melendez vs. Tatsuya Kawajiri 2R. Their wrestling largely negated each other, so they had a boxing match, throwing harder as the fight progressed. Kawajiri has more punching power, but Melendez has a really effective jab. Fast-paced but lacked the dimension I was hoping for. Melendez won a unanimous decision. Above average match.
Kazuyuki Fujita vs. Eldari Kurtanidze R1 2:09. Kurtanidze was a freestyle wrestling Olympic bronze medalist in 1996 & 2000. This was his first MMA fight, and unfortunately he has no idea how to fight standup. He used this bizarre stance where his left arm was stiff and pointing at the opponent, looking like an action figure that was posed by someone who never saw any type of fight. Once Fujita identified this awkwardness, he abandoned any ideas he may have had of matching wrestling. Fujita stuffed Kurtanidze's shot and landed a couple of uppercuts from ½ clinch then finished Kurtanidze on the ground.
Takanori Gomi vs. Mitsuhiro Ishida R1 1:14. Gomi has such quick hands. Ishida tried a left middle kick, but Gomi just decked him with a left straight while he was recoiling for the KO.
Hidehiko Yoshida vs. James Thompson R1 7:50. Added 10 days before the show, Yoshida was in even lamer condition than usual. Other than not being very talented, Yoshida's big problem is he tries to fight at heavyweight. I mean, he's shorter than Anderson Silva and may walk around lighter. Thompson is terrible, and was brought in as the least talented big oaf they could serve up. However, even though he doesn't have a clue how to use his size, simply being at the top of the heavyweight division weight wise can quickly burn out even smaller fighters who actually are in shape. At the very least, Thompson's opponents have to carrying his weight and try to push it around. Yoshida was pushing and throwing The Debt Collector around early, in fact the fight was complete domination until he blew up. A quick takedown led to armbar, kneebar, and Achilles' tendon hold attempts. After laying into him with his fists, Yoshida got another takedown and tried a Kimura. Thompson made a comeback, knocking Yoshida down with a right, and Yoshida was so gassed he never recovered. Yoshida took a lengthy break when Thompson pushed him through the ropes trying for a takedown, though given Thompson landed a footstomp well after the ref told him to stop so they could untangle Yoshida, I don't blame him. The rest didn't help, as when Yoshida finally started fighting, Thompson brought some clinch knees and finally knocked Yoshida down with a left hook. Thompson mounted, but the ref stopped it because Yoshida was too tired to defend himself. A wild back and forth fight that was entertaining albeit sloppy. Good match.
Antonio Rodrigo Nogueira vs. Josh Barnett 3R. The rematch of their 9/10/06 PRIDE Final Conflict Absolute split decision was another high quality toss up. Nogueira was unhappy with his loss in the first fight, but may have gotten lucky here, as though he won the final 6 minutes, Barnett won the first 14. Most of the first round was boxing with Barnett disguising his right hand well and throwing it really quickly, particularly scoring with the overhand right. Nogueira was losing the boxing and already cut, so he changed it up with inside leg kicks and knees. However, Barnett quickly came back with a modified Death Valley bomb and brought knees from side mount. Nogueira swept when Barnett set up a guillotine, and he was the one that was noticeably bleeding between rounds. Despite Stitch's best efforts, Barnett was still leaking blood from his nose at the start of the second. Nogueira's boxing gets better as the fight goes on, and he finally began to slow Josh late in the second with a left hook and big knees, but Barnett was scoring with a good body jab. Nogueira hurt Barnett with a punch combo and Thai knees then tried for the takedown, but Barnett guillotined him. Nogueira eventually willed his head out, but this was the only legitimate submission attempt of the fight. Since PRIDE gives more credit to the end of the fight, I'd probably call it a draw. I was surprised one judge didn't rule for Barnett, but in any case both fought really well and neither deserved to lose. I'd definitely like to see a deciding bout in this feud. Good match.
PRIDE Heavyweight Championship: Fedor Emelianenko vs. Mark Hunt R1 8:16. Hunt is a tough guy you knew had a chance in standup, but he's obviously really taking MMA seriously. He showed a lot more all around game than I was expecting, actually able to take Fedor down and get a legitimate submission opportunity. This was a much tougher fight than Fedor usually has, with Emelianenko actually behind for the majority after a quick start. Fedor's takedown skills are amazing though. No matter how big the opponent, he seems to be able to go high on them and spin them down almost immediately. Fedor tried to swing into the cross armbar from mount, but missed getting his leg over Hunt's head. He was still able to extend the arm while on his stomach. Hunt escaped into side mount, but the only good punch Hunt got in was an illegal blow to the back of Fedor's head when the champ was getting up. Hunt landed a few good punches then took Fedor down and applied the Americana twice for a near submission, but Fedor got back to his feet when Hunt transitioned to full mount. Fedor spun Hunt down again and Kimura's him for the win. Good match.
BACK TO QUEBRADA REVIEWS


* MMA Review Copyright 2008 Quebrada *