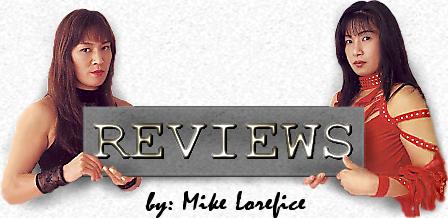 OZ Academy Puroresu King #113 3/15/07 OZ Magic
taped 2/10/07 Tokyo Shinkiba 1st RING
Dynamite Kansai vs. Sonoko Kato 4:21. Good short match. Stiff and well executed. Kansai was on, and Kato is returning to her impressive old form. Kato tried to trade kicks with Kansai, but Dynamite was taking Sonoko's bad knee out. Kato's offense began to stem from Kansai's missed strikes, but Kansai was knocking Kato off her feet with each connection. Kansai got the win, but was impressed with Kato's effort, shaking her hand and patting her on the back. This drew the ire of Ozaki & Kong, who attacked, starting an impromptu match.
Mayumi Ozaki & Aja Kong vs. Dynamite Kansai & Sonoko Kato 16:43. Good story match, but one-sided by nature. The first 10 minutes were somewhat dull as Ozaki & Kong picked on Kato to make sure Kansai understood Sonoko wasn't worthy of any good will, or even pity. Aja, in particular, bullied Kato, who was still reeling from the last match, while taunting Kansai. Kato finally made the hot tag, leading to a fairly even and entertaining final 6 minutes. Kansai got the best of the opposition, though only by a little. It was better when she was in, if only because it was a competitive match where they countered back and forth. Once Kansai put Kong & Ozaki down, she gave Kato another chance. Kato's knee wasn't up to the task though, getting submitted in a hizajujigatame. ***
THE WIZARD OF OZ OZ Academy Openweight Title League Match: Aja Kong vs. Carlos Amano 10:00. Considering the talent involved, the match was amazingly bad. It was very contrived and totally one-sided match, lacking rhythm and reason. Kong was being lazy, just methodically taking Amano apart. The wasted a lot of the match brawling around ringside, but it wasn't any better in the ring, as the transitions were so contrived. Amano finally came back with a sankakujime, which the announcers compared to Antonio Rodrigo Noguera vs. Bob Sapp 8/28/02. Amano made things corny, and that lame no touch headbutt isn't helping things. 1/2*
BACK TO QUEBRADA REVIEWS


* Puroresu Review Copyright 2010 Quebrada *