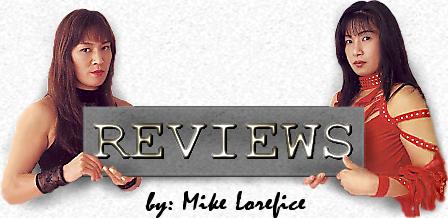 OZ Academy #9 9/20/03
~Mayumi Ozaki Produce~ One Night Summer Jumbo Tag Tournament
taped 8/31/03 Tokyo Korakuen Hall
Mayumi Ozaki & KAORU vs. Takako Inoue & Michiko Omukai 18:00. This is exactly the sort of brawl Ozaki shouldn't be doing, the kind of all show and gimmick but no intensity or meaning nonsense that she worked against in her prime, but has succumbed to since teaming with KAORU. There needs to be some sense of genuine hatred or malice if you are going to go as far as to hang someone by a chain, but this was all posing to the point of being difficult to take seriously, much less care about. If you like matches that meander endlessly for the sole purpose of exhausting every weapon, this may be your thing, but I was having trouble keeping my eyes open. *1/4
Lioness Asuka & Aja Kong vs. Carlos Amano & Mima Shimoda 14:41. Started goofy with logic such as Amano & Shimoda deciding since they were hurting their head giving Aja single headbutts, the solution was a double headbutt! Luckily, they got more serious as the match progressed, and everyone wound up making a pretty fair showing. They are capable of a lot more, but in the end, it was good enough for a 1st round match. Kong seemed to take it more seriously than the others, giving her typical solid performance. Shimoda was the most active, but a bit more erratic than she usually is in tag. **1/2
Shinobu Kandori & Eagle Sawai vs. Devil Masami & Kyoko Inoue 6:40. More or less a singles match between Sawai & Inoue. They worked well together a decade ago, and this started out promising enough, but then just ended out of nowhere.
Chikayo Nagashima & Etsuko Mita vs. Chigusa Nagayo & Dynamite Kansai 7:54. It took Nagashima all of 1 minute to rise to the level of being the best wrestler of the day. If you aren't going to do stiffness and psychology, you better be able to move and control your body, and that, in addition to speed and quickness, is what Chikayo brings in spades. She single handedly made the match, alternating between bumping like crazy and doing nifty counters to the old girls power moves. Kansai & Nagayo stepped it up because Nagashima wasn't allowing them to get away with being lazy. Mita had limited involvement, but that wasn't really a bad thing. It was short, but what you want with Nagayo & Kansai is quality, if they can still provide any, and Nagashima greatly raised the level of the opposition en route to making it a fairly entertain little match. **1/2
Tournament Semifinals:
Mayumi Ozaki & KAORU vs. Aja Kong & Lioness Asuka 15:20. Asuka is guilty of a lot of the bad brawling mentality I was complaining about earlier, but she is such a talented worker she makes it seem a skillful variation of the normal workrate match. KAORU was far more effective than in her first round match because she took on the role of the flyer amidst the brawlers rather than focusing on her table wielding. Not that I'm thrilled by KAORU the spotfu fighter, but unlike her brawling, her execution of aerial maneuvers have never been in question. Asuka always tends to work hard with KAORU because she knows KAORU is a very capable worker who wants to put on a good show, but KAORU tends to bring out the worst in Asuka, always getting her in top this mode. I thought Asuka was pretty effective here though, as although she was predictably spot happy, she was mixing the spots rather than exhausting the finishers or getting so crazy with the gimmicks both would be dead halfway through the match. The problems with this match had little to do with Asuka or KAORU, but rather that Ozaki was rather sloppy again, and Aja, while not doing anything wrong per se, also wasn't really adding anything to the match. **3/4
Chigusa Nagayo & Dynamite Kansai vs. Shinobu Kandori & Eagle Sawai 0:17. I can't say I'm heartbroken that they didn't go 15 minutes, but they might as well have given Kandori & Eagle a bye to the finals as had Kandori submit Kansai in the blink of an eye.
One Night Summer Jumbo Tag Tournament Final: Mayumi Ozaki & KAORU vs. Shinobu Kandori & Eagle Sawai 13:03. At this point I should mention that while I don't mind brawls, they do start to get rather tedious when Nagashima is the only one doing a straight match the entire night (unless you count the semifinal which was simply a submission). It's not the genre, but rather the style where you get blood in every match, but there's no real drama or anything to make you believe in what they are doing. I expect more from Ozaki than simply wielding a chain and getting outshined by KAORU, who was good. Ozaki was okay in this match, but she needs to be better in a tournament final. I hoped Kandori was saving it for the final considering she really didn't participate in the 1st two matches, but again she was just kind of there, carried by Eagle who was just adequate but deserves credit for at least working hard in the two actual matches. *3/4
BACK TO QUEBRADA REVIEWS


* Puroresu Review Copyright 2010 Quebrada *