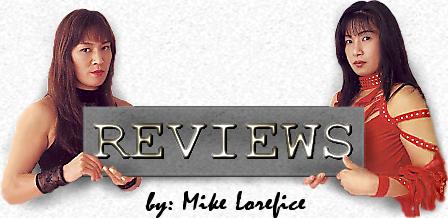 Pro-Wrestling NOAH "Departure 2004" 7/10/04 T˘ky˘ Dome
by LUKI
I want to sail upon the seven seas
I want to see the great kings rule again
--Therion, "Land of Canaan" (Sitra Ahra, 2010)
1, 20/1. o-Momota Mitsuo vs x-Eigen Haruka (8:03) kaiten ashi-ori-gatame
Momota and Eigen have wrestled against each other literally hundreds of times. To date in 2004 alone, this is their fifteenth singles match. This didn't vary from what they always do: something akin to a serious match within the limitations of their creaky bones with some expectoral comedy spots from Eigen. The interesting thing is that they genuinely know what their doing. Eigen carries first but Momota gets fired up from a headbutt; they go back and forth until Momota manages a leg-roll cradle. This was a real match, just between old guys who can't move as well as they used to. Not your ideal hot opener, but it's something of an old All Japan and NOAH tradition. *Ż
Is it perhaps intentional that Eigen, a known ranking yakuza and Momota, the son of the father of Japanese wrestling, Rikid˘zan - who mythologically cursed the yakuza with his dying breath after they murdered him in his nightclub - would be declared "eternal rivals?" I'm casting quite a darker pallor over this silly little old guy duel by asking such a question, but it is a miasma that hangs over their unending series whether it is spoken or not.
2, 30/1. Honda Tamon, o-Izumida Jun & Kikuchi Tsuyoshi vs Inoue Masao, x-Kawabata Kishin & Aoyagi Masashi (10:58) pinfall (Funyű Domu)
Speaking of old All Japan traditions, we get another one here: a rousing round of Destroy the Kikuchi. He gets the most ring time, Honda easily the least. When Kikuchi finally manages to tag out after getting wailed upon by both his opponents and himself (due to utterly unnecessary headbutts), the go home stretch is between Kawabata and Izumida. The latter gets beaten upon the moment he tags in, but makes a comeback and gets the win. I'll be frank: this was just a digression to get these guys on to the card. The most entertaining part of this was Aoyagi acting like he couldn't understand Kikuchi - even after Kikuchi gets on the house mic. Years of those headbutts has indeed made his speech difficult to understand. **
3, 30/1. Suzuki Kotar˘ & x-Ricky Marvin vs Michael Modest & o-Donovan Morgan (11:55) pinfall (Day After Tomorrow)
Modest and Morgan used to be American indy junior types - Modest even held NOAH's junior heavyweight title in 2003. Of late, however, they have both been packing on the carbs to such a comical degree they seem to be aspiring to look like Vader - and they fight accordingly. Since Kotar˘ and Marvin have not inflated like Violet Beauregarde, in theory this is your traditional duel of power vs speed. In practice, the bulk of the match is an American-style gang raping of Ricky. After four straight minutes without offense, he does get the hot tag, but Kotar˘ immediately gets dropped and the gaijin keep control. For the final couple minutes Kotar˘ and Marvin get some Mexican-style unison offense that really gets the crowd going, both teams trade finishers but in the end and without much drama Ricky goes down to a dreary looking double team - sort of a military press choke slam. It really is funny seeing Modest and Morgan wrestle like they're both suddenly 7'5", 450 pounds. **
4, 30/1. Sait˘ Akitoshi & x-Hashi Makoto vs Scorpio & o-Richard Slinger (16:44) pinfall (Chattanooga Choo-Choo)
Even during these golden years, NOAH's undercards were notorious for their irrelevence. Though we're at the T˘ky˘ Dome, that tradition continues. Structurally speaking, this was drearily typical: Slinger gets isolated until he bridges out of a pin joshi-style and hits a stunner and the hot tag. Then the gaijin isolate Hashi until Akitoshi can tag in and they go back and forth with nearfalls. Here though, they should be called farfalls because the referee counts slow even by NOAH's standards. In the end, the guy who probably took the most damage is the one to lose. Scorpio had the least ring time, participating only to do some flippy signature moves. Slow paced cookie-cutter matches of needless length such as this are why it became fashionable for NOAH crowds to not even show up until after intermission. **
5, 30/1. Taue Akira & o-Sano Takuma vs Ikeda Daisuke & x-Mohammed Yone (10:45) pinfall (nadare-shiki Hokuto Bomb)
Right out of the traps Yone scores with a flying back heel kick (called Rolling Thunder when he does it) on Sano but the PRIDE veteran immediately comes back with his tactical nuke rolling savate kick and a backdrop suplex that lands Yone right on his head. And that's your story: Yone gets utterly obliterated. After a hot tag, Dai-chan somewhat avenges his partner by dropping Sano on his head with a Death Valley, but NOAH tends to book Sano as invincible (on the midcard, anyway) so he soon kicks out of Yone's finisher. Taue takes care of Ikeda so Sano can finish the pounding he gave Yone at the beginning and that's that. You never really got a sense that Ikeda and Yone had a shot. Taue and Sano's moves - no matter what they did - were presented as simply being stronger than whatever the other team did. This was much hotter action than the rest of the undercard, though. **Ż
6, 60/1. GHC Junior Heavyweight Tag Title (1st,7): o-ę Marufuji Naomichi & KENTA vs x-Sugiura Takashi & Kend˘ Kashin (22:26) pinfall (nadare-shiki Shiranui)
Even before they won the tag title tournament a year ago, defeating Jűshin Thunder Liger & Murahama Takehiro, Marufuji & KENTA have dual-handedly made a legitimate case for the superiority of NOAH's junior heavyweight division. Since becoming the first champion team, the pair have made six defenses, most of which were genuine highlight matches. Now, they get to show off their elite, pyrotechnic skill on the biggest stage.
Unfortunately, that stage is irrationally shared by Kend˘ Kashin. In a year's time he would be largely responsible for ROH's worst ever show and earn the well-deserved ire of dozens of Americans, but here at the Dome his lazy, unfunny act is utter delight to the capacity crowd. However much he made from this booking was "earned" by inappropriate comedy and a grand total of no more than 10 moves. Though he and Marufuji began the match with a fast, shimmering sequence of ground reversals and cradles - showing that the comedian may actually possess some skill - after that he had no interest in using any of it.
This was played under Marufuji & KENTA's typical formula, but severely truncated. For the first half, Marufuji gets isolated, Sugiura does all the damage and Kashin ejaculates himself into the match solely for bad comedy. He argues with Sugiura, steals the man's finisher (which causes Sugiura to break up the pin), even hits a deliberately hideous looking Shiranui on Marufuji - but at no point does he genuinely work. He's getting paid to be at the T˘ky˘ Dome, and he's just damn happy about it. Why on earth should he ruin that happiness by breaking a sweat?
Once Marufuji manages the hot tag after a beautiful Toyota Manami-like sunset flip followed by a savage thrust kick, the match is able to pick up steam like is usually seen in a MaruKEN title defense. The action is fast and the spots are big, including Marufuji getting dropped on his face from a belly-to-back suplex. In the end, Marufuji brutally botches the Shooting Star Press - he doesn't even flip over - so he calls an audible and does the avalanche Shiranui. Maru is good enough that most of the time even his botches aren't disasterous (here it just looked like a senton) and his recovery into the improvised finish was so smooth the drama of the finale was not much damaged.
Ultimately, this match was entirely Marufuji Naomichi. KENTA's involvement was for fast moments of explosive striking and blocking Kashin while Marufuji and Sugiura ostensibly had a singles match. If a real worker were involved and not Kend˘ Kashin, KENTA would have been able to do more. But because of (very likely) tattooed manipulation, the dog comedian's forced insertion relegated KENTA to a support role even more than usual. Indeed, Kashin's presence very nearly derailed the whole match. It's a testament to Marufuji's quality as a worker that things didn't fly apart at the seams. Credit should also be given to Sugiura. Marufuji carried him, but he played his power-fighter role exactly as it should be played so that the biggest nearfalls came from his spots with Maru. Though it's disgusting that we need to meditate on why Kashin was involved and fantasise about how good this could have been without him, the best find a way to make even unfortunate situations work. That's what Marufuji did, and by doing so earned the match a standing ovation. ***Ż
7, 60/1. GHC Junior Heavyweight Title (8th,6): x-ę Jushin Thunder Liger vs o-Kanemaru Yoshinobu (17:36) pinfall (Touch Out)
Liger won his infinityeth championship on his first show of 2004, New Japan's 1/4 T˘ky˘ Dome extravaganza, defeating Sugiura Takashi to become the 8th GHC Junior Heavyweight Champion. After defending against fellow New Japan wrestler Naruse Masayuki and the bottom of NOAH's batting order in Momota, Hashi, Kotar˘ and Kikuchi, Liger is back at the Dome to face the 1st and 5th Champion, Kanemaru - NOAH's proclaimed junior ace and easily the biggest test of the six-month reign.
And yet Liger does not get tested. Not by Kanemaru and certainly not by himself. Though Kanemaru charges from the bell, Liger wins the ensuing sequence of dodges to get a 2.5 nearfall with the Liger Bomb a scant 14 seconds in. Kanemaru comes right back with a vertical brainbuster that sends Liger retreating. The veteran apparently needs five straight minutes to recover from a single sequence of 20-odd seconds, so Kanemaru's only genuine stretch of "control" are clear, cynical, lay on the mat in a headlock so the 40 year old doesn't die rest holds. Once his breath has recovered, they bust out another nice dodging sequence that leads to Liger's signature koppo-abise-geri and a baseball slide dropkick. Kanemaru flops on the floor until a count of 19 so Liger can recover. Thereafter, the match is very little more than Kanemaru kicking out of finishers. He literally gets no momentum - the story is entirely him withstanding Liger's signature offense. In the end, Kanemaru drops him with his own vertical brainbuster and pulls him back up for a spinning version to get the win and send the crowd roaring into ecstasy, but my goodness was this a lazy effort. Liger definitely has a lot of miles on him, yes, but this was a major championship match at the T˘ky˘ Dome - not the opening match of Slamboree or some such rot. 40 years old or not, if you can't raise your game for something like this, pack it up. Effective though it is at making marks pop, the babyface-gets-killed-and-wins formula is one of the laziest in all of professional wrestling - no matter how professionally it is accomplished. ***
8, 60/1. IWGP Tag Title (46th,3): ę o-Takayama Yoshihiro & Suzuki Minoru vs x-Morishima Takeshi & Riki˘ Takeshi (12:55) pinfall (Everest German Suplex Hold)
Morishima and Riki˘ - Wild II - held the GHC tag title seven months in 2002 but haven't had much success teaming together or in singles competition since. Meanwhile, perennial big deal freelancers Takayama and Suzuki get pushed wherever they go and won their current title by defeating Tenzan Hiroyoshi and Nishimura Osamu in February. Incidentally, the last time Wild II won gold, they defeated a Takayama team to do it. As is custom, the NOAH fans savagely boo New Japan's Kimura Kengo as he reads the title proclamation. Unlike in 2003, though, he gets through it without stuttering.
These guys must have been sitting in the back watching Liger's performance and collectively said "pfft, that's nothing!" and went to the ring utterly inspired. Looking through the staid Japanese tough guy face slap shoulder tackle stuff that constituted the pith of the action, this was pretty much just an old-fashioned American jobber match for Takayama & Suzuki. The challengers were allowed nothing that would make anyone imagine they had a shot and the match ended the moment Takayama could hit his regular finisher. No one distinguished themselves - Takayama really can't because he's atrophied and lazy, Riki˘ isn't particularly talented even within his basic "super-heavy" move set, Morishima got very little ring time and Suzuki was content to prance around like a pro-wrestling version of Lyoto Machida. This was the shortest title match on the show, but felt like the longest. Perhaps NOAH sacrificed two of their mid-carders just to make New Japan's title look like rubbish before the GHC match? **
9, 60/1. GHC Tag Title (8th,4): ę o-Misawa Mitsuharu & Ogawa Yoshinari vs Mut˘ Keiji & x-Taiy˘ Kea (21:46) pinfall (henkei Emerald Flowsion)
During his entrance, Misawa clearly restrained himself from bursting into an ear to ear grin at the sight of the roaring Tokyo Dome crowd. Perhaps reading some of Misawa's thoughts, the NTV commentator says "No, this isn't a dream!"
The living legend and his chum Ogawa entered into their second reign as tag champions on 1/10, defeating New Japan's Nagata and Tanahashi. They've defended the title three times already in 2004, including once in - inexplicably - San Leandro, California. Mut˘ and Kea have teamed together on and off in their home of All Japan, but have had no part of that company's rusty and ignored tag team division. The purpose of this match isn't so much the championship, but company presidents Misawa and Mut˘ facing each other for the first time. Judging by the crowd reaction, many of the fans are there to see just exactly that!
The fans of NOAH are in such joy at their beloved company being on top of the world that they are hot for this entire show. The energy was such that NOAH could have had a puppet show and everyone would have gone home happy. This was better than a puppet show, but we didn't get much more than the mission of getting Misawa and Mut˘ in the ring together. The two had a handful of cute pre-generated spots designed to make the fans happy, such as trading finishers at the beginning of the match and later, Mut˘ giving Ogawa the Emerald Flowsion while staring down Misawa, only to have Misawa charge into the ring and give Mut˘ the Shining Wizard. Everyone loved stuff like that, and that was exactly the point.
As for the match beyond the thrill of the two legends meeting for the first time, it was pretty standard. Ogawa plays the natural role of punching bag - his only real offense coming from double teams with Misawa. On the other side, Kea had a strong presence, winning strike trades with Misawa and even kicking out of the Emerald Flowsion before being dropped by a new version of it immediately thereafter. If you had to give an award purely for workrate, Kea easily gets it. His partner, meanwhile, would tag in, do a rest hold then tag out - which has to be a comedy match spot, somewhere!
I don't think anyone expected this to be an epic. The Misawa-Mut˘ "dream match" concept never felt like anything other than a bonus on the card. Unlike what Misawa would do with Kojima eight days after this show, there were no plastic attempts to recreate some kind of halcyon super-era. This was all about giving an eager crowd some candy before the real epic main event. By those qualifications, they succeeded in exactly what they set out to do. ***
10, 60/1. GHC Heavyweight Title (6th,9): o-ę Kobashi Kenta vs x-Akiyama Jun (35:34) pinfall (Burning Hammer)
We come now to the biggest single event in NOAH history: the main event of their biggest-ever show featuring arguably the two biggest rivals fighting for the championship. An occasion such as this warrants a true epic. Other wrestlers and promotions in other places might coast on "the moment" but these two went out with one thought on their minds: Match of the Year. It is a testament to just how seriously Kobashi and Akiyama take their craft that they not only fulfilled that goal, but perhaps even exceeded such lofty expectations - and did so without any regard for their own future. This was the highest plane, the sole Moment that exists outside time and space. Of course they wanted to show the whole world what Pro-Wrestling NOAH was all about, but to these master craftsman the Alpha and Omega of the occasion was simply The Match.
And what a match it was. The psychology, the "story" was simple: two guys are in the ring. Each wants to defeat the other. No contrivances, no affectations, no amateur theatrics. One wins, one loses, and the championship is the goal. Though both guys have quite a few miles on them - especially Kobashi, whose knee issues are well documented - at no point did you ever get the sense that they were taking it easy or slowing down. Their conditioning was excellent and their energy management was so good the slow parts did not feel like rest spots but were moments of maximum tension and grinding fortitude. The realism of the encounter was shown not just in their choice of moves, but in their grim faces: a single askance look from Kobashi sells more than any exaggerated shrieking, groaning or limping ever has. Such exaggerations are not needed when the best are at maximum power. Their sense of dramatic plotting and acceleration was virtually perfect; as the match progressed the stakes kept getting raised higher and higher, the action fiercer and faster, showcased by some truly brutal spots from the apron to the floor, savage attacks on each other's head and neck and a furious sprinting sequence near the end where they traded half-nelson suplexes and Exploders, Akiyama only giving in when Kobashi managed a brutal lariat. Each had sustained stretches of domination; when a comeback was accomplished, it always advanced the match to another level. For the final blitz of action, Kobashi regained momentum with the stiffest, most brutal vertical drop brainbuster you'll ever see, but Akiyama proceeded to kick out of the gouwan lariat and moonsault press before finally, finally being dispatched with the mighty Burning Hammer. This is how you make both wrestlers look strong: maximum effort. Akiyama was defeated, but it took every drop Kobashi had in him to put him away. Kobashi was the one left in the ring, the title still his, but the first words out of his mouth were "Jun, you're the strongest!"
Not only did they fulfill the goal of Match of the Year, they also had to feel pride at accomplishing their best ever match against each other - a wonderful personal moment, as Akiyama's wrestling career began with a singles match against Kobashi, and now he gave perhaps his best performance to date. This was a match for the ages between two men who have been friends, then rivals... and now, in front of 58,000 ecstatic fans: Demigods. *****
* * * * *
From Kobashi's return from injury in 2002 through and a bit beyond his epic title reign from March of 2003 through March of 2005, NOAH reigned supreme. Though attendence began to dwindle for various reasons after that, the company produced extremely high level matches well into 2009. This, their first of two T˘ky˘ Dome shows, was such a triumph that the joy of the occasion positively blazed through the building. The fans just knew they were backing the best wrestling company in the world, and their energy really did make many matches in the card feel better than they actually were. I've never believed that crowd reaction can make a match good (because it literally can't) but a hot, overjoyed crowd can provide one hell of an aesthetic backdrop.
In true NOAH fashion, the undercard was irrelevent. The title matches before the main event were hampered by a variety of external factors that crop up when you try to run at the Dome instead of the Bud˘kan - such as "You want Mut˘? Okay, you gotta take Kashin, too." and "Liger does the job? Fine, but our tag champions have to squash two of your guys." But the main event did more than just deliver, it was a slam dunk Match of the Year and Match of the Decade candidate. That makes everything else quite forgivable.

by LUKI
2.VIII.2014
BACK TO QUEBRADA REVIEWS


* Wrestling Review Copyright 2014 Quebrada *