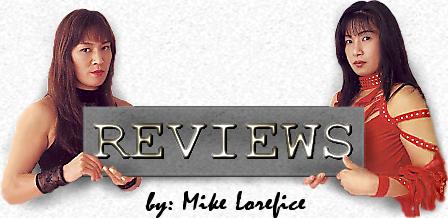 NJPW SXW TV Taping 12/23/03 Tokyo Korakuen Hall
by Matt White
First, let me say as a wrestling fan, that Korakuen Hall is the greatest wrestling venue on Planet Earth. It is small, intimate and reeks of history. I've lived in both Canada and Texas, both places of great wrestling tradition, but the WWE and WCW events that I`ve attended in the US pale in comparison to Korakuen. I`ve never been to MSG, or Arena Mexico, probably never will, but I can safely say Korakuen blows them both away. The walls in the corridor are covered with graffiti, mainly signatures of both fans and wrestlers alike with names such as: Haybusa, Chigusa Nagayo, and Chris Jericho written on the wall. Fans from Germany, Canada and the States write their thoughts as well. This place is a wrestling mecca.
I managed to walk up and get a floor seat for $70 US. Well, I then found out it's in the stanchions on the floor, but no big deal because I have perfect view of all the action. I notice the crowd is very different than an American one. Its very diverse - adults, kids, smarks, business folks, girls and boys. From what I`ve read, wrestling is a popular date for young well-to-do Tokyo residents. I love Tokyo. This was a TV taping for NJ SXW on ESPN-J. The order of the show on the television is a little different than it was live. From watching tapes, you would think that Japanese crowds are really quiet, but I think it might just seem that way because they don't mic the crowds or something as this crowed was jacked.
First they announced the 2003 New Japan awards. It was just awesome seeing all the guys I'd been seeing on tapes for years in person. In case you care, here are the awards:
MVP - Hiroyoshi Tenzan
New Wave - Shinsuke Nakamura
Best Technical Wrestler - Osamu Nishimura
Good Fight/Fighting Spirit - Hiroshi Tanahashi
Most Distinguished Service - Hiroshi Tanahashi
Best Bout (Tag): Jushin Thunder Liger & Koji Kanemoto vs. Yasuhiro Suzuki & Naomichi Marufuji (6/10 Osaka Prefectural Gym)
Best Bout (Singles): Hiroyoshi Tenzan vs. Jun Akiyama (8/16 Ryogoku Sumo Hall - G-1 2003 finals)
From there it was on with the show:
1. Gedo defeated Akiya Anzawa in 5 minutes, 36 seconds with a neck-lock.
A lot of people rag on Gedoh, but he has a strong presence in person. This (and about the first 4 matches) was a jobber match, but not horrible. Rookies in Japan have their basics down.
2. Wataru Inoue defeated Naofumi Yamamoto in 6 minutes, 16 seconds with a Triangle Lancer.
Crowd wasn`t really into Inoue. He didn`t really do anything particular of note either.
3. El Samurai defeated Hirooki Goto in 7 minutes, 22 seconds with a chicken-wing arm lock.
4. Heat defeated Ryusuke Taguchi in 10 minutes, 42 seconds with a submission.
It should be noted there were two signs in the crowd, one reading, "I love Tana," and the other simply saying, "Heat." Both were held by girls. I noticed during this match, a guy looking like Tatsumi Fujinami sitting in the producer`s corner. I`m saying to myself, "that can`t be Fujinami." Well, then some music started to play..................
It was Antonio Inoki`s music. The crowd was in utter confusion because this was just a show at Korakuen, and Inoki usually comes to only the big shows, but then the announcer says, "It`s been a while but Antonio Inoki has returned to Korakuen Hall!!!!!!" To say the crowd erupted would be an understatement. When Inoki walked to the ring, through the audience, the audience just levitated towards him like a magnet. I unashamedly marked out when this was all happening. Inoki then addressed the crowd and sure enough called out Tatsumi Fujinami who was sitting in the producer`s booth!!!! They exchanged tickets for their respected shows (Inoki`s failure of a New Years Eve show, and of course NJ`s annual 1/4 Dome show) and that was that.
5. Hiro Saito & Takashi Iizuka defeated Toru Yano & Tatsutoshi Goto in 10 minutes, 23 seconds when Saito used a German Suplex Hold on Goto for the win.
6. Shinya Makabe & Blue Wolf defeated Ryushi Yanagisawa & Mitsuya Nagai in 9 minutes, 21 seconds when Makabe used a scorpion death lock on Yanagisawa for the win.
7. Yutaka Yoshie & Jushin Liger defeated Tiger Mask IV & Manabu Nakanishi in 16 minutes, 42 seconds when Yoshie used a diving body press on TM 4 for the win.
This match was really entertaining. I chalk it up to Liger (like I always do). He`s a lot smaller in person than he appears on TV. Nakanishi came out in a Tiger Mask as well, which the crowd found funny. The scary part of this match was how super over Yoshie was with these HOT women sitting next to me. I mean of all the guys on the roster, they are going crazy for Yoshie???? Actually, Yoshie and Liger showed some good team work and the psychology worked for the match as they just tried to beat up on poor Tiger Mask the whole time. Liger rules, even more so in person.
8. IWGP Tag Champions vs. GHC Tag Champions - Osamu Nishimura & Hiroyoshi Tenzan went to a 30-minute draw with Hiroshi Tanahashi & Yuji Nagata
This was on my best matches of the year list in Quebrada #86. These guys had the crowd in the palm of their hands. At both this show and the Zero-One show the following night, I was so amazed at how the workers had a handle on controlling the emotions of the crowd. They seemed to have everything timed perfectly. The most over move was Tenzan`s Mongolian chop. Nagata is my favorite worker right now. I was eagerly awaiting him to unleash his stiff kicks and he didn't disappoint. I didn't watch the tv version of this match, but I really enjoyed it in person.
Afterwards, all the guys came to the ring for New Years wishes, and Nishimura was given the mic. Supposedly he has a reputation for being long winded, and the announcer jokingly said he only had five minutes to talk. These guys had a genuine connection with the crowd, and its sad they aren`t being given the ball to run with it. Instead they have to sit backseat to the Lex Express of Shinsuke Nakamura, and Bob Sapp being shoved down our throats.
BACK TO QUEBRADA REVIEWS


* Puroresu Review Copyright 2008 Quebrada *