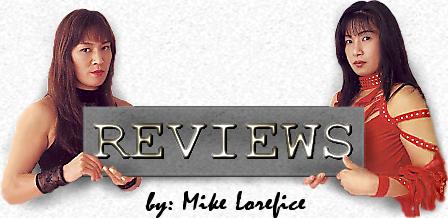 M-1 Yarennoka! Omisoka (New Year's Eve)! 2007
12/31/07 Saitama Super Arena
Mike Russow vs. Roman Zentsov 1R 2:58 I miss the Bodog Fight TV show for the women's matches, particularly if Rosi Sexton was involved, but their heavyweights put the b in boring. The worst kind of fighters are the punching turtles, as at best you get a z grade boxing match, and at worst you get clueless ground fighting. Zentsov is one of the most overrated fighters in the world, a talentless stiff in my book. He was completely exposed by Branden Lee Hinkle in his last Bodog fight, and Russow couldn't wait to follow suit by putting Zentsov on his back. After the immediate takedown he knew he had 9:50 to finish the Russian off, as he wasn't going to show any offense, defense, or sweeping skills of note. Russow was thus extremely calm, setting up the submission for a few minutes before locking the north/south choke for the win. Poor fight.
Tatsuya Kawajiri vs. Luiz Azeredo 2R. Neither fighter had fought since last December, but Kawajiri was in top form and Azeredo had no answer for a fighter who wasn't surprising anyone. Kawajiri is one of the premier ground and pound fighters, similar to Fedor and Tito Ortiz he's so ferocious striking from his opponent's guard it's hardly even worth the risk of trying to pass. In fact, the only time Azeredo did anything was when Kawajiri looked to pass to side mount, as Azeredo made a quick roll and snuck behind Kawajiri. Azeredo's choke wasn't working so he tried to transition into an arm bar, but Kawajiri regained the top and finished the round with a flurry of punches. Previously, Kawajiri took Azeredo right down with a leg sweep and was taking him apart with strikes. Azeredo tried to set up a triangle but generally did little beyond stalling. Azeredo had a brief reprieve when the ref gave him a yellow card for repeatedly tying Kawajiri up, but fell victim to the same leg sweep. Kawajiri was even more dominant in the second round, cutting Azeredo around the left eye and opening it up pretty badly with hammerfists. His ground and pound was relentless as always, leading to the easy unanimous decision. Another bad match.
Murilo Bustamante vs. Makoto Takimoto 2R. Takimoto is a judo gold medalist with excellent submission defense, but he's very inexperienced in MMA with this being just his seventh fight. He has punching power, but is very wild. He has throws, but he kept going for the same one every time he got into trouble, and lacking the gi to grab onto Bustamante would just slip his head out during the hip roll and take control off the scramble. Bustamante is either the master of grasping defeat from the clutches of victory or just getting screwed out of the decision depending upon your opinion of his matches against Chuck Liddell, Rampage Jackson, & Dan Henderson (#2). Either way, he rarely has a dull fight and this was certainly no exception. In fact, it was a far better, and for Bustamante fans more frustrating, fight than it had the right to be. There were several lead changes and reversals leading to quality positions, at least for Bustamante, who showed his diverse arsenal of techniques. Bustamante had several chances to win, especially in the first round. He had Takimoto's arm, but the ropes seemed to get in the way of him driving his legs through and putting Takimoto on his back for the arm bar, so Takimoto slipped out. He made Takimoto respect his up kicks then picked his leg only, which rendered a leg lock a possibility but Bustamante was quickly reversed. Takimoto was rather predictable, giving his back and trying to stand up every time Bustamante mounted, which was quite often, leading to Bustamante trying a kneebar. Takimoto was never on the verge of losing, but Bustamante kept the pressure on him and had several very advantageous positions. I can't say Bustamante was dominating because Takimoto's submission defense was so good he was able to give up position in order to escape and the standup, though in Bustamante's favor, hadn't produced any notable damage. Midway through round 2 the fight turned when Takimoto dodged a left hook and fired back with a combo, a solid right hook then a big left that knocked Bustamante down. Bustamante was clearly stunned, leading to a strong minute and a half where Takimoto could have attained a ref stop had his ground and pound been decent. Takimoto landed some solid body knees, but generally he wasn't adding much to the damage with short pawing punches. Bustamante tried an arm bar when he got his senses back, and though it failed he got Takimoto's back and landed a few punches before the bell. Bustamante controlled the majority of the fight, but Takimoto clearly came a lot closer to winning, and he did it down the stretch. He generally fought pretty well, as if he didn't he would never have lasted, but basically his split decision victory was based on the one big punch. Very good match.
Mitsuhiro Ishida vs. Gilbert Melendez 2R. Melendez suffered the first defeat of his career against 13 victories, being taken down repeatedly by Ishida. These are two of the quickest fighters you'll see, but Ishida clearly had the advantage in this regard. Melendez was the better standup fighter, but Ishida is explosive enough to get away with staying a mile away until he was ready to shoot. Ishida showed unending energy, as it's very rare anyone can stick with takedown after takedown the way Ishida did here. Though both are known for their ground and pound they are so speedy with constant hip and head movement it's hard to even hit them on the ground, much less keep them there. Ishida tried to hang on Melendez's back and choke him out when Melendez would stand up, but Melendez would wind up slamming him. One time he tucked Ishida's head forward and dropped him similar to a pro wrestling bomb. Melendez had few other highlights though. He landed a big knee, his best strike of the match only to have Ishida grab his leg and put him on his back yet again. Melendez did have top control more in R2, but Ishida had a good submission chance from his guard, clasping Melendez's arm and turning sideways so there was big time pressure on his elbow due to the arm being trapped between Ishida's neck and shoulder. Melendez had a ground and pound flurry in the final 15 seconds, but it wasn't enough as Ishida still gained the unanimous decision. A high level of fighting, but they are similar fighters who largely negated each other resulting in Ishida's takedowns being the majority of the offense. Pretty good.
Kazuo Misaki vs. Yoshihiro Akiyama R1 7:48. The big grudge match as Misaki said he'd never even fight on the same card as Akiyama after Sakuraba lost to Akiyama last New Year's (changed to a no contest) due to Akiyama having too much grease on his body. Pretty good standup fight. An even match with both badly stunning the opponent once. The difference in the fight was Misaki was able to tie Akiyama's arm up after being knocked down with a right straight and pounced upon.
Fedor Emelianenko vs. Hong Man Choi 1R 1:54. Fedor tried for a takedown grabbing a waistlock, but the 7'2" giant would lean forward and drive until he fell on top of Fedor. Hong obviously needs a lot of room to punch, so Fedor would just grab hold of an arm when Hong left it laying against Fedor's body and swivel his hips into the arm bar. Hong escaped the first time, but then there was essentially an instant replay of the aforementioned with Fedor getting the submission after Hong's takedown. A more experienced fighter probably wouldn't have fallen for the same thing twice, but Hong is in just his second fight, which is why he has no business in the ring with the great champion. Fedor face looked pretty bad after the match, especially considering he didn't seem to take any big shots, but he's known to cut easily.
Hayato "Mach" Sakurai vs. Hidehiko Hasegawa 2R. DEEP champion Hasegawa is a sambo specialist who is content to defend while patiently looking for an opening for a submission. Most of his fights go the distance, and it's easily to see why as even though Sakurai had a big advantage in standup, it's difficult to knock out an opponent who backs away when you try to hit him. Hasegawa doesn't completely refuse to engage, but he never lets things get out of control and turn into a brawl. Sakurai seemed underwhelming, but mostly it's that Hasegawa forces his opponent to grind out the victory. Mach dominated the fight, but it was dull as he was the same two positions over and over. Hasegawa shows no aptitude for takedowns, so he was on the bottom every time the fight went to the ground. That might work for him against a lesser fighter, but Sakurai has only been submitted once in nearly 40 fights, and was never in any sort of trouble. Sakurai won an easy decision. Below average.
Shinya Aoki vs. Jung Bu-Kyung 2R. 2000 judo silver medalist Jung subbed for an injured J.Z. Calvan, showing good poise in his debut and excellent skills within his discipline but very little outside of it. Jung's big problem was he had no guard, his ground defense was looking for a submission, which is difficult when you are going all out for them but deadly when you are being patient. Aoki is a submission specialist who isn't looking to pound out a victory, but you take what your opponent gives you, and Jung didn't control Aoki's body, thus allowing him whatever distance he desired. Aoki still regularly went for leg locks, but it was Jung that had the two close calls with arm bars. The first came at the outset just after he was taken down, but he didn't have optimal leverage as Aoki was standing. In the 2nd round Jung rolled Aoki to his back first, but Aoki was clenching for life. Aoki eventually did a unique escape where he let go of his clasp and immediately rolled to his knees and rotated his shoulder and elbows in a manner that looked as though it would dislocate the shoulder, but worked for him as he took his arm back before Jung could really lock it. Jung's eye was swollen shut from a poke, but Aoki never took advantage of it. This wasn't one of Aoki's best fights, but he controlled the fight, getting the takedowns and scoring with ground and pound while looking for submissions that never came against an opponent who defended them well. Pretty good.
BACK TO QUEBRADA REVIEWS


* MMA Review Copyright 2008 Quebrada *