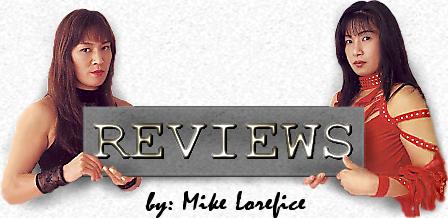 LLPW Hana Geki Emaki ~ Konoyo Subete Shita Ue~
(Blooming under the entire world?)
Commercial Tape 9/23/94 Tokyo Korakuen Hall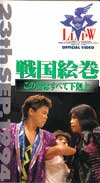 Michiku Omukai Mizuki Endo vs. Jiyun Yamashita 2:45 of 6:07. Endo squashed the rookie, though judging by the plethora of bruises that fill her legs it was nothing compared to the beating Yamashita takes in the dojo.
Jenn Yukari vs. Miki Handa 12:00 of 20:18. They built the match up pretty well, doing enough early to maintain interest while saving everything of note for later. Keeping it even throughout, their best stuff was counters from and into suplexes. **3/4
Kurenai Yasha & Michiko Nagashima vs. Rumi Kazama & Carol Midori 20:00. A very active and energetic worker, Midori is something of a much lesser version of Kyoko Inoue at this point, even utilizing some of the same postures and mannerisms. Yasha is a character by necessity as she's the worst wrestler in the league excluding the rookies. She takes adequately, but has almost no worthwhile offense. Luckily Nagashima works the majority of the match, but as she does the majority of the selling the match is more or less only as interesting as the opposition. Rumi cracked Kurenai with some nice kicks early, but her contributions were sparse. Midori was good, but not to the level she could make the match on her own. Nagashima helped, but could really use some better offense. **1/4
Harley Saito & Mikiko Futagami vs. Eagle Sawai & Michiko Omukai 11:32 of 15:54. Omukai had yet to figure out her strengths, and was rather aimless running around and trying some deliberately set up flying moves. Futagami was quite opposite, very sure of everything she wanted to do. She's very technical, following the proper steps to execute each move rather than performing them in the half ass manner you see from wrestlers who see something they like and kind of fake their way through it. Omukai had a rib injury that Harley aggravated early on with stomps. She did a good job of putting it over, which garnered her some sympathy as she as the wrestler who didn't belong in the semifinal even if she was at 120%. The pleasant surprise was Eagle, who was actually quite impressive. Much of this was due to the opposition, particularly a strong sequence from Harley, but Sawai did a good job every time she was in. ***
LLPW Nintei Single Senshuken: Shinobu Kandori vs. Noriyo Tateno 15:47. Tateno is somewhat similar to Tatsumi Fujinami in that she still uses most of the same moves she did in her 1980's peak, but lacks the energy of her youth, and thus is rather uninspiring these days. What's more pertinent is she's not an opponent whose style plays into Kandori's hands, much as Manami Toyota isn't the most suitable opponent for Yumiko Hotta even if in their youth they did have some top notch matches together. Tateno used her athletic moves when she was on offense, while Kandori used her submissions when she had the advantage, which would have been great if they made an attempt to counter from one style to the other. The match started well with Kandori sidestepping Tateno's jumping knee, catching her ankle in midair and applying an ankle lock, which she quickly released, preferring to scold her opponent. Unfortunately, this was one of the only times they used one style to set up the other. The wrestling was fine, it just didn't fluidly mesh. Tateno actually pinned Kandori with a rolling cradle of all moves to capture the title. **1/2
9/27/94 Osaka Furitsu Taiikukaikan 2
Noriyo Tateno vs. Eagle Sawai 1:28 of 16:38. This match decided LLPW's representative in the V*TOP tournament at AJW's 11/20/94 Tokyo Dome supershow. Eagle scored a victory over the new champ, though Tateno kicked out so far before the 3 count one wondered how much she paid the ref.
Shinobu Kandori vs. Jenn Yukari 1:22 of 14:15. Kandori went from champion straight down to the opening match. She was in a foul mood, and when Yukari took her to the floor and rammed her face into a chair she snapped. Kandori proceeded to hang Yukari upside down from the ropes and use a table on her. When the ref tried to stop it Kandori put the boots to her then threw a chair on her for the DQ.
Michiko Nagashima vs. Hasumi Tawada 0:34 of 8:23.
Zen Nihon Tag Senshuken: Miki Handa & Kurenai Yasha vs. Carol Midori & Michiko Omukai 1:28 of 28:15. Omukai was cut on the forehead. Midori pinned Kurenai following a moonsault press to capture AJW's titles.
Rumi Kazama & Mikiko Futagami vs. Harley Saito & Mizuki Endo 0:28 of 10:57
BACK TO QUEBRADA REVIEWS


* Puroresu Review Copyright 2008 Quebrada *