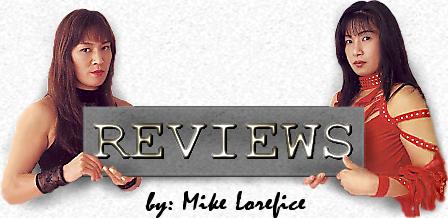 LLPW Sokuho Joshi Puroresu Jou Gairan Tou
~Hateshinaki Chousen~ Dantai Taikosen LLPW vs. AJW
Commercial Tape 6/15/93 Tokyo Ota-ku Taiikukan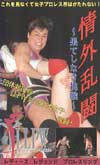 Michiku Omukai LLPW Mat Debut Match: Michiku Omukai vs. Mizuki Endo 1:11 of 8:07. You'd think LLPW would want to promote their new wrestler in some way, but they simply showed the finish. Thus, Omukai had no real offense, just two counters into pin attempts.
LLPW Nintei Single Oja Kettei (Recognized Single Crown Decision) Tournament B Block 1st Round: Yukari Osawa vs. Michiko Nagashima 1:10 of 19:02
Harley Saito & Utako Hozumi vs. Kurenai Yasha & Midori Saito 9:01 of 13:48. In 1993 there were very few experienced women who weren't solid very competent workers. This was a very ordinary match for the period, with consistent quality action but lacking anything to make it notable or memorable. No one outshined the others, which in a sense is a bad thing given Harley was at least an excellent worker at this point. They didn't bother with a finishing segment, and the end came off that much worse as Midori kicked out of what was called the finisher.
LLPW Nintei Single Oja Kettei Tournament A Block 1st Round: Mikiko Futagami vs. Noriyo Tateno 5:33 of 13:39. Good story match. Tateno had a giant brace on her right knee to go along with an ankle injury. She was either in really bad shape or doing the worlds best selling job as she wasn't even moving at all. Futagami took the action to her, immediately attacking the bad knee, which prompted Tateno to ditch her right boot. This didn't prove helpful, as Gami quickly put the boots to her foot and worked an ankle lock. Tateno's only offense was countering Futagami's la magistral for the win. I wish they showed more, as it appeared quite well thought out and executed.
Dantai Taikosen LLPW vs. Zenjo: Eagle Sawai & Leo Kitamura vs. Aja Kong & Kyoko Inoue 18:09 of 22:54. In these days leagues used to understand how to get mileage out of a matchup people cared about seeing. There was major heat for Aja vs. Eagle, so they had them do enough together to keep the audience from feeling cheated while saving everything of note for their future singles match on the 11/28/93 AJW show. Aja attacked her fiercely and mercilessly early on, putting quite a beating on Eagle for such a brief period. Eagle quicky came back when Kyoko tagged in. To even things out, Eagle controlled the second segment against Aja, and that was pretty much the extent of their involvement. This rendered Kyoko the crucial performer, as the lack of Aja vs. Eagle could have been a big disappointment. As Aja & Eagle weren't going to sell much, and LLPW would be given most of the offense since they were losing, that meant Kyoko had to bear the brunt of it. Doing everything with urgency, Kyoko even dashed into the ropes to get crushed on the rebound. She delivered a peak performance to make the match, elevating both Eagle & Leo's games a few notches. Leo was the obvious bump girl and jobber, but she made a good showing, using her quickness and athleticism to sneak a pretty good flying move in before succumbing to the latest pounding. Even when you knew she was about to be pinned, she made it difficult, countering Aja's nadare shiki no suisha otoshi and Kyoko's Niagara driver with sunset flips. ***3/4
Dantai Taikosen LLPW vs. Zenjo: Shinobu Kandori & Rumi Kazama & Miki Handa vs. Suzuka Minami & Etsuko Mita & Mima Shimoda 11:24 of 18:05. A series of quick exchanges, rotating everyone in and out to keep the pace high. Though they weren't overly familiar with each other, they worked a complex match built around repeated counters. Kandori was turning the opposition's offense into a variety of submissions, including a few wakigatames that she put over as though she was trying to rip the enemy's arm off. Kandori is a better seller than she's given credit for, as she has an awkwardness to her reactions and falls that lend a less choreographed feel. Rumi got the push her, pinning the top AJW wrestler she was facing, and more importantly Akira Hokuto's longtime partner, Suzuka Minami as part of her push to their hair vs. hair match on the 11/9/93 LLPW show. It's hard to figure why they'd cut so much from a high quality interpromotional main event. ***1/2
6/29/93 Tokyo Korakuen Hall
Michiko Omukai vs. Midori Saito 0:44 of 7:52
Harley Saito & Yukari Osawa vs. Mizuki Endo & Michiko Nagashima 2:18 of 15:30
LLPW Nintei Single Oja Kettei Tournament B Block 1st Round: Utako Hozumi vs. Miki Handa 6:44 of 24:55. Hozumi is one of the marketable talents LLPW managed to completely squander. One would think a league where none of the stars had any sex appeal might do someone with one of the best looking women ever to compete, especially since she was also a good wrestler. Hozumi was a better worker than Cuty Suzuki, who was so crucial to JWP becoming the more watched promotion once the original league splintered into two. She kept herself in great shape to the point her strength and endurance were apparent, which not only bode well for this long match, but also would have against the larger headliners, as Hozumi could do her suplexes to them without them having to do the big exaggerated jump. Though Handa had yet to find her calling as an infuriating heel, she was already quite a capable wrestler in her own right. They did a good athletic match mixing flying with nice bridging suplexes.
LLPW Nintei Single Oja Kettei Tournament A Block 2nd Round: Shinobu Kandori vs. Kurenai Yasha 3:44 of 4:27. Yasha stood on the turnbuckle posing as Kandori came out, so Kandori threw her shirt at her and darted into the ring only to have Kurenai pounce on top, blinding her by covering her head with her red robe. Yasha had an early run to get over, but as they typically did with her early in her push since she wasn't much good, she lost as soon as the star opponent went on offense.
Eagle Sawai & Mikiko Futagami vs. Noriyo Tateno & Yoshika Maedomari 2:35 of 14:53. Shark Tsuchiya did a run in when Futagami had Tateno in trouble, breaking up a pin and delivering her powerbomb. Later, Shark took Eagle out so Tateno and her buddy Crusher could double team Futagami for the finish.
BACK TO QUEBRADA REVIEWS


* Puroresu Review Copyright 2008 Quebrada *