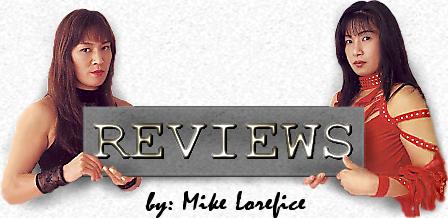 K-1 WORLD GP 2008 IN SEOUL -FINAL16-
9/27/08 Seoul, Korea Olympic Gymnasium-1
Opening Fight: Zabit Samedov vs. Fabiano Da Silva 3R. Samedov overpowed Da Silva when they stood toe to toe, but Da Silva did a good job of darting in and out, and utilizing kicks from odd angles. In a sense, Samedov seemed a good opponent for Da Silva because he's a very straightforward and orthodox foe, but his size and strength advantages forced Da Silva to almost completely rely on his creativity. As the fight progressed, Samedov pressed Da Silva more to eliminate the distance that allowed him to kick and select his moment to enter and exit the pocket. It was a fairly entertaining fight, but in the end Da Silva simply couldn't stop Samedov from imposing his will upon him. Above average match.
K-1 WORLD GP 2008 FINAL 16:
Ruslan Karaev vs. Chalid Die Faust 2R 2:30. Exciting action packed slugfest, just throwing bombs back and forth until someone's body gave way. Karaev stormed Chalid at the bell and was dominating him for the first minute and a half, only to be dropped by a short right counter. Die Faust became the aggressor in the second half of the round, backing a much more tentative Karaev. Karaev came out for the second with renewed vigor, landing a couple good straights, but The Fist fired back with bombs of his own. Just after the tempo slowed, Karaev connected with an overhand right followed by an uppercut for the knockdown. Karaev's nose was busted open, but he kept swinging, putting Die Faust down from the cumulative effect. Chalid rolled to his feet and stumbled to the corner, but Karaev unloaded on him after the 8 count. Chalid finally came back with an uppercut and hook just after the ref stopped the fight, so Karaev KO'd him with a right cross as the ref was separating them. Very good match.
Jerome Le Banner vs. Junichi Sawayashiki 3R. A rematch of the ultimate K-1 upset from WORLD GP in YOKOHAMA 3/4/07. Sawayashiki tried to utilize the same style of circling against the ropes, but was unable to get off counter punches when Le Banner stepped in. Le Banner again stalked his prey, but this time he not only pulled the trigger on his punches, he even scored with some solid kicks. Le Banner was on his game and at his most determined, showing no fear and even taunting his opponent to try to embarrass him into attacking. Sawayashiki wasn't going to stop Le Banner when Le Banner was right, but it would have been nice if he at least tried to slow the Cyborg down. Sawayashiki knew he couldn't win trading with the Jerome, but really his only offense was landing left outside leg kicks or right inside leg kicks as he circled left, and he wasn't doing nearly enough damage with them to win the fight. Sawayashiki's strategy grew increasingly puzzling as he just got further and further behind waiting for an opening that wasn't appearing. At the end of round 2, Le Banner landed a right high kick as Sawayashiki was circling away and followed it up with punches for the knockdown. Le Banner won a unanimous decision. Below average match.
Ray Sefo vs. Gohkan Saki 4R. Sefo never really played any defense, but he used to be a very explosive striker. Now that he's older, slower, and too heavy he seems to either go for the early KO as he did in his prime except now he winds up being the one who is stopped quickly or fight the conservative not particularly aggressive style we saw here that ends with him losing a decision. The first round was pretty weak from both men, as Saki failed to capitalize on Sefo's lack of defense despite Sefo giving him time. Sefo woke up in the second, coming forward and pressuring Saki in an attempt to stay on the offensive. Sefo used his 30 pound weight advantage to make it difficult for Saki to stop his forward momentum. Though Sefo continued backing Saki in the third, Saki began landing regularly, particularly with kicks as Sefo was stepping forward. I had Saki winning the first, Sefo the second, with the third being pretty debatable since both were effective at what they were trying to do though I lean toward Saki. I was glad they sent it into overtime, where Sefo might have been able to steal it, but probably didn't have the stamina for a final surge, and wound up being too conservative in the later stages. Saki won a unanimous decision. Average match.
Errol Zimmerman vs. Glaube Feitosa 3R. Zimmerman isn't a good matchup for Feitosa, who is prone to an aggressive inside fighter as the lack of distance takes his kicks away and he's not a great defender by any means. Feitosa attempted to use his kicks to control the distance, which worked early because he'd come in with a punch combo when Zimmerman backed away. Zimmerman took over in the last 30 seconds of round 1, doubling up on the right hook in the corner then stunning Glaube with a left hook. Feitosa refused to fall, so Zimmerman battered him until the ref called a down when Feitosa stumbled. At the restart, Errol leaped in with a knee that knocked Glaube halfway across the ring, but then the round ended. Zimmerman continued the onslaught early in the second, stunning Feitosa with a straight down the pip but then letting him out of the corner for some unknown reason. Zimmerman worked Feitosa over with hooks and knees, but Feitosa was able to spin off the ropes and take the offensive. Suddenly, Zimmerman turned him with a right hook and pounded on Feitosa against the ropes for the second knockdown. Zimmerman went to town on Feitosa to try to finish it in the second, but Feitosa somehow managed to survive the round. I was surprised by how badly Feitosa was pummeled, but to his credit there was no quit in him. They fought hard, delivering consistently good action, and while Feitosa was usually on the receiving end, he did have his moments. Zimmerman won a unanimous decision. Good match.
Remy Bonjasky vs. Paul Slowinski 3R. Bonjasky came forward blocking then threw kicks from the inside. Slowinski isn't nearly as flexible as Bonjasky and is more of an extension leg kicker than a diagonal one, so he wasn't able to use his low kicks from this distance, and as such was mostly punching right into Remy's block. The first two rounds weren't super interesting, but round 3 saw a much higher punch count from both as the fight was close enough they knew they might need to make a statement. This more wide open style boded well for Slowinski, who is more of a brawler. He stunned Bonjasky early with a flurry of punches, sending Bonjasky into blocking mode for a minute or so until he recovered. Slowinski definitely won the third, which was by far the most decisive round, but Bonjasky still got the majority decision for winning the first two. Average match.
Ewerton Teixeira vs. Musashi 3R. Teixeira came forward, but was really looking to counter Musashi. Unfortunately, Musashi gave another uninspiring performance, hardly throwing anything. He was quite content to simply back away, and yellow carded for tying Teixeira up repeatedly. Musashi did have some good one or two punch counters, but never really went on the offensive. Teixeira opened the fight up in the 2nd, hurting Musashi with a big right hand counter in the second then making a big push to finish it. Musashi went down, but it was ruled a slip and time soon expired. Teixeira won ever round. Average fight.
Badr Hari vs. Hong Man Choi 3R. Hari wanted to take it right to Choi, but wasn't sure quite how to engage his giant foe. Should he fake his way in or just leap at Hong Man? Choi made Hari's job easier by not attacking very often. The jab and front kick were open all night, but he's no Semmy Schilt. Hari began using inside leg kicks to open up an overhand right, but when he tried to follow with a left hook, Choi caught him with a short left for the knockdown. Choi was content to sit on his lead, but Hari circled the ropes in the second, forcing Choi to come forward then stopping to strike him. This strategy was fairly successful, with Hari landing some effective combos compared to more of not much for Choi. Hari unleashed a nasty body attack in the third, using hooks and the occasional middle kick, while utilizing his quickness to evade Choi's slow replies. After a few minutes of this, Choi was forced to guard his waist, but Hari didn't have enough time for many of the head punches he was setting up. Choi did little beyond the knockdown, so he was only able to secure one judge, with the other two ruling it a draw. Choi's side was beat up pretty badly by this time, so he wimped out before the start of the extra round. Above average match.
Peter Aerts vs. Semmy Schilt 3R. Schilt's fights have been much better of late because everyone brings their A+ game in a desperate attempt to end his reign of terror. Aerts is the second greatest kickboxer in the history of the company, but the grizzled veteran fought as though his entire career was meaningless if he couldn't overcome this foe. Aerts applied relentless pressure, just plowing forward all night and forcing the big right hand combo finish almost without regard to what Schilt was trying to fire back with. Schilt began to time Aerts and rip the jab, but Aerts was willing to take punishment as long as he diminished distance. Schilt was accurate as ever, landing with most everything he got off, but rarely had the space for his effective front kick, and wasn't able to get many knees in either because he was usually forced into retreating mode. I felt Aerts edged Schilt in this super intense battle, but even if the fans got what they wanted with Aerts majority decision victory it's hard to argue against sending it to another round given Schilt's amazing success the past 4 years. Very good match.