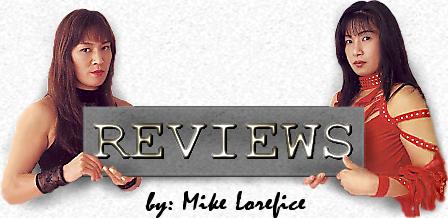 K-1 World Max 2008 Nippon Daihyo Kettei Tournament
2/2/08 Tokyo Nippon Budokan
Nippon Daihyo Kettei (Japan representative decision) Tournament 1st Round
Andy Ologun vs. Yuya Yamamoto 3R. Yamamoto fought relentlessly for 3 rounds, stalking Ologun and keeping him on the defensive by throwing blow after blow. Once the first few Ologun punches landed one sensed he'd win the fight though. Yamamoto is extremely active, but his strikes don't have much on them. Meanwhile, many of Ologun's blows knocked Yamamoto's head back. Ologun landed several good right hands to the nose, bloodying Yamamoto. He put him down early in R2 with a right straight. Yamamoto showed great heart and stamina though, never wavering from his strategy. Backing off or slowing down don't seem to be in Yamamoto's vocabulary. He thought he won the fight, but while activity was on his side, impact made it a clear decision for Ologun. Good match.
Keiji Ozaki vs. Yasuhiro Kido 3R (R2 skipped). One of those fights where they are matched evenly enough that nothing much happens. Ozaki was the more aggressive fighter, but while he had a good segment toward the end of R1, he missed way too often, partially due to having to deal with Kido's 5 inch height advantage. Kido also didn't have great accuracy, but definitely landed with more consistency than Ozaki. Kido had a good knee, right straight, left high kick combo in R3, but that only made Ozaki fight harder (or more desperately). Kido won a unanimous decision. Average match.
Hiroyuki Maeda vs. TATSUJI 1R 1:10. Both simultaneously missed overhand rights then landed left hooks, but Maeda's but TATSUJI down. TATSUJI didn't seem that hurt, but in a tournament, especially with the two knockdown system, you go for the kill. TATSUJI mixed it up rather than slowing the fight down until he was fully recovered, and once Maeda landed a good shot or two TATSUJI was right back in trouble. Maeda mixed his hooks and uppercuts, with most getting through Maeda's defenses until he didn't quite go down but wobbled enough the two knockdown rule kicked in.
HAYATO vs. Ryuji 3R. Both fought on a high level, with the advantage going back and forth more times than one could count. Basically one fighter would throw a combination or two while the other covered up then the lead would change with a combination from the previously defending fighter. Ryuji was better at throwing around his opponent's defenses. He was also the superior ring general, backing HAYATO into the ropes where Ryuji's connect percentage went way up. Ryuji hurt HAYATO toward the end of R1 from this position. Even though HAYATO wound up stuck against the adjacent ropes after escaping, Ryuji couldn't put him down, which turned out to be the deciding factor in a fight where both landed several solid blows. HAYATO knocked Ryuji down in R2, landing a right cross while Ryuji was in the midst of throwing a right knee. It was a solid punch, but there's no way Ryuji would have gone down had he not been on one leg shifting all his lower body weight forward. Ryuji didn't seem hurt, still the more aggressive of the two and accurate of the two, though there wasn't a big difference. Ryuji's face was showing the effects of HAYATO's blows a lot more, red around the eyes and under the nose. Ryuji would have won the decision if not for the knockdown, but instead lost a majority decision. I was hoping they'd go another round, as neither were slowing down and it was doubtful there'd be anything later that would be a match for this intense bombs away battle. Very good match.
Super Fight: Artur Kyshenko vs. Shingo Garyu R1 3:00. Usually a sign of a mismatch is one fighter consistently backing away from the other's attacks from the outset. Kyshenko knocked Garyu down with a right body blow/left hook combo. In the first exchange after Garyu got up, he was again dropped with a left hook. Garyu got up again, but didn't even bother throwing this time, he just stood there and ate another left hook for the knockout.
Nippon Daihyo Kettei Tournament Semifinals
Yasuhiro Kido vs. Andy Ologun 3R. Kido fought a smart fight either hitting Ologun when he was getting ready to strike, most notably with front kicks, or simply backing away. Kido would land one shot then retreat before Ologun could fire back. Ologun never found a way to land any of the hard punches we saw in the first round. Kido landed several low kicks, welting Ologun's left thigh, which opened up an uraken that was the best shot of the match even if it didn't hit Ologun square. Kido fought more aggressively in the third round, which initially was good for Ologun, but still he never got going. Ologun was getting frustrated, trying to rough Kido up in the clinch but the ref was having none of it. Kido threw enough down the stretch that a decent amount of his punches got through, enough to take this round as well. Kido won a unanimous decision. Average match.
HAYATO vs. Hiroyuki Maeda 1R 3:00. HAYATO was landing low kicks at will, but Maeda defended everything else. Maeda showed impressive quick punch combinations. When HAYATO tried to cover as he did against Ryuji, Maeda kept throwing, altering the destination to circumvent HAYATO's arms. The final left and right of this five punch combo rocked HAYATO, dropping him. The round was almost over, but Maeda went for the kill and was tagging HAYATO left and right. If Maeda had another 10 seconds he would have finished him. I wasn't sure if HAYATO would even answer the bell, but it was the grizzled veteran of the tournament, 35-year-old Maeda, who couldn't continue due to a dislocated right elbow. HAYATO was really lucking out tonight. Good while it lasted.
Super Fight: Yoshihiro Sato vs. Buakaw Por. Pramuk 4R (R1 & R2 skipped). Pramuk was the shorter fighter, punching from an in between angle to clear Sato's shoulders, which as it turns out may have been a good thing as the overhand is generally more powerful than the hook. Pramuk landed several good punches in R3, though almost all toward the middle of the session. Pramuk dominated the extra round. However, Sato, who was all but dead, hurt Pramuk with 10 seconds when he countering a low body blow with a stiff left hook. This was enough to win over one of the three judges.
K-1 WORLD YOUTH 2008 Japan vs. Holland Final Match: HIROYA vs. Robby Hageman R2 2:02. HIROYA had a tough time with Hageman's reach advantage. He was was more aggressive, but neither were landing and it was looking as though it would be a dull 3 round decision. Finally HIROYA knocked Hageman down with a big left hook, the first even remotely notable blow from either. This led to what I felt was a bad stoppage by ref Nobuaki Kakuda. Hageman stumbled a bit, but I think the problem was not so much the punch but that he didn't know how far he was from the corner he was attempting to backing into. Thus, he looked awkward attempting to do so.
Nippon Daihyo Kettei Tournament Final: HAYATO vs. Yasuhiro Kido 1R 1:07. Kido was a long shot to reach the final given his career K-1 record was 2-1 prior to the start of the tournament. This was one wild little match. HAYATO tried to throw his low kicks, but Kido was ready for them, firing back with a left/right punch combo that put HAYATO down. Kido quickly got a second knockdown with HAYATO stumbling to the ground following a left straight. Kido went in for the kill, but during the exchange HAYATO caught him with a left hook. Kido wasn't knocked completely off his feet, it's more like he dropped to a knee and popped right back up hoping no one would notice. With the luck HAYATO was having tonight, you began to believe he might even manage to pull this one out. Due to HAYATO scoring the latest knockdown, he went on the offensive, but quickly walked into a right straight for the 3 knockdown TKO. How often do you see 4 knockdowns in the same minute? The win earns Kido the right to represent Japan in the World Max Final in October.