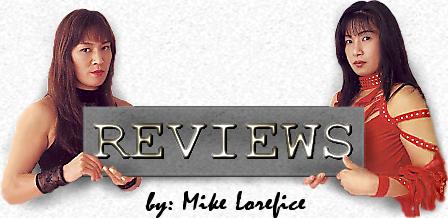 K-1 ROMANEX 5/22/04 Saitama Super Arena
by Matt White
On 5/22, K-1`s first all MMA show aired on free TV for all in Japan to see. The show was delayed by 25 minutes due to breaking news (the arrival of the released children of the Japanese kidnapped to North Korea more than 25 years ago), but it was shown in its entirety. The name of these shows are going to be "ROMANEX," (where do they get these names?) and the set looked like a Roman coliseum so, of course, they played the Hans Zimmer theme from Gladiator a lot. K-1 MMA rules are three 5 minute rounds, with both elbows and knees allowed on the ground.
The crowd looked embarrassing. Supposedly ticket sales were so slow, but despite the claimed attendance of 14,918, they had to block off half of Saitama Super Arena. Usually, through the magic of TV production, you can hide stuff like that (WWE does it all the time) but for some reason it was really obvious on this show.
For a free TV show, I wasn't disappointed, but if this aired on PPV I would have cried foul. Unless you are an MMA/K-1 completist, this is not a show worth going out of your way to see. I heard K-1 is trying to go back to the original Inoki format (think UFC 1) where people from pure disciplines square off. Like early UFC, all the results were quick, and that novelty dies quickly. Once again, this is a review of the broadcast version, so the order the matches were aired were not the order they were placed.
1) Genki Sudo defeated Royler Gracie 1R 3:40 via KO from the mount
Sudo came out with a dancing entourage, doing a Fiji like tribal dance or something. This entrance took forever. When I first saw Sudo at the New Years Eve show, I found his entrance hilarious. This one was ridiculously too long. I don't mind showmanship (I always liked how Sakuraba always comes out dressed like a wrestling legend) but once it starts detracting from the match itself, it is way out of hand.
Royler immediately shot in, but Sudo seemed able to block it. Actually, Sudo was able to keep Royler at bay the whole time. At one point, Sudo did the Sakuraba jump, while Royler was in the buttscoot position. The fight mainly consisted of lots of motion with both guys tugging on one another (Sudo usually standing while Royler attempting to pull him in from the ground). During a tug, Sudo got a solid knee to Royler`s head, stunning the Brazilian, and then quickly beat him down with punches. Good opener. Too bad this was one of the longer matches on the show.
We then go to the announce booth where Takayama and Musashi are our color commentators for the night. Well, they know more about MMA than Norika Fujiwara.
2) Gary Goodridge defeated The Predator in 1R 1:22 via KO with a left hook
I know Predator was a NCAA champion, and here he fought like his contemporary, Kevin Randleman. Instead of doing the natural thing and shooting in on Goodridge, who isn't the most ground adept fighter in the world, Predator decided to stand and trade. Big Daddy isn't the most standing adept guy either, but he is doing the kickboxing version of K-1 these days and has more experience than the former Zero-One star. He was able to catch him rather quickly, and then just continue to pound. Nice pro-wrestling retirement you had there, Gary.
3) Josh Barnett defeated Rene Rooze in 1R 2:15 via KO from the mount
Earlier in the week, Barnett said he was going to win with a Boston crab. Unfortunately for us, that didn't happen, but fortunately for Barnett, that didn't matter. Rooze got yellow carded for some reason unbeknownst to be me in under one minute (I know it couldn`t have been for stalling that early in the fight). Barnett shot in with a little bit of a struggle from Rooze. He finally got him down, and Rooze had no defense at all on the ground. While Rooze`s head was between the ropes, Barnett wailed down with punches. This wasn`t the only time in the show when someone's head caught in the ropes, but the refs weren't stopping the action. Rooze didn't seemed to be confused. I really hope this isn't the MMA version of the XFL, where they don`t have all the rules figured out before their first show. Afterwards, Barnett does the Ultraman pose for the cameras. Y'see, that doesn't distract from the fight at all, and it is amusing as well.
4) Don Frye and Yoshihiro Nakao went to a no contest at 1R 1:21 after a head collison
Looks like both Fujita and Frye have been training with Marco Ruas. Fair enough. Before the match started, they had a pro-wrestling stare down which almost lead to a pre-match, um, match. I guess somebody said something, but Frye was pissed. So naturally, the real match starts and Frye comes in swinging while Nakao tries to shoot in. As Nakao tried to pull Frye down, the head butt occurred, giving Frye a nasty cut. Of course, there will be a re-match. For the 1:21 it lasted, Frye looked in good form, up from his past couple of PRIDE matches.
5) Shinsuke Nakamura defeated Alexey Ignashov 2R 1:51 with via submission with a forearm choke
This crowd seemed so like they didn't care. You think a guy like Nakamura, scoring a huge win, would get a loud pop, but it didn't happen. Nakamura has been training with Barnett and seems to know how to do more than just shoot in now. Once again, Ignashov, proving he isn't the next Mirko, couldn`t block the shoot for the life of him. Mike Lorefice made the excellent point to me a while back that if a kickboxer is going to thrive in MMA, he's got to have a great sprawl and KO power. Mirko has both, while Ignashov as a top kickboxer possesses a devastating knee but he's got no sprawl at all.
On the ground, Nakamura showed a lot more than his previous fight. Basically, he tried the Randleman strategy from the Mirko fight by trying to smother the Russian with punches (while his head was between the ropes). This obviously made the Japanese pro-wrestler more confident because at the beginning of Round 2 he got another takedown, transitioned to side mount and easily got a forearm choke, resulting in Ignashov tapping quickly. Boy, Nakamura was, um, happy, after the fight.
6) BJ Penn defeated Duane Ludwig in 1R 1:45 via submission with a shoulder/side hold
Obviously post-UFC and stripped of title BJ Penn has something to prove in K-1 because it is his new meal ticket. He shot in, took Ludwig down (who was completely overmatched on the ground) and was able to quickly get a submission. Due to this fight being between two Americans, with almost no name value in Japan (well, I think Ludwig has a little from the K-1 MAX shows) I thought this match wasn't going to air. However, since it did, it obviously illustrates how short all the matches on this show were.
7) Lyoto Machida defeated Sam Greco via 2-1 judges decision
The only match that went the distance. Only Round 2 and the final two minutes of Round 3 were shown. Greco is Kyokushin, so I gotta go root for him. He seemed to be holding his own against Lyoto, but wasn`t particularly dominant either. Seemed a little like the Antonio Nogueira/Heath Herring fight from PRIDE 17: Lyoto would get Greco down, try a submission, and then Greco would find a way to roll out.
8) Blue Wolf defeated Tom Howard in 2R 4:44 via TKO when Howard`s corner threw the towel in after some knees from Blue Wolf
Only a clip shown. I really hope Howard is making significantly more money with K-1 than Zero-One because he's really digging a hole for himself now being 0-2. New Japan has a clean sweep (well, so does Zero-One but in the loss category)!!!!! Maybe with exception to Barnett, New Japan should stop sending their guys in shoots because they have proven their point. STOP NOW!!! Lex Express Nakamura, Barnett and Blue Wolf all you want, air clips of their victories from this show, but keep them in the pro-wrestling ring.
9) Kazuyuki Fujita destroyed Bob Sapp in 1R 2:15 via ref stoppage after successive soccer kicks punches
Once again, the crowd didn't really give an expected pop. I think deep down, they all knew the result beforehand. The crowd wasn't bad at all, they just weren't red hot as you normally would expect. Sapp tried an ankle lock but Fujita reversed, and began to punt Sapp. He then tried a headlock but decided to go back to punting and punching from the standing while Sapp was on all fours. An impressive win for Fujita.
The next ROMANEX show is on 7/7, and it will be interesting to see how K-1 tries to follow-up with this show. As they continue to raid UFC talent, it will be interesting to see if they will go the freak show route (which isn't UFC's forte) or try to actually put on some legit matches. K-1 has always been great at building around foreign fighters, something PRIDE can't seem to do for the life of them despite their obvious talent. K-1 also has the name value and mainstream coverage that PRIDE lacks. I wonder if they can capitalize on it. However, PRIDE has the built-in pro-wrestling audience, while K-1 fans are a different make-up and not particularly interested in MMA. As one K-1 fan told me a while back, "PRIDE is boring with all that stuff on the ground." Can K-1 convince him that it isn't boring?