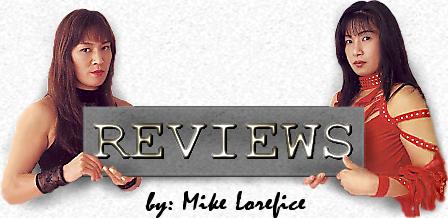 K-1 WORLD GP 2004 in Las Vegas - International Elimination A -
Battle at the Bellagio II
4/30/04 Las Vegas, NV Bellagio Hotel & Casino (7,230)
K-1 WORLD GP Quarterfinals:
Carter Williams vs. Mighty Mo R3 1:52. Seemingly the mismatch of the tournament, last year's Las Vegas champion takes on a .500 boxer that sounds like he should have been Reggie Bennett's partner in LPWA. The show was built around two far better boxers, Francois Botha and Shannon Briggs, but once everyone paid they announced the main attractions couldn't compete due to injuries in training. Mo has probably done a little more kickboxing training than these two, but at this point he's just a big slow with a giant punch. Though the brawler Mo was presumably doing his thing - leaning on his opponent and pushing him around - Williams was well in control for the first two plus rounds. Williams would hit Mo when he came in, and although Mo then kept Williams from finding the range, Williams found plenty of openings throughout the bout while most of Mo's blows were easily defended.
It would be easy to make excuses for Williams here. He was TKO'd a little over a month ago, but since he's one of the only American stars this was the logical tournament for him to enter. Thus, he got special permission from the doctor, whose justification was the finishing blow was to the body rather than the head. Williams was also planning on fighting three bouts, so with a 1 ½ or so point lead on the scorecards conserving energy made some sense. Williams was weakened early in R3 by a left hook when Mo was coming in. Williams seemed out of trouble though, but about a minute later Mo caught his kick and landed with the second punch. Williams was now in the ropes, and Mo threw a flurry of punches until the ref stopped it. There was some confusion over whether the ref had called for a standing 8 count rather than a TKO, but the signal looked like what stood, the TKO.
Dewey Cooper vs. Nobu Hayashi 3R. Close but not overly interesting fight with Hayashi being patient to the point of inactivity. He defends well, but even when he finally got "aggressive" in the third round he was stalking rather than throwing. Cooper was very active, but had little success beyond cutting Hayashi around the left eye in R1 with one good punch. The final 25 seconds were very exciting with both men landing a few blows in a flurry of action to try to steal the fight. Cooper won a majority decision.
Michael McDonald vs. Marvin Eastman R2 1:25. A crazy fight that was easily the best of the night. McDonald was the favorite once Williams was eliminated. Eastman is a tough matchup for him though because McDonald is completely offensive minded, but Eastman is super aggressive and got off quicker. Eastman hurt McDonald a two or three times in the first round, but McDonald always recovered enough to survive. He went down once in the middle of the round, collapsing from trying to fight through several good blows.
The fight totally turned in the second round. Eastman came out fast, but McDonald came back through counters, catching him with a knee then knocking him down with a couple of punches. After more damage, Eastman fell but Cecil Peoples gave him the benefit of the doubt calling it a slip. Eastman was out on his feet when he did get up, just throwing on instinct. This resulted in one of those peculiar finishes that are sure to make the highlight reels, as Eastman just collapsed while trying body blows. Very good match.
Kelly Leo vs. Tatsufumi Tomihira 3R. Leo was by far the least impressive first round winner. He supposedly knocked Tomihira down, but it was a judgement call on a blow that did no damage. Tomihira kneed Leo into the ropes then came in hard for another knee, but Leo punched him in the face. It was a solid blow, but Tomihira was on one leg driving low so anything high is going to knock him off balance. Ironically, Tomihira put Leo down with a sweep later in the fight, but this was rightfully called a loss of balance.
Tomihira was much quicker and more precise with his blows. Neither kickboxer did much damage, but Tomihira was regularly able to land low and middle kicks then back out of the pocket, eventually forcing Leo to switch sides to protect his weakened leg. Leo was the better inside fighter, though there wasn't too much of that, and was somewhat effective as a counter punching. I thought this fight should have gone another round. Tomihira was the aggressor and he landed regularly. He seemed in command to the point it looked like he was cruising. Maybe he was too cocky for his own good? The decision for Leo wasn't even close with all three judges giving Tomihira a mere 27.5, which drew big boos from the crowd.
Superfight: Bob Sapp vs. Tommy Glanville 1R 0:33. With the real fighters resting, it was time for some cartoon action from He-Juice, Master of the Unipunch. Juice is the biggest star on the show and Glanville is the local "hero", but because something was up this went on before the superfight no one was waiting for between Goodridge and TOA. Glanville wasn't that over, but Sapp got the most boos of the night (unfortunately he got as many cheers though).
They showed most of the "match" from an overhead camera, a distant enough angle that you couldn't see what was going on very well. Glanville charged in and threw a few kicks with Sapp covering. Sapp put out his hand a couple times then "KO'd" Glanville on his first punch of the night. There were no good angles of this blow, but it looked like Juice's iron wrist was the main thing that hit Glanville's chin. I'm not sure if Glanville took a dive or not since when Sapp fights the ref practically calls the match the second he does anything right, but this certainly wasn't a legit win. Glanville was up quickly and you could tell there was no reason he couldn't continue, but whether he got screwed or this was a face saving bone I don't know. In any case, the crowd rightfully hated this finish.
K-1 World GP Semifinals:
Mighty Mo vs. Dewey Cooper 3R. Cooper is the best ring strategist on the card. He gave up 82 pounds to Mo, but he squeezed out a decision by sticking and moving. Mo's reach advantage somewhat negates Cooper being far faster, but as the fight progressed Cooper began landing leg kicks then escaping. This was better than his previous darting in and out to punch because Mo would chase him. Mo was sucking wind even before this, plus his leg was hurt from Williams' low kicks. Mo wound up lunging far too often trying to catch up to Cooper, and Cooper was able to duck some of these then get his punches in. Cooper respected Mo's punching power, but he opened up more and more as the fight progressed because he had the speed and reflexes to be out of prime range in time that he was at most receiving the end of Mo's punch. Cooper won a unanimous decision 30-28.5, 29.5-29, 29.5-29. Good match.
Michael McDonald vs. Kelly Leo R1 2:09. A good matchup for McDonald, who started slow as he's prone to doing, because Leo still waited for him because that's his style. McDonald pretty much always wins if you let him get off first, and this was no exception. He faked Leo out then hurt him with one blow then proceeded to knock Leo down twice in a row. The first knockdown was a flash left hook, but the second was a gig right high kick Leo never saw coming.
Superfight: Gary Goodridge vs. TOA R1 2:43. . Exciting slugfest with TOA hurting Goodridge immediately with a big right hand. However, TOA was a far too one-dimensional fighter ever for Goodridge. TOA may be a big powerful fighter, but you don't win by simply headhunting. Goodridge was wide open, in the corner just covering his head, but TOA was unable to capitalize. Had he even landed a couple body blows he probably would have gotten a stoppage in the first minute because Goodridge wasn't even fighting. Instead, he punched himself out then Goodridge took him apart. Goodridge won from punches to the head, but they were opened up by his comeback starting with a low kick. TOA's other problem was he was too lazy to circle away. He'd back up a little, but then he'd be against the ropes and he'd just stand there until Goodridge got enough blows through to put him down. Near the end of the round, Goodridge KO'd him with a right uppercut1R
San Shou: Cung Le vs. Brian Warren 4R. The best thing about the American K-1 shows is they sometimes have Le. His matches are usually really one-sided because he's that much better than any of the other San Shou practitioners, but a domination in this style isn't bad to watch because there are more crazy throws. Warren took what was more or less a snap suplex early on, but for the most part he stayed out of trouble. He was able to tie Le up often, but had no offense because he wasn't able to punch once he did get inside. For 7/8 of the match Warren largely negated Le (though he was way down on points), but in the final minute when Warren was tired and desperate Le slammed him and did his spectacular leg scissors takedown. Le won a unanimous decision.
K-1 World GP Final: Dewey Cooper vs. Michael McDonald 3R. You don't see many K-1 finals where a 201 pounder takes on a 210 pounder, but then again they are mostly booking guys that would be playing basketball or football if they had skill to go along with their size. McDonald is the better fighter and he had recovered well, not having fought six rounds already like Cooper. Cooper was still the faster fighter, but that barely mattered because McDonald was able to get off first.
McDonald was able to pick his shots because Cooper was afraid McDonald would hit him if he darted in. Still, Cooper needed to take that chance more often because his alternatives were worse. He couldn't do anything with McDonald initiating because McDonald is a precise fighter who throws fast blows that are difficult to counter. McDonald is more powerful, so mixing it up wouldn't work. Jabbing didn't work because Cooper never seemed close enough when he threw, fearing the blows he'd take if he wasn't far enough away to be able to at least avoid most of the power. Cooper blocked most of McDonald's strikes, but they still seemed to do more than the ones Cooper landed. McDonald did hurt him once early with an inside leg kick that Cooper said was a low blow. Just before the bell they both opened up and Cooper stunned McDonald with a left hook, but McDonald blocked his knees and landed a punch or two of his own. Excellent finish to an otherwise disappointing match where there was too much waiting around and too few clean blows landing. McDonald won a unanimous decision 29-28, 30-28, 30-27.5.
McDonald has been the most dominant fighter in the brief time that K-1 has run North American tournaments. He won in 2001 & 2002, but had his worst year last year not only losing but often giving disappointing performances, and at 39 it was looking like he might be nearing the end of the line. Now he's yet another example of why you can't give up on a proven fighter based on a couple of fights that don't go their way.