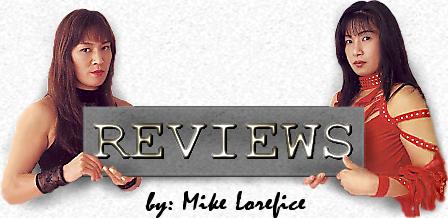 K-1 JAPAN SERIES K-1 BURNING 2004
2/15/04 Okinawa Convention Center (5,844)
by Matt White
This show aired on Nippon TV, which I thought only had rights to the middleweight MAX shows. However, I think it's the "K-1 JAPAN" shows they have rights to (that mainly feature middleweights), so that is how they got away with airing this show. The whole show was Team Sapp (Japanese fighters) vs. Team Akebono (International fighters). Try this for logic: Both Sapp and Akebono are from the US, but Sapp sponsors the Japanese team even though Akebono speaks fluent Japanese and has an adopted Japanese name (granted all Sumo are given a Japanese name). Add to this, the main event was Musashi, who trained Akebono for his match with Sapp, on the opposing team against German fighter Stefan Gamlin, an "American football" player like Sapp. Even though this show was only 90 minutes, I found it much more entertaining than the PRIDE Bushido Vol. 2 show (four hours) that aired they same day.
Hiromi Amada defeated Kimo 2R 2:06 via TKO with a left hook. Kimo tried to shoot a couple of times. He must have forgotten this isn't UFC. It was an entertaining fight with Amada dominating the whole time.
Great Kusatsu defeated Fabiano in 1R 2:53 via TKO with a right high kick. I know Brazilians like having nicknames, but Fabiano is stretching it. How can anyone take you seriously with that name? With that type of name he should be writing romance books and doing butter commercials instead of fighting. Anyways, Kusatsu seemed to have the same feelings as he quickly dispersed of the Brazilian.
Mighty Mo defeated Hiraku Hori 4R 1:22 via TKO with a right hook. Ok, these names are getting out of hand. only the 3rd and 4th rounds were shown.
Montanha Silva defeated Yuusuke Fujimoto 3R 1:03 with a straight right. FREAKSHOW!!!!!!!!!! Fujimoto looks like a Japanese version of Mike Bernardo. He did a good job of neutralizing the giant until the third round when he got rocked.
Petr Vondrechek defeated Nobu Hayashi in 1R 2:35 via KO. Really entertaining slugfest. Vondrechek was just too fast for Hayashi (who is smaller but more of a power hitter).
Remy Bojansky defeated Tsuyoshi Nakasako in 3R 2:54 via TKO high kick. Bojansky was reserved in the 1st round. In the 2nd round, he pulled out some of his patented knees. After he grounded Nakasako with a high kick, he didn`t hold back and attacked furiously with knees and high kicks until he finally connected, knocking Nakasako out. Good fight.
Musashi defeated Stefan Gamlin in 2R 2:53 via KO with a left knee strike. At the beginning of the match, they showed Sapp`s face as he reacted to the fight, then switched to Akebono`s ugly mug. Thanks, we really needed that. Musashi delivered some excellent liver kicks, his specialty. They obviously took their toll because in the 2nd round he followed a liver kick with a knee that knocked Gamlin out for good. Maybe Gamlin is just a glorified punching bag (first I`ve seen of him), but I thought Musashi looked really impressive in this fight.
The Sumo craziness continues as Sapp announced that his next fight will be an MMA match on March 14 against Dogolsuren Sumiyabazul (current Sumo champion, Asahoryu`s older brother), who lost to Kurt Angle in the 1996 Olympics. Sapp has now dubbed himself the, "Sumo Killer." Well, I guess we all need to feel important.