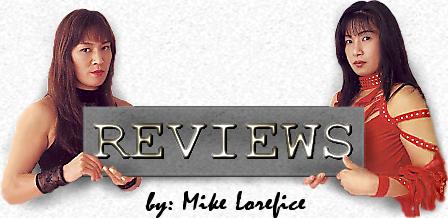 K-1 WORLD MAX 2003 11/18/03 Tokyo Nippon Budokan (9,250)
K-1 Battle of the Rising Sun PPV 1/16/04
Hiroyuki Doi vs. Marfio Canoletti 3R. Nice way to start a show. They threw constantly and went all out from bell to bell. Canoletti was the aggressor with strong punching and good inside fighting. This theoretically played into Doi's hands because Doi is a low kick specialist, and Canoletti had to take a kick or two to get where he wanted to be. Canoletti was taking 10-12 low kicks per round, but somehow wasn't even slowed by them.
Low kicks wound up leading to Doi's demise because rather than use them to open up the rest of the body they were almost his entire offense, and he was dropping his hands every time he threw one. It was close enough that they might have went an extra round, but Canoletti sealed the victory with 1:10 left in the third round. He saw another low kick coming and immediately countered with a good right cross, knocking Doi down, though probably more because he was just pulling his leg back than anything. As soon as they restarted Canoletti repeated the same counter, though this punch wasn't as good and it landed a little later when Doi had far better balance because he wasn't extended. Canoletti won a unanimous decision. Very good match.
Takayuki Kohiruimaki vs. Tony Valente R3 0:59. Valente was a pretty cool fighter, wearing a full body savate outfit and employing the side stance. Unfortunately, he wasn't successful as Kohiruimaki was prepared for his unorthodox style and didn't give him any openings. Valente did way too much waiting around, too set on finding the one strike KO with a spinning blow and not concerned enough with doing something to open it up. The spinning hook kicks Valente threw connected with the thigh rather than the heel because Kohiruimaki would shorten the distance.
Kohiruimaki made Valente pay for the side stance by regularly connecting with powerful low kicks. The difference between Kohiruimaki and Doi is he used the low kicks to try to get a KO with high or middle kicks. He wasn't successful with the high kicks, but the threat was there. He did major damage with the middle kicks, putting Valente down with both. The first kick to the midsection was toward the end of the second round, and there was practically a replay a minute into the third round for the KO. Good match.
Takehiro Murahama vs. Andy Souwer 3R. You haven't seen quickness until you've seen Murahama. He's amazingly speedy in pro wrestling, but even more impressive here because he doesn't have to wait on his opponent. His style is to dart in, throw a 2-3 punch combination, and dart out. The first two minutes had more activity than you see in a couple matches of the usual slow roided bloated boring sluggers K-1 presents these days, and this was just the feeling out period. I've gotten so used to their sluggishness that my lazy eyes were begging for slow motion so they could keep up.
Souwer won this fight because he has more well rounded skills. Murahama pretty much only punches, and he had to get inside to do so because he has so little reach. Though Souwer had more power, especially in the second half of the fight, Souwer he wasn't the puncher Murahama is, but he's got good feet and knees. When he was successful he was using kicks to keep Murahama away or more often grabbing him when he came in and bring the knees.
Murahama put Souwer down at the start of round 2 with a lightning left front kick, left straight, right hook combination. He was then cut above the left eye, but they were able to stop the bleeding until the very end of round 3 (by then it didn't matter). This was probably the only round Murahama won, and even then Souwer actually took the majority of the round. The fight was incredibly close though. It was about to go overtime when Souwer landed a combination, putting Murahama down with 15 seconds left in the fight to clinch the victory! Excellent match.
Toshio Matsumoto vs. Duane Ludwig R2 2:12. Often the guy that gets off first wins. Matsumoto did that, but he was still getting the worse of it. It took him too long to recoil his kicks, and Ludwig was regularly able to come over the top because Matsumoto kept his hands too low. Ludwig put Matsumoto down with a right middle kick and right straight then went in for the kill. Matsumoto quickly went down three more times. The first two weren't called knockdowns, but the third, which was much like the second where Ludwig landed a good knee then pushed Matsumoto off, put him out.
Genki Sudo vs. Albert Kraus 3R. Just when this was looking like the best K-1 show since Andy Hug died and the league started promoting a bunch of freaks in his place, out comes Genki Sudo. He's too small for the NBA, but another one of those taunting punks who looks like they need a good scrub. If this was pro wrestling, I'd call it the comedy match. Then again, it's hard to say it wasn't pro wrestling when Sudo was trying koppo kicks, a mule kick off the first rope, and spending most of the "match" looking like he was auditioning for a part in whatever breakdancing projects emerge from the 1980's nostalgia. Breakin' 3 anyone?
Kraus is a serious fighter who was trying to fight, so he wasn't thrilled with Genki's shenanigans. In addition to being made fun of the whole time, Genki's backstepping and robot acting didn't allow Kraus to do much fighting. Genki finally got a yellow card, not for any of the illegal pro wrestling moves or even the illegal spinning elbow that cut Kraus, but for clinching. Nobuaki Kakuta was as much of a joke as a ref as this was as a match, but at least the judges didn't think Sudo was genki. Neither did anything, though at least Kraus tried and Sudo losing the point iced it in his favor, by default.
Kojiro vs. Daniel Dawson 3R. Another good close match. Dawson impressed me, showing good kicks, then punches, and finally the ability to mix combinations of the two. He had nice speed, balance, and rubbery flexibility. Kojiro was a game opponent. He landed a ton of punches, and even though they were often arm punches, this was a very even fight. The second round was particularly good with more blows then I could keep up with. Dawson was the aggressor, the more powerful striker, and showed more varying skill so he got the majority decision. Good match.
Masato vs. Vince Phillips R2 0:15. Excellent low kick display by Masato. Phillips was the aggressor, but he rarely got to the point where he could throw, and even in those instances he didn't land. Masato would throw the low kick and circle away. It was total domination with Masato landing around 20 low kicks to one Phillips punch in round 1, causing Phillips mobility to decline quickly. At the outset of round 2, Masato beat Phillips to the strike once again, this time kicking Phillips leg out for the KO. Phillips couldn't put any weight on the leg and was stretchered out.