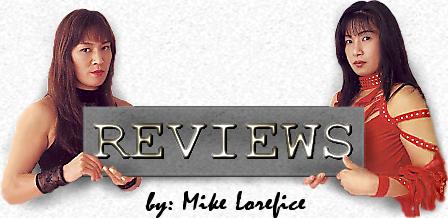 K-1 WORLD GP in Las Vegas 2003 Enter The Beast
5/2/03 Las Vegas, NV Mirage Events Center
K-1 WORLD GP in Las Vegas Quarterfinals:
Michael McDonald vs. Carter Williams 3R. McDonald is known to be a slow starter, but today he seemed to be sleepwalking. By the time he thought about waking up, he was breathing heavily. McDonald was hardly kicking even though that's his strength. He did throw some good low kicks, but not enough. McDonald finally took over in R3, as he found some rhythm but was still too hesitant while Williams, who is known to be poorly conditioned, was now the one tiring. Carter won the first 2 rounds, though they were close enough, upsetting last years Las Vegas champ via split decision.
Yusuke Fujimoto vs. Dewey Cooper 3R. The best and closest fight of the night. Cooper wasn't active enough in round 1, but he put Fujimoto down with a left hook after avoiding a right and stepping around Fujimoto's body so Fujimoto had to turn around to face him. Fujimoto threw some powerful kicks in R2 to regain control and take the round. These kicks kept Cooper away, which prevented him from using his left hand. R3 was the closest round, with a big barrage at the end as both knew they needed to impress the judges. Fujimoto did more punching here and Cooper was very much hurt. This is where you need another round because Fujimoto won the final 2 rounds, but Cooper had the knockdown. Fujimoto won a majority decision 29-28.5, 29-28.5, 28-28
Rick Roufus vs. Edourdo Maiorino 1R 2:48. Roufus is great at hitting his opponent right after avoiding their strike. He knocked Maiorino down with an overhand left then tried to finish him off, but Maiorino got defensive. Eventually Roufus saw a right kick coming and laid Maiorino out with a left to win via the 2 knockdown rule.
Maurice Smith vs. Guiseppe Denatale 3R. Smith was heavier than ever at 232, which didn't hurt him here as he just picked this kid apart, but wasn't going to help over the course of a grueling one night tournament. Denatale was tentative if not intimidated. That's the worst way to fight Mo because he'll find the openings if you give him the chance to by sitting back instead of pressuring him. Smith brushed off his strikes and hit him solid. Denatale finally got aggressive after a low blow, but Smith was too good defensively. He took one good punch, but was generally elusive despite starting to tire. Smith didn't want to do anything in R3 that would jeopardize his chances of winning the whole tournament, but still cut Denatale (granted it might have been on a butt). Easy unanimous decision win for Mo.
Super Fight San Shou Rules: Cung Le vs. Scott Sheeley R2 1:13. Le looked really good all around, totally outclassing Sheeley. He made Sheeley appear to simply be a kickboxer, getting in all the throws and takedowns while Sheeley struggled to connect with basic strikes. I enjoyed this because I'm new to this style, so Le giving a demonstration of it was worth something. Sheeley was supposed to be competitive though, so in that sense it had to be a disappointment.
K-1 World GP in Las Vegas Semifinals:
Carter Williams vs. Yusuke Fujimoto 2R 2:26. Carter had a big size advantage, and survived the first fight much easier. Fujimoto was overmatched, but helped make it entertaining. These guys fought really hard, thought basically just slugged it out. Fujimoto may have the worst balance in combat sports, and it helped cost him the match because a knockdown was called when was caught off balance by a weak front kick. Fujimoto basically collapsed mid second round, his legs just buckling on him after a few solid punches for the 2 KO rule. The highlight by far was an awesome spinning kick by Carter, a follow through when Fujimoto was avoiding the spinning backfist.
Rick Roufus vs. Maurice Smith 3R. It's amazing these two had never fought before considering how few dominant American kickboxers there have been in the last two decades. Though both are well past their best days, we did see one masterful performance. Obviously Roufus being the quicker of the two at this point played a big part, but these are the old school guys where it's more about strategy, what they are able to do and how they are able to do it than power and physicality. Roufus was active and accurate, never allowing Smith to get comfortable. He stayed on the outside, but he could land coming in or when Smith approached. Roufus put Smith down with an overhand left when Smith stepped in to throw a roundhouse. Roufus' hit and run style is even tougher to beat when he's got a big lead, and Smith was soon to the point where he needed a KO. It was actually getting embarrassing for Smith, as Roufus saw his strikes coming and was gone before Smith even let them go. Roufus wasn't landing big blows, but Smith couldn't hit him at all and he could land pretty much anything he wanted of regular impact. Roufus won a lopsided unanimous decision, but even for a disappointed Mo fan it was still a good match for the way Roufus went about taking him apart.
Super Fight: Mark Hunt vs. Gary Goodridge 5R. This was supposed to be a huge slugfest, but they only brought the slug part. It's amazing how dull this was. Goodridge has been training with Maurice Smith, which is actually starting to make him look like a kickboxer. His demeanor was much calmer and he was setting up his technique instead of just rushing in. Unfortunately, these improvements came with the huge downside that he lost all his aggression. Instead of being better, all his strengths were negated and all this showed is he isn't near the level where he can attempt to fight like a technician.
Hunt wanted to counter punch, and Goodridge knew this and refused to play his opponent's game. Hunt pretty much refused to initiate though, so the fight was Goodridge just defending against Hunt who hardly threw. Even in R5, Goodridge refused to open up. It's like he didn't believe he could KO Hunt so he just decided to stick to his losing strategy. This strategy didn't even include going after Hunt's left knee, which had a huge brace on it. Hunt did enough to win, but man did this suck.
Tournament Final: Carter Williams vs. Rick Roufus 1R 2:24. Williams seemed fully rested, the advantage of youth, and was actually more aggressive than Roufus. Williams put Roufus down with a high kick right away after 2 good punches staggered him. Roufus seemed to be getting into his game plan of hitting on the escape halfway through the round, but Carter was quicker than The Jet, and kept put the pressure on. Roufus left himself open a few times, and Williams capitalized timing the punch and putting him down on the counter. Good short match with Williams getting the KO with a right hook.