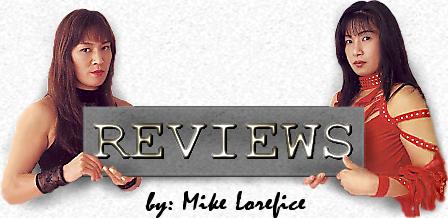 K-1 HERO'S 8 HERO'S 2007 in NAGOYA
HERO'S 2007 Kaimakusen ~Nagoya Sho Jouriku~
(HERO'S 2007 Opening Round ~Nagoya First Landing~)
3/12/07 Nagoya Shi Sogo Taiikukan Rainbow Hall
Mighty Mo vs. Min Soo Kim R1 2:37. To show you the kind of feared opponent Mr. Shark is, Mighty Mo agreed to fight him just 8 days after KO'ing his Republic of Korea countryman Hong Man Choi on K-1's 3/4/07 World GP in Yokohama show. Kim couldn't come close to taking the kickboxer down, but he has developed his chin since losing to Bob Sapp on the 3/26/05 HERO'S 1 show. Now it takes several Mighty Samoan hooks to KO him.
Hiroyuki Takaya vs. Andre Dida R1 3:29. Brief, one-sided but exciting slugfest. Takaya mixed it up early, but was clearly getting the worst of the furious boxing exchanges, getting busted open with a right hook. Takaya shifted to takedown mode, but couldn't secure Dida, who was still landing powerful hooks and uppercuts. Dida landed in mount when Takaya's takedown failed and tried a rear naked choke, but Takaya escaped. Takaya's face and nose were looking really bad with blood coming from the nose and swelling everywhere. When the doctor examined him, he discovered the nose was broken and stopped the contest.
Ryuki Ueyama vs. Vitor Ribeiro R1 1:48. Ribeiro had rear mount with Ueyama on his knees and worked for an arm bar. Ueyama kept maneuvering, but couldn't free the arm and eventually was forced to roll into a position Ribeiro could extend it for the win.
Hyun Pyo Shin vs. Bernard Ackah R1 1:11. Ackah had a successful MMA debut, making short work of Shin. He put him down momentarily with a right hook then kneed Shin as he was getting up and grabbing Ackah's hips in hope of securing a takedown. Snoop Dog continued to avoid the takedown, landing a few solid right hooks then holding Shin's head with his left hand while punching him with the right for the stoppage.
Yoshihisa Yamamoto vs. Katsuyori Shibata R1 0:09. Yoshihisa Yamamoto is really in a slump. All he had to do was take the New Japan junior down, but he came out striking. While he did manage to bloody Shibata's nose in the 9 seconds the fight lasted, he was essentially KO'd by Shibata's first punch, and Shibata is not exactly a hands of stone type. Yamamoto rolled to his knees to shoot, but didn't have it in him to do anything more, allowing Shibata to connect with a few more punches before the ref stepped in.
Gary Goodridge vs. Jan "The Giant" Nortje R1 3:00. One of the more bizarre MMA fights you'll ever come across, with Nortje quickly going from domination to the point of embarrassment to being embarrassed. The 330-pound Nortje stuffed Goodridge's takedowns and pounded him with rights. Nortje literally threw 50 unanswered strikes with Goodridge hunched over in the corner covering his head, landing around half, some clubbing down to the top of Gary's noggin, while Goodridge bobbed and weaved around the others. Nortje had punched himself out by the 40th, and was petitioning for the stoppage as though Goodridge was active in moving, he wasn't fighting back. Nortje doesn't have the card like fellow oversized K-1 fighter Bob Sapp, who they would have given the stoppage by the third or fourth unanswered punch before the fans realized he can't punch or his opponent came back and beat him. And Goodridge did just that, finally coming to life with a right high kick, which opened up the takedown. The exhausted Giant showed no defense on the ground, turning to his side and covering, which now resulted in a quick stoppage.
Melvin Manhoef vs. Yoshiki Takahashi R1 2:36. Takahashi will usually bang with anyone, but was looking for the early takedown against the power hook throwing kickboxing wildman. Takahashi could get a hold of Manhoef, but that was about it. Once Manhoef connected with a big right hook it was the beginning of the end. Takahashi withstood a flurry and made it back to his feet, but Manhoef stopped his shot and landed a series of punches for the ref stop.
Kazushi Sakuraba vs. Yuriy Kyselov R1 1:26. Sakuraba took Kyselov down immediately, but Kyselov claimed the top when Sakuraba's armbar failed. Sakuraba quickly transitioned to the triangle, but it looked as though Kyselov might withstand it when he was leaning over Sakuraba, who was crunched up and trapped in the ropes. Sakuraba transitioned back into the cross armbar, snapping Kyselov to the mat for the submission.
Kazuyuki Miyata vs. Black Mamba R1 3:38. Fun short match with very active groundwork, as both men set up submission after submission. Miyata secured a double leg takedown, but Mamba nearly transitioned into an armbar only to have Miyata slam himself free. Cool finish by Miyata using an over/under to spin Mamba into a choke sleeper.
Caol Uno vs. Ali Ibrahim R1 1:58. Ibrahim was an Olympian in judo. He took Uno down, showing an aggressive ground and pound that led to a cross armbar attempt from Uno. Ibrahim tried to slam his way free, but Uno held on and hooked Ibrahim's leg, rolling him to his back where he was able to extend the arm for the win.
Hideo Tokoro vs. Kazuya Yasuhiro R1 3:00. Tokoro ascended to main event status after defeating Royler Gracie on 12/31/06 at K-1 PREMIUM 2006 Dynamite!! show. Seiko Kaikan karate veteran Yasuhiro was surprisingly hesitant in standup, perhaps not wanting to fall prey to a quick submission as he did in his previous MMA bout to BJJ specialist Rani Yahya on HERO'S 6 8/5/06. After a few minutes where both were afraid to pull the trigger, Tokoro got a single leg and mounted. Yasuhiro swept him, but super quick Tokoro triangled him in the process, switching to the cross armbar for the victory.
BACK TO QUEBRADA REVIEWS


* MMA Review Copyright 2008 Quebrada *