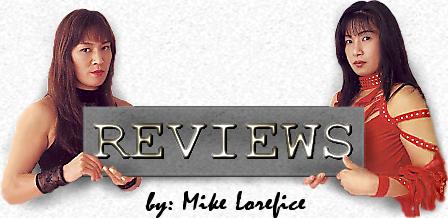 K-1 HERO'S 7 HERO'S 2006 Middlekyu & Lightheavykyu
Sekai Saikyo Oja Kettei Tournament Kesshosen
10/9/06 Kanagawa Yokohama Arena
Lightheavykyu Sekai Saikyo Oja Kettei Tournament (Light Heavyweight World's Strongest King Decision Tournament) Semifinals
Yoshihiro Akiyama vs. Kestutis Smirnovas R1 3:01. Smirnovas found himself back in the tournament when quarterfinals conqueror Kazushi Sakuraba bowed out due to injury. Akiyama blistered the outside of Smirnovas' left thigh with low kicks that caused immediate welting. Smirnovas was forced to defend his legs before he was too hobbled, which was almost a good thing but went awry almost in the same instant. Smirnovas caught Akiyama's leg, but slipped while firing back with a right straight while Akiyama was scrambling away. Smirnovas managed to get back to his feet before Akiyama came at him aggressively, but in backing away he quickly found himself in the corner looking for yet another low kick. Unfortunately for him, this time Akiyama went high, leveling Smirnovas with a devastating kick then landing a few punches for the stoppage.
Melvin Manhoef vs. Shungo Oyama R1 1:04. Manhoef came out firing, simply overwhelming Oyama with powerful albeit wild strikes.
Middlekyu Sekai Saikyo Oja Kettei Tournament (Middleweight World's Strongest King Decision Tournament) Semifinals
Caol Uno vs. Ivan Menjivar 2R. Both fighters did an excellent job of defending against the other man's strengths and desired position. Though Uno can stand with anyone without getting beat up, Menjivar was certainly going to win a standup battle. Uno looked to close the distance to stay away from Menjivar's powerful strikes, fighting him evenly on the inside where he peppered him with series of quick punches and matched his knees. Considering the fight was 90% standup, Uno did really well. However, he was repeatedly unable to take Menjivar down, which was his whole strategy, and did quickly get a red cheek from the right hands Menjivar was landing. Uno finally leveraged a toss in the last minute, going right from full mount to rear and trying to choke Menjivar out. Menjivar quickly got back to his feet, getting a yellow card for a high kick he threw while Uno was doing the same. I was shocked they didn't send them into the extra round. Uno is one of my favorite fighters, but if I had to pick a winner I'd give a slight edge to Menjivar as he's the better striker and he was able to ward off the takedowns and keep it in his domain. Instead, Uno got the unanimous hometown decision. Pretty good match.
J.Z. Calvan vs. Rani Yahya R1 0:39. Yahya's only chance was to get it to the ground, but unfortunately he was guillotined in the process.
Super Fight: Kaysinov Georgy vs. Antonio Silva R1 1:08. Georgy used punches to set up the takedown, but still couldn't get it. Silva landed a right body hook then came up high with a left hook for the KO.
Super Fight: Don Frye vs. Min Soo Kim R2 2:47. Kim leads with his right leg, his stance making it incredibly easy for Frye to land the inside leg kick to his injured knee. Otherwise, Kim dominated the first round. Kim always goes high for the takedown due to his judo background, which when you can't get the throw leads to struggles based largely upon brute force. Kim has a strong base, and was consistently overpowering Frye. He didn't do any damage with his first takedown as Frye turned to his knees and stood up when Kim got north/south, but he was pummeling Frye in ground and pound the second time. Had there been more time left in the round, I don't think Frye would have survived Kim's mount punches. Kim was looking tired in round 2, and Frye came on mixing punches with his low kicks. By mid round Kim was completely blown up, and the repeatedly low kicks opened the window to victory as Kim came in expecting them, but instead walked right into a right hook for the knockout. Slow paced and somewhat dull, but they were fairly well matched and it was a nice come from behind win for The Predator. Average match.
Super Fight: Hideo Tokoro vs. Ken Kaneko. Kaneko is an actor who doesn't have the slightest clue of what the hell he's doing. Tokoro didn't need to strike and didn't have to work for anything, he could just take whatever position he wanted on the ground without any opposition. Kaneko slipped out of the arm bar the first time, arguably the only thing he did right all fight. It didn't matter though, as Tokoro just set the arm bar up again for the submission. An embarrassment.
Hero's Middleweight Tournament Final: Caol Uno vs. J. Z. Calvan. Pretty similar to Uno's previous match, more of a stalemate but also more exciting due to the increased stakes and how evenly matched they were. Calvan is an even more imposing striker than Menjivar, but Uno is about as difficult to rock as anyone. In standup you almost have to hit him when he's trying to strike or shoot, as otherwise he'll just dodge or run away. On the ground, he avoids most of the ground and pound and blocks the rest. The difference between the two matches is Calvan is a far more capable wrestler, so not only didn't Uno closing the gap work at all for his own takedowns, Calvan was able to use the threat of his strikes to take Uno down. In R1, Uno got in trouble getting caught against the ropes, and though he blocked the couple punches Calvan threw before he was forced to shoot, Calvan stopped the takedown and landed a few ground punches before Uno gave his back and immediately got wrist control so he could stand back up. Though Calvan landed sporadically in standup, he mainly scored with three takedowns in round 2 that had him in control the majority of the round even though they amounted to negligible damage. Uno may have gotten lucky against Menjivar, but if anything he got a raw deal here as only one judge called for a third round. Obviously if I was forced to decide I'd give it to Calvan, but when another option is available I can't see giving a decision in the final based solely on control. Good match.
Hero's Light Heavyweight Tournament Final: Yoshihiro Akiyama vs. Melvin Manhoef R1 1:58. A memorable little final which often bared more resemblance to pro wrestling than MMA. Manhoef came out like a house of fire as usual, but after landing some blows Akiyama got a hold of him. Manhoef picked him up for the belly to belly suplex, but Akiyama pulled off a tremendous midair reversal into mount. Akiyama wasn't able to capitalize on the position, and Manhoef again tried to slam him. This time he had the pump handle, but Akiyama reversed with a Kimura and arm barred Manhoef for the win.
BACK TO QUEBRADA REVIEWS


* MMA Review Copyright 2008 Quebrada *