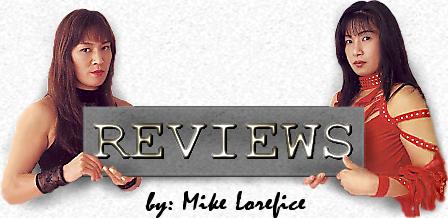 K-1 HERO'S 4 3/15/06 Tokyo Nippon Budokan
Shungo Oyama vs. Melvin Manhoef 1R 2:51. Manhoef's striking was too much for Oyama. Once he landed his first good shot he followed up with several more which Oyama had no defense much less answer for. Oyama was basically done when his takedown backfired, as Manhoef busted him up in a brief ground and pound segment before letting him up so he could flurry on him. Oyama's cut above the left eye was pretty bad, but gave him a temporary reprieve that likely kept him from being knocked out within the next minute. Unfortunately for him, Manhoef picked right up where he left off, rocking Oyama several times for the TKO.
Jerome Le Banner vs. Jimmy Ambriz 1R 2:04. Le Banner tried to kickbox Ambriz, but was taken down after landing a few blows. Ambriz wasn't super active, but his ground and pound did do some damage. Le Banner wasn't getting off his back any time soon, but being a big name the ref stood them up within two minutes. This time Ambriz tried to use wild looping punches to set up his takedown, but Le Banner countered with an overhand right, dropping him with one punch.
Kazuyuki Miyata vs. Erikas Petraitis 1R 3:59. Miyata scored the immediate takedown, landing a few good punches when he had space to open up the guard pass. Miyata flurried from the mount, but Petraitis regained guard and tied im up. Petraitis negated Miyata's offense for a while, but was never able to get back to his feet.
Caol Uno vs. Rich Clementi 2R. Good match with wily veteran Uno against powerful Clementi. Clementi got the early takedown, pinning Uno's arm behind his back so he couldn't use it to defend. It was looking as though Uno might be in for a long night, but when Clementi took side mount Uno gave his back, and after avoiding the rear naked choke turned into top control. Uno did a surprising amount of damage with his ground and pound before the round ended to steal it, but he still looked the worse for wear at rounds end as his nose was cut and his cheeks were puffy. Uno wanted the takedown, but knowing he couldn't overpower Clementi he used leverage through a Kimura. Clementi held haft guard and kept Uno off balance so he couldn't flurry on him, eventually getting back to his feet with a minute left. Uno spun Clementi back down out of a waistlock, but Clementi grabbed his leg and pulled him down to gain the late advantage. Competitive fight, but Uno has too many skills for Clementi.
Gary Goodridge vs. Heath Herring 2R 1:55. Interesting fight between erratic fighters who balance moments of brilliance with moments of ineptitude. Herring is a more well rounded fighter, but Goodridge is the kind of fighter you can't make a big mistake against because he'll knock you out in a hurry. Herring was sloppy early, getting taken down when Goodridge caught his high kick. Goodridge is more interested in big offense than control, so he's prone to losing his advantages. Once Herring got the takedown Goodridge was stuck on his back, but he was lucky enough to get a standup. Goodridge was generally the better fighter on their feet, but he fell prey to one good punch.
Tokimitsu Ishizawa vs. Yoshihiro Akiyama 2R 1:41. Kashin has a tough time shooting, as his amateur wrestling days were a long time ago and he's only able to train sporadically. He's not one of those overpowering wrestlers who can just charge through you, and whatever he did back in the day, it's harder to take guys down in MMA because they don't have to lock up and obviously can throw a lot more varying offense at you. Ishizawa couldn't get the takedown, as Akiyama has good balance and wouldn't let Ishizawa get anywhere once he grabbed him. Ishizawa did eat flurries of punches trying to get Akiyama to the ground, but this was a dull fight with Ishizawa a lot of clinching and grabbing but Ishizawa unable to mount any kind of offensive.
Yoshihisa Yamamoto vs. Min Soo Kim 2R 1:32. Hard fought bout with both having their moments and chance to attain victory. Yamamoto may not have a good record, but as in his works, he's always capable of an exciting fight. Kim is a bit sloppy with his punches, but was landing some. Yamamoto got off to a slow start, but got aggressive catching Kim with a surprise uraken followed by two good lefts to knock him down. Yamamoto flurried from side mount and Kim wasn't defending himself, but apparently Yamamoto didn't have enough on the punches to warrant the stoppage. Kim's nose was badly bloodied, and Yamamoto had a few cuts as well, so instead the ref gave Kim a break so the doctor could check him out. This decision was probably the sole reason Kim survived the first round. Yamamoto now had confidence in standup, but Kim was landing his punches as well. Yamamoto wanted the takedown, but Kim got it instead and Yamamoto fell apart. Good fight.
Genki Sudo vs. Ole Laursen 3R. Good match with Genki trying all kinds of crazy submissions. He was into rolling ones today, including a heel hold. At one point he was on Laursen's back, but when the choke failed he tried to roll into a leg lock. Laursen had poor takedown defense, which puts him in a tough spot since Genki can always find a submission to try, and that looks good to the judges. Genki was hurt in R2 by a knee to the mid section he claimed was a low blow. Despite the shady break, Laursen, who had almost no offense before this, came alive trying jumping attacks on his downed opponent. Genki took some ground and pound, but a tiring Laursen wasn't active enough. Given he lost R1 for sure, he needed to put a lot more pressure on Genki, but just didn't have it in him. Nonetheless, Laursen did enough to send it to the extra round. Never one to be shown up, Genki got the takedown and tried jumping on Laursen.
Hideo Tokoro vs. Yoshinori Ikeda 1R 0:49. Tokoro got a single leg takedown into side mount, quickly transitioning into full mount but getting so high on Ikeda trying to set up a submission he was reversed. This turned out to be a good thing for Tokoro, as being on his back made it easier to sink the triangle choke in deeper.
BACK TO QUEBRADA REVIEWS


* MMA Review Copyright 2008 Quebrada *