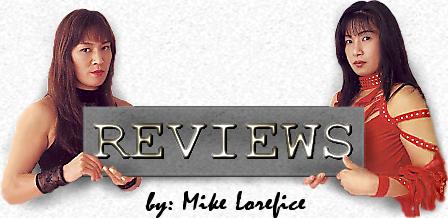 K-1 HERO'S Lithuania 11/26/05 Vilnius, Lithuania Siemens Arena
Erikas Petraitis vs. Takayuki Okouchi 2R. Very one-sided contest with Petraitis failing to really hurt Okouchi, but Okouchi being completely blanked offensively as he was always on defense and unable to counter. Petraitis blitzed Okouchi in standup, with Okouchi trying to run, but Petraitis pursuing to keep the heat on. Okouchi fell throwing a high kick while retreating, but while Petraitis dropped some punches down on him he was unable to pass guard. Petraitis landed some good clinch knees and ½ clinch punches. Petraitis kneed Okouchi low, but the ref didn't see it, so Okouchi took a few knees while standing there holding his unit before the ref gave him his breather. They actually played some cheesy mystery music while Okouchi was verging on tears, slumped over rubbing his scrotum. Petraitis immediately took Okouchi down after the restart, this time succeeding with his standing guard pass only to give up on the position and stand again. Okouchi finally had a takedown midway through round 2, but even if his ground and pound wasn't short lived it probably would have been too little too late. Average match.
Ido Pariente vs. Mindaugas Smirnovas R1 0:39. Smirnovas used ground and pound, but Pariente caught him in the kneebar for the win.
Valdas Pocevicius vs. Konstantin Uriadov R1 3:10. Uriadov got a double leg takedown and mounted off a standing guard pass, but Pocevicius reversed when Uriadov tried to take his back, only to quickly succumb to a triangle armbar that appeared to break Pocevicius' arm.
K-1 Rule: Darius Skliaudys vs. Janas Kacenovskis 3R. Kacenovskis basically boxed, while Skliaudys fought Muay Thai style, scoring with low kicks and knees. Kacenovskis tried to be aggressive, but would eat kicks coming in. He hoped to rough Skliaudys up in the corner, but Skliaudys rocked him with a clinch knee as he was slipping out and landed a high kick when he turned the corner to elicit a standing 8 count. Skliaudys landed a nice high front kick. He simply had too many weapons for one-dimensional Kacenovskis, securing a unanimous decision. Average match.
Tadeushas Chilodinskis vs. Evert Fyeet 2R. A very active match with regular position changes and submission attempts. Chilodinskis dominated Fyeet with his wrestling, but showed excellent effort to finish the fight, using his takedowns to set up submissions. He tried a heel hold, various armlocks, and rolling Fyeet into a guillotine choke. Fyeet was the superior striker, but right from the outset Chilodinskis didn't give him much opportunity, catching Fyeet's first kick and getting him to the ground with a short right straight. Fyeet switched to wrestling in the second round, getting 3 takedowns of his own including a nice counter with the wizard. Cholodinskis won a unanimous decision. Good match.
Jair Goncalves vs. Egidijus Valavicius R1 2:55. Goncalves got a double leg takedown and used ground and pound to open up the guard pass, soon taking Valavicius' back and finishing him with the rear naked choke.
Tadas Rinkevicius vs. Keigo Takamori R1 2:41. This matchup of seemingly unskilled bangers produced the desired heavy hitting. Both came out slugging with Takamori quickly dropping Rinkevicius, though perhaps to some extent Rinkevicius was escaping to his back. Rinkevicius kept Takamori from passing, so Takamori opted to allow him to stand back up. This time Rinkevicius landed an overhand right that sent Takamori running, pursuing him and finishing Takamori off with a couple more right hands. I guess it was good if you enjoy this "style" of fighting.
Kestutis Smirnovas vs. Hiromitsu Miura R1 4:30. These two were well matched with neither being able to get anything going early due to the defense being ahead of the offense. Smirnovas got a single leg takedown, but Miura tried a heel hold only to have Smirnovas break it with punches and mount. Miura gave his back, so Smirnovas choked him out. Pretty good match.
Valerijus Golubovskis vs. Yurij Kiseliov R1 0:22. Golubovskis missed a spinning heel kick, but followed with a spinning backfist that flattened his opponent for the KO.
Mikhail Illoukhine vs. Jordanas Poskaitis R2 1:10. Poskaitis is a good standup fighter with particularly nice kicks. His spinning strikes are difficult to defend if you don't back off quickly, as he holds off the revelation of kick or punch as long as possible. He had Illoukhine on the run early after landing a spinning heel kick. Illoukhine soon learned to back away from Poskaitis' strikes though, then set about shooting for the takedown, willing to eat a kick in the process. There was major controversy when the ref called for a quick standup after Mikhail's first takedown, as Poskaitis punched Illoukhine after he'd stopped his ground and pound attack to break. Illoukhine showed a serious case of temporary insanity, heaving the ref out of the way and trying to attack his opponent who hadn't had a chance to stand up yet. Illoukhine got a stomp in before being tackled by a group of refs who rushed the ring, leading to a double yellow card. Though provoked, I would have DQ'd Illoukhine as you cross the line when you touch the ref. Illoukhine was able to take Poskaitis down after the first few minutes, but Poskaitis would guillotine him or hold him close to eliminate the action, hoping for the standup. Illoukhine finally pulled out one of his favorites from the old RINGS works, catching Poskaitis' leg and dropped into an Achilles' tendon hold for the win. Illoukhine didn't want to break, with the ref having to tackle him to get him to release the hold, resulting in Poskaitis being hobbled. Illoukhine was simply out of control, and his craziness probably has a lot to do with why he hasn't fought since. Good match, though more memorable for the unfortunate antics.
Remigijus Morkevicius vs. Ramazi Jakharydze R1 0:09. Morkevicius cracked Jakharydze at the bell with a left high kick for the KO.
BACK TO QUEBRADA REVIEWS


* MMA Review Copyright 2008 Quebrada *