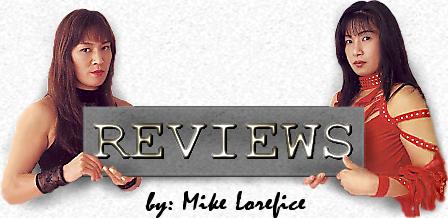 K-1 HERO'S 3 9/7/05 Tokyo Ariake Coliseum
Middleweight Tournament Quarterfinals
Genki Sudo vs. Kazuyuki Miyata R2 4:45. The wrestler Miyata controlled the first round with his takedowns, including a head and shoulder throw that was very similar to a suplex. Sudo figured out Miyata's shot, stopping the takedown toward the end of R1 and effectively ending Miyata's advantage. R2 saw Sudo get a takedown, but with 1 1/2 minutes left neither had done any damage, or anything of note beyond the takedowns. It figured to be a too tough to call decision, but sensing they needed to do something to steal the fight both let fists fly. This quickly proved disastrous for Miyato, who took a high knee and a few good punches before resorting to a desperation shoot Genki again stuffed. Miyata had no interest in returning to the standup game, but made the mistake of giving his back. Fair.
Hiroyuki Takaya vs. Remigijus Morkevicius R2 4:16. Morkevicius had an edge in standup, but possesses no ground defense. He stayed on his feet most of R1, but was saved from mount punches by the bell. R2 started with the best exchange of the fight, but Takaya learned not to give Morkevicius distance, tying him up and eventually getting the takedown. Takaya did whatever he wanted on the ground, passing immediately and punching from his chosen distance as Morkevicius simply used his arms to protect his head. Decent.
Norifumi "KID" Yamamoto vs. Royler Gracie 2R 0:38. Gracie ate a punch to take Yamamoto down, but Yamamoto used his feet to push Gracie off and keep him gaining control, allowing him to quickly scramble back to his feet. Gracie tried to take KID right back down with a guillotine choke, but Yamamoto shook his neck out and took Gracie down. Most of R1 was standup, controlled by Yamamoto though he failed to land any good shots. In R2, Yamamoto nearly ducked into a high knee, but avoided it enough that it only grazed, allowing him to fire back with an overhand right, knocking Gracie cold. Gracie fell like a ton of bricks, so Yamamoto didn't even have to move toward him, much less pounce on him, to attain the ref stop.
Caol Uno vs. Hideo Tokoro 2R. Good fast-paced bout. Success rate was low, but they fought hard, throwing what they had at each other in R2. Uno controlled the fight, not doing much damage in R1, but his punches increasingly got through in R2, bloodying Tokoro. Tokoro knew he was losing so he took more chances in R2, even pulling out the kneel kick. Tokoro had a standing Kimura late, but lacked the leverage.
Middleweight Tournament Semifinals
Genki Sudo vs. Hiroyuki Takaya 2R 3:47. Takaya wasn't fooled by Genki's dancing and stance switching, but Genki has more weapons and gets off faster. Genki would jog away from Takaya when he engaged, but then he'd launch his own attack. Genki didn't have a lot of success in standup, but he landed some, while Takaya was inaccurate and didn't wind up throwing half the time he intended to because Genki retreated. Genki got a few takedowns, but generally preferred standup. Still, a key is Genki would actually try a series of submissions, transitioning to a different one as soon as Takaya blocked the first, while Takaya didn't really do ground and pound or attempt submissions when he had top position. Average bout.
Caol Uno vs. Norifumi "KID" Yamamoto 2R 4:04. A standup fight where the defense was ahead of the offense. Yamamoto was a bit more accurate, while Uno was more aggressive. It was pretty much an even fight with Yamamoto's punches against Uno's low kicks until Yamamoto landed good right hook late in R2, cutting Uno's left eyebrow. Uno initially continued, but despite the blood mainly dripping down his cheek, the ref saw how quickly it was coming out and stopped the fight. Yamamoto probably would have won the decision as the one punch essentially accounted for the damage done during the fight, but with less than a minute left it seemed a weak stoppage.
BACK TO QUEBRADA REVIEWS


* MMA Review Copyright 2008 Quebrada *