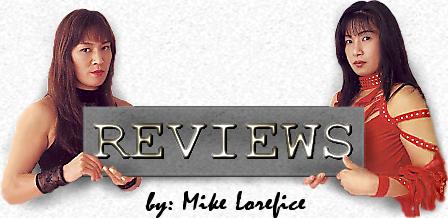 K-1 HERO'S 2 Middlekyu Sekai Saikyo Oja Kettei Tournament
(Middleweight World's Strongest Champion Decision Tournament)
7/6/05 Tokyo Kokuritsu Yoyogi Taiikukan
Yoshihiro Akiyama vs. Carl Toomey R1 0:59. Akiyama had an immediate leg trip into mount. Toomey used his arm to try to push Akiyama off when he bucked, but Akiyama transitioned into the armbar he'd been setting up for the win.
Bob Sapp vs. Alan Karaev R1 3:44. They decided to have Juice actually try to fight a legitimate match, so they came up with the lamest opponent possible, a man who was quickly smothered by master of mediocrity Gary Goodrige in his MMA debut at HERO's 1. Sumos are the most useless mixed martial artists, as their background provides them with zero offense and their obesity makes it difficult for them to even last a round. Karaev is no mere sumo, as he's also had success in arm wrestling, and we all know how deadly Bull Hurley would be in MMA. If not, EliteXC will be glad to sign him up to come on after the real fighters and get knocked out by Kimbo Slice in 30 seconds. In any case, the result of the latest Sapp experiment was the world's most awful bungle of clueless no stamina giants. If this isn't the ugliest MMA match I've ever seen, my memory is shorter than I think. Karaev was very aggressive and had Sapp turning and running from his early punches, similar to Sapp's recent laughable loss to Jan "The Giant" Nortje at Strikeforce at the Dome except Karaev lacks any of Nortje's striking ability. Karaev sloppily took Sapp down into side mount, quickly passing to full where he did little as he was already blown up. Sapp gave his back and Karaev tried perhaps the worst choke and armbar in MMA history, not bothering to control Sapp's body in the least on either submission attempt, and thus allowing Sapp to take the top and mount. Sapp did nothing and was swept by Karaev, so Sapp again gave his back. Karaev repeated his earlier mistake, doing nothing to control Sapp's lower body, so Sapp was able to regain the top. At this point the ref was probably getting embarrassed at how atrocious the match was, so he called for a restart. Karaev managed to stand up, but was so exhausted Sapp probably could have won by blowing him over. Karaev certainly lacked the energy to attempt a legit shot, so Sapp quickly KO'd him with 3 mediocre left jabs. Worst shoot match of the year candidate.
Ray Sefo vs. Min Soo Kim R2 0:30. They fought 3 minute rounds so it would be more similar to what Sefo is used to in kickboxing. Sefo fought just as aggressively as he does in K-1, not striking to avoid the takedown as so many kickboxers do. He was all about the knockout, and if Kim took him down so be it. Many kickboxers have employed this strategy, but Sefo actually had takedown defense and could scramble, so he wasn't going to be pinned on the mat by any old opponent, which is about the best praise one can give to Mr. Shark. Sefo landed some powerful right hands, not getting taken down until the final 2 seconds of round 1. The fact that Kim was dropped in similar fashion to his HERO'S 1 loss to Bob Sapp - trying a left straight but getting knocked down by a right hook - adds to the potential legitimacy of the Sapp fight. On the other hand, Sefo is one of the most powerful punchers in the world and he connected cleanly at say 85% of the deadliest punch he could possibly throw yet Kim, who was clearly far more worn down given Sefo had landed several quality strikes in round 1, still managed to get up at 8. It's hard to imagine how Kim could withstand this punch and not the one Sapp maybe hit him with. In any case, Sefo quickly followed up with a spectacular right high kick KO. Granted Kim isn't exactly Fedor Emelianenko, but Sefo was really impressive here. He could probably be a Mirko Cro Cop level fighter in MMA if he made the transition full time.
Middlekyu Sekai Saikyo Oja Kettei Tournament Quarterfinal: Takehiro Murahama vs. Remigijus Morkevicius R1 1:14. Two quick strikers who kept it in standup. Morkevicius leveled Murahama with a left hook he never saw coming for the KO.
Middlekyu Sekai Saikyo Oja Kettei Tournament Quarterfinal: Hideo Tokoro vs. Alexandre Franca Nogueira R3 0:08. Fast-paced action packed ground match with several submission attempts. Tokoro is HERO'S most exciting fighter, as his fights consist of super fast technical ground work. He's a fighter who is willing to risk losing to for the chance to win, so decisions are extremely rare. Nogueira got a guillotine out of a scramble, but Tokoro made him pay with ground and pound when he got his neck out. Nogueira had a nice slam into side mount, but Tokoro was content to be on his back, escaping an Achilles' tendon hold and remaining there even though it meant Nogueira would always start with the advantage. Though Tokoro is dangerous with submissions from the bottom, this strategy was unnecessary with Nogueira, who is also much more of a ground fighter. When Tokoro actually began striking he proved to be the better of the two at it. This didn't occur until the ref stood him up late in the second round when Tokoro hurt Nogueira with a right hand and brought a jumping knee, but Nogueira caught his leg and slammed him. The fight was even so they called for a third round. Tokoro came out with an uraken for the knockdown then flurried with punches for the win. Very good match.
Peter Aerts vs. Wakashoyo R1 1:36. Aerts tried to strike, but the sumo got hold of him, drove him into the corner, and shifted his girth for the takedown. Wakashoyo didn't know what to do with Aerts once he got him there, so he settled on nothing, resulting in a quick standup. This time when Wakashoyo did his sumo charge Aerts knocked him out with a tight right hook. The ref didn't stop it, so Aerts had to land a few punches to his down and not moving opponent before he was granted his victory.
Middlekyu Sekai Saikyo Oja Kettei Tournament Quarterfinal: Kazuyuki Miyata vs. Shamil Gaydarbekov R1 2:49. Miyata shot immediately, getting the takedown out of the clinch on the second try. The kickboxer was far from clueless on the ground, but Miyata didn't wrestle at the Sydney Olympics for nothing. Still, Gaydarbekov was getting close to getting back to his feet, trying to stand when Miyata had his back, but Miyata got him back to the ground and finished it with the rear naked choke.
Middlekyu Sekai Saikyo Oja Kettei Tournament Quarterfinal: Norifumi "KID" Yamamoto vs. Ian Schaffa R3 1:23. Certainly one of Yamamoto's toughest matches with Schaffa making a good enough showing he would have had a chance for the decision. Tempers flared early, which is no surprise considering Yamamoto is an out of control hothead. He kept his cool after the first low blow, a knee that had to be painful, but the middle kick Schaffa landed after the recovery break (which appeared to be at the waist at worst) set him off. Both were swearing at each other back and forth and Schaffa got a yellow card. Schaffa landed a legal shot here and there, bloodying Yamamoto's nose. He was clearly the better standup fighter, as he's accurate. He could land one shot and avoid Yamamoto's or win an exchange as Yamamoto threw little beyond wind full force hooks. Of course, since Yamamoto swings for the fences, he's always a threat to knock you out if he actually makes contact. Yamamoto was mainly scoring with the ground game, taking Schaffa down and dropping punches and hammerfists that swelled Schaffa's right eye while Schaffa failed with up kicks. Schaffa stopped a single leg, but Yamamoto held on, lifting Schaffa over his shoulder and slamming him. Yamamoto was unable to capitalize on the ground, but partially landed a wild uppercut early in round 3. Schaffa backed away seeming fine, but basically just collapsed when Yamamoto pursued and began a combination of punches. It was truly a bizarre KO as though no one will deny the power behind Yamamoto's punches, none of them seemed to be more than a grazing blow. Good match.
BACK TO QUEBRADA REVIEWS


* MMA Review Copyright 2008 Quebrada *