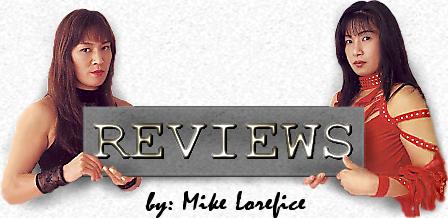 GLORY 21: San Diego 5/8/15
San Diego, CA Valley View Casino Center
Omari Boyd vs. Chris Carradus 3R. 20-year-old Carradus did a good job of hanging in there with Boyd in his GLORY debut despite taking the bout on just 4 days notice. Carradus didn't have any particular offensive success, but what he lacked in technique he made up for in athleticism, and he was able to avoid most of what his far more experienced opponent threw at him. Boyd's primary success came in working the right side of the body with both kicks and punches. Boyd won every round, but none were decisive, and getting docked a point for his 2nd low blow gave Carradus enough confidence to at least pretend he was going to win the decision. Below average match.
Andre Walker vs. Manny Mancha R3 0:19. A wild brawl. Mancha is one of those big tough guys who just isn't the least bit athletic, maybe a kickboxing equivalent of Sean O'Connell. He's slow, lumbering, and gets himself offbalance lunging at his opponent with his wide sloppy strikes, but he can take a punch and even though his technique is really poor he's got a lot of mass behind his shot so you can't just trade with him. Walker started off circling figuring he'd use his superior speed, but quickly realized he could just stand in front of Mancha and beat him to the strike before moving. Walker was landing at will in the 1st, as Mancha literally showed no defensive capability. Still, you felt Mancha was baiting Walker into a brawl because that was his only path to victory. Mancha came out really aggressive in the 2nd with a left high kick, and rocked Walker with a big left hook then flurried on him. Walker was never able to get back to a place where he could make the necessary adjustments and use his many skill advantages to allow himself to recover and regain his foothold in the contest. Walker seemed to steady himself once and be ready to settle into landing the left hand and moving before Mancha could counter, but Mancha again rocked him with a left hook. Mancha trapped Walker in the corner and was punching himself out with more big left hooks on the covering Walker, who finally came back hurting Mancha with a right uppercut, but just didn't have any consistent offensive output after the 1st. The second round wasn't pretty, but it was crazy action with Mancha throwing one big ugly left after the other. Walker was still the more accurate fighter, but Mancha was so active in this round that Walker didn't have much chance to either move or throw. Walker had his moments when he actually got something off, but Mancha was consistently hurting him to the point it was surprising Walker didn't go down at some point during this round. The closest Mancha came to dropping him though was when he hit Walker after the bell as Walker had already turned and began making his way to his corner! Mancha got a 3rd wind in between rounds and came out aggressive again with a superman punch then finally dropping Walker with yet another left hook. Walker was up at 4, but was wandering in many directions and didn't come toward John McCarthy when instructed to do so after the mandatory 8 count, so the fight was stopped. Technically, this fight was a terrible kickboxing match, but action wise, it was undeniably a very good fight. Good match.
Ashley Epps vs. Maurice Greene R1 2:12. Greene is long and aggressive. He kept charging forward, and Epps kept losing his balance trying to escape Greene's rush. Epps was down more times in 2 minutes than I was the 1st time I put on a pair of skates, so while it was hard to tell what was really a knockdown and what was really a slip, Epps was so badly overmatched it never seemed to matter. Greene's left uppercut to the sternum that was called a knockdown probably should have been a slip, but Greene soon folded Epps in half with a left hook to the point he fell forward on his noggin for the KO! The fight was so one-sided that Epps was credited with landing just 4 strikes.
Giga Chikadze vs. Ken Tran R3 2:19. Incredibly entertaining fight with Chikadze putting on a clinic of how to be flashy, crazy, entertaining & wild, while still focusing on actually dissecting the opponent in order to win the fight. Chikadze is a fascination fighter to watch because his quick-twitch reflexes are so ridiculous he can literally stand still in front of his opponent then suddenly attack with no windup at all and no real tell to allow the opponent to anticipate. This style is obviously incredibly difficult to defend because it's so abrupt, and he actually hits hard, his speed somewhat making up for the lack of windup. Tran was no joke either, and generated a lot of power standing in the pocket and banging with Chikadze. Round 1 was entertaining, particularly at the end when Chikadze hurt Tran with a left body kick then unleashed a crazy flurry where he even thought about a Showtime kick and tried a rolling thunder. Chikadze hit a jumping knee & mixed in attempts at the hook kick, crescent kick, anything he could think of from the annals of pro wrestling, kickboxing, or MMA really to keep Tran off balance and guessing what angle he was coming from and what attack he was coming with. Tran was fairly predictable, coming forward and landing the low kick but generally failing when he took his kicks higher or tried to follow the low kick with the big haymaker hook. Chikadze again landed a big left body kick late in the 3rd, this time folding Tran for the knockdown. Tran was super winded by the blow, but just barely managed to beat the count, with a lenient ref allowing him to continue. Chikadze went right to the left head kick because Tran was too winded to do anything but block it and appeared to go for a 2nd one, but instead deposited the shin right back into the liver for the KO. Chikadze did miss some wild showy attacks, but when you look at his stats, he landed an amazing 52% including 66% of 44 kicks against a guy with some actual speed and defense, and was pretty balanced in punches and kicks with success on the few knees he tried as well. Very good match.
Mike Lemaire vs. Casey Greene 3R. What appaeared to be a one-sided fight where Lemaire cruised to a decision got really intense in the 3rd as Greene just refused to go away despite everything being in Lemaire's favor. Lemaire was longer & faster. He kept coming forward & getting off 1st, even repeatedly getting away with throwing lead left hooks. Greene was supposed to be the better boxer, but rarely landed more than a single punch or kick in the 1st 2 rounds, and nothing of consequence. Lemaire was the better puncher, kicker, and scored with a few step knees. He was simply much more active and accurate in the 1st 2 rounds. Despite taking the fight on 48 hours notice, Greene was the one who still had something left in the tank in the 3rd. Greene came out with desperation knowing he was down 2 rounds, and was able to put a lot of volume on Lemaire in the 3rd, evening the fight out as far as total strikes and actually surpassing Lemaire by the end but ultimately being unable to land a shot that could turn the tide. Lemaire got a good jumping knee in late, but Greene recovered and kept pushing for the finish. Greene's round 3 was ultimately by far the best round of the fight, showing what a game opponent he was despite failing to attain the knockdown he needed. Really an excellent 3rd round, and show of heart & will by Greene. Lemaire won a unanimous 29-28 decision. Good match
Heavyweight Qualification Tournament Semifinals
Xavier Vigney vs. Maurice Jackson R1 1:32. Vigney beat Jackson's legs up with kicks, backing him into the corner in the process where he was a sitting duck for his punches. Jackson eventually turtled up and walked against the ropes with his back to Vigney, taking punches to the back of the head until he crumbled. Jackson really didn't seem to want to fight tonight. I mean, once Vigney walked through his kicks it just seemed Jackson didn't like taking the punishment and just wanted out.
Chi Lewis-Parry vs. Demoreo Dennis R1 1:40. Dennis hurt Parry right off the bat with two big right hand counters, but then Parry adjusted to Dennis' big weapon and settled in, pressuring him with inside work where he got off 1st and kept throwing. Parry featured the right hand, but mixed a jab in later in his final combination before KO'ing Dennis with a big right.
Raymond Daniels vs. Justin Baesman R1 0:51. Really fun action with Daniels being the Cung Le of kickboxing, landing all sorts of spinning movie kicks. He hit a spinning high kick, tried a 720 kick, and KO'd Baesman with a spinning back kick all within just 40 seconds with Baesman obviously fast & fresh.
Heavyweight Qualification Tournament Final: Xavier Vigney vs. Chi Lewis-Parry R2 1:50. Big bombing boxing brawl with both men loading up on every punch. Parry was the less technical of the two, but hit a little harder. Both were tiring quickly because of their size & the fact they were putting everything into each punch, but the workrate was high because the defense was low, so if you weren't hitting your opponent you were getting hit. The first round was pretty even with both landing numerous powerful punches, but Vigney began to take over midway through the 2nd with short, chopping right hands. Parry got stuck in the corner, taking right after right, and once Vigney switched to working the body he folded him in two with a left liver hook for the win. To show just how boxing oriented the fight was Vigney outlanded Parry 42-26 overall, with neither landing a knee and Parry winning the kicking battle 6-1. Above average match.
GLORY Middleweight Title Match: Artem Levin vs. Simon Marcus 5R. Levin, in particular, tried to make this a muay thai fight even though he claimed the clinch was the aspect he wanted to avoid. In the opinion of the announcers and this observer, it wasn't winning him the fight even before he got docked a point for excessive hugging as Marcus was actually the one who was landing the knees, it was just making things ugly and boring. Luckily, the point deduction forced Levin to engage Marcus in a kickboxing match, and the fight became interesting from there as a technical chess match. Marcus' left low kick was working all night against the southpaw & he generally seemed the more effective range fighter, landing the more powerful shots, though overall the connect numbers were consistently just about even. Ultimately, Marcus outlanded Levin 75-70, with Levin only credited with 8 knees despite all the time he spent clinching. Really, the big difference is Marcus was definitely the one who was pressing the action, while Levin, although mostly in the 1st half, was the one who was stalling. None of the rounds were what you could call decisive, but I thought Marcus won at least 3 rounds, so given the point deduction against Levin, I don't see how this wound up being a majority draw other than to say that any time Cecil Peoples is employed, idiocy abounds. Interestingly, judge Luis Cobian gave Marcus the final 3 rounds while Peoples gave Marcus rounds 3 & 5 & Nelson Hamilton gave Marcus rounds 4 & 5. The controversial decision will no doubt set up a 3rd and deciding match between the two, Marcus having won a unanimous decision in their first fight on 3/15/13, but given this was technical at best and outright boring at worst, I'm doubting they can expect a repeat of this shows high ratings. Average match
BACK TO QUEBRADA REVIEWS


* Kickboxing Review Copyright 2015 Quebrada *