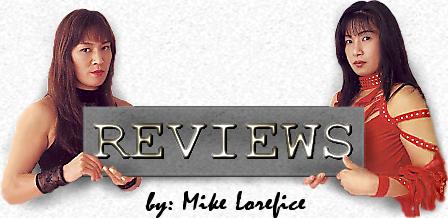 Glory 4: Tokyo 2012 Heavyweight Grand Slam
~New Year's Eve Special 2012~
12/31/12 Saitama Super Arena
GLORY Heavyweight Grand Slam Tournament FINAL 16
Semmy Schilt vs. Brice Guidon 2R. Schilt used his jab early, but generally fought very aggressively, closing the distance and bringing deadly knees to the head. Guidon just couldn't get into range, really only reaching Schilt with a Superman punch at the end of the first round. Schilt had Guidon hurt with the knees in the first, and put him down 30 seconds into the second with a left knee to the jaw followed by a left straight. I was sure Guidon was done, but he managed to get up only to be put right back down with a short left. I think Guidon was actually going to get up again, but the two knockdown rule advanced Schilt. Average match.
Rico Verhoeven vs. Sergei Kharitonov R2 2:00. Verhoeven had pretty much all the advantages, speed, movement, reach, experience, and so on. His technique was simply too advanced for Kharitonov. Kharitonov defended Verhoeven's kicks pretty well in the first, but Verhoeven kept him on the defensive and at least part of his combinations would always get through. Kharitonov did better in round 2 as he was able to make it ugly. He closed the distance and created chaos, turning it into a brawl. Verhoeven settled late though, and landed a series of good punches to secure the round and advance. Average match.
Gohkan Saki vs. Raoumaru R1. These two didn't belong in the same building together unless Raoumaru was buying a ticket or selling the artery cloggers. The speed and fluidity of Saki's combos was such that Saki landed 3 punches or two punches and a kick before Raoumaru even thought about reacting. And even then, Raoumaru was thinking rather than doing, as he just stood in front of Saki without throwing the entire fight. Saki would crunch him with a left to the body then a right to the head, mixing in some brutal left uppercuts and high kicks. The two knockdown rule was truly a mercy killing for Raoumaru. Joke of a match, but Saki looked unreal.
Anderson "Braddock" Silva vs. Igor Jurkovic R1. Started out as the most competitive match so far with furious 3 strike combos back and forth. Silva is a notorious slow started, but he began to take over quickly, mainly due to his height and punching power. Jurkovic couldn't seem to see Silva's left hooks and overhands, which were landing above eye level, but still with a ton of power. Silva landed a low kick between two of these for the first knockdown, and then Jurkovic crumbled again quickly for the TKO, more because he wasn't recovered from the first knockdown. A good minute before Silva became too much for Jurkovic.
Remy Bonjasky vs. Filip Verlinden 3R. This match lived up to the expectations and was the best on the show. Both fighters are known for their constant movement, and kept a crazy pace throughout. They were trying to figure out how to hit each other, and often just putting a barrage of punches toward the block. Verlinden was the one coming forward in the first round. Bonjasky was blocking all the punches, but just couldn't get off, and even when he did, Verlinden's footwork was extremely good defensively. After losing round 1, the veteran Bonjasky knew he had to just find a way to keep coming forward. He did a better job of angling in than Verlinden, and Verlinden was feeling the pressure, having to just push him away if he couldn't knock him back with knees. As with the first round, it was mainly the low kicks that were landing for both, and that was going to take it's toll going forward. Verlinden slowed down a little in the third, but was still scoring with the inside leg kick. Bonjasky's aggression and desire were just too much in the end, as he continued to move in and attack for the second round in a row. Good match.
Jamal Ben Saddik vs. Errol Zimmerman 2R. Ben Saddik is the 2nd tallest fighter in the tournament at 6'8 1/2", and Zimmerman just couldn't deal with his overwhelming reach. Ben Saddik was super aggressive, starting his punch combos at distance and coming forward with each shot until he had Zimmerman against the ropes where he couldn't move. Once Ben Saddik had Zimmerman pinned, it was easy pickens punching around or through his block. Ben Saddik had a knockdown in the first and really put a beating on Zimmerman in the second, trapping him in the corner and landing one huge punch after another. Zimmerman finally crumbled after a right straight, but down a round and 2 out of 3 knockdowns with 40 seconds left, he didn't wilt. On the contrary, he almost made a miraculous comeback, countering with a big overhand left and charging forward with a punch combo, dropping a backpedaling Ben Saddik him with a left hook. The round was pretty much over by the time Ben Saddik was up, and as Ben Saddik had a 10-8 1st round and had dominated most of the 2nd round, you knew he was moving on, but it was the most disappointing implementation of the best 2 out of 3 rounds rule since Zimmerman had just got himself into the match. Good match.
Peter Aerts vs. Mourad Bouzidi 1R. Aerts fought a great first round against his stablemate Bouzidi. He came forward the entire time throwing mid-high kicks, forcing him to block everything with his arms. As Frank Shamrock was reminded of breaking his arm trying to block Cung Le's kicks in their classic 3/29/08 match, it was Aerts who suffered some sort of break to the hand or wrist when he threw a right straight to Bouzidi's head then defended Bouzidi's left high kick with his wrist. Aerts won the round, but couldn't come out for the second. Fine while it lasted, but just disappointing to see the great champion go down in this fashion.
Daniel Ghita vs. Jhonata Diniz 3R. Ghita had too much technique and experience for the young upstart injury replacement Diniz. When it was a normal fight, Diniz moved and defended well, but was just outclassed offensively. He was blocking and wasn't getting hurt, but he wasn't really getting off either. Ghita won the first round comfortably, but Diniz decided to go down fighting. He was super aggressive in the 2nd, stepping forward and throwing a short punch, then repeating the process the entire round. It was a big time blitz, and Ghita could never set his feet. Ghita was tired in the third, but Diniz also didn't have the energy to keep up that level of pressure, and when he wasn't charging in, Ghita was back in his comfort zone punching around Diniz's block. In the end, skill and maturity won out over youth and energy. Above average match.
GLORY Heavyweight Grand Slam Tournament Quarterfinals
Semmy Schilt vs. Rico Verhoeven 2R. Interesting for a while, but then business as usual for Schilt. Verhoeven knew what he had to do, and was able to execute while he had the energy. He was moving sideways so he wasn't in front of Schilt to get hit then coming in on a diagonal. Once he got inside, he was making it ugly. Schilt was cut above the left eye from an accidental headbutt. Schilt began to turn the fight when Verhoeven charged into a knee that could have been ruled a knockdown. As Verhoeven slowed, Schilt began to land his jabs and low kicks. I felt Verhoeven won the first round, but Schilt got it 3-2. It was all one-way traffic in round 2 with a tired Verhoeven standing in front of Schilt and getting hit by Schilt's long strikes. Schilt then closed the distance and brought the knees to the head, and Verhoeven continued to fade. Average match.
Gokhan Saki vs. Anderson "Braddock" Silva 1R. Saki fought a completely different fight than he did in the opening round, not moving much or throwing in combination. He basically stood in front of Silva, but Silva wasn't throwing or putting any pressure on him, and Saki's shots were so fast and explosive Silva simply wasn't quick enough to defend them. Saki was clearly winning the round, but I didn't expect the last second knockdown when he stepped in with a right straight then followed with a left hook. Silva was actually up and the round was over, but he kept stumbling so the ref stopped it. Average match.
Remy Bonjasky vs. Jamal Ben Saddik 2R. Bonjasky fought a poor fight here. He wasn't moving enough and was too tentative. It's really hard to beat the much bigger man in a slow paced fight, but Bonjasky seem puzzled. Remy was the slight aggressor, but when they exchanged Ben Saddik had so much reach he always caught him with the third shot as Remy was backing out. Ben Saddik did a great job of shutting down Bonjasky's kicking game, repeatedly catching his leg and then making him pay with a punch (since sweeping the leg is illegal, though he did that once, too). Ben Saddik wasn't hurting Bonjasky, but it looked bad because Bonjasky kept slipping and stumbling and generally getting off balance trying to escape. Below average match.
Daniel Ghita vs. Mourad Bouzidi R2. Bouzidi fought a smart first round, staying on the outside and using low, front, and middle kicks. Ghita was the more powerful striker, but I felt Bouzidi had a considerable advantage in volume and accuracy, so I was disappointed that the judges had it 3-2 Ghita. Needing the 2nd round to stay alive, Bouzidi got involved in a wild exchange to start the 2nd that he was getting the worst of. Somewhere in there, he suffered a freak injury to his right arm or shoulder and had to quit. Average match.
Super Fight: Jason Wilnis vs. Toshio Matsumoto 3R. Wilnis had the crisper, more evolved combinations and did a better job of landing multiple strikes at a clip. Matsumoto would start each round strong, particularly when he was working the left low kick, but stood in front of Wilnis too much, which wasn't a good strategy considering Wilnis had more technique and hit harder but Matsumoto appeared to be the quicker of the two. Wilnis took the first 2 rounds on the same 4 judges scorecards then had a questionable overhand right knockdown with a minute left in the third to seal the deal. Average match.
GLORY Heavyweight Grand Slam Tournament Semifinals
Semmy Schilt vs. Gokhan Saki 2R. Saki was the aggressor and did everything he could to close the distance, but the reach disadvantage was simply too overwhelming. Saki was taking all kinds of chances, but just missing spectacularly as Schilt would take a step back. Schilt would hold his ground and kick the body when Saki wasn't throwing movie kicks. The first round was pretty much a nothing round, with Schilt not getting hit but only landing some minor front and middle kicks. The second round saw a more effective Schilt as he got his jab going early. The scary thing is Schilt is Saki would miss because he was out of range and Schilt wouldn't even have to extend on his jab or front kick to land the counter. Saki landed a couple good overhand lefts, but that was about it. Average match.
Daniel Ghita vs. Jamal Ben Saddik 1R. Ghita started the fight with a crushing liver kick where the "foot knuckles" landed on the right bottom rib for the knockout. I thought Ghita must have landed a low blow the way Ben Saddik bent forward and crumbled.
Super Fight: Mutsuki Ebata vs. Sang Jae Kim 3R. Impressive speed and technique, but quite one-sided. Ebata was walking Kim down, scoring with an excellent lead jab then mixing the next couple shots up to keep Kim off balance. Kim was consistently beat to the punch and couldn't get his counters going because Ebata had his timing down and kept landing and knocking him backwards. Average match.
GLORY Heavyweight Grand Slam Tournament Final: Semmy Schilt vs. Daniel Ghita 1R. Dull and tentative final. Schilt was inching forward, but wasn't very aggressive and Ghita seemed to have no idea of how to deal with Schilt's reach advantage and wasn't throwing at all. Ghita landed 1 good punch before Schilt TKO'd him with a left high kick that was mostly blocked. Poor match.
BACK TO QUEBRADA REVIEWS


* Kickboxing Review Copyright 2013 Quebrada *