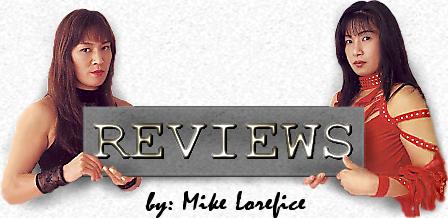 EliteXC Saturday Night Fights: Unfinished Business
7/26/08 Stockton, CA Stockton Arena
Shayna Bayzler vs. Cristiane Cyborg R2 2:48. Bayzler needs to get the fight to the ground since her whole game is submissions, but it's much more difficult in EXC since they only want to promote the 140 pound women's division, as opposed to the 135 pound weight class she fought at in BodogFight. Cristiane, the wife of Evangelista "Cyborg" Santos, is a particularly bad matchup for Bayzler size wise. Picture Antonio Rodrigo Nogueira with a ton of creepy brandings running around in a drag and you'll get an idea of what Mrs. Testosterone looks like. Bayzler is a high energy fighter who is rarely dull to watch. She went for submissions almost the entire first round, seemingly holding onto a kneebar/toe hold attempt for half the round. Cyborg wasn't showing much ground and pound, so Bayzler's wasn't paying in an obvious manner when her submissions failed. That might have worked against her though, as if Bayzler would have had to defend she might not have completely burned herself out in the first round trying for her own offense. Cyborg, a Muay Thai expert from the Chute Box team, took over at the start of the second, quickly shredding her weary opponent. Bayzler dropped to the canvas to avoid standup, making a lame attempt for Cyborg's leg, but Cyborg decided the fight was over and began posing on top of the cage. Given this was EliteXC, which often seems more similar to pro wrestling than MMA, I was waiting for Bayzler to come back and win so they could turn it into one of those controversial matches where both fighters claim victory, and thus no one really loses. However, even though it took quite a while for Steve Mazzagatti to get the fight restarted because Cyborg doesn't understand English, Bayzler wasn't helped much by laying on the canvas for as long as she could get away with. She still couldn't get it back to the ground, and this time the fight was stopped when she hit the deck. Above average match.
EliteXC Welterweight Championship: Jake Shields vs. Nick Thompson R1 1:03. Shields came into the fight with a cut on his cheek from taking a knee in training, but it didn't matter. He got the quick takedown and hooked Thompson's chin. Thompson had a chance to rull him over, but Shields regained his balance and mounted, giving him the leverage to finish with his guillotine.
Nick Diaz vs. Thomas Denny R2 0:30. EliteXC commentary really has me at a loss. I get that they promote newbies as if they are the greatest fighters in the world and journeymen as if they are feared veterans figuring most of the audience doesn't know the difference. But why are they acting like Diaz, one of their only legitimate top notch fighters, is ready to disappear if he can't get this win he needs in the worst way? It would be true of his opponent, who has no business in a featured match on a big show, but Diaz is about as active as anyone, and his only loss in the last 2 years is to their champ K.J. Noons. What's even more bizarre is the lame pro wrestling angle they did after Noons convincingly dispatched of Yves Edwards on 6/14/08 seemed to make an immediate rematch with Noons a foregone conclusion (hence giving Diaz a warmup match he almost couldn't lose).
A wild punchfest with a super tempo. Denny pushed the pace to disturb Diaz, not allowing dictate the pace with his repeated punches as he traditionally does in the first round. Diaz believes he can outlast anyone in a cardio game, and began to assert his will halfway through the first, with Denny already beginning to slow from instilling a pace he couldn't sustain. Diaz hurt Denny with a left then knocked him down with a low kick, more from the residual effect of the punch. The rest of the first was one punch after another, with Denny making his last stand trying to answer though Diaz clearly landed the more effective blows. Diaz not only doubled Denny's striking output for the first, but also landed a much higher percentage. Diaz kept the pressure on in the second, scoring big with left jab/overhand right and left hook/right uppercut combos that lead to the early KO. Good match.
EliteXC Middleweight Championship: Robbie Lawler vs. Scott Smith R2 2:35. Though not as good as their controversial first fight on 5/31/08, this was certainly another good back and forth standup fight that was worthy of the main event status they were denied in favor of the talentless YouTube creation. Smith had a much better first round today, winning a close one rather than getting way behind. Smith broke his hand though, which probably explains why he shifted from his bread and butter, punching, to throwing elbows in the second. Lawler definitely concentrated on improving his clinch game since that's a clear advantage to Smith, but Smith was once again able to open up a cut on the top of Lawler's head with an elbow. This was the turning point of the fight, as knowing that the network is so squeamish, Smith closed up hoping a lull would bring about a doctor check that might get him a cheap win. However, Lawler, who was by far the more active fighter in both fights, shifted into high gear to prevent that very thing. Lawler came back with dirty boxing. Smith had a clear advantage in leg strikes in the first fight as he did a good job while Lawler hardly used any at all, but today they were more a weapon for Lawler than for Smith. Robbie landed some solid kicks earlier, but it was the clinch knees that did Smith in. Lawler dropped him with three knees to the gut and began to ground and pound, but Smith stood back up so Lawler regained the Thai clinch and drilled him with a knee to the head for the win. Good match.
BACK TO QUEBRADA REVIEWS


* MMA Review Copyright 2008 Quebrada *