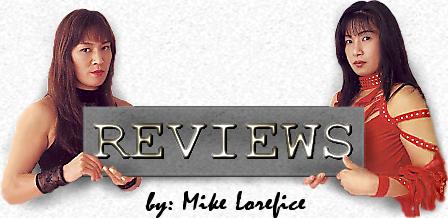 EliteXC Saturday Night Fights - Primetime
5/31/08 Newark, NJ Prudential Center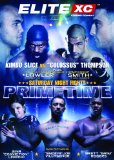 The more mainstream anything gets, the more it becomes unskilled, generic, predictable, pussified crap. If you waited 15 years anticipating MMA to make it's national TV debut in the US, well, you still didn't really get it. Sure, there were five fights under the banner of MMA, but based purely on the fighting style they practically could have taken place in Shootboxing. Even though a few of them were good, they did a lot to remind people of why they do or don't like boxing and sports "entertainment", but basically nothing to display the beauty of mixed martial arts. If anything, they set the sport back 15 years to the days of Bob Meyerwitz promoting streetfighters in boxing matches, except now the bloodsport is stopped for some ridiculous reason once the juice flows. Swelling under the eye is even too much too allow someone fight through, and there's no need to actually let them get knocked down, as we can stop the fight first assuming it's maybe about to happen.
We could dream about a main event that would showcase the most skilled fighters to teach new fans what MMA is all about, a Fedor Emelianenko vs. Antonio Rodrigo Nogueira or B.J. Penn vs. Takanori Gomi - I'd gladly even settle for the doable Nick Diaz vs. Yves Edwards - but instead we got a fight that a year ago would have been more apt to have taken place in someone's backyard. Seriously, it's more likely that a debt collector would battle a street fighter over missed car payments than in the main event of, in some ways, the biggest MMA show of all time. And that's not even taking into account that said debt collector is the most infamous Glass Jaw in MMA history, a man who couldn't even beat Butterbean, and actually "earned" his slot in the main event by losing his previous match to the green opening match heavyweight Brett Rogers in less than 2 ½ minutes. Nor is it considering that said streetfighter has only two fights under his belt, one over a guy who gave up before the bout even started, and another over a man that had won 3 of his last 13 fights and is old enough to be the father of most of the fighters on the card.
Brett Rogers vs. John Murphy R1 1:01. Murphy is one of those people who tries to exploit God for brownie points. Maybe if he prays hard enough, God will grant him some footwork. Rogers is super green, but when you fight a counterpuncher who is too uncoordinated to position himself into discovering the distance you can get away with simply swinging for the fences. A couple of good punches from Rogers and the fight was stopped.
Joe Villasenor vs. Phil Baroni R1 1:11. Villasenor transitioned from boxing to MMA, so he's not the fighter you want to slug it out with. Ever the strategist, The New York Needle Ass got an early takedown catching a high kick, but quickly let Villasenor up after a few punches because some actual ground fighting might get him relegated back to the Showtime shows. Villasenor quickly backed Baroni with a left hook then applied the guillotine against the fence, releasing after sucking some life from Baroni to take him out with strikes.
Gina Carano vs. Kaitlin Young 2R. As long as the women actually have the time to train, their fights are usually good because they are essentially quick energetic featherweights or bantamweights. Carano's other commitments only allowed her 3 weeks to train, and you come off pretty lame when your nickname is Conviction but you come in 4 ½ pounds overweight for a bout in the 140 pound division (that's over 3% too heavy), but even out of shape she was obviously far more a fighter than the main eventers. A few brief ground segments, but essentially they stuck to their muay thai strengths. Young had nice low kick counters, but would also regularly attack with both front and middle kicks and Thai knees. She kept the pace high trying to gas Carano, and was succeeding to the extent you can when your opponent regularly gets off first, but Carano hurt her with a punch in the middle of the second to turn the fight decidedly into her favor. Young was able to clinch and knee the first time she was hurt, assisted by the fact Carano lacked the tank to punch her out, but Carano quickly hurt her again with a left straight while Young was trying to land a right, and it was all downhill for Young. Carano again let Young off the hook, but hurt her again 15 seconds later with an overhand right. Young was basically out on her feet, allowing Carano to take advantage of her big front kick for the knockdown then eventually cinch the rear naked choke. In a dramatic closing, Young held on for more than 10 seconds, refusing to surrender even though the life was being sucked out of her. Young was rewarded for her efforts in surviving the round with the doctor seemingly stopping the fight due to the aforementioned deadly swelling under the eye that wasn't even closed to closed. So Carano, the fighter deemed the face of the women's division mostly due to her good looks, gets a ridiculous stoppage victory in a fight where she has nothing left in the tank. Granted Carano was generally impressive and clearly winning the fight, but this was already starting to look like the usual shadiness coming from boxing promoters, which, oh yeah, EliteXC's Gary Shaw happened to be. Adding to both the conspiracy theory and the pussification for the mainstream, Young apparently claims the doctor actually cleared her to fight, so the commissioner proceeded to stop the bout against the wishes of both her and her corner. Beyond that, she wasn't invited to any post fight interviews or activities where she would be asked about it or seen in a beat up state (supposedly we aren't ready to see a battered and bruised woman). Good match.
EliteXC Middleweight Championship: Robbie Lawler vs. Scott Smith R3 3:26. Gruelling standup war. Robbie Lawler has surprised me by evolving into a smart patient warrior who aims to take your will. He used to just blast away for the first round KO, but now he's very accurate and exacting. He stunned Smith early, but was content to land regularly rather than be drawn into the exchanges he was known for when UFC decided he was going to be the greatest thing since Tank Abbott. Lawler picked Smith apart throughout the first, wobbling him near the end of the round, which resulted in Smith stumbling to his corner. If ref Dan Mirogliotta showed any consistency, he would have served up a terrible stoppage here, but luckily it took him another round and a half to throw his hat into derailing this potential classic. Smith isn't the type of fighter I generally like, a standup slugger who freely admits to not being particularly sound, but the guy has heart and moxy in spades. You can't count him out until the fight is over, and as usual he made a comeback. Lawler wasn't giving in easy, as even Smith's high kicks only backed Lawler up and his Thai knees were answered by effective dirty boxing. Finally, Smith's low kicks slowed Lawler, the resultant lessened mobility and activity increasing Smith's accuracy. This was shaping up to be one of the best fights of the year when Lawler accidentally fingered Smith in the eye trying to defend Smith's right straight. Smith immediately stopped fighting, telling Mirogliotta he doesn't want the doctor, he's alright though he can't see at the moment. Mirogliotta essentially decided Smith needed the doctor anyway, which is defendable given Smith did admit to temporary blindness, but unfortunately the doctor was clueless. She seemed to begin examining the wrong eye, and ultimately stopped the fight right after Smith told her he was okay, he just needed a little more time (he still had 2 or 3 of his allotted 5 minutes left). Lawler won the first round, Smith won the second round, and the third was up for grabs. Since it's a five round fight, it needs to go the full three though for a decision to be rendered, so it's a no contest, forcing shady boxing promoters favorite thing, the rematch. The fight was very good, and probably would have been excellent had it gone to conclusion, but the horrendous "finish" takes it down a notch. Good match.
Kimbo Slice vs. James Thompson R3 0:38. Wrestling promoting doesn't work in real fighting. You can't just push someone to the moon because of their look or their name, as it takes a long time to learn the sport, and in the mean time... They once again found just about the worst possible opponent for Kimbo, a guy who has won 2 of his last 8, and is known for getting KO'd the first time anyone hits him in the jaw. All credit to Thompson as he actually tried to win rather than simply doing his job and throwing bombs for 10 seconds until Kimbo did the does well, land a powerful punch. Thompson may be one of the worst takedown men in the sport, but even trying to shoot over and over again without any setup Kimbo is so terrible he was able to take him down. Thompson may have the worst ground and pound in the sport, or simply have been instructed not to try too hard if you know what I mean, but despite some really pathetic misses and mostly halfhearted connections, he controlled the majority of the fight.
This was easily the poorest technical match of the year, even by the awful standards of Cage Rage these two didn't even belong in the opener. Just complete amateur hour with Slice fighting more like a fighter who once glanced at the dust jacket of Bas Rutten's vaunted book than someone who actually trains with him daily and Thompson making countless mistakes on the ground that even your average BJJ green belt, who would actually have submitted Slice with the Americana in the 1st, would chortle about. The quality of the ground fighting was so unbelievable low the fight appeared to be worked at times, but I think they are just that awkward, uncoordinated, confused and completey devoid of stamina because even beyond the fact neither are workers, with Thompson's history it would make zero sense to work a bout of any length. Hell, the expectation was that he'd crumble the first time Slice landed a good punch, and a clean, so to speak, KO was what the fans wanted to see from Slice. But controversy abounded in many spots, ultimately leading to the predictable Bob Sapp style bailout that's the last recourse of the promoter counting on the undeserving.
The first questionable spot came when Thompson had a standing guillotine that should not have been any danger because Slice's arm was in the lock. Some people thought Kimbo submitted, but he pretty clearly gave a thumbs up to tell the ref he was okay. What was bizarre is they cut to a shot of the entire arena then, when they cut back, Kimbo had apparently switched so Thompson gave up the hold? Kimbo landed a big left early in round 2 to send Thompson back into perpetual shooting. The attempts were so obvious even Kimbo could defend them, but Kimbo decided to try a guillotine with no body control that gave Thompson the top. Thompson had nothing on his ground and pound and still managed to miss the majority, if for no other reasons than he was tired and Kimbo's arm was in the way, so Kimbo was bailed out with a standup even though Thompson not only had a dominant position - side control - but was being fairly active if typically ineffective! Thompson was also threatened with a standup at one point when he had mount, but if that's uncommon it's more because almost every fighter other than Thompson's can actually take advantage of dominant positions.
Slice was rocking Thompson after the gift side mount standup, but while wobbly, Glass James not only managed to silence his detractors by staying up, he came right back taking Kimbo down with a nice head outside double. Grasping at straws, Mauro Ranallo tried to claim this was a DDT by Kimbo. Thompson trapped Kimbo against the cage with 1:45 left, and Kimbo didn't move one iota during the duration because he was clueless of how to improve position. Thompson secured a crucifix with over a minute left and finally landed a series of serious blows – over 50 passable elbows or punches in the segment - with Slice looking like the poster child for not intelligently defending yourself. If any other fighter was trapped in a prone position without defending themselves for even half this amount of time, the fight would have been stopped regardless of the fact they weren't really being hurt by the blows. Of course, EliteXC has boxed themselves into Kimbo winning making or breaking the promotion, so he's simply allowed to ride out the round.
Thompson has the most disgusting cauliflower ear ever, a bulbous sack that Mauro Ranallo actually referred to as an "alien life form". Kimbo used his last bit of energy at the start of the third to try to finish it, exploding the ear with an overhand right and following it up. Thompson was clearly rocked having taken four straight blows, three of which were heavy shots, but though tired and hurt, he still had his hands up and was trying to defend himself. Other than the bloody ear, which the doctor would have to rule on, he was in more or less the same position he was in the previous round he quickly came back to dominate. Of course, knowing Slice was going to lose the decision if enough of the judges were on the level (apparently one actually gave Kimbo the 2nd round), EliteXC was seriously panicking so Mirogliotta earned his bonus by serving up the Sapp stop. Thompson was so disgusted he couldn't continue to fight his real opponent he took it out on the man who beat him, pushing Mirogliotta's face. I expected a 20 second farce, but this hideous NBA bailout sham was far more infuriating than Bo Cantrell serving himself up for the slaughter. Who needs Joey Crawford when you get Dan Mirogliotta much cheaper? Worst match of the year candidate!
BACK TO QUEBRADA REVIEWS


* MMA Review Copyright 2008 Quebrada *