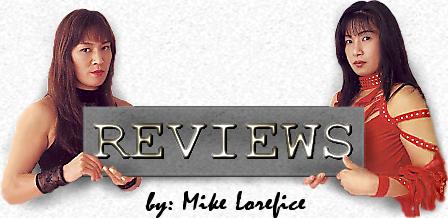 EliteXC/Strikeforce Shamrock vs. Le
3/29/08 San Jose, CA HP Pavilion
Joey Villasenor vs. Ryan Jensen R1 4:45. Jensen was a last minute replacement. Villasenor took him down early, but did nothing while Jensen tried to set up a triangle and the fans booed. Though it started dull, it quickly turned into an exciting fight. Jensen tried to stand when Villasenor postured up to strike, but Villasenor cut him with clinch knees. Villasenor opened up, knocking Jensen down with an overhand left counter, but Jensen popped up with a vengeance. Jensen began hammering away with right hands, hurting Villasenor with a low kick, but Villasenor was landing stiff jabs. When Joey doubled up on the left jab he was able to follow up with a right cross for the KO. Good match.
Mike Kyle vs. Wayne Cole R1 0:45. Dirty fighter Mike Kyle unfortunately fought for the first time since he punted downed opponent Brian Olsen on WEC 20 5/5/06 then continued pounding away despite ref Josh Rosenthal's best efforts to get him to stop until Herb Dean made the save. Thankfully, the thug was smoked in his return, being tripped up when his takedown failed and quickly submitting to Cole's cross armbar.
Strikeforce Lightweight Championship: Gilbert Melendez vs. Gabe Lemley R2 2:18. Lemley is a wrestler who claims to have become better at standup and BJJ under the tutelage of Pat Miletich. He came out aggressively, but quickly ate a right hook and was taken down. Lemley kept Melendez at bay early trying for a triangle, but Melendez's was simply too powerful for the undersized lightweight. Melendez' expert ground and pound quickly messed up Lemley's left eye, and he turned the heat up at the end of the round for what probably would have been a stoppage if the ref didn't know there was so little time left. Melendez overwhelmed Lemley in standup with his punches early in round 2, landing powerful overhand rights, then took Lemley down to finish him off. Lemley did a good job of maintaining and regaining guard, but was just dominated by a better fighter.
Drew Fickett vs. Jae Suk Lim R1 1:14. A piecemeal match concocted when Fickett's opponent Jake Shields got injured and the commission didn't allow Lim's opponent Nick Diaz to fight because they either didn't like his paperwork or approve of his prescription to practice with the Thai Stick. Fickett tried halfheartedly for the takedown, but Lim got it with a leg trip only to have Fickett immediately roll through. Fickett quickly hooked the ½ guillotine, with Lim trying to slam his way free but going limp before he could pull it off.
Strikeforce Middleweight Championship: Frank Shamrock vs. Cung Le. A thrilling standup display with amazing atmosphere. Whatever you think of him, there's no denying Frank Shamrock has exciting fights. He said he was going to stand with Le, and however insane that is, he stuck to his word. The result was a memorable fight, the best MMA match I've seen thusfar in 2008, but also a broken arm.
It's hard to comprehend why this was yet another Cung Le fight that was contested entirely in standup. Are his opponent's secretly agreeing not to try to take him down because he's such a marketable fighter? Is Frank Shamrock, normally one of MMA's best strategists, really as idiotic as Tony Fryklund and co.? Shamrock claims he has no ACL, so despite surgery is he still unable to shoot as was the case in his last fight against Phil Baroni on 6/22/07? Is Shamrock so cocky and full of himself he believes he can defeat a world class striker at his own game? The final two certainly seem the most probable explanations, as Frank showed massive arrogance, putting more emphasis on being entertaining by playing mind games - taunting Le and reacting to everything Le did - instead of going all out to finish the fight from the get go.
Le is more suited to fight at 170, and the much larger Shamrock not only failed to respect his knockout power, he looked past the manner in which Le actually wins his fights. While it may be true that Le isn't going to get one of those sub 2 minute Mirko Cro Cop high kick KO's, Le's kick arsenal is peerless, and throws them with such speed that he can connect with kicks others wouldn't dream of even trying in a real fight. Le is a lumberjack who will persist with his ridiculously accurate kicks until they chop you down.
The atmosphere for this battle between San Jose residents was amazing, with Shamrock's fans seeming to put more effort into winning the screaming battles than he did into winning the fight, to similar results. Shamrock got off to a slow start, missing everything while his underdog opponent was able to get his side kick through and land his roundhouse to Shamrock's power punching right arm all night. Le welted Shamrock's cheek with a right hand following a left middle kick Shamrock blocked.
I felt Shamrock could have taken Le down twice in round 1 if he really wanted to. Less than a minute into the fight, Shamrock he got a reverse bodylock after Le's spinning heel kick failed, but Frank was either too slow or disinterested and Le quickly countered. When Shamrock ducked Le's spinning high kick late in R1 he went for the big punches and the guillotine, trying to finish the fight.
Shamrock began to find his range, welting Le's body with right middle kicks as well as landing some weak right low kicks, but Le knocked Shamrock's mouthpiece out early in round 2 with a right roundhouse. Shamrock got his counter punches going in the second, particularly connecting with right straights. When Le caught Shamrock's kick and tripped him up, Frank begged him to follow him to the ground, but the wise fighter of the two kept it in his realm, soon tagging Shamrock with a right hook following a body left.
Shamrock never developed any real counter for Le's side kick, and took so many solid middle kicks to the right arm it was a threat to become useless long before it actually did. The first two rounds were good, but the fact these two were once sparring partners seemed apropos, as they had more of an exhibition feel. Shamrock's strategy seemed to be to wear Cung down, but while his cardio has been king in the past, most notably against Tito Ortiz at UFC 22, you'll never beat a well conditioned fighter in MMA by taking their kicks, even if you are blocking the majority. Maybe Frank realized this at some point, but if so, similar to his half brother Ken, he was never able to make an in match adjustment.
Shamrock did come on as the match progressed, with the third round, which was tremendous, being his best as he went all out for the finish. He rocked Le with a big right hand and pushed the pace, landing several big shots and forcing Le to either slug it out with him or clinch. Le not only weathered the fireworks, he turned the tide late in the round, landing two high kicks, the first breaking Shamrock's arm as it caught his wrist when he was trying to once again block with his glove. Normally the beacon of conditioning, Shamrock was completely spent at the end of the third round, blowing himself up in his desperate attempt to score the KO. It didn't much matter though, as the broken arm prevented him from continuing, undoubtedly setting up a rematch to this war that left Le with swollen lips and cheek, while Shamrock ribs and jaw were bludgeoned. Though the fight didn't answer any questions about Le's overall game, as it was more similar to a Shootboxing match than to MMA, all Le's opponents get what they deserve when they stand toe to toe and take his Mortal Kombat offense rather than forcing him to show another dimension to his game. As long as there are fighters willing to allow Le to put on his kicking clinics, the fans will continue to be treated to an awesome spectacle. Excellent match.
BACK TO QUEBRADA REVIEWS


* MMA Review Copyright 2008 Quebrada *