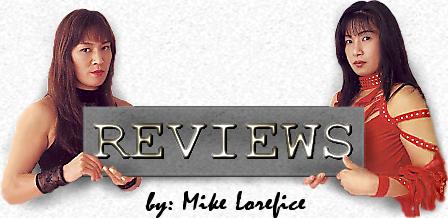 K-1 DREAM.6 MIDDLEWEIGHT GRAND PRIX 2008 FINAL ROUND
9/23/08 Kanagawa Yokohama Arena
DREAM Middleweight Grand Prix 2008 Reserve Match: Andrews Nakahara vs. Dong Sik Yoon R2 0:30. Nakahara may have lost his debut to Kazushi Sakuraba on DREAM.2, but the kyokushin karate master has excellent potential. I'm not sure how consistently he'll eventually be able to score with his strikes, but he's very dangerous with his feet, knees, and hands, and unafraid to go for broke with a flashy kick. Sakuraba exposed his ground game, but while Yoon wore the gi and was in full judo mode, the judo master was unable to take advantage of controlling the first round, not really getting anywhere despite a lengthy mount. Nakahara had a gogoplata attempt out of Yoon's takedown, but couldn't finish it because his whole upper body was under the ropes. Yoon worked for a mount choke, but Nakahara eventually rolled and stood. He rocked Yoon with hook combos at the start of the second, punching him out on the ground after Yoon's shot failed. Average match.
DREAM Middleweight Grand Prix 2008 Semifinals:
Gegard Mousasi vs. Melvin Manhoef R1 1:28. Manhoef was caught off guard by Mousasi's early shot, as the former boxer's pre-fight hype convinced Manhoef he'd start off trying to strike with him. Mousasi transitioned from front to rear mount until securing a triangle when Manhoef took the top. Manhoef used his exceptional power to scoop Mousasi up and slam him, but was forced to tap almost as soon as he deposited Mousasi on the ground because the slam only made the submission tighter.
Zelg Galesic vs. Ronaldo Jacare. Jacare is a wizard on the ground who actually has a takedown, which seemed to intimidate Galesic into throwing a risky kick to try to force his way off the ropes before Jacare could shoot. It didn't work, with Jacare getting a hold of Zelg and slamming him, passing right to side mount. Galesic made a nice move to sweep after Jacare mounted, but was too impatient to begin grounding and pounding, getting caught in a lightning fast armbar as he postured up.
Hideo Tokoro vs. Atsushi Yamamoto 2R. Solid action but not the explosive fight we usually see from Tokoro. Atsushi Yamamoto is a protege of KID Yamamoto, utilizing a similar style where he largely uses his wrestling to keep the fight in standup so he can win with his boxing. Yamamoto showed tremendous accuracy with his strikes. Though mostly scoring with his jab, he put Tokoro down early with a left/right combo and exploded his nose later on. Yamamoto is extremely calm and patient, always seeming to be in control of the fight, but seemed a rather uninteresting fighter to watch because he's not aggressive enough to finish a fight, offering neither volume nor power. Tokoro was competitive in standup, but wasn't focusing enough on his kicks and knees, which were scoring when he used them. He missed a koppo kick in round 1, but cut Yamamoto with a rolling heel kick early in the 2nd. Tokoro made a better effort to get the fight to the ground in the second, but wasn't able to use his slick movement. He did have a good chance for an armbar in the last 90 seconds, but was never able to straighten Yamamoto's arm, in part because he was jerking close to the elbow rather than the wrist. Average match.
Hayato "Mach" Sakurai vs. Kuniyoshi Hironaka 2R. Sakurai is a grinding striker, not needing to be super aggressive because he's such a good counter puncher. He'll either outscore you, or if it comes down to a shot for a shot, outlast you due to blasting you with his powerful tree trunk legs. Today we saw more of the later, with Hironaka's legs beginning to give way in the first, though he got the fight to the ground before taking any more low kicks. Hironaka's takedown was solid and he's a good puncher, but he just lacks the diversity to really threaten Sakurai. He was lucky to only be warned for stomping Sakurai in the chin, but once Sakurai was back on his feet he used the left body hook effectively, opening up the right hand to the head or more low kicks. Sakurai had Hironaka timed in the second, particularly picking him apart with left hooks. He finally knocked Hironaka down with a left hook late in the round when Hironaka tried to throw a left hook of his own. Sakurai couldn't beat the clock and finish it on the ground, but he knew he really didn't need to finish because there was no way the judges could rule against him. Above average match.
Yoshihiro Akiyama vs. Masanori Tonooka R1 6:26. Akiyama has a combination of ridiculous confidence and super control that always makes him appear to be toying with his opponent. He has one of the highest takedown percentages in MMA, in part because he never rushes to get the fight to the ground. Tonooka's karate should threaten him, but Akiyama never seems the least bit intimidated, almost giving Tonooka the first minute to throw a few punches before dominating the rest of the fight. Once the judoka has you in his grasp, you'll find yourself on your back, and again Akiyama will be patient using ground and pound to open up the submission. Tonooka actually made it back to his feet once when Akiyama tried an armbar, but it didn't matter since Akiyama immediately bodylocked him and tripped him up, soon winning with the armbar. Utter supremacy.
Shinya Aoki vs. Todd Moore R1 1:10. Moore had Yves Edwards & J.Z. Calvan in his corner. Unfortunately, neither showed him how to defend a rear naked choke. Moore gave his back when Aoki clinched, so Aoki monkeyed up and applied the choke for the win.
Alistair Overeem vs. Mirko Cro Cop R1. Overeem blew a golden opportunity here, as he was making Cro Cop look like an amateur flyweight when he was fighting cleanly. Cro Cop couldn't keep Overeem off him and once Alistair got ahold of Mirko he overpowered him to the point he was just tossing the Croatian around like a rag doll. He whipped Mirko down from a neck and single underhook grip early, cutting him in the corner of the left eye with ground and pound. Cro Cop tried to be aggressive with his kicking game, but Overeem just caught his feared left high kick and tossed him to the mat then dropped repeated sledgehammers. The round was well in when Overeem began throwing clinch knees. Cro Cop took a few questionable ones before the ref called a brutal low blow that hurt Cro Cop so badly he was still wincing when he finally conceded to trying to continue. Within a minute, Overeem delivered another knee to the nads for a yellow card. Cro Cop was down for several minutes before they finally ruled it a no contest. If I was Cro Cop, I wouldn't be looking for a rematch anytime soon as he wasn't even able to phase the big man the few times he even managed to get off.
DREAM Middleweight Grand Prix 2008 Final: Gegard Mousasi vs. Ronaldo Jacare R1 2:15. Jacare was the heavy favorite, and seemed to be going about business with the early takedown. Mousasi's guard was too tough to pass though, so he disengaged and tried a standing guard pass only to dive into an upkick for the KO.
BACK TO QUEBRADA REVIEWS


* MMA Review Copyright 2008 Quebrada *