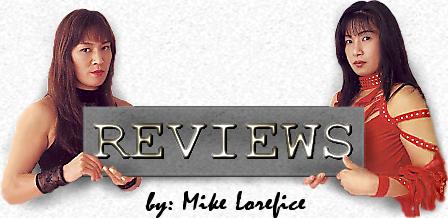 K-1 DREAM.4 MIDDLEWEIGHT GRAND PRIX 2008 2nd ROUND
6/15/08 Kanagawa Yokohama Arena
DREAM Lightweight Grand Prix 2nd Round: Shinya Aoki vs. Kazuhiko Nagata R1 5:12. An even greater mismatch than expected, as Aoki was able to take the Olympic Greco Roman silver medallist down twice, with ease. Nagata had no mount defense, basically just lying around. Aoki is an incredibly patient fighter to begin with, but with no threat coming from Nagata, once he got mount he essentially just waited for a submission to open up. It was considerably dull, but it did finish with a bang, as in one of the great submissions of the year, Aoki actually took Nagata out with a gogoplata from mount. Poor match.
Alistair Overeem vs. Tae Hyun Lee R1 0:36. Lee is a jobber, I mean a sumo champion competing in just his third MMA match. Overeem hurt himself at the outset with a right low kick, but it didn't matter as he proceeded to connect with a left/right hook and knee for the KO.
Ralek Gracie vs. Alavutdin Gadzhiyev R1 3:02. Gadzhiyev has been using his punching power to run through the competition in Pancrase in record time, but seemed nervous here, hesitant to even counter punch. Gracie's standup consisted of a left front kick to get inside for the takedown attempt. Once Gracie succeeded in taking Gadzhiyev down into side mount he switched to full and quickly took him out with the armbar. Gadzhiyev continued fighting after he tapped, rolling into Gracie's guard in case the ref forgot he tapped or something.
Hideo Tokoro vs. Darren Uyenoyama 2R. Tokoro is the most exciting ground fighter in MMA, chaining submissions together at record speed. He put Uyenoyama down with a big knee to the head then within about 20 seconds had tried a Kimura, triangle, omoplata, and armbar. He'd rather lie on his back than exchange, but his standup is greatly improved. In addition to the knee to the head, he hurt The Bone Cruncher twice with punch combos, and buckled him with a knee to the breadbasket. Uyenoyama was a tough fighter, having all Tokoro's submission attempts scouted and landing several solid but not stunning blows, particularly dropping punches down. There were some lulls in the action, but it was an explosive fight that Uyenoyama was always in even if he lacked anything decisive to mark down in his column. Tokoro won a unanimous decision. Very good match.
DREAM Middleweight Grand Prix 2008 2nd Round:
Gegard Mousasi vs. Dong Sik Yoon 2R. Really good first round with Mousasi utilizing his diverse strike attack on Yoon. Mousasi was chopping Yoon down for the first 8 minutes, chipping away with knees to the thighs while he had his back standing then bringing low kicks. Yoon came into the fight with a wrap on the lead leg, and with the beating Mousasi was putting on the weak area, it wasn't surprising the Korean was walking gingerly before the first round was half over. Mousasi got the clinch and drove a knee to the breadbasket then surprised Yoon with one that sent his head flying back for the knockdown. Mousasi is quite a competent ground fighter, having submitted Denis Kang in the first round at DREAM.2, but having already succeeding in turning his opponent into the gimp, it made no sense to enter the domain of the judo bronze medallist. Though Yoon does have good punching power, he'd only win in standup on a fluke KO as he lacks the variety, technique, and footwork of his opponent. On the ground though, he was able to try a leg lock and armbar, the later of which he fully extended with 36 seconds left, though Mousasi immediately rolled through. The drama quickly dissipated in the second with Mousasi having rear mount and punching Yoon in the back of the head repeatedly to try to set up the rear naked choke. The ref kept begging for action, but wouldn't stand them up when Mousasi had back control with a figure 4 body lock, so the beating continued for the entire dull round. Mousasi won a unanimous decision. Above average match due to the second round spoiling the very good first round.
Zelg "Benkei" Galesic vs. Taiei Kin R1 1:05. They struggled to throw each other over their hip, with Galesic gaining the advantage. For some reason, probably just a (bad) reflex reaction, Kin stuck his arm out to brace his fall. All the weight of both men just snapped his elbow back against the joint at around a 40 degree angle. Everyone cringed except for Kin, who was actually smiling as he walked around with his arm in a sling.
Ronaldo Jacare vs. Jason Miller 2R. Miller is more experienced and has a few good wins, but I was surprised he was favored in this fight. I'd go with the alligator over the rooster any day. Seriously, Miller has all the talent to win this match, but he seems to lack the will to impose it. He's content to just go along with Jacare, clowning around to entertain the crowd, but while he has the counters, he's trigger shy. Jacare has less options, but more focus; he has the will to impose his game while Miller seems to lack the intensity and mental toughness. Anytime you have a BJJ expert that actually has a takedown, he'll be a force, and Jacare was able to drop Miller almost at will despite Miller's wrestling prowess. Miller's big standup advantage was rarely displayed, as Jacare would get it right to the ground and force Mayhem to defend heel hooks and chokes. It was a good fight because both could immediately answer the other. For instance, Miller swept as soon as Jacare mounted, but Jacare caught a heel hook, which Miller stood out of after giving a thumbs up to signal the submission didn't have him in danger. Jacare had a rear naked choke later, but couldn't quite get it in deep enough, so he shifted to a mount choke, but still there was nothing doing. It was a real back and forth match, but Jacare had repeated takedowns and submission attempts, while Miller had very little actual offense. Miller's big submission attempt was trying to jump into a guillotine, but Jacare wouldn't allow Miller to hook his neck, so he fell to the mat by himself, giving Jacare control. Miller returned serve well, but it seemed like a handicap match where Jacare was allowed to serve every game. Jacare won a unanimous decison. Good match.
Kazushi Sakuraba vs. Melvin Manhoef R1 1:30. The toughest opponents for Sakuraba are big strikers, especially when they are more powerful. He's lost to Wanderlei Silva 3 times, Mirko Cro Cop, and Igor Vovchanchyn. Sakuraba didn't fire away like he did in the Silva fights, he made Manhoef attack, not that Melvin has ever minded that. As in his DREAM.3 match with Dae Won Kim, Manhoef showed patience. He only threw a meaningless jab in the first minute, but was able to back Sakuraba into the ropes through the threat and intimidation of his strikes. Then he unloaded a big right high kick, and Sakuraba identified it, but it seemed to go right through his arm block. Manhoef didn't blow Sakuraba away with his subsequent flurry of punches and hammerfists so much as he didn't allow him to play any defense. He did a great job of keeping Sakuraba away from his body and legs while he was flurrying against the ropes, pushing him off rather than carelessly attacking then dragging him to the center and getting side control to pound him out.
BACK TO QUEBRADA REVIEWS


* MMA Review Copyright 2008 Quebrada *