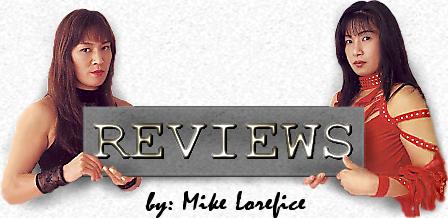 BJW Deathmatch Wars on Samurai TV
January 2008
by LUKI
Deathmatch Wars #154 (aired 1/8/08): 1/2/08 K˘rakuen Hall
3, 30/1. MEN'S World Six Man Tag:
MEN'S Tei˘ [o], ďishi Makoto (K-DOJO) & Wolf Ozawa Shinobu (666) vs Nakazawa Michael (DDT) [x], Matsunaga Tomomitsu (DDT) [x] & X [Onry˘ (666)] (13:29/15:02) double pinfall (3-on-2 Miracle Ecstasy)
At a 2007 Triple Six show, Onry˘, a kayfabe ghost, was accidentally resurrected but continued to wrestle as a mortal under his original human ring name of Wolf Ozawa. With that in mind, the Nurunuru Brothers reveal their partner: a freshly re-dead Onry˘! MEN'S is irate and his team now down a man, but when Nakazawa & Matsunaga jump him, the ref calls for the bell. When all hope seems lost for MEN'S, a masked man immediately recognisable as Shinobu runs in and cleans house. When he unmasks, MEN'S & ďishi want nothing to do with him, but he proves his worth and appears to be officially turned face after spending 2007 leading the Anti-MEN'S Club.
The MEN'S Club give us their typical post-90s Nichiboku spotfest formulae, but not as hyperspeed as they're capable of and without much concern for dramatic timing. The level of creativity and execution expected from the Club is rather lacking, with even elder stastemen Onry˘ and MEN'S suffering moments of sloppiness. Though Nakazawa & Matsunaga's gimmick has a certain stupid charm, rubbing themselves with body oil and spitting it in their opponents' faces did not adequately compensate for their and the match's shortcomings. The Nurunuru Brothers did, however, get hoisted on their own slimey petards when the faces induced expectorate friendly fire to preface the Miracle Ecstasies, so at least they weren't being pushed as superior wrestlers. ďishi was nearly a non-factor with a move set limited mostly to running elbows. Shinobu showed potential, but is certainly not ready for primetime. MEN'S and Onry˘ naturally looked the best, but even their performance was stock routine within their unique repertoires.
This served less to showcase the Club's maximum capabilities and more to set up the year with Shinobu turning face and Onry˘ returning. Pretty much everything with MEN'S Club is tongue-in-cheek, but they provide fine entertainment in much needed juxtaposition to the other radically divergent styles showcased by Big Japan. Ultimately, though, they can do better than this. **
6, 30/1. Fluorescent Lighttube Deathmatch: It˘ Ryűji & Abdullah Kobayashi [x] vs MASADA [o] & Numazawa Jaki (19:51) pinfall (Skullfucker Buster)
Since they have a big title match coming up in four days, the obvious story is It˘ versus MASADA. Though It˘ is the champion and ace of BJW, the 2000+ K˘rakuen fans are hugely into MASADA, chanting loudly for him at numerous points. As for the other two principals, Numazawa is almost completely irrelevant despite being the man It˘ beat for the title less than a month ago, while Kobayashi is simply himself: talentless, merry and over with the fans.
At the onset, It˘ and MASADA open with an extremely typical but crisp and brisk sequence of teasing checks into the lighttubes. A chair duel is won by MASADA; in a visually appealing spot, MASADA throws his chair but It˘ ducks and the projectile shatters a few lighttubes tied to the ropes. When their battle moves to the floor, It˘ batters his future challenger with a table, shepherding the gaijin up into the seats, where he nails a Dragon Splash over the stairs through said table. While the big spot itself had absolutely zero drama, it did serve to set up the first real stretch of momentum. Back in the ring, It˘ & Kobayashi quick-tag and fully isolate the damaged MASADA, cracking him repeatedly with lighttubes. He digs down deep and fights back valiantly, eventually managing to capitalise on a reversed whip into the lighttubes to tag out. Not surprisingly, the overall quality dips with Numazawa in the ring, but they compensate by utilising lucha tag rules so the pairings change frequently. While other companies have tried this formula and failed dismally, here it doesn't feel like the rules are in confusion, it simply adds to the acceleration of action. Kobayashi and Numazawa still hover between comical and terrible, but the chairs, fluorescents and frenetic pace cover for them nicely.
Down the stretch, Numazawa withstands nearfalls from It˘'s attacks of an axe kick and running enzui guillotine drop, head kick with lighttubes, northern light suplex and a moonsault press. This might seem absurd, but is actually nice attention to detail since Numazawa really did have the most energy at that point, having been a virtual non-factor during the first third-plus of the battle. In fact, all four did a good job selling energy loss and correctly timing their tags, accelerating to the finish with a frantic rotation of match-ups.
The finishing sequence is an extended stretch of nearfall-filled perpetual action amongst all four men and larger bundles of lighttubes. Everyone gets a nearfall, everyone tastes glass (Abdullah, literally, actually), but in the end MASADA takes out a very spirited Kobayashi for the predictable but hard fought comeback victory. The finishing move itself didn't look very good (and had an even worse name) but the final stretch was good enough in spite of it. Since he's getting the championship bout, there really was no other possible result than MASADA going over anyone that wasn't It˘. Afterwards, he brings out cans of lighter fluid and tries to set Abby on fire, but It˘ makes a chair-swining save.
On the floor, MASADA cuts a promo in English that may contain a couple words that weren't "fuck," but it's hard to say. In the ring, It˘ adds a much more polite mic performance of his own; both ultimately ask the fans to hop the train to Saitama for the title match, mostly since they'll be allowed to use fire in Katsura Studio.
True to BJW's style, this was pure Japanese strong style wrestling with a serious synectic nod to lucha libre with the chairs and lighttubes included as both an added flair and a clever cover for the shortcomings of some of the workers. Make no mistake, this was firmly within a strict formula BJW uses quite often, but it is a formula that works. All four worked very hard regardless of ability level, giving us a successful main event nicely preluding a championship encounter. ***
Deathmatch Wars #155 (aired 1/15/08): 1/2/08 K˘rakuen Hall
4, 60/1. Independent World Junior Heavyweight Title (16th,4): ę Ibushi K˘ta (DDT) [o] vs Inoue Katsumasa [x] (18:13) pinfall (Phoenix Splash)
Ibushi's title has a rather irritating history that can ultimately be traced back to FMW's junior heavyweight championship, which that long-dead promotion debuted in 1993. The actual FMW belt is the one Ibushi carries, but the championship itself has been abandoned and revived with slightly different names by FMW itself, Battlarts, Michinoku Pro, K-DOJO and Ibushi's home of DDT. So, depending on how you want to trace the lineage, Ibushi is either (or both) the 16th champion of the original FMW version or the 1st of the DDT version. He won the belt when it was revived by defeating K-DOJO's Madoka at the multipromotional Puroresu Summit in Ariake event on 8/26/07. Ibushi has thus far successfully defended against Michinoku's Nohashi Shinjitsu (9/23/07 DDT), DDT's Antonio Honda (10/28/07 DDT) and El Dorado's KAGETORA (12/29/07 El Dorado), all of which aired on Samurai TV.
After a tense handshake, Ibushi explodes from the bell with kicks, but Inoue deftly dodges them and lands a big German suplex for a nearfall mere seconds into the match. Ibushi retreats to the floor to gather his marbles, then gains his first momentum of the contest by winning a strike trade with an absolutely crushing middle kick. The early minutes are deliberate, grinding and stiff: Inoue regains control by countering a running attack with a spear, then intelligently focuses his attacks on Ibushi's left leg, earning submission nearfalls with heel hooks, crab holds and figure four. Ibushi's selling is excellent. As a kicking specialist and aerialist, his legs are his moneymaker, so in every submission he puts over Inoue's tactics by desperately flailing strikes and lunging for rope breaks, dramatising even an inability to get to his feet. Slow though these sequences may be, Ibushi makes them look genuine without devolving into the base histrionics so often seen in matches utilising this basic formula.
Inoue brutalises Ibushi's leg for six straight minutes. His momentum is finally broken at around the halfway mark of the match when Ibushi counters a corner charge with a brutal flying back heel kick straight to the jaw. Though he sells his hurt leg, he nevertheless unleashes a fast combo of kicks and harite, forthwith earning nearfalls with a leg lariat and a frog splash. From here, control goes back and forth in 2-minute intervals, Ibushi attacking with his flying and Inoue with his power fighting. Ibushi lands a beautiful standing moonsault, which he then - in one motion - kips-up and jumps to the second rope for another moonsault for a 2.9 nearfall. Inoue comes back by countering a run with a big ippon and Fisherman Buster then goes back to the leg with another figure four. Ibushi breaks, but suffers a backdrop, a blazing diving headbutt and a Tiger Suplex. Ibushi lives, but the crowd is behind Inoue. He pulls Ibushi up for a second Tiger but Ibushi magestically backflips out of it to his feet and into an absolutely brutal elbow trade. Inoue seems to be literally striking as hard as he can, not just with elbows but with full headbutts. Though the match has been fully carried by Ibushi, Inoue does a wonderful job of showing how important this match is to him and the crowd responds to him not just as the local boy in an interpromotional match, but as the never-say-die underdog refusing to lay down to a superior opponent. When Ibushi looks to finish with a Dragon Suplex, Inoue rolls into a cradle for 2.9 but immediately runs into a big roundhouse. The next Dragon attempt lands; though Inoue kicks out at a dramatically well-timed 2.9, he can't get to his feet and happens to be right in range for a Phoenix Splash, which Ibushi lands with picture perfection to earn his fourth title defense.
This was a well crafted "television title level" match. Ibushi did a great job of carrying the inferior worker with a clear foundation of effective simplicity. Everything both offensively and defensively was designed to go through Ibushi - all Inoue had to do was not make any mistakes, which was a very easy task since the match was intelligently structured by Ibushi to minimise them. He even toned down his acrobatics, opting for a somewhat slower pace with less emphasis on sequences and more focus on brutally stiff striking and excellent selling to put over Inoue's psychological tactics. The nearfalls were dramatically accelerated and very well-timed down the stretch for the explicit purpose of graciously putting Inoue over. Even though it was a foregone conclusion that Ibushi would win, he allowed Inoue to look very good in defeat: the man tried hard and a great strategy, but in the end Ibushi was the champion for a reason and Inoue showed respect and strength. As a reward, he earned the respect of everyone watching - which was exactly the plan. We're left with living proof that Ibushi K˘ta is in no way a flippy spot guy, but an ever-improving ring impresario. ***
5, 30/1. BJW Tag Title (23rd,6): ę Sekimoto Daisuke [o] & Sasaki Yoshihito vs Sasaki Takashi (Apache) & Miyamoto Yűk˘ (666) [x] (23:00) high-angle German suplex hold
Sekimoto & Sasaki defeated Mammoth Sasaki & Shadow WX way back on 12/3/06. They have defended against Mammoth & GENTARO (1/8/07), ZERO1-MAX's Sat˘ K˘hei & Yokoi Hirotaka (2/12/07), Mammoth (yet again) & Inoue Katsumasa (7/8/07), Mashimo Kengo & HARASHIMA (8/26/07) and Kanemura Kintar˘ & Obata Yűsaku (11/26/07).
Sekimoto and Miyamoto begin with slow, hard, oudou-like jockeying to sell this being a significant championship encounter. Sekimoto, Miyamoto & Takashi show off some good chain wrestling early on, but Takashi in particular impressed in that style. While all four get a chance to shine throughout, there is no doubt that the storyline runs through Sekimoto and Miyamoto: Sekimoto as the almost super-powered strongman ace and Miyamoto as the never say die up and comer. The Sasakis role - which they play well - is to provide bursts of faster, supplemental action.
The champions straight away try to isolate Miyamoto, but he immediately squirrels to his corner for a tag. He and Takashi try to turn the tables and isolate Sekimoto, but the hulky fellow's kinniku powers are too much for them and momentum quickly swings back to the champs on the hardest possible bodyslam Sekimoto can manage against Miyamoto. Yoshihito bashes Takashi off the apron and thus the first sustained stretch of control is accomplished by the champions. They torture Miyamoto with strikes and grinding crab holds for about five minutes until Miyamoto manages to counter Sekimoto with a big belly-to-belly suplex and hit the hot tag at close to the halfway point of the match.
Much like the previous match shown this episode, the action is kept clean and simple. There are no sequences of more than a couple moves at a time, no dedicated technical limb work. Instead, all four play off very stiff striking - especially Takashi, whose kicks are Zenjo-powered through the whole match. Once the feeling-out phase passes, the remaining twelve minutes are accelerated nicely. In true Japanese tag team style, pairings change rapidly and the drama is all about nearfalls and whether or not the free partner can break up the pins in time.
For the finishing stretch, the challengers very nearly take out Sasaki Yoshihito - he gets head-dropped by both Takashi's D-Geist and Miyamoto's Thunder Fire, but he is saved by Sekimoto each time. In a nice spot, Miyamoto tries to finish Yoshihito with a moonsault press, but when he connects Sekimoto dead-lifts him out of the pin directly into a high-angle German suplex. Miyamoto himself is the focal point of the finish: the champions throw everything they have at him, including their finishers, but he repeatedly kicks out or is saved at 2.9. He returns fire, coming as close as one possibly can to defeating Sekimoto, but in the end Sekimoto had the most energy and gets the win with one final German.
Miyamoto's push began in 2007 with his deathmatch trial series, culminating in a show-stealer against his tag partner in Yokohama on the previous show. Here, in his epic show of heart against Sekimoto, the strong-style ace of BJW (and indeed, the indy scene as a whole), Miyamoto is firmly established as a genuine big deal, not just a gutsy deathmatch guy. The crowd was solidly behind him, chanting his name in one voice after the match. Sekimoto & Yoshihito declared him the strongest challenger and left early so he could bask in the adulation. Even though he lost and the champions kept their titles, in the end the hero was Miyamoto. That was the mission, and all four accomplished it nicely. The action was crisp and no-nonsense, with the nearfalls speaking for themselves. A standard script to be sure, but very effective. ***
Deathmatch Wars #156 (aired 1/22/08): 1/6/08 Koshigaya-shi, Saitama - Katsura Studio
1, 20/1. Inoue Katsumasa & ďhashi Atsushi [x] vs Matsuda Keiz˘ [o] & Obe Takuma (IWA Japan team) (11:33/15:15) pinfall (running lariat)
"Thank you arigatou" --Matsuda
Referee-turned-wrestler-with-a-referee-physique ďhashi debuted on 5/20/07 and doesn't seem to have learned anything since. To say the 28 year old rookie has a ways to go is rather an undestatement. Therefore, it is a foregone conclusion that this pointless little opener would feature Japanese wrestling's favorite game: Abuse the Rookie. Matsuda is your designated Kensuke for the match, shouting and frothing and flexing and no selling most of what ďhashi tries to do while unleashing the full stiffness of his own basic (and not particularly exemplary) strong style moveset in loud, annoying earnest. Worked in typical Japanese tag formula, for the finish Matsuda actually decided to sell some of the teasing cradles and counters ďhashi managed to pull off without killing himself, but the conclusion here was reached long before the opening bell. Inoue and Matsuda were fine and Obe rather green himself, but the focus was on BJW trueborn ďhashi, which helped no one. Fortunately, this wasn't supposed to have a real point beyond padding the timeslot, so no harm done. Someone should teach ďhashi how to do a small package without dropping himself on his own head, though. *
6, 30/1. BJW Deathmatch Heavyweight Title (22nd/3,1) - No Rope Barbed Wire Fire Board & Barbed Wire Board Concrete Block Deathmatch: ę It˘ Ryűji [o] vs MASADA [x] (29:46) pinfall (Dragon Splash from scaffold)
It˘ won his third Deathmatch Heavyweight Title from Numazawa Jaki in Yokohama on BJW's last show of 2007. Due in large part to his opponent, this main event to the year was a dismal failure - in fact, It˘ himself knew they were bombing as the match was going on. With that likely in mind, he and BJW clearly wanted the first title match of 2008 to be something big and special, boldly booking it outside of K˘rakuen Hall in a venue where fire could be used.
The ring is set up with all ropes replaced with barbed wire. One corner is free of props; in the opposite corner are concrete blocks arranged into a nice flat square. The other two corners contain the fire boards, which begin the match unlit. On the floor are two barbed wire boards placed flat atop four concrete blocks. There are no fluorescent lighttubes.
The most fundamental elements of storytelling in any medium, whether prose or music or drama or professional wrestling of any match type are why and when. It does not matter what is done so much as having a logical reason for doing it within realistic strictures at the correct moment. There must be a reason and that reason must include what happened previously, what could yet take place, and be correctly timed for maximum dramatic impact. Focus on what without any regard for why or when and the result will be a linear series of detached random point floating in space, unconnected to other points which should be linked together. So how does this apply to Messrs It˘ and MASADA?
Since the match is no rope barbed wire, the early minutes are a stalemate devoted entirely to the question of who tastes the wire first. Both It˘ and MASADA utilise stiff strikes, reasonably adroit technical wrestling and the old deathmatch standby of teasing hammer throws. First blood goes to MASADA when he counters It˘'s attempts to grind his face into the wire by unceremoniously shoving him into the concrete blocks, but It˘ comes back with block strikes for the match's first real stretch of sustained pressure. The block strikes are rather tentative because neither man wants to legitimately injure the other, but the spirit is there. A nice early spot involves MASADA dodging a strike on the floor so that the concrete block shatters on the ring post.
Ten minutes into the match, MASADA gains control with block shots of his own after It˘ takes too long trying to ignite a fire board and from there on the match loses all cohesion. While the early moments suggested they'd be utilising a standard championship structure of quick momentum changes, this does not come to pass. Instead, the entire contest becomes a level stretch of setting up and attempting to execute big spots. Instead of doing those spots for genuine, organically and dramatically timed reasons, MASADA and It˘ pull them out seemingly at random and with no forethought. While it could technically be said that MASADA carries minutes 11 through 29 with It˘'s brief bursts of offense the standard failed attempts at regaining control, in execution the last two thirds were ostensibly vacuous, American indy-like meandering until the planned finish.
Many if not all of the big spots were good ideas but lacked dramatic purpose and at times were executed rather sloppily. Sloppy execution isn't as much of a problem, though, if the spots actually cause something to progress. None of these did. When It˘ counters a powerbomb with an (alleged) frankensteiner out of the ring through a barbed wire board, you expect him to enter a stretch of control. He didn't. When MASADA hits a Death Valley Bomb through barbed wire and a burning fire board, it should lead to if nothing else some kind of escalation. It didn't. At some point, there should have been a sustained stretch of traded nearfalls, building up to an epic finish - but instead, they lost track of time and rushed through a couple big spots and hurried to the finish to avoid an accidental 30-minute draw. Yes, all of BJW's title matches have a 30-minute time limit - no one knows why. The timekeeper actually cheated a little bit, announcing three minutes remaining when it was actually 30 seconds, so the official match time was 27:59 instead of the real length of 29:46.
The best worked deathmatches - as we've even seen this month - are those that are normal, excitingly paced and plotted professional wrestling matches with the props and blood included as supplements. Tables, chairs, barbed wire, fire, scaffolds mean absolutely nothing unto themselves. They must be worked into a real match, otherwise you're making sound instead of composing music. It˘ and MASADA focused entirely on the what and brutally neglected the when and why. While focus was at times an issue, this did not lack effort and interesting moments - but as a contiguous championship match this must go down as a failure. **
Deathmatch Wars #157 (aired 1/29/08): 1/6/08 Koshigaya-shi, Saitama - Katsura Studio
2, 30/1. Daikokub˘ Benkei & Taniguchi Yűichi [o] vs GENTARO (Apache) & Imai Hakaru (free) [x] (5:36/12:22) Northern Light Suplex hold
Absolute nothing match that felt soporific even when clipped in half. The best worker (on a curve, that is), GENTARO, was either never involved or clipped out. The most interesting thing seen here was him posing on the floor HBK-style and clowning with the photographers while his partner was being mugged. Benkei can't walk but he can headbutt, so he did so. Of the six minutes shown, 95% of it was the BJW veterans wailing on Imai. Taniguchi repeatedly and eagerly worked the crowd. They actually responded, so Koshigaya fans must be the nicest, most forgiving people on Earth. Ż*
3, 30/1. Sekimoto Daisuke, Kanemura Kintar˘ (Apache) & Obata Yűsaku (Apache) [x] vs Mammoth Sasaki (Apache), Shadow WX & 2 Tuff Tony [o] (17:44) Tony Driver
Not the "special" match it was billed to be, but an uninspired "strong style" house show walkthrough. Structurally divided into equal four-minute portions of an opening stalemate followed by the faces isolating WX, the heels isolating Sekimoto, then ending with a theoretically fast back and forth finish. Sekimoto and Kanemura obviously looked best: Sekimoto did a good job controlling traffic and Kanemura pulled off his chubby guy acrobatics without any faults. Mammoth was fine because it's difficult to screw up an all-strike offense. The rest of the principals were grim indeed. For some insane reason, Obata and WX were paired to do fast junior-style sequences, culminating with Obata landing a beautiful, picture perfect Phoenix Splash a full body length short of his opponent. 2 Tuff Tony, meanwhile, clowned around in broken Japanese, teased using a barbed wire bat, dropped himself brutally on his own head with a frankensteiner and got the victory. This was like something out of pre-C.M. Punk IWA Mid-South. *
5, 30/1. Saitama-style Lighttube +Alpha Deathmatch: Numazawa Jaki & Abdullah Kobayashi vs Sasaki Takashi (Apache) & Miyamoto Yűk˘ (666) (18:27) pinfall (running low kick with lighttubes)
The "plus alpha" in this case means random goodies, including a barbed wire bat complete with batting helmet, a barbed wire soccer ball and a referee's whistle. As deadly serioius as this all may sound, the practical application was for (mostly unsuccessful) comedy. The merits of comedy in deathmatches need not be examined here beyond pointing out that such moments were offense entirely from Jaki and Abby, implemented because neither man is remotely talented enough to work a match without some kind of distracting gimmick. After a fan-friendly brawl around Katsura Studio for three minutes, the BJW twain put Miyamoto at their mercy mostly with lighttube attacks. Miyamoto generously sold everything the backyarders did to him as though it was all a serious threat - including an attack with a cardboard box. After five lengthy minutes, he's able to break momentum with a countering flying back heel kick that misses Abby entirely but is nonetheless sold. Thence, the match goes back and forth in the usual form. All four try to accelerate but with Abby and Jaki carrying 90% of the action, things are sloppy to say the least. In the final three minutes, they horribly botch a lighttube friendly fire spot - not only do the tubes not break, but Jaki stumbles backwards like the final move of a Jenga game.
Miyamoto and Takashi looked fine here, but they had zilch to work with. Weirdly, after being heroised in the tag title match mere days ago, here Miyamoto is just a punching bag. He doesn't give up, but not for reasons of putting him over - it felt more like a lazy American tag match where one guy was just randomly picked to pad out most of the time by getting his ass kicked. In the end, he got in a couple finishers but Takashi was the one to go over. If the plan was solely to fill 20 minutes and not get injured, then well done guys. **
Argumentum.
This month of Deathmatch Wars covered two jarringly different shows. 1/2 in K˘rakuen had three feature matches that delivered, each in a different aesthetic. This is Big Japan at its best: a cosmopolitan, polystylistic, try-hard indy featuring the best of the scene giving their best efforts. Perfect? Hardly, but it's very hard to go wrong showcasing Ibushi or Sekimoto, and even BJW's "Deathmatch Ace" It˘ can be quite useful in the proper context, as can most other BJW regulars. Simply put, things worked in K˘rakuen but didn't work at all in Koshigaya.
If 1/2 showed a scrappy but serious little wrestling promotion, the 1/6 show at Katsura Studio showed us exactly what must be on someone's mind when they derisively use the phrase "indy trash." There's nothing wrong with being entertained by sub-five star matches so long as there's a fun factor and it looks like everyone is trying. That really wasn't the case in Koshigaya, which was particularly troubling for a main even that was supposed to be an epic. The matches showcased barely even looked professional.
Going forward, if BJW can stick to the fundamentals they showed to have solid command of at K˘rakuen Hall and avoid the laziness (and in some cases, alcoholism) at Koshigaya, 2008 should be an enjoyable year. You won't see wall to wall five star epics, but a watchable, entertaining promotion that is actually far more than the deathmatch wrestling it is mainly known for.
by LUKI
7/28/13
BACK TO QUEBRADA REVIEWS


* Wrestling Review Copyright 2013 Quebrada *