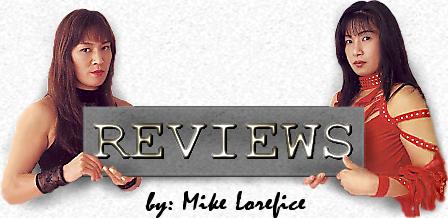 Best Matches Seen December 2017
GLORY 37 1/20/17, Welterweight Contender Tournament Final: Yoann Kongolo vs. Karim Benmansour R3 2:57. Kongolo kept coming forward & applying the pressure to Benmansour, but Benmansour kept moving & throwing his volume. I would have liked to have seen how this would have played out if both fighters were fresh, as Benmansour won their 1st match on 11/23/13 & tonight the 1st round was a very interesting stylistic matchup, but then it was solved as Benmansour wore down from being forced to work so hard for the second time tonight, and now on a leg that was damaged coming into the fight. Benmansour got off to a good start, as he was holding the center of the ring early & using his low kick then move style. Kongolo was just feeling him out though, and Benmansour's biggest problem, other than perhaps the leg, was that Kongolo didn't respect his power, so he was willing to just walk forward all night and land the big overhand right or the knee on the inside. Benmansour is game & wily, with a ton of heart, but Kongolo just had such a power advantage it was hard for him to compete physically when Kongolo was determined. The more Kongolo kept following his jab, the more he kept Benmansour on his back foot where Benmansour was still active but struggling all the more to generate the kind of power that would stunt Kongolo's forward progress. Benmansour had his moments in the 2nd when he was able to use his movement in the center of the ring, circling and landing the low kick, but Kongolo started & finished the round with big power. He hurt Benmansour with an overhand right with Benmansour against the ropes in the last 15 seconds, and mixed his punches between body & head as Benmansour had nowhere to move, dropping him with a left hook to the liver. Benmansour didn't look at all ready to continue, but the round was over. Kongolo picked up in the 3rd where he left off, backing Benmansour into the ropes immediately. Benmansour was able to push Kongolo back to the center at times, but just could never stop Kongolo's forward progress when Kongolo committed to trapping him on the ropes, so it was then a matter of whether Benmansour's footwork would allow him to circle away fast enough or Kongolo could cut off the ring. Benmansour was increasingly red & swollen around the eyes, particularly the left eye from taking all Kongolo's power punches. It looked like Kongolo was going to earn his 2nd title shot via 30-27 decision, but in the final seconds Benmansour was circling away defending Kongolo's level changing combo, avoiding the left liver hook that he was focused on because it was still damaged but getting caught with the right hook to the head for the KO. Kongolo again failed in his quest to capture gold at GLORY 39, losing a decision to Cedric Doumbe. Good match.
M-1 Challenge 82 8/5/17
Mikael Silander vs. Vitali Branchuk 3R. Branchuk was submitted by Pavel Vitruk in a match for the vacant M-1 Bantamweight Title at M-1 71 10/21/16, and has now moved down to flyweight, maintaining his speed but lacking the stamina for 3 rounds at such an awesome pace. Branchuk had a great first round, using the jab to set up big right hands. Silander's nose was marked quickly, and the doctor was checking whether it was broken midway through the 1st round. Silander was trying to use low kicks, but while they were sharp, Branchuk's handspeed was simply too much for him to deal with early & he was getting countered every time he used them. Silander was able to fight a different style in each round, while Branchuk did a few things well, but never really managed to adjust. Silander really picked up the pace to start the 2nd, fighting with a lot more urgency. By shifting tactics to an inside pressure game that looked to use short hooks & mix quadrants with his boxing, Silander was able to put Branchuk on the defense, and that opened up his kicks, as he was able to land when Branchuk was backing or circling away trying to reestablish a more suitable distance. Branchuk was always on his back foot, and could never get time or space for his counter punches. He tried to shift to the ground game shooting for a double, and although he ate a knee, he was able to stick with it & get the takedown on the 2nd push forward. Silander was able to get back up fairly quickly though, and really push the pace again, which was pretty much the beginning of the end for Branchuk, further negating his fast hands because he was just under fire & on the defensive. Branchuk was really feeling the pressure, and had slowed down considerably by the last minute of R2. Silander saw that Branchuk was tiring, and focused on wearing on him with his wrestling/clinch game to start the 3rd, with Branchuk continuing to use the ropes for assistance. Branchuk was much better off when he was forward rolling his way out of the reverse bodylock because the ref eventually had enough of him using the ropes & docked him a point, which was huge given the fight was a round a piece, but he would have been justified about 3 grabs before the deduction. The 3rd round wasn't nearly as entertaining as the first 2 because Silander was more in grinding mode, using knees from reverse bodylock & getting some takedowns when they were available. Silander finished strong with a rear naked choke attempt. Round 2 was the closest round by far, but I was surprised that Branchuk actually got it from a judge because Silander turned the tide right at the outset, & finishing strong should negate whatever credit Branchuk got for his takedown that he didn't do anything with. Good match.
Heliton dos Santos vs. Janne Elonen-Kulmala 3R. These fighters were very evenly matched, with decent skills in all areas. Although the fight didn't always have great action, it was very back & forth with both fighters having their moments in each round, and the close nature of the fight elevated it to the next level. Kulmala is perhaps the more technically sound of the two outside of a poor guard, but dos Santos is certainly the more explosive athlete & he'll take risks & get wild when he has the chance to do big damage. Kulmala looked to make this a grappling match early, but dos Santos defended his takedowns & wound up doing big damage with postured up or standing ground punches after catching Kulmala's kick & tripping him up. Dos Santos was really lighting Kulmala up on the ground because Kulmala's butterfly guard was essentially non-existent, at best he wrapped an arm around dos Santos's neck so he only took repeated solid punches, but most of the time dos Santos just had free reign to throw whatever bombs he wanted. Kulmala finally got back to his feet at the end of the 1st round, but couldn't get a takedown against the ropes, so he tried an ill advised belly to belly suplex, which backfired with dos Santos landing on top & finishing the round with another barrage of punches. I thought Dos Santos should just focus on getting top position because Kulmala clearly had no defense on his back, but instead he was content to slug it out in standup, which was starting to look to be Kulmala's advantage because he had the better timing. Kulmala walked into a left hand at the start of the 2nd, but as dos Santos tried to press his advantage, Kulmala was able to return the favor, countering with a left uppercut as dos Santos was closing distance, and this became the story of the rest of the match, with Kulmala not being consistent but getting the occasional well timed counter in that did good damage because dos Santos was coming forward at the time. Dos Santos landed a lead uppercut, but now Kulmala was able to drop down into a double leg. Dos Santos was slowing down in the 2nd, certainly at a big disadvantage flying all the way from Brazil to face the native, but although Kulmala had edged the standing portion & dos Santos didn't have nearly as much success in ground & pound after his late takedown as he did in the 1st, I thought the minute of top control landing more unanswered strikes swayed the round back into dos Santos' favor. Both fighters fought the 3rd as though they needed the round, with dos Santos pressing the action trying for the takedown, but Kulmala again doing a nice job of countering his entries with the left hand. The third round was nonetheless slower paced as both fighters were rightfully sucking wind. Dos Santos did his best to get a final run of ground & pound, but Kulmala defended his takedowns against the ropes. After the ref broke up a clinch on the ropes, both fighters just threw bombs for the last 30 seconds trying to get the finish or make the final impression with the judges. Again, this was a close round without a decisive winner. Dos Santos was the aggressor, and had a lot more control time while failing to get it to the ground, but also took a few of the better shots trying to initiate. I felt dos Santos definitely won at least 1 of the final 2 rounds, but with two Finish judges, they came up with a split draw. Good match.
Invicta FC 21 1/14/17
Christine Ferea vs. Rachael Ostovich R3 1:29. Ferea was making her debut here, but looked so much more confident than Ostovich, just very relaxed & flowing with her standup game. Her movement was far superior, and she slid in and out, landing the jab and sometimes faking it to set up the low kick while keeping out of range of Ostovich's takedowns. This was an old school striker vs. grappler match, and Ostovich was pretty helpless for most of the 1st round, having her takedowns stuffed & being unable to win the clinch game against the cage to finish them. She had a flash takedown after catching Ferea's kick, but was generally just picked apart by her stalking opponent. Ostovich tried a spinning back kick early in the 2nd, but Ferea literally just laughed it off. Ostovich's weak kicking game helped finally opened up the takedown though, as Ferea finally got overzealous coming in, and Ostovich was able to duck under her jab to secure the double leg & transition right into rear mount. Ostovich kept trying for the choke, but half the time she was so high up Ferea's back her hideous implants were stuck on the back of Ferea's neck. Ferea again remained cool & confident throughout the adversity, also surviving a late armbar attempt, and you felt she wouldn't hesitate in the 3rd because she proved to herself she could handle the worst case scenario. Nonetheless, with 3 1/2 minutes of back control the fight was clearly evened at a round a piece. Ostovich was back to being hesitant in the 3rd, and Ferea was able to keep backing her with her strikes, which allowed her to keep coming forward and throwing more. Ferea worked her way in with punches & blasted Ostovich with a left high kick. Ferea pursued with more punches & Ostovich tried for a double leg, but was so out of it she literally just bent in half for a standing toe touch when Ferea disengaged. I though the fight should be stopped by referee Mike England because you don't see those kind of yoga moves when a fighter is intelligently defending themselves, but Ostovich managed to fall forward with an outside single. Ferea immediately took her back though & just landed a barrage of punches & knees until the overdue mercy killing. I liked that both had their round then Ferea responded to the adversity & finished the diva, but I remember this match being better than it ultimately looks to me now as Ostovich has a lot of fight & can sometimes will herself to succeed, but is just so bad technically. Good match.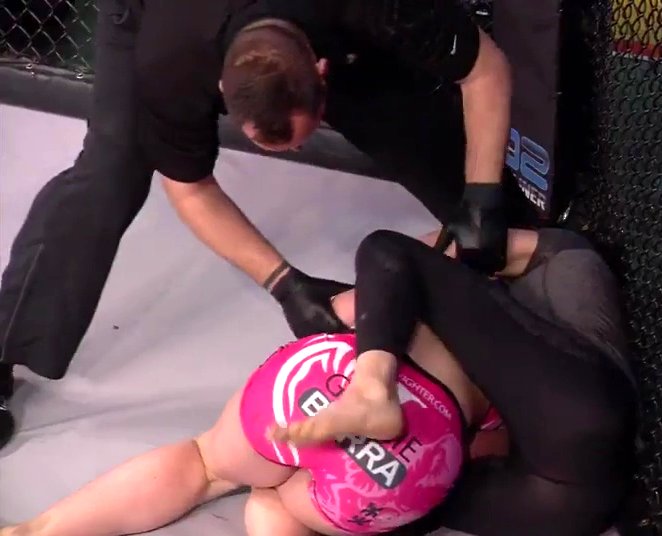 Amy Montenegro vs. Celine Haga 3R. Haga isn't a fighter you can judge by her record, she specialized in poker & started weight training in her 20's just to get into some semblance of shape. Despite having no fighting background & having not even heard of MMA, one thing led to another & she went from training in Joachim Hansen's basement to moving to Japan to train with the legendary Megumi Fujii. Though she lost fight after fight in JEWELS, 11 of her 1st 12, you could see she was no joke & she was progressing, and eventually she turned things around, winning 9 of her next 11 coming into this match & now training out of the Jackson-Wink camp. Haga did a lot of good work to get the takedown in the 1st, switching from inside trip to outside trip to taking Montenegro's back & finally hitting the inside trip into a rear naked choke attempt and then arm triangle choke attempt. Haga owned the round on the ground, but in the final seconds, Montenegro rolled her over into an armbar & there was a huge controversy over whether she tapped or not. The tap, if that's what it was, clearly came after the bell, and Haga claims she just wanted her arm released ASAP, you know, so she could actually use it in the next round, but the lights went out in the building, probably because of the storm but it added to the illusion that the fight was over. The idea Montenegro was fractions of a second from winning poses an interesting scoring question too, as it was a clear Haga round until the final seconds, but Montenegro came much closer to finishing the fight with her armbar than Haga did with her submission attempts so is that enough to swing the round into her favor? Haga was using hook kicks early in the 1st, but Montenegro was ready & caught a high kick to start the 2nd to get the takedown. Montenegro showed a heavy top game in the 2nd, wearing Haga down with short elbows from half guard. Montenegro backed Haga to start the third & tried to capitalize on Haga stumbling, but Haga hip tossed her & went into a belly down armbar attempt. Montenegro stepped over, so Haga made an ill advised transition into a toe hold which just allowed Montenegro to seize top control & go back to bludgeoning Haga with more of the short elbows we saw throughout the 2nd round. I like the original JEWELS style of no closed fist punches to the head because it makes for a lot of scrambles & allows fighters to take a bunch of chances on the bottom, but often leads to bad habits & results when you still fight that way under full contact rules. That being said, this was a fun fight to watch precisely because both women really tried to get the finish. Montenegro had the rear naked choke in, but could never get both hooks in then she was able to readjust & get the leg position but now Haga was able to defend her neck. It was looking really bad for Haga, as she lost the 2nd for sure & was struggling to survive throughout much of the 3rd. Haga was able to get back to her feet as Montenegro tried for a guillotine, and sneak behind her as Montenegro blundered surrendering her back. With just 20 seconds left, Haga pounced on the neck & was so deep under the chin she was able to drag Montenegro down. Haga never got the traditional rear naked choke, Montenegro was on her knees & Haga was to the side of her, so Haga seemed to have no real leverage. However, Haga specializes in that side arm triangle choke we saw earlier, and because of that she doesn't necessarily follow the typical proceedure of getting body control then getting the neck. I still don't know how she managed to choke Montenegro out here, I mean, it was all arm strength & she's just a strawweight, but Montenegro was out cold just before the bell rang. Unfortunately, Rich Franklin's screwup brother Greg didn't see her go limp (you can see her butt drop toward Haga when she goes out & can no longer support herself on her knees) & only eventually declares she's out when Montenegro still isn't moving long after Haga released the hold, seeming to give the fight to Haga but not actually knowing what to do because the fight is already over now. The precident for this was set all the way back at UFC 19 when Jeremy Horn defeated Chuck Liddell with an arm-triangle because Liddell was found to be out after the bell rang, but they just went to the decision, & Montenegro got it 2 rounds to 1. There was a great quote from Haga in a prommanow article, "The decision loss was very difficult for me, I remember what happened, I felt it and heard it and I know from the bottom of my heart that I choked out my opponent before the bell rang. Waiting for my opponent to wake up so she could get her hand raised was very painful for me to watch. Especially because I already have a very messed up record and another loss on the record is a huge setback for me." As is always the case with these kind of things, even though everyone knows Haga really won, the governing bodies always make lame excuses rather than actually stepping up & doing the right thing. Instead of going down as perhaps the most dramatic comeback finish of all-time, as well as being tying for the latest finish in a 3 round fight, it will instead go down as the worst non stoppage of the year, living in infamy alongside Herb Dean's debacle that killed the Abdul Razak Alhassan vs. Sabah Homasi fight at UFC 218 12/2/17. This might not have been the greatest fight minute to minute, but the finishes of the 1st & 3rd rounds, with one fighter being a second away and the other being a competent ref away, make it unlike anything we've seen before. Beyond the drama, chaos, & massive controversy though, this was a fun fight because they took a lot of chances. Many of them backfired, but that made it more entertaining with lots of advantage & position changes, and there were obviously big payoffs for going for it as shown by the round endings. Haga didn't have another fight in 2017, but it would be great to see a rematch between these two when she does return to the cage. Very good match.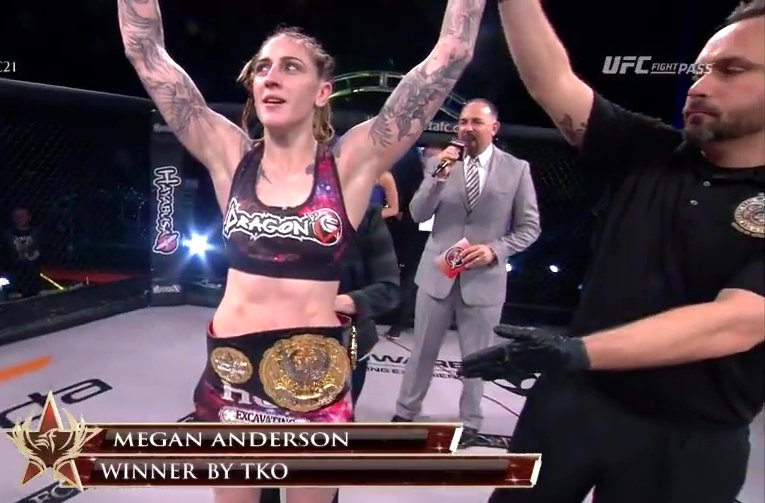 Interim Invicta Featherweight Title Match: Megan Anderson vs. Charmaine Tweet R2 2:05. Anderson has walked through all the opposition so far, except Cindy Dandois who schooled her on the mat. She seems the future of this perpetual disaster of a division that has never had more than a couple decent fighters because everyone who was clean & in shape was fighting at a lower weight class once it was available. Tweet has managed to lose to most of the stars of the division - Rousey (before she dropped down), Cyborg, Budd - mostly by virtue of being a solid & sturdy 6", but is most capable of a spectacular KO against lesser competition, particularly if her spinning backfist finds a home, which makes her a somewhat entertaining & unpredictable fighter even though she seems incapable of fighting in a manner that would lead to any sort of consistency. Anderson stalked her the whole fight, and Tweet always seemed to be on the defensive even when she was actually trying to bait Anderson in, but Tweet being Tweet found those moments to sneak a big shot in despite giving up ground & not using her length or any kind of volume as you'd expect from a former Duke Roufus trained kickboxer with plus height & reach. 2 minutes in, Tweet caught Anderson with a big right hand counter to her own right hand. Anderson wasn't put off her gameplan to keep Tweet against the cage though, tying her up & working knees from the clinch then attacking with big punches after the break. Anderson was rocking Tweet because she was an easy target stuck with back against the cage. Tweet can take a punch though, and she finally started to push forward & attack. Anderson refused to give ground though, so Tweet would find herself right back against the cage when she exited. Still, when Tweet was able to angle out, she could do some good things as although she's not the greatest athlete, she is a lot better trained to use movement & angles than Anderson is. Anderson is pretty much a straight up brawler, and Tweet was able to out finesse her when she committed to her movement. The problem is she's not exactly Dillashaw. Tweet will move effectively if awkwardly, sometimes the former because of the latter, for a number of steps but then pretty much straight up stop to either catch her breath or start a new pattern, it's hard to tell, and that's when Anderson would see a stationary target & gets back into her straight ahead pressure style. Anderson wasn't throwing nearly as much as usual though, and that gave Tweet openings to mark up her nose. James Krause basically told Anderson between rounds that she was letting Tweet stay in the fight by not being active enough. I don't know what Tweet's corner told her, but she was allowing Anderson to win the fight by not moving enough. The story in the 2nd was still similar though, Tweet holding her own when her feet were moving but getting beat up when she got caught against the cage. Throughout the fight, though Tweet wasn't able to make the adjustments to break this pattern, she was at least savy enough to know the moment things were starting to go bad & to tie Anderson up or initiate some such disruption so Anderson wasn't really able to capitalize on her random damaging punches. Things seemed to be following this pattern in the 2nd, but Anderson caught Tweet with a left hand as Tweet was trying to elbow on the clinch break. Tweet was stunned & didn't grab Anderson, which was the beginning of the end as Anderson was able to keep her cut off & land power punches. Tweet wasn't right from the inital shot, and each new punch was just adding to that & keeping her from being able to get her bearings & go back to her smart defense. Tweet tried a couple of her famous spinning backfists, more on instinct than anything else, but they were slow & Anderson just landed punches in between them then finished with a left high kick that injured Tweet's right eye. Anderson was later promoted to full fledged champion, but never defended the title or vacated despite signing to fight Cyborg in UFC then pulling out of that fight. Good match.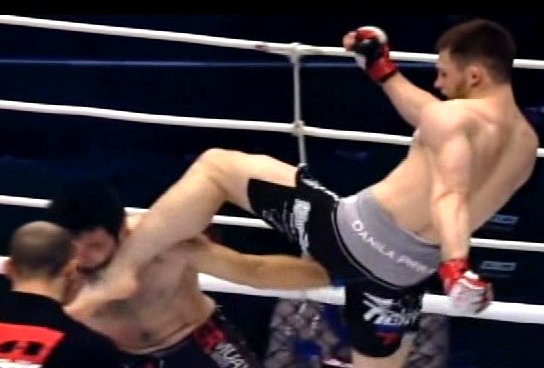 M-1 Challenge 84 10/27/17: Danila Prikaza vs. Akhmadkhan Ozdoev 3R. Ozdoev claimed he could easily beat Prikaza on the ground, but would rather have an exciting standup fight. I'm doubtful of the former, but man, I'm sure glad he felt that way, as this was an insane striking contest. There are a lot of slugfests, but you never see the kind of reckless abandon these fighters displayed in the first round. They were just swinging all out with no regard to defense, reaching and lunging, it didn't matter as long as they maximized their own potential to do damage. Ozdoev fights with his hands down like he's Roy Jones Jr. except he's not particularly quick or athletic, and really just doesn't care about defense at all. Prikaza's 2nd strike was a head kick, but Ozdoev just ate it & didn't adjust. Prikaza is longer & was able to land straight shots on the outside then close the distance when it was too his advantage. Prikaza charged in with a knee, and just kept coming, setting off one of the most insane, explosive striking sequences I've ever seen. It was total movie stuff with both men just swinging as hard & as fast as they could, putting their whole body into every shot recklessly for about 15 seconds. After a few second breather, they were right back at it just as fiercely, this time with Ozdoev in hot pursuit & only slowing down because he bull rushed right into a high kick. Prikaza then dropped him with a right hand, but Ozdoev did a backward roll to standing then started firing right back with full power right hands. Man, this was just nuts! 2 minutes into the bout, Ian Freeman was already noting that "The law of averages tells you that one of them should be lying on the ground, the number of times they've been hit." Ozdoev was just getting more aggressive though, continuing to plow forward despite Prikaza timing him & cracking him on the way in. Ozdoev finally slowed down a bit toward the end of the round, trying to get his kicking game going including mixing in a spinning heel kick. Ozdoev had another charge in him though, but Prikaza countered Ozdoev's right hand with one of his own for another knockdown. Man, I don't know how Ozdoev kept getting up, as Prikaza's shots were hard enough if they merely connected with Ozdoev standing, but Ozdoev was probably tripling the impact by charging full speed ahead into them. Again, Prikaza came to life going all out for the finish, and again, instead of taking a second to recover, Ozdoev responded by winging more haymakers back at him. Ozdoev caught a kick & tried for the takedown, but Prikaza just kept punching him while he was hoping around trying to maintain his balance as Ozdoev held his leg. This was truly one of the best & craziest rounds I've ever seen, the most remarkable thing about it, I suppose, was the simple fact that both managed to survive it. One of the primary difference between the fighters was the way they measured distance & initiated their combos. Prikaza really gauged things with his left arm, and knew just how many steps he needed to be on point with his approach, while Ozdoev just bit down on his mouthpiece & did the Bald Bull charge ala Diego Sanchez. Prikaza was mixing techniques & locations well in the 1st, but shifted more & more toward headhunting in the 2nd because Ozdoev just seemed unwilling to protect his noggin. Prikaza wobbled Ozdoev with a straight right with a minute left in the 2nd, but Ozdoev managed to run away, in between wobbles, & grab a single leg when he was finally trapped against the ropes, getting the fight to the ground despite taking a big knee & a series of punches in the process, and nearly getting choked as Prikaza got rear naked choke hand position but couldn't get from the side around the back. Ozdoev shifted to his strength in the 3rd & got the early takedown. In a fitting example of just how crazy this fight was & just how fearless they were, Ozdoev started fixing his mouthpiece while Prikaza was trying to heel hook him. When Prikaza used the ropes to help get back to his feet, Ozdoev hit another single leg & Prikaza managed to lose his mouthpiece, presumably because he defended rather than fixing it. Prikaza continued going for submissions from the bottom, but it didn't matter since he'd already won the first two rounds. Prikaza won a unanimous decision. Sure, this might not have been the greatest technical match, but it's surely brawl of the year, and this kind of match is the reason most people watch MMA. Great match.
UFC on Fox 26 12/16/17
Julian Marquez vs. Darren Stewart R2 2:42. Marquez is a brawler of the 1st order. He's so concerned with the potential for his own offense he seems oblivious even to losing patterns. In this case, he was getting nailed with the long lunging right hand that should have missed over & over, but still just ate them hoping to time his own short right up elbow. These guys were just exchanging bombs in the pocket most of the fight. Stewart had great aspirations of getting the fight to the ground, but Marquez would either defend or just get right back to his feet, and this really wore Stewart out. Again though, Marquez didn't concern himself with what Stewart was trying to do, so he'd go right to clinch knees & feed his hips to Stewart for another double leg takedown attempt. Marquez ate some bomb right hands, but had a Kimura takedown late, finishing the 1st round working for a straight armbar but always being too high (far from shoulder) to get enough leverage. Stewart began to fall into the pattern of dropping for the takedown to avoid Marquez's standing pressure, so Marquez shifted to working for a guillotine early in the 2nd. Stewart still had the energy to attack the hands to defend, but Marquez had an explosive barrage on the release, connecting with a jumping knee, elbow, and clinch knee. Marquez was simply the bigger, stronger fighter, and the high pace he kept combined with the big impact of his shots & all the energy Stewart expended trying to keep Marquez down really began to take its toll on Stewart in the 2nd. Stewart was still pressing forward, and had a good flurry against the cage, but just seemed exhausted after eating a big knee. Stewart was finally getting hit by the up elbows because he was having to force himself to move, and reverted to ducking for the takedown on instinct, but no longer had the energy to drive through & wilted to the guillotine rather than fighting the hands as he had before. I don't know that Marquez will have a long or amazingly successful career if he doesn't concern himself with the opposition, but he's definitely got the tools to deliver some more entertaining scraps. Good match.
Santiago Ponzinibbio vs. Mike Perry 3R. A good matchup of strikers that are fairly evenly matched, except Ponzinibbio has an actual strategy & the cardio to back it up while Perry is just out there to bang. Ponzinibbio fought behind his left jab & right outside leg kick, scoring while keeping Perry's power at bay. Ponzinibbio showed good movement & accuracy, while Perry kept planting & loading up for the bomb on an opponent that was nowhere to be found. Perry finally used a left middle kick 3 1/2 minutes in, which opened up the big overhand right that backed Ponzi. Perry applied more forward pressure in the 2nd to keep Ponzinibbio from being able to relax behind his outside game. Perry hurt Ponzinibbio early in this round, dropping down when Ponzinibbio was coming in & coming up with a left uppercut/hook then pursuing & landing twice when Ponzinibbio would find himself close enough to the fence he needed to change angles. Ponzinibbio was the fresher fighter after getting back to his feet from Perry's brief takedown, which obviously should not have been the case but he knew all along that his cardio would hold up & Perry's wouldn't, and from this point we started getting the proof. Ponzi scored with a right hand counter then 2 big left hooks before going back to the patient low kick & jab style that was working for him. Perry mostly dodged an overhand right counter, but got nailed with the left hand follow up. This time Ponzinibbio really tried to flurry, but Perry is so good at taking a punch he'd already somehow recovered. Ponzinibbio was fighting more confidently though, and went into attack mode again after landing a spinning backfist. Though the momentum had shifted to Ponzinibbio's favor, a lot of that was because the good work he did with his outside leg kick was forcing Perry to switch stances more and more, and when Perry would go left, Ponzinibbio would land a right inside leg kick to turn Perry then go to the head with the right hand, which doesn't have to go over Perry's defense given his hands are always at bellybutton height. Perry's answer was to go back on the offensive, and he got a couple more good shots in at the end of the round, with Ponzinibbio now bleeding heavily from the bridge of the nose (and/or under his eyes). After taking a couple big shots in the 3rd, Ponzinibbio came up with a spinning backfist out of nowhere while Perry was trying to follow up with a right middle kick. I wouldn't call it a knockdown as Perry fell more from being in the midst of a kick, but Ponzinibbio was able to take his back & get a couple brief takedowns as Perry worked his way back to his feet. Ponzinibbio didn't do any real damage on the ground, but Perry was winded when he finally got back to his feet for the 3rd time, and that led to a 3rd takedown against the cage. Ponzinibbio landed punches from the front facelock position, and by the time Perry made it back to his feet again the round was nearly over & Perry no longer had the energy to push forward, instead taking a head kick against the cage. Ponzinibbio won a 29-28 unanimous decision. Good match.
GLORY 49 12/9/17
Lightweight Contender Tournament Final: Stoyan Koprivlenski vs. Tyjani Beztati 3R. Koprivlenski rolled over Maykol Yurk in the 1st round with a spectacular, quick, high kick KO, while Beztati predictably had a tough 3 rounder with Niclas Larsen in a battle of what many people considered to be the 2 best fighters in the tournament. Both came out firing as expected, delivering one of the best rounds of the year, but Beztati has no tournament experience, and is an all out, high energy fighter, so while bouncing back was tough enough, sustaining that pace over another 3 rounds to deliver his type of fight was going to be an exceptional challenge. Koprivlenski has a very strong, albeit somewhat predictable kicking game, and was really just mixing the right low kick with the left body/liver kick as a way of setting up the high kick when suddenly he pulled an awesome spinning backfist out of nowhere to floor Beztati. Beztati isn't the sort of fighter who is thinking about stabilizing & recovering when you knock him down, he's out for vengeance, and he got up firing. Beztati momentarily gained the advantage, avoiding 2 high kicks in the process, but Koprivlenski finally landed a solid liver kick when Beztati was off balance after whiffing on his own spinning backfist. Koprivlenski was really feeling it now, and did a great job mixing punches & kicks into his attack now, and changing levels to suddenly keep Beztati off balance. Beztati was really focused on countering Koprivlenski's kicks, but I thought this was too his detriment because he was winning when he was keeping his volume up and losing when he was exchanging kicks with Koprivlenski, who is simply a far superior kicker. Beztati was the more active fighter, and he actually landed more shots even in the 1st round, but although he was very accurate, fatigue was clearly holding him back dramatically as he'd have the occasional good flurry of offense when he pushed the pace, but mostly he'd stand in front of Koprivlenski hoping to counter a kick with a single power punch while he was trying to catch his breath. Beztati had a better 2nd round, outworking Koprivlenski & landing the two best shots of the round, a right hand early and and uppercut late, but still fatigue was setting him back in a major way, as he was forced to pick his stops to attack rather than firing away constantly as he probably would have if this was a single fight. Round 2 wasn't an obvious Beztati round, especially since he was fighting himself as much as his opponent, but in spite of himself, he had both the activity & the damage. Koprivlenski changed his tactics in the 3rd, waiting for the single power punch & leaning out of harms way then trying to fire back with a kick but almost always missing. This round was basically a stalemate as Beztati was now the clear aggressor, but he didn't really have enough left to fire up, and thus both men were missing with almost everything they threw, though Koprivlenski did get yet another spinning backfist in at the end. I'd give the round to Beztati if I absolutely had to choose just by virtue of dictating, but really think it should be an even round. Overall Beztati outlanded Koprivlenski 73-52, but Koprivlenski won the unanimous decision 29-27, 29-27, 29-27, 30-26, 30-26. 29-27 was certainly possible, but 30-26 was just absurd. GLORY is doing a better job of the decisions than the other combat sports promotions largely because they often have 5 blind mice now rather than 3, but the judges should be given the numbers. Granted defaulting to that wouldn't be great either, but it would produce more reasonable scoring than not having anything to go by, & thus often falling into the trap of giving the nod to the guy who looks fresher and/or less damaged (especially since bleeding isn't necessarily a result of legal and/or hard blows). All in all, this was the best of the tournament finals GLORY put on in 2017, but even though they're only two fights of three rounds these days rather than the three fights of five rounds of the K-1 classics, the reality is we really only had one notable round here because after that they, mainly Beztati, couldn't physically fight the way he mentally knew they needed to. Good match.
Danyo Ilunga vs. Michael Duut R3 2:26. While nowhere near the stratosphere of their all-time great GLORY 36 12/10/16 bout, the third entry in the trilogy was a nice match if you can view it on it's own merits. Ilunga was determined to stay disciplined this time & rely on his technique & 5" reach advantage rather than get dragged into Duut's brawl, despite his desire to have an entertaining fight & it being his nature to want to answer when the opponent gets a good shot in. He had a good first round backing Duut with his jab or step knee & then bringing the overhand right when Duut didn't have much room to evade. Duut tried to land the power shot as always, but was mostly stuck on his back foot trying to defend, which is not his strong suit to say the least. Duut did a better job of pressing forward through Ilunga reach & forcing the action in the 2nd, but Ilunga is a much better angler & mover & was still utilizing his jab, so it's not as simple as just being aggressive, Duut of all people will never have a problem with that. Nonetheless, even though Duut was getting hit, he was getting a lot more in & he wasn't getting trapped on the ropes anymore. Ilunga slipped trying to back away from the attacking Duut & had to grab the ropes to keep himself up. Duut took advantage hurting him with a big right hand as he was bouncing off the ropes, but then just stopped, with one or both seeming to think there should be a break because Ilunga slipped. Melvin Manhoef was going nuts screaming to Duut to not let this golden opportunity slip away, but Ilunga wound up getting his time to recover. Ilunga was still the overall more solid & consistent fighter in the 2nd, but Duut wobbled Ilunga again in the final seconds with a left hand as Ilunga was starting to jab, so I gave Duut the round (2 of the 5 judges disagreed). Ilunga fought with more urgency in the 3rd, looking to regain the momentum, but he was playing right into Duut's hands exchanging on the inside rather than using his length & footwork. That being said, this was the most exciting round as the fight was finally starting to live up to the expectations set by the previous wild slugfest. Ilunga looked a bit unstable bouncing around out there, I'm not sure whether he had a leg injury, was still a little woozy from Duut's earlier big shots, or was simply playing possum, but Duut seemed to sense it also & became even more aggressive. Duut was doing a good job using his jab to set up his power, but he tried to switch it up & enter behind his step knee & Ilunga just sidestepped it & crushed him with a right hook for the KO. A great way to finish the trilogy & a much needed win for the former It's Showtime champion, snapping a 7 fight losing streak after starting off his career 57-6. Though only the 3rd best fight of the night this time, going from the best GLORY fight of the year to maybe the 12th best still isn't too shabby. Good match.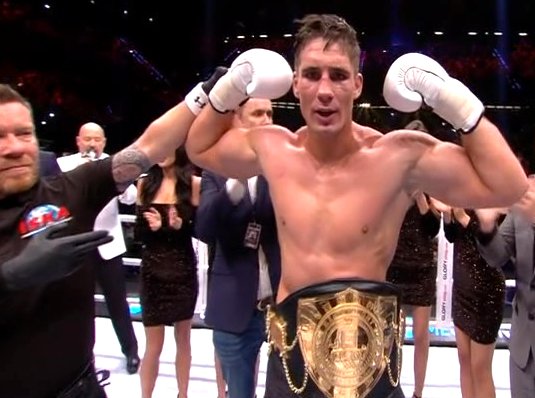 GLORY Heavyweight Title Match: Rico Verhoeven vs. Jamal Ben Saddik R5 1:10. Rico vs. Jamal was that big year end fight that had everything going for it from the large energized crowd to the great early start for the challenger to the revenge factor with Ben Saddik having TKO'd Rico at It's Showtime 46 3/6/11, so although Rico was the heavy favorite this time, the most dominant champion in GLORY actually had something to prove. Verhoeven has come a long way in the 6 years since that loss, and Ben Saddik has hardly been the most consistent fighter since that point, but the fact that Ben Saddik is still fighting at all despite having thyroid cancer & getting shot in the leg trying to break up a fight, much less has actually earned a title shot with 4 straight wins is pretty amazing. He was clearly the sentimental favorite, and this fight had a lot of storyline & drama going for it in addition to being a heavyweight title fight. Ben Saddik has always been a huge threat early, finishing 26 of his 32 wins, but he's improved his cardio of late, and actually won 2 decisions in a row after having not won a decision since the brief 2 rounders over Errol Zimmerman & Remy Bonjasky at GLORY 4 12/31/12, which ironically was the last time Rico actually lost in any way. That being said, you felt Ben Saddik's only real chance was the early stoppage because Rico's stamina, movement, & pace are at another level from any other heavyweight in the business. Ben Saddik was very energized & intense early on, feinting a lot which was good, but also being so overzealous he risked losing a point doing a little headbutt in the clinch & punching Rico two extra times after catching his kick. Ben Saddik's length was a big factor in his quick start, as not only was his jab accurate, but in general, Rico was struggling to gauge the distance he needed to evade, often trying to use his head movement but just being a little too close to actually get out of the way. Rico's strategy was also to slow Jamal down with kicks, but Ben Saddik's arms are so long that instead of these being safe distance shots, he was able to counter Rico's kicks with his own jab, and Rico was losing these exchanges with Ben Saddik stepping inside the kick & landing the punch. Ben Saddik rocked Rico midway through the first answering his jab then landing the right hand on the chin while Rico missed his own right, which really had the crowd erupting. Ben Saddik spent much of the rest of the round pressuring Rico trying to finish him off. Rico blocked or avoided most of these strikes, but Jamal had him under fire & did land another big clubbing right as Rico was trying to back away. This was a great round for Ben Saddik, and clearly if the fight could have continued at this pace, the fight would have been a true standout, but as with the earlier Beztati vs. Koprivlenski tournament final, the problem with the match was one fighter couldn't sustain this energy level or pressure in order to fight the way he needed to, the difference being Ben Saddik didn't have any legitmate excuse for that (being big doesn't qualify). Ben Saddik didn't empty the tank trying for the finish & fall apart, but that being said his normal style of looking for the big shot just wasn't going to cut it against Rico. Verhoeven shifted away from the kicking strategy midway through the second, having much more success fighting behind his jab. Ben Saddik was now hesitant & giving away ground too easily. Once Verhoeven had Ben Saddik retreating from the jab, he was now able to land low kicks following the jab or push him back further with the front kick. Verhoeven went down to his hands getting caught with a right while trying to throw a low kick, but I think this was rightfully called a slip. While the rounds after the first were solid and entertaining enough, the intensity sustained more due to the threat of Ben Saddik, established in the 1st, than the way he was currently able (or at least willing) to fight. Ben Saddik spent too much time waiting, too much time circling backwards against the ropes, trying to lure Rico into the big right hand, but generally just being outscored & put on the defensive. The more Ben Saddik backed, the less he used his jab, and that was really what was working for him early on and allowing him to get the big right hand in that was his main opportunity to win (read finish) the fight. Rico amped up the pressure in the 5th because like Demetrious Johnson he wants to be the greatest fighter not merely the most prolific decision winner, and also because a lot of his greatness is that he's so prepared & conditioned that he can keep amping up the pressure. The fight had gotten a bit stale as Rico's dominance had been reestablished, but here he was in the 5th exchanging on the inside with Ben Saddik even though the fight was in the bag so long as he didn't get KO'd. The beginning of the end was surprising & completely out of nowhere. Ben Saddik was moving forward, but stopped when Rico lifted his left knee then was basically just frozen as Rico brought up the left high kick to stun him. Rico went right in for the kill, and Ben Saddik was dropping his head, which made it easy for Rico to get inside & maul him with overhand rights until Paul Nichols stepped in & gave Ben Saddik a standing 8 count. Rico just charged right in with more overhand rights & uppercuts until the stoppage. In addition to avenging his loss to ben Saddik, this was an important stoppage for Rico because with four of his last five wins inside the distance, it's hard to argue against him being a finisher, and this time he even answered some adversity, coming from behind to do it. This was a good performance from Jamal, the most competitive match Rico has had in a long long time, and even though Rico still only lost 1 round, Jamal had him in a lot more trouble than Schilt did in Rico's lone GLORY loss. It seemed like in a 3 round fight, Ben Saddik might have a chance if he fought actively & aggressively behind his jab, but Rico just gains so much advantage with each passing round because his conditioning is so superb. The fight clearly had the best atmosphere of any GLORY fight all year, and was a fitting closing to 2017. Good match.
UFC Fight Night 123: Benito Lopez vs. Albert Morales 3R. Lopez is basically a wild man, taking all sorts of chances to land crazy athletic strikes, particularly the flying knee. He came out swinging, and Morales mostly followed him, partly because his attempts to get the fight to the ground didn't pan out. Lopez landed spectacular shots right off the bat including a high kick & spinning heel kick, but Morales dropped him a minute in with a left jab a minute in. Morales chased after Lopez trying to capitalize, but Lopez dropped him with a flying knee. Lopez was now in pursuit, and there was a huge flurry of crazy action with Morales backed against the cage resulting in Lopez getting a 2nd flying knee knockdown. I though Lopez should have just stuck to standing, especially since he was putting all this effort into a 1 arm guillotine, which I don't think I've ever seen work. Morales eventually swept & stood then went back into hot pursuit, landing lefts & rights as Lopez backed away. Lopez again got a flying knee in, but had so much backward momentum that it didn't have enough behind it to even stiffle Morales bull charge. Morales got a standing rear mount & used far side wrist control to maintain the position while he busted Lopez's nose open with repeated left hands. This round could have gone either way because Lopez had the extra knockdown, but Morales controlled the last 3 minutes. Lopez landed another spinning heel kick 2 minutes into the 2nd, and though Morales did a good job of concealing that this hurt him, he wasn't able to stop Lopez from following up with a high kick & a few good uppercuts. Morales was the better technical fighter here, but Lopez was more explosive & dynamic, and even though Lopez repeated the same high risk, low percentage strikes, most of the time Morales simply wasn't able to react quickly enough to thwart them. In Lopez's defense, he did use a really devastating liver kick that made things difficult for Morales because it looked very similar to the high kick. Lopez was really tired by the last minute of the 2nd, and this really undermined his offense because it's so reliant on speed & generally catching the opponent off guard. Although Morales again clearly won the final portion of the round, landing some solid shots to the body, his slower paced workmanlike style may not have been wasn't making as much of an impression with the judges. Morales was landing low kicks in the 2nd when he actually threw them, and increased their frequency in the third, though they were still much too sparse given he was trying to win by volume, Lopez was gassed & depends so much on his speed & explosion, & that Lopez wasn't doing anything to defend them whereas Morales had a much tougher time landing his punches. Lopez countered a left hand with a left high kick to open up a cut on Morales' cheek. Morales had all the pressure & volume in the last 2 rounds, just having so much more left in the tank, but Lopez did the damage & had enough highlight moments to steal the decision 30-27, 29-28, 29-28. Very good match.
UFC 218 12/2/17
Yancy Medeiros vs. Alex Oliveira R 3 2:02. An insane movie fight that'll go down as the most violent match of the year, if not the outright match of the year. If you can go back to 1993 & envision what you though the UFC would look like based on whatever 80's martial arts movies you'd seen, this might actually be a reasonable approximation. It was just an amazing back & forth match with an insane amount of caution to the wind aggression from Oliveira. Oliveira was pretty much shot out of a cannon this fight, though he got dropped early with a left straight following Medeiros' jab, and just fought with reckless aggression, bombing away with full power shots with no regard for the general art of setting up your shots or defending against potential return fire. Oliveira's nose was shattered badly, but he popped up from the knockdown & attacked as though he were the one who scored it & was trying to pounce & get the finish before the opponent recovered. Oliveira scored his own knockdown with a right middle kick followed by a big right to the chin 1:45 into the 1st. Oliveira knocked Medeiros down with another big right hand. Oliveira went all out to get the finish, especially after the 2nd knockdown, and I'm not sure how Medeiros managed to survie the round because Oliveira was just clocking him with clean shots. Oliveira did a great job of using the front kick to keep/create range that he'd then close by leap in with a big right hand. Oliveira did a good job of using body punches to open up the head, and generally make it hard for Medeiros to defend his barrages. He almost finished Medeiros at the end of the 1st with a huge flurry of power shots. Oliveira really had Medeiros moving backward between the front kick, and his aggressive attacking, keeping him on his back foot so he might make Oliveira pay for his aggressive attacking, but Oliveira was going to land the better shot(s). Oliveira's hopping forward to maintain the distance every time Medeiros hopped back was effective for keeping Medeiros out of his power striking game, but also took tons of energy, and this was already a really taxing fight between the punishment he took early & the crazy pace & all out power striking he was employing to try to end it. Medeiros was being outstruck 5-1, but finally timed Oliveira's big right hand & came over the top with a left of his own to stun Cowboy. Medeiros was finally able to go on the offensive again, and seemed poised to really take over with a couple nice left hooks to the liver, but Oliveira fired back. Oliveira tried for the late takedown, but got thrown, mounted, and pummelled with elbows until he swept & stood. Medeiros fell back into Oliveira's rear naked choke after being suplexed in the 3rd, but swept before Oliveira was able to lock his neck. Something seemed to go seriously wrong, it seemed Oliveira's right eye was damaged, most likely a broken orbital. In any case, Alex just kind of stopped fighting, suddenly backing up & just standing against the cage covering until Medeiros finished him off. Ref Bobby Wombacher was really out to lunch here, seeming to have no idea something was wrong with Oliveira and letting him take 3 huge shots on the ground after he'd stopped fighting on his feet & crashed to the canvas like a tree falling down. Such an amazing comeback win for Medeiros, who really was outclassed badly for a round plus from mid 1st to mid 2nd, but was the more calm & collected fighter, and thus managed to maintain more of his energy for the late game, though I don't know how he was still conscious with all the ridiculous shots he took to get there. To call this match a war would be selling it short, maybe a world war... Great match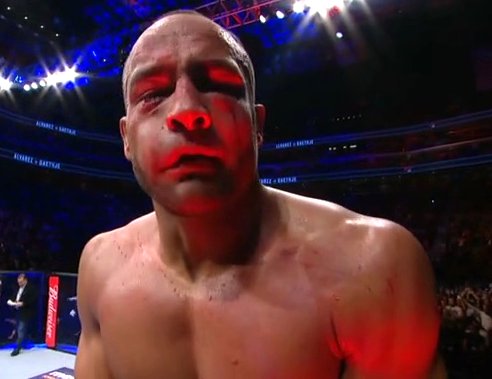 Eddie Alvarez vs. Justin Gaethje R3 3:59. Gaethje likes to tell people he had the fight of the year until he fights again, and this was no exception. Though Medeiros vs. Oliveira probably had better pure action, this was the most dramatic fight of the year, certainly one of the most dramatic I've ever seen. Gaethje may be the king of violence, but he wins by breaking his opponent. He was chopping Alvarez's leg something fierce early, often, and throughout. For much of the fight, you were worried Alvarez's leg was going to give out with the next leg kick, that he not only wouldn't be able to get up but he'd be lucky to be able to hobble to the back using a trainer as a crutch. But then there was that part of your brain that remembered their stupid swimming contest. Not that much stock should be put into such nonsensical events, but in their cases it was somewhat telling because their approach to the race was similar to their approach to fighting, Gaethje just goes all out from the opening bell, trying to put so much pressure on the opponent that he'll break them mentally and/or physically, while Alvarez has a better grasp of his own limitations and does a better job of staying within himself. Though Alvarez is the former champ & higher rated fighter, he clearly came off as the underdog here, both because he looked a full weight class smaller similar to Frankie Edgar in his days at Lightweight & because Gaethje injured him early & often with the leg kicks. Alvarez was landing his punches in the exchanges, but Gaethje literally blasted the leg at the opening bell & 30 seconds into the fight it was already hampering Eddie, and then beginning to give way 1:40 into the fight. The leg wasn't simply effecting Alvarez's movement, but the majority of his offense is based around his boxing, and the left leg was giving out a little when he threw the right hand. Alvarez worked the body to slow Gaethje down, and opened up Gaethje around the left eye with his jabs. Alvarez would get low to throw the body punch, and was able to disguise the uppercut to the chin out of the same setup he threw the body hook or uppercut from, so Gaethje didn't know where to defend. Although, Gaethje doesn't do much defending anyway, his defense is more offense, but Alvarez was working him over good enough to keep Gaethje's output in check, and came on enough in the 2nd half of the round that it became a difficult round to score, though I'd still lean to Gaethje. One thing that made this such an amazing fight was how back & forth it was. A lot of fights have a good portion from one then a good portion from the other, particularly if one guy is winning the standup & the other the mat, but this was different, once Alvarez got going, both fighters were doing their thing, and it was simultaneously working. They might not have had the answer to what the opponent was doing, but they both thought by firing back they'd win the battle of attrition. Strategically, the willingness to just bomb away that makes Gaethje arguably the most exciting fighter to watch was costing him in this fight because if his goal was merely to win the fight, he needed to use more movement & distance keeping strikes so he could keep bombing the low kick from the outside instead of allowing his smaller opponent to get inside & land all the uppercuts & short range power punches that were keeping him in the fight. In the days before Conor McGregor was content to make a fool of himself stalking around the octagon, attacking the ref, and giving up against a suddenly fearless boxer who normally just runs from the opponent and "wins" the round by landing 5 or 10 do nothing jabs, he got it right by never allowing Alvarez in range, essentially taking the smaller man out of the fight before it ever became one. Alvarez has always been known for his guts, heart, and toughness, but against a fighter who boasts similar attributes, it was his discipline, his committment to tactics, his better foot & head movement that were the difference. Alvarez was the much busier fighter in the 2nd, both because his body shots were stopping Gaethje in his tracks & because he'd then move out range when he'd finished his combo. Gaethje's mouth was open, and he was really sucking wind as Alvarez engaged & disengaged on his own terms . Gaethje tried for a late takedown, but Alvarez pushed him off & landed a big knee when Justin was getting back up. This was a big round for Alvarez, but he had a really odd swelling above his mouth on the right side, like he'd just had a tooth removed, perhaps a broken cheekbone? Gaethje responded in the 3rd with a series of powerful leg kicks, forcing Alvarez to switch to southpay & even try to pull guard. Alvarez was still putting a lot of pressure on Gaethje, but Gaethje was doing a better job of landing his own uppercuts on the inside either while in the clinch or on the break. Gaethje seemed very relaxed in the clinch, a little too relaxed for his own good, and just lost concentration for a second, which was all it took for Alvarez to change tactics & suddenly bring up a hugh knee to the chin for the KO. Alvarez donned himself "Most Violent Man" after winning this classic, a title he says has more value than the UFC's given McGregor never defends titles & Ferguson won the interim title by beating the lowly ranked #7 contender who never actually beat anyone but Chiesa for what that's worth. Great match.
UFC Fight Night 121 11/18/17: Frank Camacho vs. Damien Brown 3R. If you love a good old fashioned brawl, this is the fight for you. These guys are awesome to watch because they just go for the finish to the point you feel they'd rather lose the fight by KO than win the fight via decision. They weren't employing a great deal of strategy, but man were they winging bombs! The first round was somewhat ordinary, more inside fighting with short strikes in the clinch game & on the ground, but the fight got a lot better with each round. Brown had a ridiculously deep rear naked choke for about 14 seconds at the end of R1, but Camacho turned out just before the bell. Camacho was the much bigger fighter having missed weight by 5 pounds, and was not only the heavier hitter, but also the one who was pushing the high pace, always coming forward & pressuring Brown with his fists. Though there were mostly head punches, Camacho did a good job of working the body just enough to open up his big overhand right, which stunned Brown a few times in the 2nd. Brown's left eye was in bad shape by the end of the 2nd between the blood & the swelling. Brown caught Camacho in the nose with a hook kick in the 3rd then cut him outside the right eye with a left straight. Camacho came on late in the round, cutting Brown off & battering him with punches against the cage. Brown's nose was most likely broken by this point, and he was unable to get the takedown, but nailed Camacho with an uppercut faking a level change. With the fight still up for grabs down the stretch, both men were just winging bombs in the last 30 seconds especially trying to keep it from going to the scorecards. Just a great display of heart & willpower from both fighters. Camacho won the split decision 28–29, 30–27, 29–28. Good match.
UFC Ultimate Fighter 26 Finale 12/1/17
Sean O'Malley vs. Terrion Ware 3R. O'Malley is a really exciting fighter to watch because he is so nimble & quick, fighting with his hands down & leaning heavily on his reflexes to bob & sway. O'Malley mostly feints & fakes, switching stances constantly to open up a single shots, coming at the opponent from all angles with all sorts of flashy, unorthodox nutso high risk techniques and then escaping before they can hit him back. When he's fresh, he's fantastic, but he has no real defense beyond his speed & reactions, so when he slows down, he's fairly prone. Ware was having trouble determining a strategy because when he was patient, O'Malley created the angle, landed, & escaped, but when he pressured, O'Malley just kept moving, luring Ware into chasing him. Ware started relying less on technique & just tried to mix it up, doing much better in the moments when he had O'Malley against the cage because he couldn't use his upper body movement as well to avoid. Ware did a better job of cutting off the ring in the 2nd, and O'Malley also predictably slowed down some because his style requires so much energy, allowing Ware to get his boxing going. Rare was able to get inside in the 2nd & find O'Malley's nose with his right hand. O'Malley actually essentially threw an enzuigiri in the 2nd, landing on his back, but getting up fairly quickly & hitting a spinning backfist on the break. In case that wasn't wild enough, O'Malley tried a jumping triangle at the end of the round. Ware was tired in the 3rd, and O'Malley reestablished his jab, allowing him to once again hold his ground & pick his shots rather than constantly fighting off the back foot as in the 2nd. With the fight likely a round a piece, O'Malley truly found his 4th wind in the final 2 minutes, suddenly bobbing & weaving the way he did in the 1st minute, landing his shots & making Ware look slow & silly as he missed time after time. Ware made his last stand pressing forward & trying for the takedown, but O'Malley wound up getting it & landed a big body kick as he let Ware up. O'Mally won a unanimous decision 29-28. Very good match.
Inaugural UFC Women's Flyweight Title Match: Nicco Montano vs. Roxanne Modafferi 5R. On one hand, this was the best chance Modafferi is likely to ever have to win the title, as she wasn't going up against any sort of a dominant opponent. Montano has a lot of potential, but she is still pretty green. On the other hand, this was a tough ask for Modafferi because she was training for 3 rounds and suddenly had to go 5 against a fighter whose biggest strength is probably her cardio. This, of course, wouldn't be as big a deal if Modafferi wasn't a fighter who has trouble finishing fights because she lacks KO power & thus needs to catch an opponent in a submission but they all know that and generally are smart if not also skilled enough to avoid the ground game on her terms and, I think a lot more importantly here, Montano is a much cleaner & more fluid striker so Modafferi had to use a ton of pressure & movement to keep her guessing & out of rhythm. The pace of this fight was extremly high, with Modafferi really willing herself to keep pressing, as you could see she was already tiring midway through the second, but she knew she'd get picked apart if she let Montano relax & dictate her attacks. Montano was the aggressor early, and she was landing at a very high rate. She's just the better athlete, and has a far better technical striking base, having been around that side of the game with her father being a former pro boxer. Montano's takedowns generally came from catching the middle kick, and Modafferi's corner eventually tried to tell her not to kick, as they're only slapping distractions to try to keep Montano off guard anyway since she just have any hip action, so the risk wasn't nearly worth it. Modafferi was generally winning the fight off her back though, as she was the one who was attacking & threatening, putting Montano on the defensive with her armbar & triangle attempts. These ranged from extremely close at the end of the 5th to distractions that did little more than keep Montano from being offensive, but this fight was much closer than the final scoring (unlike the DeAnna Bennett vs. Melinda Fabian draw where Bennett's takedown technique was so poor - always way too high & upright - she ultimately had no chance at success in 3 rounds but was for some reason rewarded for just hugging Fabian or that disaster decision Julia Budd somehow won by standing against the cage being afraid to try anything) because top position actually meant nothing & Montano's coaches couldn't wait for her to just back out & go back to striking, especially having trained for Sarge who isn't really submission threat unless she's already well in control. Ironically though, Modafferi's coaches felt the same way, not wanting her to give up rounds to narrow minded judging & liking her chances of stunning Montano with her right cross that was very effective all night leaning back to the right after going left for the jab. I was surprised Modafferi didn't use the jab more effectively here, as it looked improved in her previous sanctioned fight against Sarah D'Alelio, but it was totally just the setup here. I though Modafferi won the 1st round because she was by far the more threatening fighter both off Montano's takedown & off her own, but Montano was the better striker during the 1st half standup. Modafferi countered a middle kick with a left/right combo to stun Montano early in the 2nd, and tried to press the advantage, but began to slow down after failing to secure the takedown against the cage. Modafferi began to fall into a pattern of waiting then coming in with the same basic combo (sometimes she threw 3, sometimes 4 but the entry & sequence was more or less the same). Modafferi landed the better shots in this round, but between being slower now & predictable, Montano was able to adjust & time her a lot better, so she began to be the more consistent fighter. Montano had more volume, but I thought this was Modafferi's round still, until Montano after Modafferi's hip toss. I don't think Modafferi was that close to tapping, but Montano racked up a lot of unanswered elbows while Modafferi was trying not to get finished. Montano began to take the initiative in the standup, and she was landing well in the 3rd when she was moving her feet, but Modafferi was getting her shots in when Montano would try to load up her punches. Montano was dictating this round, but Modafferi actually outlanded her. Both women had bloody noes, with at least Montano's almost definitely being broken. Modafferi came on late in the 4th with 3 big right hands, but Montano took her down & dug a few some elbows into the ribs before letting her up. This was one of Montano's patterns, getting takedowns but not actually trying to do anything with them, and I feel it's really terrible judging to put much weight on these. That's not to say that Montano didn't win the fight, but literally every round had good work from both fighters & could have gone either way, so I don't know how they came up with this route decision. Montano worked on the ground longer after immediately sweeping off Roxy's takedown, mounting momentarily before Modafferi gave her back & escaped. Modafferi stunned Montano with a couple good rights, and although the same right was the only thing that was really doing any work for Modafferi, she was actually the one who was hurting the opponent with her strikes, though the average Montano shot was much better than the average Modafferi shot because she has better technique & a lot more weapons. Modafferi again went in for the takedown, but wound up on her back. Modafferi looked for the submission, and had the armbar setup, but Montano's arm slipped free as Modafferi broke her clasp to extend. This was probably 48-47 Montano, but felt like one of those fights that would be a split decision with scores all over the place then they came up with 50-45, 49-46, 49-46 Montano. In any case, this was definitely one of the better women's fights of the year, really high paced, back & forth with both women doing good work in each round & out of pretty much every position. Very good match.
BACK TO QUEBRADA REVIEWS


* Puroresu, MMA, & Kickboxing Reviews Copyright 2017 Quebrada *