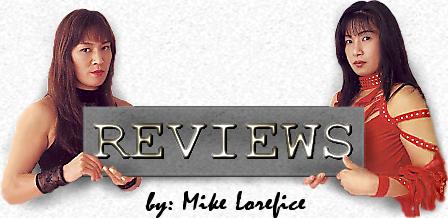 Best Matches Seen November 2017
UFC Fight Night 120 11/11/17: Dustin Poirier vs. Anthony Pettis R3 2:08. Poirier fought the smart fight, continuing the established pattern of making Pettis move backwards then finding his openings for combos and takedowns when Anthony was against the cage. This was a great ground fight though, as Pettis was throwing up submissions, particularly triangles, and initiating scrambles. He had a really fun sweep where Poirier was standing holding his left leg trying to get the angle for a guard pass, but Pettis snuck his left leg inside Poirier's right foot & tripped him up. The general problems for Pettis continued though, as his footwork & movement weren't good enough to keep himself out of whatever positional disadvantages his opponent was thus able to dictate, and he also didn't have enough pop on his shots to make Poirier wary of coming forward, pressuring him all night, and initiating wild exchanges. Pettis was ducking down while holding on to Poirier's right hand land in the 1st, and tried a left high kick, but Poirier wobbled him with the overhand right counter. Poirier didn't immediately capitalize, but was able to turn it into a brawl after backing Pettis again, and while Pettis answered with a spinning backfist, Poirier put a few good combos on him. Pettis was taking too many shots to the left eye, creating a mouse that busted open under it. Poirier got another takedown against the cage early in the 2nd, and opened another cut on the eyebrow with his ground elbows. Blood was pouring everywhere, which obviously made it harder for anyone to get a submission and easier to get a sweep. Pettis was able to turn out of Poirier's rear naked choke attempt & take the top. Pettis really went for it, but while his elbows were finding their mark, his attempt to take Poirier's back was overzealous, and Poirier was able to stand, shake him, & regain top control before Pettis could get the right side hook in. Pettis had a reverse bodylock late in the round & was able to trip Poirier up, but again Poirier threw him off & took the top before he could hook the right leg for reverse mount. Pettis had so much blood pooling in both eyes from numerous slices that he probably couldn't see anything at this point, and although the doctor let him continue, most of the blood they whiped off with the towel returned by the time they restarted. Pettis' best chance for victory came at the end of R2 when he finally had a well secured triangle, but Poirier slipped out as Pettis tried to roll him & battered Pettis until the bell. Pettis has always been an explosive opportunist rather than a consistent volume fighter, but you felt like Poirier getting quick takedowns in each & every round forced Pettis into high risk mode that much more, and he just never had the patience or discipline to be solid when he got his sweep & wear Poirier down a little until he found/created the opening on a weakened opponent, instead just immediately gambling on/trying to force the finish, and invariably winding up in a similar disadvantageous position. Poirier came closer to the choke, and as he gave up on it & brought his upper body around the top, there was a lot of pressure on Pettis' mid body ala the old pro wrestling ground cobra twist. Pettis tried to do his favorite spin into guard, but Poirier knew it was coming & shifted his weight to take mount. Pettis fractured his rib during the transition, and tapped immediately. Poirier disrespected him later on saying it was a broken man rather than a broken rib, but although Pettis clearly lost every round, he competed admirably in the ring throughout the fight. He surely has issues outside the ring with his inability to correct his known flaws & seemingly just isn't the same fighter after all the injuries he's suffered, but what made the fight so entertaining is Pettis was able to dig himself out from the holes he put himself in time and time again, even if for what turned out to only be momentary advantages since he failed gambling for the finish. Although Pettis isn't the Pettis of old, this was still a huge win for Poirier, who has the reputation for beating all the lesser ranked fighters but not being solid & talented enough to beat the top guys. Very good match.
W5 37 10/8/16: Freddy Kemayo vs. Jan Soukup R3. Soukup got off to a fast start, partially because Kemayo was very flatfooted & just wasn't presenting much defense or evasion in this match. Soukup dropped him early with a nice left high kick/left jab combo. Kemayo had even less of an answer for Soukup's combos when he was stunned, and Soukup was just picking him apart as Kemayo stood there & took it. Soukup got cuter & cuter with his spinning strikes since Kemayo wasn't defending or firing back, cutting his head with a spinning heel kick. Kemayo began to dig in in R2, and now was at least pushing forward & attacking. Soukup still won the round on all 3 scorecards because he was more precise & accurate, but Kemayo was a lot more active, coming in with punches & then using knees on the inside, bloodying Soukup's nose. Kemayo forced his way inside in the 3rd, and was able to turn it into a brawl. Soukup really needed to just back out/circle away because Kemayo is a hard hitter & you don't want to trade with him, especially when you have the fight in the bag as long as you stay on your feet, but he stayed in there swinging, and eventually Kemayo caught him with a big overhand right. Kemayo saw Soukup was wobbly, and kept the pressure on him, staying right in his face & firing away with big hooks. Soukup fired back almost as frequently, but his legs were gone, so he had no hope of matching power with the already harder hitting Kemayo. Kemayo finally swiched to the knee, and Soukup was out on his feet after that. The ref just let him keep trying to fight even though he couldn't even keep his head steady, and Kemayo finally landed the kill shot with a big right hook to the chin. Just a great comeback by Kemayo, stealing a match where he looked surprisingly subpar & really outclassed in terms of skill, mobility, technique, and so on. Good match.
W5 33 Never give up 5/21/16
Vladislav Tuinov vs. Angaar Nasr 3R. Tuinov, who recently turned 18, is Russia's most promising young kickboxer, having already captured the 71 kg European title & 72.5 kg Intercontinental title. He is quick & powerful, but what's more impressive is how well he works off his diverse left hand lead, mixing hooks, body shots, double jabs, and then following with the right when it's there. Tuinov overwhelmed Nasr late in the 1st. He had two nice two double jab right straight combos late in the 1st then almost had a knockdown finishing a combo with a left hook, but was able to follow it with a high kick to the shoulderblade & a couple punches for the standing 8 count that ended the round. Tuinov was still having his way with Nasr early in the 2nd, landing 2 spinning back kicks in a row, and appeared well on his way to dominating another quality fighter. Nasr had other ideas though, and started to come alive in the 2nd half of round 2, stunning Tuinov with a flying knee. He played more or less even for the rest of the round, so this round could have gone either way, but overall Tuinov had outlanded Nasr almost 2-1 through 2 rounds. Tuinov mostly avoided an overhand right early in the 3rd, but Nasr stunned him following up with a left hook to the chin. Tuinov is a warrior & he responded to the adversity by waking back up & engaging in a firefight. Nasr was still feeling it though, landing a good knee to the chin and some good 2 punch + low kick combos. Tuinov was clearly worn down, but rather than just trying to hang on & survive, he was still in there trying to finish the fight. Nasr was clearly getting the better of him though, landing a big right hook over Tuinov's telegraph left hook. Now that Tuinov had slowed down, Nasr was able to land some of his powerful right hand leads that Tuinov saw coming a mile away when he was fresh. Nasr clearly won the 3rd round, which was excellent, but wasn't able to get the knockdown he needed to have a real chance of walking away with anything better than a draw. Tuinov clearly won the 1st half & Nasr clearly won the 2nd half, but Tuinov was lucky this wasn't a title defense because although he edged the decision due to his brilliant start, I wouldn't have liked his chances of hanging on to that lead through another 2 rounds. Good match.
W5 72.5kg European Title Match: Massaro Glunder vs. Foad Sadeghi 5R. Massaro isn't a fighter I always root for, but I'm finding his fights to be entertaining & action packed one way or another. Foad lost a 3R unanimous decision in their 1st match at W5 31 12/5/15, and Glunder was looking sharp with his jab & combos early. Sadeghi began to have success by pushing the pace. Though he still wasn't beating Glunder up by any means, at his best, he was active enough with his attacks & feints that Glunder kept having to defend, and thus wasn't getting off as much as usual. Sadeghi really couldn't hesitate because Glunder would just keep landing the jab whenever he was allowed to relax at range. Even in rounds that Foad was arguably winning, Glunder's jab was so fast & accurate that he was outlanding Sadeghi. Sadeghi cracked Glunder with a big lead left hook early in the 3rd, but didn't manage (try?) to follow it up. Glunder was just so good when he was able to hold his ground that it was hard for Sadeghi to really advance given how many jabs he was getting hit with. He had to just concede to getting hit with the jab & throwing his own more powerful combo back. The judges had the fight even through 3 rounds, but Glunder had a big 4th round, stunning Foad with an overhand right early in the round & following it with a wide variety of punches & knees to the body & head. Glunder was really flowing now, and letting loose with powerful right hands. About 20 seconds into the onslaught, Glunder backed Sadeghi with a push kick then dropped him with a right high kick as soon as he stepped forward. Glunder never slowed down the whole round, cutting Sadeghi under the eye with one of his knees. I don't know how Sadeghi managed to only go down once in this round, but it was so one-sided you could probably justify a 10-7 round even without the 2nd knockdown. That said, Sadeghi did actually manage to stabilize & fight somewhat even for the last 30 seconds of the 4th. Glunder's confidence remained high & he had a lot more left in the tank in the 5th. He continued to mostly have his way in this round, working his jab at distance & his knees in close. Glunder won a unanimous decision. Good match.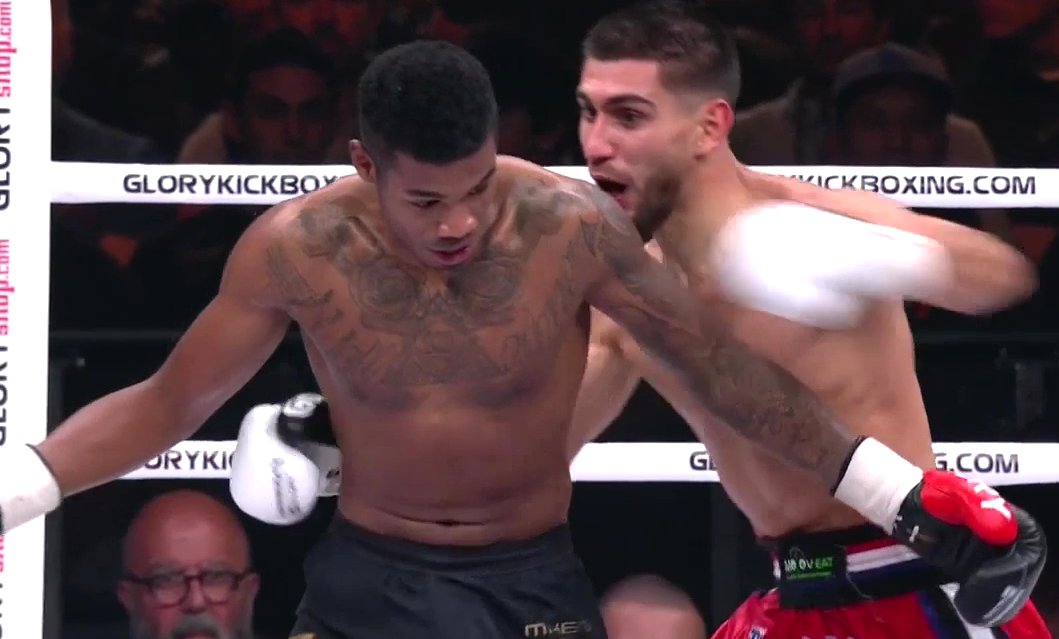 GLORY 47 10/28/17: Dylan Salvador vs. Massaro Glunder 3R. Glunder found himself in a contender match because Zakaria Zouggary, who beat him at GLORY 45 9/30/17, had to pull out, but he really stepped up in more ways than one & made the most of it. It was Glunder's best performance in GLORY, at least for the first 5 minutes. Despite being 1.5" shorter, Glunder had a 6" reach advantage. While he did score on the outside with his jab, once he saw he was able to close the distance & land with his favorite right step knee, that was his primary strategy. Glunder was mixing things up well though, also doing a nice job of stepping left & coming around Salvador's guard with a left hook or using a right teep to maintain distance that actually looked very much like his right step knee until he extended the leg. Salvador was doing a better job of getting either a lead hook or landing a hook on the inside in round 2, but it wasn't until he got behind Glunder after landing an inside left hook and hammered him with a cheap shot left hook around the back that a helpless Glunder couldn't see coming after referee Tobias Gerald predictably called for the break (you're never allowed to continue fighting when you wind up behind the opponent) that the fight turned. Sure, Salvador was docked a point, but Glunder was never the same, even in the 3rd when he'd recoverd some, he wasn't really attacking or using his knees anymore. Beyond that, Salvador got 2 quick knockdowns once the fight was restarted, so it went from a round he was losing 10-9 to a round he won 9-7. Salvador blitzed Glunder on the restart because he knew he had him hurt, dropping him almost immediately with a left hook. Glunder then tried an ill advised flying knee on the restart, but Salvador caught him in midair with a left hook for the 2nd knockdown. Glunder claimed it was a slip, and while there's not much chance of landing on your feet when you get snipped trying a flying knee, it was a good clean shot so you really have to call it a knockdown as that's just the added risk of leaving your feet to throw a strike. Round 3 was difficult to score because it was one of those Robin van Roosmalen vs. Thai fighter type of rounds where Glunder was blocking Salvador's middle kicks & then answering with a right straight. However, even if to the arm, the impact of Salvador's blocked kicks was likely higher than that of Glunder's straights (most were with the power hand, but he wasn't able to punch through, Salvador was only just in range for the glove to connect). This round was super close, but Salvador probably stole it getting his low kick going late & landing a left hook that was clearly the best shot of the round. Salvador won a unanimous 28-26 decision. Good match.
W5 38 10/21/16: Ivan Semiglyadov vs. Rustam Kasimov 4R. This wasn't the most consistent fight you'll ever see, but it had two of the most spectacular knockdowns, and was all around wild, crazy, unpredictable, and inexplicable. Rustam was solid in the 1st round, scoring with both inside & outside leg kicks. Late in the round he had one of the most spectacular left hook knockdowns I've ever seen. Ivan started throwing a right kick, and with only the left leg to balance on, he was simply blown off his feet by Rustam's crushing left hand. Semiglyadov was coming up short on his punches, just hitting Kasimov's gloves if he connected at all in the 1st, but he began to find his range in the 2nd, landing some nice overhand rights. If you thought Rustam's punch knockdown while Ivan was kicking was spectacular, you have to see Ivan's high kick knockdown in the 2nd at the same time Rustam landed a middle kick. Ivan fell on his butt as well just from being off balance, making it look all the more spectacular as you rarely see both fighters hitting the canvas at the same time outside of Rocky. Again, the knockdown occured when the round was almost over, so there wasn't enough time to really capitalize on the momentum & get the finish. Despite the break, Semiglyadov did come out fired up to put Rustam away, and had a strong start to the 3rd landing powerful overhand rights. Kasimov seemed woozy & gassed, and wasn't defending at even a fraction of the level we saw until the end of the 2nd round. Just when you thought Semiglyadov had the decision in the bag, Kasimov countered a left low kick with an overhand right for the knockdown. Ivan was disgusted with himself because he just gave the fight away getting caught off-guard with a single punch. Kasimov was rejuvenated, and kept using front kicks to keep Ivan off him to ensure the decision win. I could see round 3 being 10-9 Rustam because Ivan wins the round if not for the knockdown, but the judges were apparently loving the fight so much they decided to inexplicably call it an even round so they'd get to see an extra round. Kasimov seemed riled up by the fact he was screwed out of the decision, and was getting into it with the ref & Ivan. His anger helped him fight an energetic 4th round, attacking but also keeping his guard up the way he did in the 1st round when he was able to outland Ivan 23-4 because he just deflected/blocked punch after punch. The 4th round didn't have a great moment, but it was the best of the fight in terms of being back & forth & competitive. Both fighters willed themseleves to a high output. Kasimov was the more consistent of the two, but Semiglyadov got a big shot in here & there. I'd have given the 4th round to Rustam if I had to pick, but I wasn't horrified with this being an even round the way I was with round 3 being an even round. The stats certainly show Rustam winning as even if we disregard the extra knockdown, he outlanded Ivan 69-45 and connected at 51% compared to 25%. You have to feel bad for Rustam only getting a draw, but it was a really good fight. Very good match.
Rebel FC 2 8/1/14, Rebel FC Featherweight Title Tournament Quarterfinals: Miguel Torres vs. Takahiro Ashida 3R. Torres is one of those fighters I'm really not sure how to rate. He was the top 135 pounder in the US for a few years at the end of the '00's, amassing a ridiculous 37-1 record before dropping the title to Brian Bowles at WEC 42 8/9/09, but only five of those 37 wins were against opponents that even have a wikipedia page (his first four WEC wins & Joe Pearson, who beat Yoshiro Maeda in PRIDE then lost a title challenge to Urijah Faber in his only WEC match before going back to kicking around the midwest regional circuit). Fighters such as Faber & Dominick Cruz were at 145 at this time, and future 125 pound standouts Joseph Benavidez & Demetrious Johnson beat Torres later in his career when they were still fighting up in weight, but was Torres a great fighter who prematurely aged, partially because he was incredibly active with over 40 documented fights before his 30th birthday in addition to rumors of several unsanctioned nightclub/bar fights before his career took off? Or was Torres a really good fighter who was in the right weight class at the right time? While Torres legacy is up for debate, there's no denying he had some really fun fights, particularly his MOTYC title defenses against Yoshiro Maeda at WEC 34 6/1/08 & Takeya Mizugaki at WEC 40 4/5/09. One thing that made Torres so exciting to watch was his offensive bottom game, which was on full display tonight, just crazy submission pressure off his back in addition to a solid Bas Rutten elbow attack. Although Torres started off in Taekwondo and has a background in wrestling & boxing, his strength is really this submission game, and he tended to take punishment on his feet even when he was using his range well & working his jab. DEEP veteran Ashida put a lot of pressure on Torres in standup, constantly moving forward working the left low kick & trying to come over the top with a punch or high kick. Ashida would take Torres down, but Torres would then immediately threaten with the guillotine, triangle, kneebar, etc. The rounds were really difficult to score because Ashida was clearly the aggressor, but Torres was a lot more threatening on the ground, even though he was generally in the "defensive" position, to the point that Ashida would let Torres up because he didn't like how the ground game was going (but then he'd take him down again soon enough). Ashida seemed better off avoiding the ground game, but you can't sleep on Torres in standup either. Ashida wobbled Torres in the 2nd & also cut him, but Torres took him down after knocking the wind out of Ashida with a right body hook then took his back & punished Ashida for the rest of the round for protecting his neck. Ashida rocked Torres with a high kick early in the 3rd, and really didn't take any time to recover from Torres' accidental low blow, seemingly because he didn't want Torres to recover. Ashida again made the mistake of taking Torres down, and Torres is just so slick & slippery on the mat. He quickly rolled into what could have been a triangle & an armbar attempt if Ashida wasn't wise to Torres' aggressive bottom game by now. Ashida potentially hurt Torres in standup twice toward the end of round 3, but he might have been faking to try to bait Ashida. I had Torres winning the 1st 2 for a 29-28 decision, but pretty much any round could have gone either direction. Officially, Torres got the split decision. Good match.
BACK TO QUEBRADA REVIEWS


* Puroresu, MMA, & Kickboxing Reviews Copyright 2017 Quebrada *