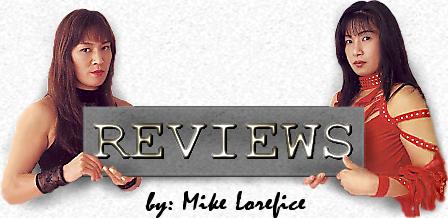 Best Matches Seen October 2017
UFC Fight Night 119 10/28/17: Elizeu Zaleski dos Santos vs. Max Griffin 3R. An entertaining slugfest, but what really elevated it above the pack was how back & forth it was. Griffin had the early advantage dropping dos Santos with an overhand right after eating a step knee, but dos Santos came back slipping a jab & connecting with a right hook to the neck with a minute left, nearly finishing Griffin flurrying on him until the end of the 1st round. The fight was so close to being stopped there was actually confusion as to whether the ref had called it or stopped because the round had ended, yet Griffin, who could barely stand at the end of the 1st, managed to recover enough between rounds to actually come back & score another knockdown to take the 2nd. The fight started well with both going for jumping knees at the same time. Griffin had a lot of success with his left jab, and was also able to follow it with big right hands. Dos Santos wasn't as active, but landed solidly when he threw, cutting Griffin under the right eye early in the fight. Dos Santos got his confidence up toward the end of the round, and once he hurt Griffin, he didn't let up. Dos Santos took Griffin's back after stuffing his desperation takedown, but really just wanted space to punch him out, allowing him to work his way back to his feet as long as he could get a barrage of punches in & really hurting Griffin with a knee as soon as he was upright. Griffin didn't so much recover in between rounds as he just found the willpower to keep his volume high. Dos Santos was still winning, but the fight turned 2 minutes into the second when he telegraphed a spinning back kick & Griffin drove forward grabbing a reverse bodylock but quickly giving up on the takedown in favor of a left hook & right hook that dos Santos couldn't see coming, the later putting dos Santos to the canvas for the second time in the fight. Dos Santos seemed poised to regain control early in the 3rd when he switched to leading with the left hook then followed with a big right straight, but Griffin again stepped up his aggression, leading with the right hook & following up with a few good shots as dos Santos was scrambling away. Dos Santos mixing his lead punches seemed to confuse Griffin though, and he was having more & more success following with the big right hand. Dos Santos just had more left in the tank at this point, and there were big differences in workrate & connect percentage. Dos Santos out threw Griffin 59 to 38 in the final round after Griffin slightly out threw him in the 2nd, but also landed at a 55% clip to Griffin's 34%. It's weird that the fighter who scored the two knockdowns clearly lost the fight, but dos Santos was a lot closer to winning in round 1 than Griffin was despite dos Santos touching the canvas. Dos Santos won a unanimous decision 29-28, 29-27, 29-28. Very good match.
KSW 19 5/12/12, KSW Middleweight Title Match: Michal Materla vs. Jay Silva 3R. Materla is such a gutsy fighter. He's never struck me as an elite fighter, but he's such a tough guy who is extremely well conditioned & generally has the intangibles to make him a really good winner. He'll get beat up, lose parts of rounds, whole rounds even, but if you don't finish him, and only a few have, he'll eventually wear you down or take you out. Silva is one of those enigmatic fighters who has the talent, but just never quite seems to be able to beat anyone good. Coming off a win over perpetual underachiever Kendall Grove, the one known fighter Silva had managed to defeat up until this point despite managing a stint in UFC & Bellator, Silva was granted a shot at KSW's middleweight title, and delivered one of the best fights in the history of the promotion. It was, for the most part, a striker vs. grappler match, though grappler Materla was the one who was pressing the action in standup. Silva was actually patient, countering Materla's advances with good variety. When he saw what he wanted, he exploded with power, and he's just a better athlete than Materla, bigger, stronger, faster, etc. Round 1 was difficult to score because Materla was the aggressor, but Silva was more accurate & has a lot more on his shots. Silva was the more effective fighter, but allowing Materla to always seem to be dictating may have cost him on the scorecards. Silva ate a low kick early in the 2nd, but just after Materla reset, the southpaw took the knee of Materla's lead leg out with a nasty short side kick that buckled the knee in a direction it's not meant to bend & sent Materla to the canvas. Materla got up & tried for the takedown, but Silva defended & now attacked hyper aggressively, going for the finish. Materla avoided most of the attack & seemed to weather the storm, but then Silva stunned him with a left straight & followed with uppercuts. Silva landed a backfist to the injured knee, but slipped trying a knee & Materla was able to take the top & control for the rest of the round. Materla landed some solid ground punches, but I still gave the round to Silva because he did the real damage & caused the injury. Materla's left eye was badly swollen, but he came out a lot fresher to start the 3rd, having worn Silva down with his top control. Materla backed Silva into the corner, & landed some heavy punches then scored a single leg. Materla couldn't quite pass guard, but may have been better off as he was landing one left hand to the face after another from 1/2 guard. Materla was very active punching from the top, and finally mounted in the last 30 seconds only to have the ref stand the fighters up, which was patently absurd. Materla should definitely have earned a 10-8 round without the standup, though even with Silva getting a couple good shots in during the final seconds, I'd still give it to him as it was total domination for all but 15 seconds. The fight probably should have been a 28-28 draw, but Materla owned the last 8 minutes despite fighting them with a bad knee & eye, so I didn't have a problem with him getting the decision. Between the high quality of the fight & the narrow margins in the 1st & 2nd rounds, a rematch was obvious, and they went on to have a trilogy that produced a KO of the night & their second fight of the night. Good match.
KSW 17 11/26/11, KSW Light Heavyweight Title Match: Rameau Thierry Sokoudjou vs. Jan Blachowicz 3R. Sokoudjou destroyed Blachowicz's lead leg so badly in their first match at KSW 15 3/19/11 that Blachowicz had to retire before the start of the 3rd round. Blachowicz had a much better game plan for this rematch, closing the gap immediately & either getting the takedown or pulling guard. Sokoudjou landed some good punches from the top, but Blachowicz knew he had the better stamina & making Sokoudjou work all round in a grinding grappling game paid off as the fight progressed. Sokoudjou also wasn't the same fighter here, with a depleted mummified left knee that rendered him less dynamic, quick, and explosive. As Sokoudjou tired some and his movement diminished further, Blachowicz was able to hang with him in standup, and this time his low kicks to the bad knee made a mark, but it was his diversity that was coming through, also showing a solid jab, which stunned Sokoudjou early in the 2nd and perhaps gave Blachowicz confidence to stick with the striking game going forward, and mixing in uppercuts and high kicks. Sokoudjou was even more flatfooted in the 3rd, but was having success in the 1st half with his wrestling, punching his way in then dropping down into a single leg takedown. After a standup, Blachowicz dropped Sokoudjou him with a short left jab counter and was pounding on Sokoudjou from side mount as he progressed toward an Americana submission before squandering the opportunity trying to transition from full mount where he was reigning punches into rear mount for a rear naked choke. The fight wasn't lobsided by any means, Sokoudjou started well in the 1st & 3rd, but Blachowicz being the better conditioned & more well rounded fighter came through this time, and it had to be disappoining for Sokoudjou that he was no longer even able to win the standup. Blachowicz won a unanimous decision to take the title. Good match.
Phoenix 1 12/10/16: Izzeddine Al Derbani vs. Jonathan Tuhu 3R. Al Derbani is one of the top fighters in the middle east, holding the Desert Force featherweight title in MMA & also competing in their lightweight division as well as in muay thai, which is what this was. His hand speed is very impressive. Tuhu threw monster wide power punches, but as much as he wanted to come forward & press the action, Al Derbani was able to stunt his progress & maintain distance by consistently beating him to the punch. Once Tuhu's forward progress was stopped, Al Derbani would back him with kicks, particularly to the body. Tuhu had to get all the way in to the clinch to prevent it from being one way traffic, but then it was rather sloppy with neither creating enough space to land that cleanly & Tuhu eventually taking Al Derbani down even though that wasn't scoring him any points. There were a lot of flashy misses in the fight, with Al Derbani trying a leaping elbow, spinning high kick, spinning elbow, etc., which mainly served to create more distance so it was easier for him to go back to landing the low & middle kick. Both guys are inexperienced & rough around the edges, but if they were going to miss, they were going to miss big, and the fight was entertaining because they were going for it. I liked the fight more the first time, but the 3rd round impressed me because despite Al Derbani presumably being up 2 rounds, he tried at least as hard to get a finish in the 3rd as Tuhu did. Tuhu countered Al Derbani's spinning switch kick with a right hand, but it didn't connect cleanly & was rightfully ruled a slip. Just before the closing bell, Al Derbani hurt Tuhu with yet another low kick then followed with a high kick for the knockdown to seal the fight. Al Derbani won a unanimous decision. Good match.
UFC 216 10/7/17
Lando Vannata vs. Bobby Green 3R. Vannata always brings the carnage & rarely has a fight that isn't a crazy awesome war, but he seemed poised to actually score an easy victory here. Green marked Vannata up early, but Vannata got a high kick through and a 2 minutes in stunned Green enough with a right to the body that he was able to drop Green with a big overhand right even though he missed on the first try. Vannata was repeatedly rocking Green with one right hand after another on the ground, & I thought the fight should have been stopped when Green was just lying on his stomach covering up, but Herb Dean gave him every opportunity. Green got to his knees & as he began to stand, Vannata landed a jumping thigh & 3 officials inexplicably jumped into the ring. It was an illegal strike in intent because Vannata was trying to land a knee & couldn't tell that only the knee on Green's leg that was near him was off the ground. I think points should be deducted more often because when you don't have rules you get douchebags such as Gerard Gordeau trying to blind guys & when you do have rules but don't ever enforce them you get douchebags such as Jon Jones doing his Three Stooges routine every match, but I don't know about deducting a point here given Vannata actually connected with the inner thigh above his shorts, really much closer to his groin than his knee & thus did no real damage with this soft tissue shot. I thought the point Dean should have deducted tonight was for Kevin Lee's blatant cheap shots after the bell. In any case, Green, who was virtually KO'd before the foul, wisely just took the time to recover from the series of legal blows that did the real damage. By the time the jokers left the ring & the fight was restarted 2 minutes later, Green once again knew it was Saturday. Vannata maintained the advantage with a good standing guillotine attempt. Ten months later, Vegas still hasn't adopted the new rules, but even under the archaic system this should have been a 10-8 thus 9-8 round for Vannata, who nearly finished the fight & then had all the offense after the restart. As always, Vannata guaranteed an all action fight pressing forward the whole time & throwing bombs. He's fine with taking punishment to dish it out, but his face was betraying him, as his swelling & bleeding nose made it appear that Green was doing a lot better than he was. Not to take anything away from Green, his jab was getting through after the first round, and he landed some good left hooks as well. As the fight progressed, Vannata figured out how to come over the top of Green's jab with his big right hand, and that's going to be a win for Vannata every time, as he hits much harder when the shot is equal much less a power punch compared to a jab. Green landed a right elbow & short left upon releasing his clinch against the cage, but Vannata rocked him with an overhand right & did a great job of mixing body & head in his flurry, landing big punches to both as he again tried to finish the fight. Both fighters had their moments in the 2nd, but Vannata should have won the round given he had Green hurt. Green switched stances more in the 3rd, which increased his percentage of landing the right lead, & also made it harder for Vannata to counter. Both fighters really pushed through their fatigue in the 3rd because they knew they needed the round. It was back & forth, & Vannata was probably just ahead, but he missed a lunging right straight with about 5 seconds left & inexplicably just started walking slowly with his hands down, an easy target for Green to nail with a big right & left hand. Green got a couple more punches in before the bell, and that was enough to steal the round for Green, but I still had Vannata winning 28-27. Bruce Buffer was as bad as ever, I don't expect he'll ever learn how to pronounce names, but after the last debacle he could have at least figured out how to announce a draw. Instead of saying the judges names & who they gave the fight to the way anyone with a brain would do when it wasn't a unanimous decision, he goes "the judges score the contest 29-27, 29-27, & 28-28, ladies & gentlemen this fight is a draw" so Jon Anik had to translate. Very good match.
Beneil Dariush vs. Evan Dunham 3R. I was really looking forward to this fight because, as is usually the case with Dunham, the opponent is a lot more skilled & talented, but Dunham is so ridiculously hard to finish that he eventually winds up negating many of their strengths & taking over. I really like Dariush, he's got such a great grappling base, but has improved his striking with each fight to the point that you forget BJJ was his bread & butter. I'm used to Dunham putting out incredible volume in standup as one of his means to tire the opponent out, he's the all-time lightweight leader in strikes landed in the octagon, but here it was all Dariush, dominating to the point Dunham was barely even throwing & had only connected with 13 shots through 2 rounds. The first round was all one way traffic with Dunham backing & circling away to avoid Dariush's striking, but Dariush soon stuffing Dunham's takedown attempt & rocking him with two big left elbows after reversing him against the cage. Dariush spent the next 3 minutes trying to finish Dunham off. Dariush wanted the submission, but Dunham kept rolling & leaving himself prone to strikes instead. Dariush took each of these opportunities to pound him, landing some huge leaning over uppercuts when Dunham was on his knees, posturing up & bouncing Dunham's head off the canvas, there were just numerous occasions where the Conor McGregor's of the world would have taken the opportunity to give up, but Gravecrawler Dunham never goes away. It was an obvious 10-8 round for Dariush, but Dariush had punched himself out by the end of the round & was much slower the rest of the fight. Dariush still threw hard but not as frequently, and Dunham got the early takedown he needed to turn the tide. Dunham was able to turn it into more of a clinch & dirty boxing or grappling match in the 2nd, which he just edged. Dariush's low kicks were particularly impressive, but he didn't throw enough of them despite his corners urging in the first two rounds, perhaps because he knew Dunham was primarily looking for the takedown? The exchanged more in the third, which was still to Dariush's advantage as he did a better job of working combos off the low kick, but Dunham would again control when he was able to lock up. This round really could have gone either way. Dariush was the more effective striker, but Dunham had so much more left in the tank he gave the illusion of being in control & I suppose winning, especially pushing the pace down the stretch though he really wasn't actually landing with much. Dariush clearly won the fight taken as a hole, but 29-27 Dariush or 28-28 were viable scorecards. The fight was ruled a majority draw with two 28-28 & Dariush getting a 29-28. Good match.
GLORY 45 9/30/17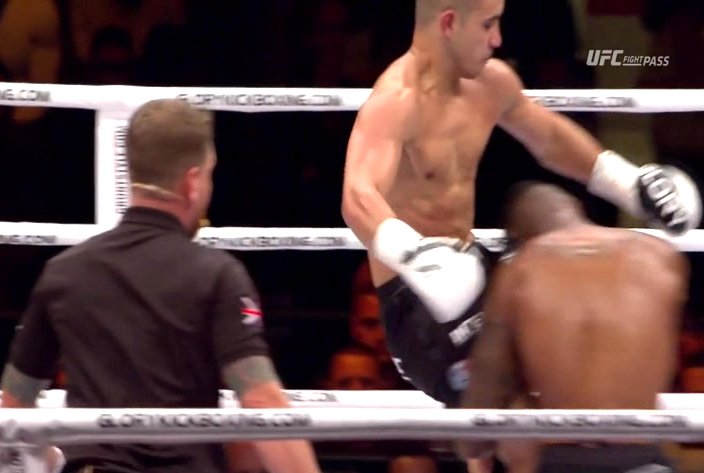 Zakaria Zouggary vs. Massaro Glunder 3R. This matchup of 23-year-olds was billed as a battle of two of the most promising young fighters in the sport. I'm there for sure with Zouggary. Glunder is definitely already a far better fighter than his father Rodney Faverus aka Glunder, who started out with RINGS Holland and managed to have an MMA and/or kickboxing fight is just about every notable organization other than UFC despite more or less being a .500 fighter, but I'm not sure how far he'll go. He definitely has the talent, and almost always has an entertaining fight, but is starting to lose close fights now that the competition has improved. This was another of those really close fights, and although it wasn't as explosive & exciting as I hoped, it was definitely an entertaining, high level contest. Glunder had a 9 inch reach advantage despite supposedly only being an inch taller (I'd say closer to 3" in reality). Glunder fought a very strategic first round, staying long & working the jab to keep Zouggary away, but Zouggary was never there when he tried to follow it. Nonetheless, this was the way Glunder needed to fight as Zouggary is dangerous when he can let his hands go on the inside, and he was able to keep Zouggary from getting anything going until the final seconds when he darted in with a jab & threw a series of hooks, buckling Glunder with a left. Glunder outlanded Zouggary & was controlling the fight with his reach, but I'd still give the round to Zouggary because one damaging punch was worth more than a dozen solid range keepers. Zouggary made good adjustments in the 2nd, moving his head to freeze Glunder's jab then dropping down with a body punch to get inside & following with a kick or a head punch. Entering to the body allowed Zouggary to flurry on the inside, which was clearly to his advantage beyond the obvious reason as he had quicker hands & better defensive movement/reflexes. Glunder finally landed the left hook counter he was looking for, but overall Zouggary seemed the more effective fighter as there were simply more things he could do out there & he did a better job of giving himself opportunities. If Glunder was going to stray from what was working in the 1st, he needed to do something to counteract Zouggary's adjustments & keep him from getting inside through level changes & angles, and that's where he was lacking as he didn't have an answer for Zouggary's speed & creativity once he was no longer keeping him on the outside. Glunder didn't fight poorly by any means after the 1st, each round was pretty close, but he didn't fight as disciplined either. The flying knee was one of the tactics Zouggary would try to get himself inside. It looked like it might have worked, but when he connected in the third it was with soft tissue & Glunder going down was more from his feet being at an off angle & trying to avoid Zouggary's follow up right, so I think Paul Nicholls did a good job calling it a slip. The 1st two rounds weren't super decisive, but Zouggary really stepped up the pressure in the 3rd, using his speed to create chaos & make it more of a brawl. This was the only clear round for Zouggary, even without the potential knockdown. 3 judges also had it 30-27 Zouggary, while the other 2 had it 29-28. Good match.
GLORY Featherweight Title Match: Robin van Roosmalen vs. Serhiy Adamchuk 5R. Former featherweight champion Adamchuk lost to Petpanomrung Kiatmuu9 in the Featherweight Contender Tournament Final at GLORY 39, but apparently they don't have many contenders in this division, as he got a title shot after van Roosmalen successfully defended against Kiatmuu9 at GLORY 41 despite winning just 2 of his last 5. These two have become amongst the hardest fighters to score. Adamchuk tends to have defensive oriented fights where not a lot of clean blows land as he's more about the move than the stick, so whatever lands lands but he's going to use his footwork or clinch when he can't. On the other hand, everyone knows van Roosmalen is just going to come forward relentlessly the whole fight & he's such a force that his opponent has no choice but to try to disrupt him somehow, but that usually means trying to hit him when he's coming in, and results in both men landing almost an even number of strikes but Robin just edging the decision because he's the aggressor & has the reputation for being a huge hitter (which is earned but seems so engrained now that he gets the edge even when he's not landing that cleanly or consistently). I wasn't sure if this fight was going to come off or not, but it turned out to be better than I expected even though it played out as you'd envision, and being another of those close fights was obviously too its advantage. Adamchuk fought a really good first round, using feints to set up a single shot then circle out before Robin could counter. Still, the problem for Adamchuk is he's mainly throwing head punches then moving, and Robin's defenses are so strong to that area that few of them are really getting through his block. That being said, van Roosmalen isn't the traditional stalker in that his defense is really superb everywhere, his block protects his head, he gets his hands back to block so quickly whenever he punches that it makes it really hard for the opponent to counter his counter punches, and he's got a short torso that combined with his forward leaning stance is just hard to find. Adamchuk kept looking for the left knee that should have been open, but wasn't really landing because of van Roosmalen's stance & the general way he's shaped. Meanwhile, van Roosmalen did a great job of attacking the body to take some of the wind out of Adamchuk's sails, which was especially effective given Adamchuk was fighting a style so predicated on cardio with all his backward & sideways movement. Robin will never be detered from walking an opponent down, and he began to adjust to Adamchuk's quick escapes, either grabbing him as he was trying to exit so he could get a punch or two in before the break or spreading his arms somewhat at his sides to impede Adamchuk's exit. Adamchuk was able to hold his position the one time he actually used a body kick, but despite the Thai fighters showing middle kicks were your best chance against Robin, he was only throwing a kick per round & too often he allowed van Roosmalen to keep him backed against the ropes. I know you don't want to trade with van Roosmalen, but he also applies too much pressure to make 5 rounds of circling backwards a viable strategy. The more energy Adamchuk was forced to expend evading, the more he wasn't actually doing much to score any points and van Roosmalen incrementally built up his lead. It felt van Roosmalen was starting to run away with the fight, but early in the 4th round when they showed the strike stats, Adamchuk had outlanded him 48-46 (78-68 for the fight). Adamchuk came out aggressive in the 4th, but it didn't last. In the 5th though, he was forced to stand in the pocket & trade with Robin because Robin was up 3-1, at worst. This was by far the best round of the fight, as Adamchuk landed some good fast punch combos early, with Robin's left eye swelling up quickly. Adamchuk finished strong with his famous rolling thunder setting up a lengthy punch combo that caused bleeding from van Roosmalen's nose. The fight seemed better the 1st time because the last round was considerably more entertaining than the other 4, but overall it was always at least interesting. Van Roosmalen pretty clearly won the fight with his power & ring generalship if you're just looking at the fight as a whole, but I had it 48-47. 3 judges scored it that way, with the other two giving Robin 4 rounds. Good match.
Bellator KB 7 9/23/17: Jorina Baars vs. Anke Van Gestel 3R. Baars just walked through Irene Martens in her Bellator debut on 9/2/16 to raise her record to 41-0, but former Enfusion 61 & 64kg champion Van Gestel was going to at least make her earn the victory. Van Gestel did her best to surmount Baars 71" reach, fighting at a high pace & constantly pressuring her, but the skill difference was clearly on Baars side as well as the size. Baars is a much cleaner, crisper puncher & did a great job of timing Van Gestel coming in. Van Gestel put a lot of volume on her, but her shots were much wider & less powerful. The first round was particularly action packed with both women struggling to establish their preferred range, Baars leading with front kicks to keep Van Gestel at distance & Van Gestel angling in & working short range punches. Baars could work this style for 6 rounds, she's so relaxed, not efforting at all & just working her distance keeping jab & kicks, but Van Gestel had to stress to get into range, and as her pace slowed a little after the first round, Baars increasingly began to pick her apart. Baars is an accurate striker to begin with, but Van Gestel would eat a jab to get inside, and once she was there her head was always a stationary target making it easy for Baars to land the right hook. Taking 2 punches every time for the chance to work at close range was still a better option for Van Gestel than staying at the end of Baars strikes, but clearly it would have been a less bad option under muay thai rules as Van Gestel's attempts to work knees never really came together, either failing to surmount the height advantage to bring Baars head down & get some power on the clinch knees in time or just deciding not to mess with the clinch & mixing knees in with her body kicks. I can't see giving Van Gestel a round, but it was a fun high workrate fight. Baars won a unanimous decision 29-28, 30-27, 30-27. Good match.
BACK TO QUEBRADA REVIEWS


* Puroresu, MMA, & Kickboxing Reviews Copyright 2017 Quebrada *