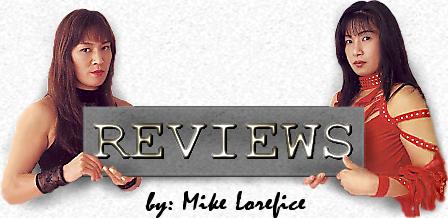 Best Matches Seen April 2017
UFC Fight Night 108 4/23/17
Stevie Ray vs. Joe Lauzon 3R. Lauzon is rarely in a fight that isn't good, and once again when he wasn't able to finish the fight, the judges rarely had any clue how to score it. The strategies were pretty straightforward here, Lauzon wanted to get the fight to the ground & finish quickly, while Ray wanted to keep it standing & use his technical striking advantages to win a boxing battle of attrition. Lauzon had a brilliant round 1, catching Ray's kick 15 seconds in & never letting go, getting a second takedown when Ray was up quickly then just mauling him on the mat the rest of the round in between attempts to set up a submission. Lauzon's elbows were massive, partially because Ray was caught with his head flat on the canvas. Ray defended Lauzon's rear naked choke attempt, but was battered & bloodied & did absolutely nothing offensively. This is a clear 10-8 round even under the old rules. Even Ray's corner told him it was a 10-8 round. One reason Lauzon has had a hard time winning back to back fights is his cardio isn't what it used to be. Lauzon kept a high pace in the 1st, but he wasn't even threatened, so there's no reason he should be that tired from getting a couple takedowns & transitioning to maintain ground control, all this ground work is his bread & butter. Lauzon was flatfooted with low hands & no head movement for the last 2 rounds, and Ray was able to take advantage of this as long as he boxed, but Lauzon again caught a kick & took him down midway through the 2nd. Lauzon was too tired to really pressure Ray, so even though he maintained control for the 2nd half of the round, I'd give Ray the round because he landed good strikes early & really only took 3 shots on the ground plus kept Lauzon from mounting. This is the kind of round that normally gets wrongly scored for the grappler, so you figured Lauzon was up anywhere from 20-17 to 19-18 going into the third. The third round was the most perplexing 10-8 round I've ever seen in MMA. Ray was focusing on elbows, but Lauzon was mainly blocking the standing ones, and the ones in the clinch when Lauzon was holding on to a hopeless double leg takedown waiting for the moment to switch to the single leg were mostly all illegal blows to the back of the head that Dan Mirogliotta did a poor job on because Ray just kept doing them after he was warned. Nonetheless, Lauzon got a takedown & took the top when Ray's attempt to Kimura sweep failed, with Ray again only getting a warning for a series of stupidly banned 12-6 elbows from the bottom. Again, Lauzon only landed a couple elbows on the ground, and this time Ray was able to get back to his feet. In the last minute, Ray landed a couple good clinch knees, & was backing Lauzon, who foolishly stayed in the pocket, with punches & elbows, most of which were landing on Lauzon's gloves. Lauzon wasn't helping himself by standing around looking battered while Ray flurried, but he was super exhausted & wasn't really hurt by anything. Apparently Tennessee hasn't even adopted the new rules, so when judges can't give Anderson Silva a 10-8 round over Michael Bisping for knocking him out, I don't know how they can possibly think a final minute flurry that was mostly blocked & didn't contain one shot that even so much as wobbled a fighter who was ready to collapse from sheer exhaustion somehow constitutes a 10-8 round, even if it were under the new rules. Hell, Lauzon even had a minute of top control in the 3rd, so it wasn't as though he did nothing all round. Apparently a gradutate of the Cecil People's school of misjudgement, Jeff Mullen actually had the cluelessness to give Ray a 10-8 round 3, but not give Lauzon a 10-8 round 1. In the end, what should have been a 28-28 draw or perhaps even a 29-27 Lauzon win wound up a 29-27, 28-27, 28-28 majority decision for Ray. Credit to Ray for having the toughness to survive a 1st round onslaught that would have finished most fighters, and the confidence to keep believing he could win the fight as long as he chipped away at Lauzon. Good match.
Cub Swanson vs. Artem Lobov 5R. Though any follow up would rightfully be a disappointment compared to Swanson's 2016 match of the year against Doo Ho Choi at UFC 206 12/10/16, what on paper could just have been an enhancement match against unranked Lobov was a fun, competitive fight that's at worst one of the handful of best UFC fights of the first third of 2017. It's weird saying that Cub Swanson choosing to box with an opponent isn't his best strategy given he's strongly contemplated turning pro, having trained for years at Joel Diaz's boxing gym & prepared for fights sparring with the likes of Timothy Bradley, but what makes Cub so great is his creativity, diversity, & unpredictability, and he wasn't able to use most of that or his speed advantage when he was standing toe to toe brawling with Lobov. Swanson is still the better boxer, and his quickness allowed him to sneak the right hand in repeatedly, but while Lobov has a great right jab & left hook, he has miles less beyond his hands than Cub. Either way, a Swanson fight is going to be an exciting fight unless Frankie Edgar has something to say about it. Lobov's biggest problem is although he's a really powerful puncher with great cardio, his low handed boxing stance doesn't allow for much defense since he's not that speedy or reactive, and against such a diverse opponent, Cub's just going to mix things up & keep landing somewhere. Lobov was having a hard time just defending the right straight because Swanson would go to the body with it as often as to the head, and the body shots often set up big follow ups to the head. Swanson actually has really low hands as well, but gets away with it better because he has quicker reflexes, is a lot more athletic than Lobov, and is really consistent about moving his head out of harms way after his attacks, so Lobov wasn't as successful with his counter punch strategy as he'd normally be. Lobov narrowly won the first & was narrowly losing the second due to getting wobbled with a left high kick until Swanson got a twist out of Lobov's clinch & rear mounted him. As the fight progressed, Swanson fought at distance more, utilizing his kicks, and generally gained more & more traction because Lobov was mainly throwing the same few weapons, the jab, left hook, and low kick at him. Though Lobov was still landing a good percentage, Swanson was dodging his head punches more & increasingly countering his counters, particularly with lefts to take advantage of Lobov's low right hand. Midway through the 3rd, Swanson ducked a jab & came back with a three punch combo that split Lobov's left eyelid, soon causing Herb Dean to bring the doctor in, though not before Swanson semi connected with a spinning high kick but followed with a lunging left, a knee, & a short right hook to stun Lobov. Swanson was really loosening up, now delivering the kind of crazy combos you'd expect from him, such as a body right/left hook/left high kick. Swanson continued to deliver highlight reel attacks, landing a big spinning elbow disengaging from the clinch & an uki goshi, but Lobov did anything but wilt, keeping a high pace, getting Swanson to brawl as much as possible, and hunting for the knockout because he clearly down, having gotten outstruck in every round since the 1st. Though Swanson won a unanimous decison 49-46, 49-46, 50-45, Lobov's stock clearly rose by being able to compete with one of the world's elite, & he'll probably get some more big fights despite a record that's barely over .500, while Swanson will hopefully finally get the title shot he's long deserved. Very good match.
RIZIN 3 12/29/16
Tatsumitsu Wada vs. Kai Kara France 3R. I'm really glad that Japan finally has a major MMA promotion again, but the disappointing aspect of this PRIDE revival promotion is they've mostly focused on the outdated openweight concept, which doesn't make for very exciting fights given that there are so few exciting heavyweight fighters, and this isn't the early 2000's anymore where you can be putting on tournaments with with Fedor, Nogueira, & Cro Cop in their prime while UFC is stuck with crap like Tim Sylvia vs. Gan McGee. Japan is probably never going to be a country with a strong crop of native heavyweights, but I loved the BUSHIDO shows where they had a number of fast, skilled fighters that could shine. If they ever do something more along those lines, or at least crown some lighter champions, DEEP's Flyweight champion Wada is an exciting fighter who could really make a name for himself. Though Wada's record of 16-8-2 is pretty good, he's much better than that in the sense that he started off 0-5, and was fighting at Bantamweight. He's 8-1 since he dropped to Flyweight, losing the title in the rematch to Yuki Motoya, who also could be a major player in RIZIN. Wada started out using his karate style to exploit his speed advantage here, staying on the outside & faking & feinting to try to open up darting attacks, but staying active landing low kicks & lead rights while evading most of what TUF 24 veteran France threw at him. Wada's low kicks added up quickly, and in three minutes he already knocked France down with one. As Wada tried to become more aggressive & fight at a closer distance, France began to land though, scoring a knockdown 40 seconds later with a right hook counter. Though Wada continued to damage with low kicks, he allowed France to drag him into a fire fight, which was great for the fans but not really to Wada's advantage, at least in so much as France's connect percentage has shot way up because Wada has conceded some of his evasion time. Wada hurt France's lead leg again at the start of the 2nd, already reaching the point that France was on borrowed time because he was hopping around even using it as his plant leg for a left kick. Wada had France circling with his back against the ropes for most of the 2nd, but France eventually tripped him up with a single leg & soccer ball kicked him as soon as he hit the ground. France failed to gain any real traction in his attempt to follow with a flurry of punches & stomps without actually going to the ground with Wada, and once the ref stood them back up, Wada against kicked his leg out. The first two rounds were quite good with some really exciting moments, but Wada pretty much took it all out of France. Once he rear mounted in the 3rd, France was truly in survival mode. France managed to make his way back to his feet twice, but couldn't dislodge Wada with his forward flips, and just got punched all round as he defended the rear naked choke. Wada won a unanimous decision. Good match.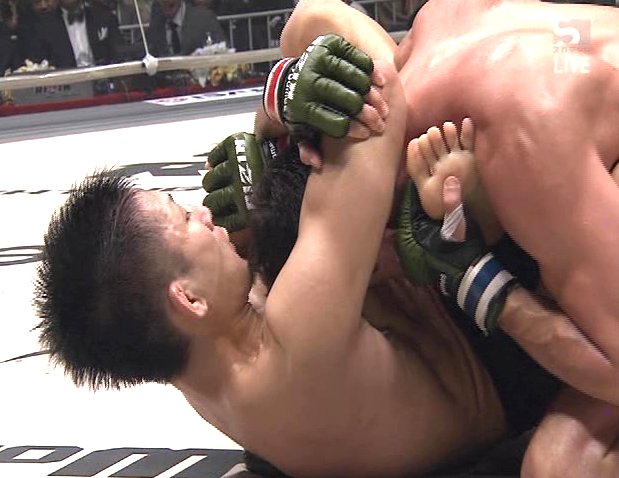 Yuki Motoya vs. Allan Nascimento 2R. In addition to being a very competitive, back & forth match, it was enjoyable because they were able to take advantage of the broader RIZIN rule set to land some brutal techniques you can't see elsewhere. The fighters were more evenly matched in standup as Nascimento had the length, but Motoya had the speed. Motoya would take half steps forward, looking for his moment to dart into range, but Nascimento used his reach advantage in the first, keeping him back with an effective jab. Motoya conceeded going down on his back to stop Nascimento's right hands after Nascimento caught his kick, but that's more dangerous under these rules, and Nascimento was able to guard pass with regular or jumping stomps. Nascimento wasn't able to secure a guillotine, but had several minutes of top control before Motoya reversed him with an omoplata. Motoya's level on the mat was really high, as he was able to keep the submission pressure & striking pressure on while consistently advancing & adjusting positions. Motoya had less control time in the 1st, but made better use of it, landing several good punches & brutal knees to the face & threatening with a guillotine & from rear mount. Motoya did a better job of blocking or evading Nascimento's jab in the 2nd or just walked through it sometimes so he could get inside & land his hooks, but he took some good hooks as well before Nascimento took him down. Again, Nascimento was mainly just controlling, but Motoya used a gogoplata to transition into another omoplata sweep. Nascimento almost regained control as Motoya continued transitioning into a guillotine, but once Motoya had the body locked he swept into mount. Just a beautiful sequence that resulted in Motoya spending the final 75 seconds desperately trying to finish with the choke. Nascimento survived, but it was surprising that he even earned a judge given how strongly Motoya finished. Good match.
Bellator 170 1/21/17: Derek Campos vs. Derek Anderson 3R. Really competitive toe to toe standup fight. Anderson was still in welterweight mode, having attempted to go up in weight for a 11/4/16 match against Paul Daley that was canceled the day of the show because Daley's weight cut made him sick, and apparently didn't make too great an effort to drop back down, hence the 161 pound catch weight. You felt like Campos was up against it, as Anderson had a 6" reach advantage in addition to seemingly being a weight class above, but Anderson never really uses his size, normally coming forward like the smaller fighter. However, tonight it was mostly Campos who was able to keep coming forward into his striking range without getting snipped, at least for the first two rounds. Anderson was getting put on his back foot, wasn't able to land the jab, and wasn't following the jab like he normally does. When Anderson tried to push Campos off early & reestablish distance with a jab, Campos nearly dropped Anderson to his knees early with a great left hook counter. Anderson has a much smoother, more natural looking striking style that's far closer to what you'd want to teach, but he needed to land more volume because in a fight where both fighters land virtually identical numbers, Campos' style of putting everything he has into his shots is generally going to win out because he was very obviously landing the harder shots on average. Anderson got going late in the first, doing enough that Jimmy Smith gave him the round, but for me it was the pressure and all out power of Campos that was winning out over the fluidity of Anderson. Campos dropped Anderson late in the 2nd, following a missed left hook lead with a right uppercut. Anderson did a better of job of establishing his jab in the 3rd, and following it up. Campos bled outside the right eye & from the nose, and began looking for the takedown as Anderson was suddenly landing most of his distance shots with Campos looking battered & fatigued. At this point, Anderson's striking style gave him the advantage, as it's much less physically taxing, so he maintained his offensive & defensive skills a lot better than Campos. Anderson followed a jab with a big right cross that sent Campos' mouthpiece flying behind him movie style. Campos was able to get a takedown of a caught kick to stop the rot, and although Campos lost control trying to rear mount, burning a minute off the clock eliminated the possibility of the 10-8 round Anderson probably needed. Campos won a unanimous decision 29-28. Good match.
DEEP 72 IMPACT 5/16/15: Hirotaka Miyakawa vs. Ryuji Akijima 2R One cool thing about MMA is you can put a couple of undercard jobbers together and they can still have a good, back & forth action packed fight. Akijima came in at 1-6, while Miyakawa was 6-13-2, but they had a cool tall vs. short, striker vs. grappler match. Akijima, a 5'10" bantamweight, had 5" on his more normally sized 135 pound opponent, and looked to use his length to keep distance early then closed the distance & came close with a guillotine attempt. Miyakawa took over with his wrestling once he escaped the guillotine, and had his own guillotine attempt, jumping into it as Akijima was finally able to get to his feet. Miyakawa was generally in control after the opening barrage by Akijima, as Akijima was good at his own offense but didn't account for the opponent as well, but Akijima had a lot of heart, and was always able to defend long enough while maintaining enough energy that he could seize an opportunity with an explosive flurry of strikes. Both finished the 1st strong, with a wild explosion of action where Akijima would try to come in behind straights & throw knees in close & Miyakawa would try to catch him coming in with huge overhands. He used his overhands to get inside early in the 2nd, but Akijima defended the takedown in the corner & dropped Miyakawa with a right straight counter to his overhand right then tried to stand over him & finish with punches, but Miyakawa tripped him up with a heel hook attempt. Later, Miyakawa was almost swept trying to pass 1/2 guard, but was able to take Akijima's back & nearly armbar him. Again, Akijima not only defended, but exploded out with a barrage of punches, leading to a finish similar to the first pitting Akijima's straights against Miyakawa's wild overhand haymakers. Miyakawa won a majority decision (one judge had it a draw). Good match.
Bellator 177 4/14/17: Daniel Weichel vs. John "Macapa" Teixeira 3R. Weichel wins his fights by making you miss & then hitting you back with an effective counter. When he finishes a fight, it's generally by submission, having first beaten you up with his accurate but low volume counter striking. His problem here is he got dropped a minute into the fight by a right cross he didn't see coming after he avoided a jab. Macapa didn't really try to finish because he didn't realize how badly he'd hurt Weichel obviously & also because he was trying to be unpredictable & be patient to get Weichel out of synch, but that one shot effected Weichel even throughout the second. I'm not sure that Macapa's patience was to his benefit here, as when he came in with a 3 or 4 shot combo, he landed one or two, but Weichel's counterstriking commands so much respect that he wasn't doing that all that often. He still probably threw twice as many shots as Weichel in the 2nd, but he spent a lot of time on the outside, mostly missing single jabs but landing single low kicks. Round 2 was close, with Weichel landing the crisper shots, but Teixeira definitely landed more because he threw more. Weichel shold have still lost the round, but if you are looking at this as the typical Weichel fight, you start to think he's winning as long as it's this kind of tactical standup battle. Weichel took over in the third, landing a couple of good 1-2 combos that slowed Teixeira down. Now that Macapa was tired, Weichel was able to defend almost all his attacks, so Macapa really struggled because his combos were missing but he was getting hit with the same punch combo over and over when he stood at distance & allowed Weichel to initiate. Weichel was very consistent & accurate in the 3rd, but it's not in his nature to be more. He kept resetting after landing 2 good shots rather than being able to keep coming at Teixeira or extend the combo to hopefully overwhelm him & get the finish that most people, including his own corner, thought he needed. Weichel did a good job coming back here & finishing the fight strong. Realistically, I'd give him a big advantage if it were a five round fight, as his head finally seemed clear late & he still had alot in the tank, but this should have been a standard 29-28 Macapa decision instead of Weichel winning 29-28, 28-29, 29-28. Good match.
Bellator KB 6 4/14/17
Gabor Gorbics vs. Gabriel Varga 3R. Varga comes into every fight in such great shape, and used his cardio to pressure Gorbics consistently. He kept coming forward with 3 shot combos, generally using a jab/right or double jab/low kick base for his attack because he was landing consistently with all of them, though he had a lot of options & mixed things up as needed. Gorbics switches between boxing & kickboxing, and has big power in his hands, especially the right. When he lands, it's impressive, but Varga hits hard enough & had so much more volume & a lot more tactics. Gorbics didn't defend well, but he was a really good counter puncher, and he had enough power in his hands that he slowed Varga down in the 2nd. Varga was still winning the exchanges when he came in with a combo, but he was doing so far less often because Gorbics was rocking him at the end of Varga's combos. Varga changed things up in the 3rd, now often making Gorbics come to him so he could take the role of the counter puncher. Gorbics isn't a big combo guy, so even though Varga could land 2 or 3 shots when he came forward, the less technical Gorbics struggled more to land in the 3rd because Varga was in position & on balance when Gorbics tried to lead with that single power punch. It was a close fight, but there was just so much more that Varga could do, he chopped the legs then looked to work high, he beat up the head then looked to dig into the body. Gorbics was impressive when he landed, but he just needed more to go his way because Varga was more athletic, better conditioned, more technical, & Gorbics didn't have much disruption in his game & was pretty much a single power punch or low kick type of fighter. Gorbics had the home country advantage though, and got the split decision 29-28, 28-30, 29-28. Good match.
Bellator Welterweight Kickboxing Title Match: Zoltan Laszak vs. Karim Ghajji 5R. Though Laszak took the title from Ghajji on 9/17/16, he seemed more determined to make adjustments to dictate the style of the match. He thought Ghajji did too much running in the first fight, & fought with frantic energy to drag Ghajji into a brawl. Laszak was successful in taking Ghajji's movement out of the equation & making it a toe to toe fight, but he was mostly missing with high energy, kinda wild combos where throwing as many shots as he could was his primary goal. It was a really difficult fight to score because Ghajji had much less volume, moreso in the 1st 2 rounds, but was accurate with what he did throw, whereas Laszak was super active, but sometimes you felt anything he landed cleanly was almost incidental. Ghajji scored with low kicks in the 1st, but Laszak seemed to out throw him 8-1, so really it could go either way, but I'd go with the active fighter. Ghajji was taking a step back early in round 2 to maintain distance, but it wasn't helping because he wasn't using his jab to keep Laszak away, so Laszak would just blitz in with his combo & work on the inside. Laszak was missing while coming in, but landed some good body shots when he got there. Ghajji had moments countering Laszak, coming forward with his own combo when Laszak actually stopped to breath, and landing clinch knees, but the feeling you had was that Laszak was consistent in dictating the fight & Ghajji was inconsistent in finding answers, though he was able to score in different ways. Ghajji changed styles to start the third, now pressing forward as much as he could to deny Laszak the time & space to throw his long blitzing combos. Ghajji did good work, nicely mixing short right hooks & overhands in with his knees. This inside fighting isn't his style of choice, but he landed a number of solid shots in this round while at the same time keeping Laszak from being able to bull rush him. Laszak was also less effective landing body punches when they were exchanging inside then when he was finishing his combinations with them. Ghajji continued to try to come forward in the 4th, but now that Ghajji wasn't allowing Laszak to dictate at will, Laszak was even more determined to do just that. Laszak was now willing to step back so he could then charge in with a combo or even jump in with some crazy attack. No matter who started the attack, once they were on the inside, both were now on point, making this the most entertaining round thusfar. Laszak's lead leg was beginning to fail him at the end of the 4th, and largely because of this Ghajji most likely did more damage in the fight (Ghajji sustained an injury early on that had him blinking most of the match), but Laszak was much more able to maintain the all out pace than Ghajji, so Laszak kept getting more chances because Ghajji couldn't just keep pressing with the leg attack until it gave out, he still had to take brief rests even though he knew he had Laszak hurt. Round 5 continued in the vein of the 4th with some great inside exchanges, but though Laszak's cardio held up, he just didn't have the weight of shot that Ghajji had at this point. Ghajji increased his activity & accuracy in the later rounds, while maintaining his crispness, so at this point even if they were trading, it was clear that Ghajji was winning the exchanges decisively. In the end, this was the kind of fight that should have been 48-47 one way or the other. I'd say Ghajji won the 3rd & 5th, and you could give him the 1st or 4th. I'd like to say there was no wrong scoring, but then they announced 50-45 Ghajji & 49-46 Laszak before the third judge came in at 48-47 to restore Ghajji's title. Good match.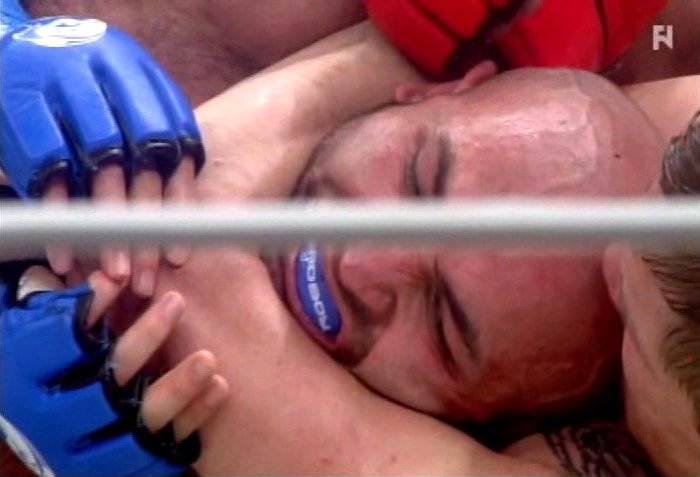 Abu Dhabi Warriors 4 5/24/16: Akop Stepanyan vs. Will Chope 3R. To see these two without knowing anything about them, you'd assume Chope, who has miraculously fought as low as bantanweight despite being 6'4", would own the range striking over the 5'9" Stepanyan, who would thus be forced to try to close the distance and maybe take him down to negate the size advantage. However, Chope, who has regularly competed in kickboxing & muay thai (15 of his ridiculous 21 fights in 2011) in addition to being the worlds busiest MMA fighter with 8 MMA fights in 2016, wasn't using the jab, the teep, any of the tall fighter range keeping staples. Stepanyan was able to fight within his own striking range, and repeatedly clock Chope with a diverse power attack. Meanwhile, Chope wanted to close distance to either use his height for some devestating clinch knees or to take Stepanyan down & pressure him with his submission game, which is how he's finished most of his MMA fights. Stepanyan's striking was a lot of fun to watch. He swung for the fences, stepping in with big, full power overhand lefts. Stepanyan was headhunting early, but once he hurt Chope with a middle kick, he started damaging Chope with big body hooks as well, which also opened up the head strikes, as Stepanyan mixed the overhand right/left liver kick combo. Chope had enough of this, answering by jumping into a standing back mount & dragging Stepanyan down to close the 1st. Chope was too passive in the 1st, but made good adjustments after that, coming forward with consistent pressure & locking Stepanyan up or taking him down through the standing back mount. Stepanyan still got some big shots in, but was looking tired, the combination of throwing everything full power & Chope's pressure really diminishing his output, as he was much more effective coming forward even with overaggressive lunges than off his back foot. Stepanyan tried to dig deep at the start of the third, rocking Chope early with a beautiful spinning backfist feint into a left hook, but fatigue caused him to shoot a single leg, which Chope stuffed & again took Stepanyan's back. Chope had 3 minutes of back control in the 3rd, where he had 2 neck crank attempts because he could never quite secure the rear naked choke & landed a number of punches, with Stepanyan only "escaping" when the ref inexplicably bailed him out in the final seconds despite Chope still working from the dominant position. Stepanyan clearly did a lot more damage over the course of the fight, but Chope won the 2nd & 3rd due to his superior cardio, clinch knee and rear mount game. Stepanyan got the split decision 29-28, 28-29, 29-28. Good match.
INVICTA 2 7/28/12: Sara McMann vs. Shayna Baszler 3R. The main event of INVICTA's 2nd show was pretty much what you'd want from a main event, delivering three compelling, razor thin rounds that weren't just perpetuating the same patterns. McMann was beginning to figure out striking here, and was willing to test Baszler on the feet. She's the most powerful 135 woman in my opinion, and that quickly translated to her punching, but she wasn't yet showing a great grasp of distance or feinting, so her accuracy was minimal. Baszler is the longer fighter, & McMann basically stood out of her kicking distance & moved a lot, but not in a way that really aided her offense or defense, then would charge in with a punch combo or takedown attempt, giving Baszler too much time to defend. Baszler's striking is very suited to movies or pro wrestling in that she's long, nimble, & fluid, so everything looks slick & cool even if it's not always particularly powerful or the smartest attack. Baszler didn't care that she was in with an Olympic silver medalist wrestler, she stood there confidentally and threw high risk kicks, almost daring McMann to take her down because she was confident she'd sweep her or submit her from the bottom. Baszler controlled the center of the cage, being very economical with her movement out of a muay thai stance. Baszler hurt McMann's nose with a jab, but the reason her jab was her best weapon was McMann always reacted to the threat of it. Unfortunately, she didn't utilize it enough to set up her kicks, which she too often instead threw as single shots. I thought Baszler won the 1st round because the distance was more suited to her actually landing shots, but it was very close. McMann's late takedown failed in the first, but she got one 90 seconds into the 2nd, catching Baszler's lead middle kick, which lead to some beautiful ground movement & submission attempts by Baszler, who immediately took control trying to counter into a kneebar. Baszler failed with another kneebar attempt & a heel hook, but ate up a couple minutes of top control while constantly threatening to finish the fight. McMann got a reverse bodylock as the round ended, but this was pretty clearly a Baszler round because she had all the ground offense, and she had the control if you care about that . McMann pushed hard in the 3rd, coming in with aggressive punch combos. Again, Baszler was avoiding at least most of the damage because McMann was starting from so far away, but it was a lot of fun to watch, and McMann did have Baszler on the defensive now, which helped open up the takedowns. McMann couldn't keep Baszler down & had no ground offense from her 2 3rd round takedowns, but she had a good flurry of punches from the clinch when Baszler got up that knocked Baszler's mouthpiece out. McMann owned almost the entire round, but otherwise did little damage, while Baszler was almost always defending, but landed a punch combo in the final seconds that wobbled McMann & was just going on the offensive to potentially finish her off, having fended off McMann's desperation takedown attempt, when the bell rang. Again, this is a close round because McMann had the control, but that's a tiebreak criteria, coming close to finishing the fight is what you are really scoring on, & Baszler was the one who did that, even though it's virtually all she did. McMann has improved tremendously since this point, she's a great talent whose biggest problem is she sometimes doesn't trust just how great her standup game has become & abandons this winning position just because she takes one good shot, while Baszler hasn't been able to evolve her game to keep up with the more evolved & well rounded current crop, but I think Baszler won this fight marginally, even without the third round. The third round is the kind of round that's always scored to the wrestler, but I think fights aren't scored properly, as generally the fighter who has more control wins the round like it's amateur style & we're rewarding points for takedowns & riding time when in actuality, control is relatively meaningless in sports with knockouts & submissions unless you use the controlling positions to actually finish the fight. I mean, it only takes one good strike or submission attempt to end a fight, and you want to be Anderson Silva getting that triangle not Chael Sonnen praying you can just hold the opponent down until the judges bail you out, and although Baszler didn't knock McMann out or get the submission, she was the one who came close with her hands and threatened on the ground even if nothing there was ultimately that close. McMann won a unanimous decision 29–28, 30–27, 29–28. Good match.
KSW 37 12/3/16, Filip Wolanski vs. Denilson Neves de Oliveira 3R. Sometimes the best thing you can hope for in a fight is that both fighters will be stubborn. Neither fighter was willing to fight off their back foot, so they wound up standing toe to toe for 3 rounds. Wolanski was lighter on his feet, so he was better able to move and throw single shots, whereas Neves really wanted to plant before throwing everything at full crushing power. Though they were standing close & headhunting, the defense was surprisingly good, as both men reacted quickly to avoid. By the end of the 1st, Neves saw he wasn't just going to blow Wolanski away with his standup, but when he'd try to get it to the ground, he was very high on his takedown attempts & could only keep Wolanski down momentarily with the high crotch or leg pick. Wolanski made good adjustments in the 2nd, understanding what Neves' striking style was, and knowing that he was too quick to hit big when he was ready, but was prone to counters during his strikes because he was going all in on them. Wolanski still came forward, but he came in behind a jab or a low kick, so he was landing when Neves didn't attack, but he was also was ready to counter when Neves threw a big combo coming back at him. I thought Neves won round 1, while Wolanski won the 2nd because he was able to change up his standup style & generally give Neves more looks, but honestly there was no round that couldn't have gone either way. Neves got so desperate to get the fight to the ground in the 3rd that he just dropped down from a reverse bodylock, thus pulling Wolanski down on top of him, which had the predictable result of Wolanski quickly turning into Neves' guard. Round 3 was even tougher to score than the first two because once Neves escaped, he spent the rest of the round going for takedowns again, even trying to leap on Wolanski's back for a standing rear mount. Wolanski defended everything though, so it was a matter of whether you like the guy grinding away for the takedown or the guy constantly defending and occasionally capitalizing. Wolanski won a split decision. Good match.
UFC 210 4/8/17: Cynthia Calvillo vs. Pearl Gonzalez 3 3:45. 35 days after her UFC debut, Calvillo again impressed, showcasing fantastic scrambling & transition skills to maintain control on the ground & continue to pressure for submissions until she once again finished with the rear naked choke. The first round was all standup, with 2009 Golden Gloves champion Gonzalez doing a great job of cutting off the ring, but being too hesitant to actually let her hands go. It seemed Gonzalez was banking on Calvillo tiring herself out, but the constant theme no matter what the position was Calvillo was just going to push herself harder. That was the difference in the standup where she outlanded Gonzalez even though she wasn't as good a boxer because she was more active, and on the ground where she won the position battles because she kept moving & fighting until she had/maintained control. I didn't get why Gonzalez wasn't using her jab, especially with a 4" reach advantage and a strategy of controlling the center of the octagon. Instead Gonzalez shifted to grappling, but when she finally got the takedown, Calvillo nearly took her back but instead transitioned into a triangle before the 1st round ended. Gonzalez was more active in the 2nd, but again wasn't really landing. She timed one of Calvillo's kicks to trip her up into mount, but lost control when the armbar failed. This is where the fight really got good, as Calvillo just kept moving & adjusting, pressuring for the rear naked choke while adjusting to every attempt Gonzalez made to escape. Gonzalez has won a number of jiu jitsu (purple belt) & NAGA championships, so she's hardly the old school boxer who is just learning to grapple, but Calvillo was always a step or two ahead of her. Both were tired in the 3rd, but Gonzalez just conceded a takedown when Calvillo caught her kick. Gonzalez defended the arm triangle, but Calvillo took her back in transition & this time was able to choke her out. Good match.
Bellator KB 5 4/8/17, John Wayne Parr vs. Nando Calzetta R2 2:59. This was a real fire fight, and when a 40-year-old is involved in a wild brawl, you'd think it might benefit the 31-year-old, but Parr is still going strong at 40. Parr is one of those fighters that's deciptively good. He's not the fastest or most athletic or best conditioned, but he's very accurate & very powerful. Parr used his left leg well early, blocking Calzetta's attacks & burying left kicks into Calzetta's midsection. Calzetta was much quicker, but even when he cut off the ring, he had a hard time hitting Parr with his leads. He was much more successful landing with his fists than his legs, as Parr didn't block the hands nearly as well. Parr was winning when the fight was technical, but Parr fought more and more aggressively, especially after Calzetta had a big flurry of punches in the corner 2 minutes into the first after Parr chased him across the ring & missed on a risky flying knee. Parr not only weathered it, but came right back with some big punches of his own, and his heavier punches were backing Calzetta. Parr pushed hard to secure the round, finishing with his own big flurry of punches in the corner. Calzetta began throwing his low kicks to the back leg when Parr was in the southpaw stance to start the 2nd, and the combination of this mixing things up & Parr also being a bit fatigued resulted in a sharp increase in Calzetta's kicking accuracy. Parr was no longer winning the technical fight, but just kept pressing forward in the 2nd half of the round, chasing Calzetta rather than effectively cutting of the ring, but landing a number of good shots nonetheless. It was another close round , and Calzetta seemingly finished strongly with a nice uppercut & left hook, but bit on what he thought was a round ending left low kick only to have Parr switch it up & put his lights out with a right high kick. You can't be saved by the bell in Bellator kickboxing, but there was no need to count here, as the faceplanted Calzetta wasn't going anywhere. Good match.
Strikeforce 11/16/07, Middleweight Tournament Semifinal: Trevor Prangley vs. Falaniko Vitale R2 2:12. An odd but entertaining fight with spurts of dynamic striking followed by lulls of inactive hugging. Vitale owned this fight at range, moving well & landing big hooks & overhands. He was too fast & explosive for Prangley, but The South African Olympic wrestling alternate Prangley was able to tie him up & wear him down. Prangley couldn't really use his wrestling outright, but was able to use punch combos to close the distance then do some damage with clinch knees before settling into clinches that tended to stalemate, though Prangley still got some knees & body punches in. Prangley had one big flurry 3 minutes into the first where he landed a big right hand to back Vitale into the cage then followed with a good uppercut & two huge knees to the head, but Vitale was lighting him up with clean power shots whenever Prangley wasn't closing the distance or holding him. Vitale's downfall here was not moving enough or disengaging from the clinches quickly enough, but Prangley was the better conditioned fighter & put a lot of pressure on him. Prangley's body work began to pay dividends in the 2nd, as Vitale was more willing to stay in Prangley's clinch - which was his least advantageous position - because he was sucking wind. Prangley even had a good flurry at distance before accidentally scratching Vitale's eye badly enough that he couldn't continue. Presumably this was a round a piece, but under Strikeforce tournament rules, when the judges returned a majority draw, referee Marcos Rosales was then tasked with declaring the winner, and presumably picked Prangley so there would be a final, which Prangley lost quickly & spectacularly to Jorge Santiago. Good match.
The World Martial Arts Challenge 6/23/95
Full Contact Rules: Sugar Miyuki vs. Brenda Rouse 5R. Miyuki is known to wrestling fans for fighting Kumiko Maekawa on AJW's Tokyo Dome show, but she was the Shootboxing champion at 104 pounds. She's at a considerable height & reach disadvantage to 5'2" 108 pound kickboxing champion Rouse, a Oklahoma native who wound up training with Tommy Morrison & switching to boxing where she won a few of their zillion titles. Rouse has a wide variety of distance kicks that were all finding their target more often than not in the 1st round. I really like the adjustment Miyuki makes in the 2nd, a reverse psychology style where she knows straight up distance isn't going to work, but rather than getting hit darting in to get in range, she uses her movement to stay out of Rouse's range, forcing an impatient Rouse to come forward. Miyuki times Rouse's approaches well, consistently hitting her with a reverse combo of sorts, a low kick as soon as she's in kicking range then as many punches as she can get in as soon as she's walked into punching range. Though Miyuki made the fight more strategic, both have a high volume output, and the crowd is responding to their constant action with much bigger & more consistent pops than any of the previous bouts had. Rouse probably still wins the 2nd round, & they skip the 3rd for unknown reasons, but Miyuki has taken control in the 4th with her cardio. Rouse has her moments when she gets Miyuki on the ropes, but generally Miyuki is able to keep circling away. Rouse comes out energized in the 5th, and looks like a new fighter now as she's closing the distance quicker & generally attacking faster & more aggressively. Rouse has a considerable advantage in weight of shot, & Miyuki has a hard time dealing with the larger opponent when she's coming at her so fiercely. Rouse stuns Miyuki with a left hand early, and continues to get her hands through to close things out. Even with the dominant final round, it's still only a split decision win for Rouse 50-48, 46-49, 49-47. Good match.
Full Contact Rules: Dale "Apollo" Cook vs. Mark King 5R. Though in his late thirties & coming out of a three year retirement, Cook was still so fast & fluid out there. Cook has an amazing arsenal of attacks, & mixes them so much you almost wonder if he's trying to hit every strike in the arsenal & land something to every part of the body just to keep from being bored. Who else throws things such as a jump spinning high kick, spinning high kick combination? In the most basic reading, on the outside, he beats you with his kicks, on the inside, he beats you with his knees, but he has that Giorgio Petrosyan ability to avoid everything you throw while always being able to hit you with something. Cook often employed the side stance, but is very aggressive & flashy out of it, throwing powerful mid & high kicks & using it to set up the spinning high kick. King was totally overmatched early, but got himself into the match with a powerful series of knees with Cook stuck on the ropes. King eventually got Cook on the ropes again in the 2nd, but this time Cook weathered his flurry of hooks & dropped him with a right uppercut left hook combo. King kind of shut down & shifted to survival mode after getting knocked down with a knee to the midsection at the end of the 2nd, but Cook dropped him again with a spinning back elbow in the 4th. Cook fought the 5th with his hands at or below his waist, just begging King to attack him, but was still so quick he still landed crushing punches out of a silly taunting softball wind up for another knockdown. Yeah, surely turned out to be a jobber match even though King is the All-Marine junior heavyweight kickboxing champion, with Cook winning 50-41 on two judges cards, but it was so flashy & spectacular you didn't even care. Unfortunately, Cook reportedly broke his arm & a few knuckles during the fight, which sent him back to retirement. Good match.
INVICTA 1 4/28/12
Leslie Smith vs. Kaitlin Young 3R. Kaitlin Young is most famous for putting women's MMA on the map in her controversial doctor stop loss to Gina Carano in a fight she was winning at EliteXC: Primetime 5/31/08, but this match of the year candidate that marked the arrival of what's so far been the only lasting women's MMA promotion in the US is the one she should be remembered for. Let's be honest, the first 7 fights on INVICTA 1 were middling at best, but then these two slugged it out for 3 rounds, and INVICTA went on to be a promotion you needed to see, always putting on a couple good fights even in spite of UFC sooner or later signing almost every quality fighter they came up with. Leslie Smith is one of those fighters who went on to such prominence, after 4 fight of the nights in 6 INVICTA fights. She isn't the world's greatest fighter, but she has a ton of heart, & if you give her a an opponent that isn't super roidy who will stand toe to toe with her, you are guaranteed an entertaining fight. King Mo nicknamed her Little Diaz after her more famous Cesar Gracie Jiu-Jitsu teammates who also push a ridiculous pace, never relenting with the volume boxing. Young is the better technical striker, the better athlete, the better mover, and the harder hitter, but Smith can really take a shot, or a couple hundred. Smith really had to keep coming forward because Young would pick her apart with combos if she was given time, with Young doing some of her best damage with her combo finishing low & middle kicks, but despite all her advantages, Young just didn't have anything that could stymie the cardio queen's forward progress, which was all the better for the audience. I felt Young won the 1st round with her kickboxing combos, but tired herself out in doing so, and Smith was just warming up. Smith took over at the start of the 2nd because Young kept ceding position to her, and the more she backed as Smith came forward, the less she power she had off her back foot & the more she was forced to throw single shots. Smith was now doubling up on her punches, & even kicks, as Young still moved well laterally, but didn't have the energy to consistently cut the angles for her counter attacks. Both were bloodied in the 2nd, but to me it was a clear Smith round. Smith blitzed Young to start the 3rd, and Young actually shifted to wrestling mode, almost getting a takedown, but Smith landed on top & threw a number of bruising body shots in between Young's armbar attempts. When Smith cut the angle to escape into side control & began wrenching for her own armbar, Julie Kedzie screamed "Give these ladies lots of money!" Although logic would dictate a Smith win given her progressive weardown, Young dug deep here, and mustered a 15th wind in the subsequent standup, now turning the fight back through her own attrition. Round 3 was the most competitive because Young did a consistently good job of using low kicks as Smith's came forward. Smith's left leg was welted from the knee to the base of the hamstrings, but, of course, she still kept coming forward no matter how many times Young kicked her there. Smith started limping after a good low kick with 40 seconds left, and that accumulated damage made round 3 even tougher to call, as Smith won the ground but Young won the feet, Smith won the first half, but Young won the second half. The judges ruled it a 29-28, 28-29, 29-29 split draw, which I was okay with because Young, Smith, and especially the fans were all winners here. Excellent match.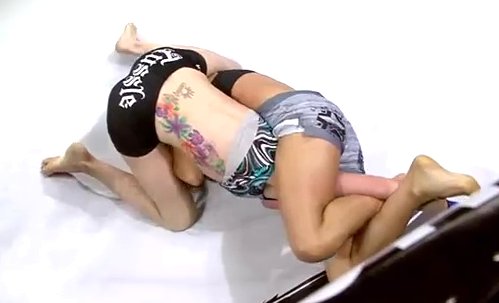 Jessica Penne vs. Lisa Ellis R3 2:48. Really entertaining back & forth grappling match, with both fighters able to take each other down, but Penne clearly distinguishing herself with her ability to initiate scrambles as soon as she was taken down & to constantly attack with submissions from the bottom. Ellis was the stronger wrestler from purely an amateur wrestling standpoint, but Penne was a much better MMA grappler and a super active jiu jitsu practioner. There was never a dull moment in this fight because Penne wouldn't stay still no matter what position she found herself in. She almost scrambled her way into getting guillotined, but she was going to be active no matter what, and snuck over the back & turned a headlock takedown into an armbar at the end of the 1st. Penne did a much better job of locking Ellis down when she got a takedown in the 1st, and injured Ellis' right eye working her top game. Ellis had an inside trip in the 2nd, but Penne attacked so consistently with submissions, transitioning from leg locks to a triangle once Ellis stablized top position to an omoplata that 90 seconds had gone by before Ellis got any real offense in, and that was slamming her way out of an armbar attempt! Ellis then tried to pass guard, only to have Penne take control with a side sweep. The standup in this fight was pretty good as well, but Penne had the reach advantage & did a good job of following her jab. Ellis was distracted by her nose after taking a knee & a jab, which allowed Penne to close the distance with a right hand that started the blood gushing from the nostril, though Ellis recovered with a nice backdrop. Ellis was painting the canvas Jackson Pollack style as Penne scrambled & scrambled until Penne got a triangle, reversed, mounted, and then pounded once Ellis gave her back until the ref stoppage. Very good match.
BACK TO QUEBRADA REVIEWS


* Puroresu, MMA, & Kickboxing Reviews Copyright 2017 Quebrada *