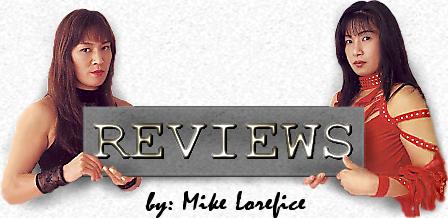 Best Matches Seen March 2017
STARDOM 7/10/14, World of Stardom Title Match: Io Shirai vs. Meiko Satomura 24:20. Io & Satomura showed why they are the two best here, reaching a level of ring work that's far beyond what the majority of active girls can even dream of even though they were basically still figuring things out with only a non-televised dry run together in Senjo earlier in the year. The basic story was that both wrestlers tried to do their style, but Satomura's hard hitting, strike oriented style is much lower risk & easier to pull off than Io's high flying, lucha oriented style. When Satomura was at full health, she had no problem cutting Io right off every time she tried to run/jump/fly around, usually with a big kick or elbow, so while Satomura dominated the early portion, they were constantly teasing & building to Io's big flying moves. Io's early risk taking soon led to Satomura injuring her knees when she stopped Io's quebrada by pulling her off the middle rope & slamming her into the ring apron. This wasn't a match where Io was going to lay around "crippled" for 10 minutes. They kept things moving, going back & forth, but Satomura would weaken the left knee a little with each comeback. If Satomura didn't cut Io off with a knee move, Io would just reinjure the knee herself, for instance crashing the corner when Meiko avoided a flying double knee. Satomura did take some chances, and they'd also invariably fail, often in a very similar manner, for instance Io cutting her off on the middle rope with a high kick & hitting a Frankensteiner off the top followed by a triple moonsault. This was a great setup, but they didn't really follow through, and it felt as though they rushing through the final minutes. Though they countered each other back & forth even faster than before, they basically threw out all aspects of the storyline here & just went to town trying to fit all the big moves into the remaining minutes. The bridge into the finishing sequence should have been slower & more convincing, having Io began to have success, but not completely. The story ultimately seemed more an attempt to do both girls styles at once that was never fully fleshed out or committed to, and that somewhat abrupt shift kept this from the greatness they could have achieved. That being said, this last 7+ was one hell of an explosion of fantastic action. The work was super, & it was very exciting to see them working at the level they are capable of together. Don't get me wrong, this was a joshi MOTY candidate even though it clearly wasn't the best match they could do together. ****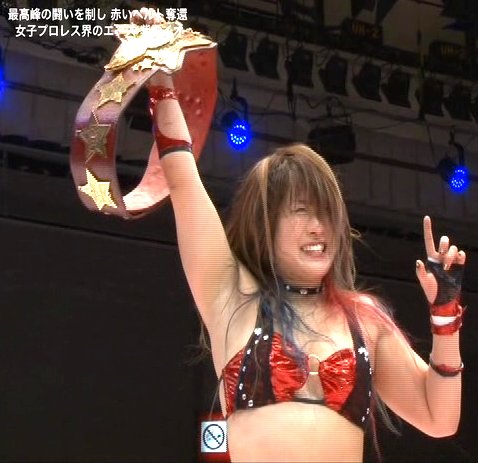 STARDOM 12/23/15, World of Stardom Title Match: Meiko Satomura vs. Io Shirai 24:50. Stardom's final match of the year saw their ace trying to give the promotion a happy new year by taking the title back from the Sendai Girls founder, who has already beaten their other two top wrestlers, Kairi Hojo & Mayu Iwatani. Whenever these two get together, everyone wins because they are the top of the game, and put on a match that sets out to once again prove it. Satomura's previous title matches had limiting factors, a programmed opponent who reverts to forms in Hojo & no time & apparently not high enough ranking in Mayu, but tonight she could be the best version of herself. Each had an opponent they could trust & didn't have to carry, an opponent who could confidently & competently do every style, make every counter, take every bump, and the time to go in whatever direction(s) they chose, so they were free to do whatever they wanted. Shirai succeeded in defeating Satomura in the midst of her big World of Stardom run in 2014, but still played the underdog here against an ass kicking opponent who is actually somehow still at her peak despite just celebrating the 20th anniversary of her debut. Last year's match tried to work up to Io getting her flying in, but didn't have a clear vision of how to build the match in steps to make this work, & ultimately wound up going from hitting next to nothing spectacular to hitting everything that wasn't countered with something more or less equally as flashy. No one is watching Io to see the utmost believability, so it worked better that they opted for the less ambitious but more workable story of just having Satomura dominate from the outset, with Io able to make brief comebacks when she stunned Satomura with some kind of kick, even if only a dropkick. Satomura was at her brutal best here, delivering the same sort of monstrous beatdown she gave Hojo in the 6 vs 6 on 11/12/15, except for an extra 15 minutes, resulting in Shirai getting the Shinya Hashimoto bloody nose. Shirai was at her most charismatic, popping the crowd with each brief but spirited comeback, really seeming to have a home promotion advantage in this epic battle of the two best women in the sport. She got an imperfect moonsault off the Korakuen entrance in, but just as the momentum seemed to have finally shifted in her favor, Satomura countered her swandive missile kick attempt with a big Dory Funk Jr. elbow off the ropes to the floor. They should have played this up as a near KO & had the big Satomura run that came a few minutes later after the backdrop on the floor, but instead Io came right back catching a kick when she was on the apron & leaping to the floor, wrenching Satomura's knee in the middle rope. I did like that Io tied Satomura up in the ropes so Satomura couldn't counter the swandive missile kick this time. As with the 7/10/04 match, the 2nd half was throwing bombs, but it worked better this time because they did so much in the first half that they didn't feel they had to go for pure spectacle. They were able to take the time to set things up a little better & milk some drama, so it didn't just feel like an elongated finishing sequence. Satomura was also able to use her submissions. You figured it would come down to the Death Valley bomb though, and when Satomura got her legs up for a moonsault & hit 2 in a row the writing seemed to be on the wall, but this was a wild night, & Shirai slipped out of the third & hit a Dragon suplex, a diving elbow for Hojo, & a moonsault for the win. This was the match I hoped for with Mayu vs. Satomura & then some, one where they went all out from start to finish & threw out everything they could trying to have a match of the year. It was a bit goofy at times, mainly the comebacks, but the work was tremendous & these are the two aces, so it was going to take something over the top to get the job done here. The amazing thing about this match is although it was the longest of Io's Stardom notable matches of 2015, it still felt really short in a the best possible way, in that you wanted more & more because it was so good but this time it felt complete. ****1/4
GLORY 39 3/25/17
GLORY Lightweight Title Match: Sitthichai Sitsongpeenong vs. Dylan Salvador R4 2:58. These two are extremely evenly matched, splitting decision victories outside of GLORY. The rounds in this third contest were so difficult to score because they just stood toe to toe & exchanged shot for shot. Though both tried to throw combos, neither would allow the opposition to gain traction throug activity, so it was rare to see anyone land more than a shot or 2 before getting countered back. Every round saw almost an equal number of blows landed by each competitor, so it was really a matter of what you liked. Sitthichai normally boasts the kick & knee advantage, but his boxing has been improving since he joined the Royal Thai Army Boxing Team. On the other hand, Salvador is also a lefty though, and this seemed to throw Sitthichai more off his usual rhythm than it did Salvador, with Sitthichai not defending the kicks that were now to his lead leg very well. The result was that Sitthichai wound up with a decided punching advantage, but Salvador evened the overall striking totals with his knee & kick advantage. Though both are muay thai fighters, they started fast, and continued the intense, high paced war throughout, constantly pushing each other harder & further to keep coming up with immediate answers for the latest attack. Round after round, both fighters refused to give an inch, and it just got more and more intense as they continued to bomb from close quarters looking for an advantage that didn't seem to be materializing. Salvador was the one coming forward, but their basic segment would be that he got hit with a punch closing the distance, but could at least land a low kick once he was inside. Sitthichai began to take over in the 4th by concentrating more on the body after Salvador seemed to slow from a knee to the midsection & started backpedalling for the 1st time in the match. With Salvador answering less, Sittichai finally gained momentum & began to headhunt less with his punches while looking to land more knees. Sitthichai finally buckled Salvador with a knee to the body with 12 seconds left, and although Salvador got up, he turned his back to the referee & spit his mouthpiece out in surrender. This was really a shame because although it was a crushing blow, I think he just got the wind knocked out of him rather than a rib injury, so given he wouldn't have actually had to engage before the 4th round ended, he might have been recovered if he gave himself the minute in between rounds. Even with the late run, Sitthichai only wound up outlanding Salvador 102-93. Very good match.
Featherweight Contender Tournament Final: Petchpanomrung Kiatmookao vs. Serhiy Adamchuk 3R. Enjoyable high level fight with good strategy as well as good action. The individual advantages - Kiatmookao's kicks vs. Adamchuk's punches - were marked, but the sum total was razor thin. Kiatmookao took the early advantage, fighting at distance where he could land his middle kicks with Adamchuk out of range. Adamchuk quickly adjusted to this either eating a kick but stepping forward to counter with punches or just taking the lead & coming forward throwing. Kiatmookao, in turn, countered this by clinching then throwing kicks after the break. Once each fighter established their advantage, it was really back & forth with both fighters pressing to maintain their best position. I would have liked to have seen Kiatmookao use more push kicks to help maintain the distance because, though Adamchuk was the better of the two on the inside, the one big advantage here was when Kiatmookao was at distance. Though both had fought the full 3 rounds earlier, neither slagged off in the least. Adamchuk landed virtually everything to the head, while Kiatmookao landed virtually everything to the body. Statistically, Adamchuk was landing a few more shots, but Kiatmookao's kicks are more damaging than Adamchuk's punches, and anytime middle kicks are involved you should always factor in that even the blows that are scored as misses are often punishing blows to the arms. If I had to score, I'd give it to Kiatmookao 29-28, but both men rightfully thought they won, and honestly the best outcome given a shot a Robin van Roosmalen's title was on the line would have been to call for another round. I wasn't surprised that it was a split decision, but was very surprised that 2 judges gave Petchpanomrung every round. Good match.
INVICTA 22 3/25/17
Sunna Davidsdottir vs. Mallory Martin 3R. One of the closest fights of the year (despite the scoring) between two very game, rather evenly skilled & matched competitors. Both fighters were willing to take the center of the cage, to push forward, to work the clinch game, etc. Both did their best damage with the left hand, but neither had an advantage for very long. Sunna won the 1st round with a late sequence where she followed a jab with a big left hook that rocked Martin then worked clinch knees. Martin has good power in her hands, but the base position for her hands is breast height & then she's either punching up or bringing them up as a tell that she's ready to attack, which leaves her prone to big head punches. Davidsdottir's clinch game is also a little stronger than Martin's, but both were effective there at times. Martin's left eye was swollen & she kept blocking too many punches with her face, but she pressed forward all round 2 like a cyborg, walking through Davidsdottir's punches then landing her own. Round 2 was kind of a repeat of round 1 except this time it was Martin who took over in the 2nd half with the jab/big left hook then clinch work. Davidsdottir seemed to be recovering, but Martin wobbled her for the 2nd time in the round with a big left then cut her with a knee. Davidsdottir made a more concerted effort to push forward & attack in the 3rd, but this opened up Martin's wrestling game, which Davidsdottir ultimately defended brilliantly after the 1st takedown. Davidsdottir was looking winded & Martin was looking more & more immune to punishment or fatigue, but both kept pushing the pace & fighting desperately. Davidsdottir defended another takedown & got Martin's back looking to bring her down into a rear naked choke, but she was too high on the back & Martin was able to take the top out of the scramble, but as usual with this fight, only momentarily. This was a fight no one deserved to lose, and I couldn't find anything close to decisive to warrant giving either the 3rd round, so I had it 29-29. I was shocked that this was a unanimous decision, and especially that someone gave Davidsdottir even the 2nd round where she was almost knocked down twice. Very good match.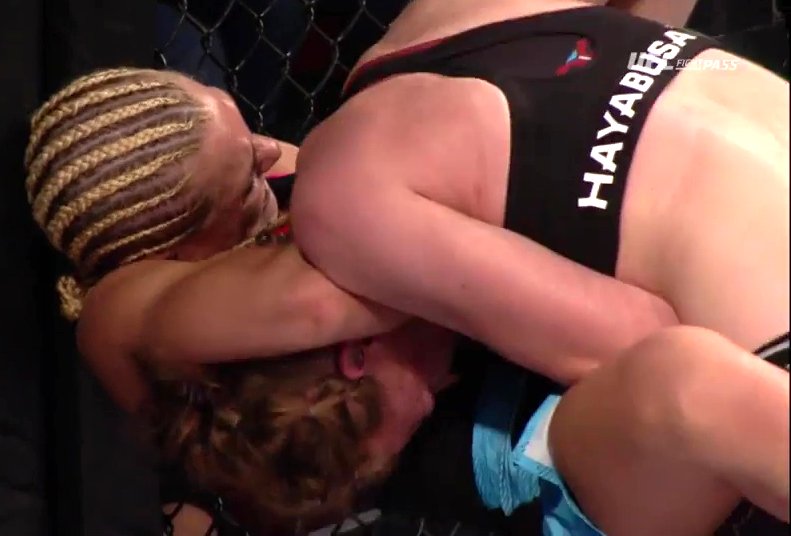 INVICTA Bantamweight Title Match: Tonya Evinger vs. Yana Kunitskaya R2 4:32. Kunitskaya won the first match on INVICTA 20 11/18/16 by arm bar, except referee Mike England apparently hadn't seen Dennis Hallman vs. Matt Hughes UFC 29 12/16/00 or thoroughly learned the rule book to know that stepping on a downed opponents face is legal (stomping is not). Evinger was submitted after England had her break this attempt at submission defense, hence Evinger's petition overturning the decision & restoring her title. Sometimes old school style fighting can be really dull, but I found the Japanese go for a submission, any submission, at even the slightest opportunity to be the most exciting style of ground fighting. Of course, in the early days of Pancrase or JEWELS, punching a downed opponent in the face was illegal, which allowed for these all out jiu jitsu attacks. Kunitskaya seemingly just didn't care if she got punched in the face, her path to victory was through a submission, & she was going to pressure, pressure, pressure, and if she was good enough she'd win & if not she'd lose. Maybe not the smartest gameplan ever, and certainly not the safest, but as a viewer, I love it! Kunitskaya had a guard pull guillotine, heel hook, kneebar, etc., but Evinger defended everything & landed some heavy fists & elbows from the top. There was never a dull moment, and often you couldn't really tell who was winning because Kunitskaya was torquing on some appendage, but Evinger was beating down on her, and it was almost just going to be a matter of whose body would give out first. Evinger won her last 10 fights before the Kunitskaya controversy for a reason, and as is often the case, the longer the fight goes, the more she wears her opponent down with her wrestling & top control game. While Kunitskaya was almost always being offensive in the 1st, which was an excellent round, in the 2nd it was more standard Evinger control with Kunitskaya having to use her guard defensively & having difficulty creating space or a scramble to get a submission attempt. Once Evinger got side mount, she used a knee on the face to get Kunitskaya to surrender her back, and from there it was right into the rear naked choke finish. Good match.
STARDOM 11/15/15
Wonder of Stardom Title Match: Io Shirai vs. Sendai Sachiko 10:29. I was expecting their 10:00 draw in the SGPW 6 vs. 6 on 11/12/15 to set up what they'd turn into a blowaway match, but instead it was far less intense & a whole 29 seconds longer, with even that bonus perhaps being attributed to Io's Spanish fly being butchered. It was good, sure, they're too talented for it not to be, but nowhere near the quality of the two Thunder Rock vs. Jumanji tag matches, and actually not as good as what they did in the limited format 3 days earlier. They opened with a nice lucha sequence this time, which was fine, but the opening striking sequence on 11/12 was what racheted up the heat & set everything in motion. They just never found that atmosphere here. They did include a "late" strike exchange, but at that point in the match, there was just no way it was going to have the same effect. It was a really nice athletic match that could have perfectly slotted in with the High Speed Title matches Io was having earlier in the year, except it seemingly was supposed to be something of the culmination of a heated tag team fued that had since been the highlight of not only her year, but the joshi year in general. As with 11/12, Sachiko injured Io early, this time with a DDT on the apron, then focused on the injured area, bridging into the high spots. Though that gave the action some focus for a while, the structuring was so vanilla, pretty much slotting Sachiko in with the no real match opponents, and thus just letting her do her moves before falling prey to the moonsault when Io had taken "enough". Historically, the Wonder of Stardom title has had a lot of 10 minute range defenses, but the next shortest match of the 9 involved in this Io reign was a 13:12 house show match against Queen Maya, who not even the Mafiosa's want to see more than a few minutes of. ***
World of Stardom Title Match: Meiko Satomura vs. Mayu Iwatani 11:29. Again, I'm baffled at how short this was. Satomura goes 30 then 22:27 against Hojo & 24:50 the month after this against Io. Mayu isn't quite the star those two are yet, but 4 years into her career she's already one of the 3 best workers in women's wrestling, and is probably the best natural matchup for Satomura because she's the strongest striker in STARDOM & their all around technician. Satomura was absolutely brutal here. She was pissed that Senjo lost the 6 vs 6 & just wanted to maul the girl who deprived her league of that victory. That was a good win for Mayu, but this booking was very lazy, mostly subjecting her to a big put her back in her place beating to no beneficial payoff. Satomura's offense looked great, as she was holding little back here, & that's just nasty, but there wasn't a lot of back & forth. Mayu had her run, but there was surprisingly little interplay, even when it came to striking, it was more often part of their run rather than an exchange. Mayu seemed a little nervous, uncharacteristically blowing a few spots. The booking wasn't giving her any confidence though. I mean, yes, this was only her 2nd World of Stardom title shot, this one coming only a handful of months after her first, and certainly it's more intimidating to wrestle a legend such as Satomura than a peer such as Hojo, but she wasn't really booked to be competitive here. Satomura started quickly & got close to 3/4 of the offense overall, so Mayu was always playing catchup & it never felt as though she were pushing Satomura. Iwatani plays a good underdog, but there's a fine line between underdog we believe in & are given opportunity to really get behind, and underdog who is outclassed & generally run over. This was closer to the later, & there was absolutely no good reason for that. Sachiko & Iwatani were basically sacrificed in order to set up the big battle of the company aces at Stardom's year end show, but both of today's matches could have been memorable, and still led us to the exact same place. In some sense, Hojo vs. Iwata, as predictable & pedestrian as their offense was, was actually the most successful match of the night because Iwata, the greenhorn who had no right to be competitive against the former champ, willed herself into the match & made us take notice while Sachiko & Iwatani underachieved to the point that your enduring feeling was likely that they got rolled, even though it was't that bad, especially in Sachiko's case since she at least got the majority of the offense before the quick brush off. From purely a wrestling standpoint, this was very good, but as a "competition" I badly wanted to care about, it was disheartening that they kept telling me not to. ***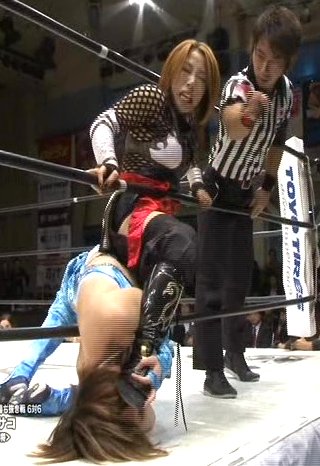 SGPW 11/12/15, Senjo vs. STARDOM Showdown 6 vs. 6 Singles Knockout Match: Momo Watanabe & Hiromi Mimura & Kris Wolf & Io Shirai & Kairi Hojo & Mayu Iwatani vs. Chihiro Hashimoto & Mika Iwata & Sendai Sachiko & Meiko Satomura & DASH Chisako & Cassandra Miyagi 65:03. Basically a show unto itself, which was good in terms of giving the younger girls a more meaningful match that people outside of the live audience couldn't just skip past to get to Satomura, but obviously detrimental to the overall match quality since each side really only has 3 completed quality wrestlers. When it was good, it was really good, but let's be honest, only 3 of the 9 matches are good, and they're all in a row, though they do account for 46% of the actual match time. Though the first half was filler to get to the big matchups, Io vs. Sendai, Hojo vs. Satomura, & Mayu vs. DASH. the early portion had purpose, focusing on arguably the brightest prospect in joshi, 23-year-old Chihiro Hashimoto. Hashimoto debuted the previous month, but impressed so much she won Tokyo Sports Rookie of the Year based on less than 2 months of activity & would go on to win the Senjo title from Satomura a few days after her first anniversary! Hashimoto is a legitimate high level college amateur wrestler, but what's so exciting about her is she's something that's always in very short supply, a genuine power wrestler. She looks something like Kyoko Inoue cerca 1996, but her size is more attributed to the weight room, where she benches close to her body weight. Satomura seems to have trained her more in the old AJW style, as her offense isn't much to talk about right now, she actually gets the first elimination on Momo Watanabe with a body slam, but she's very solid & fundamentally sound. Who knows how long she'll last or if she'll really pan out, this is joshi after all, but I don't think she'll be intimidated, as she already possesses the confidence of someone who has been wrestling for several years. Normally, in these type of gauntlet elimination matches, no promotion gets too big a lead, but Hashimoto cut STARDOM's ranks in half, running through their three youngers in about 3 minutes each, and putting the onus on Io to carry the league, which luckily for STARDOM is something she's never failed to do all year. Io vs. Hashimoto was entertaining & heated, with the crowd actually taking Hashimoto seriously now after she buzzsawed through the young idols. Io worked down to Hashimoto for sure, but it was all very competent & not purely you do your spots & I'll do mine, with Hashimoto already being a more interesting opponent for Io than recent adversaries Hudson Envy, Dark Angel, & Mia Yim. Iwata, who has been wrestling a whole 4 months, made a positive showing for herself too, also showing good composure. She's limited, basically just throwing kicks, but she has the characteristics that make a striker interesting, she's fiery, aggressive, energetic. Despite her intensity, given STARDOM was down 3-1 & their ace was the opponent, the only question was how long Io would carry Iwata before putting her away. Io & Sendai racheted up the intensity immediately exchanging stiff blows. Sachiko injured Io's back with a suplex on the floor, & went to work on it inside the ring, which wasn't what I expected from these two at all, but would have been great if they weren't limited to 10 minutes. This was quite good, & Io was hitting her quebrada & the like soon enough, but you felt they were never exactly sure what this match should be, even though everything they did was well done & their talent & drive was enough to make it work. Sachiko got the best of this draw because she was fresh, and more notably they were setting up her Wonder of Stardom challenge a few days later. Hojo was doing a better job of putting enough on her strikes to hang with Satomura, though they set up the most hilarious spear ever. She had Satomura down in the corner, and Satomura never moved the entire time, which Hojo obviously saw given she charged the length of the ring right at her and didn't jump until she was a foot away. Nonetheless, Hojo proceeded to spear the spot where Satomura's midsection would be if she were standing, which meant I don't even think her boobs grazed the top of Meiko's head as Kairi shouldered the corner (at least Meiko didn't sell this, but then neither did Hojo). A few missed spots aside, this was very good desperate, high intensity stuff, as they just exchanged high impact blows in a failed attempt to get done in 10 minutes what they couldn't get done in even 30 on 6/14/15. DASH & Mayu started doing lucha as Mayu typically does, but once Mayu kicked DASH in the back, the war was on. DASH was punking everyone, even kicking the eliminated STARDOM wrestlers who were still at ringside cheering Mayu on in the face while she was waiting for Mayu to get up so she could knock her right back down. This was the best segment, partly because it felt the most like an actual full functional match. They built it up well with the attitude giving it intensity, & the striking leading to the high spots, moving back & forth so seemlessly between styles & building the match up well. The other thing is this is the only match that felt as though it had a real finish. I mean, it was very near the time limit, but it didn't feel forced or contrived, it felt like a wrestling version of a real fight finish, as most times the time a fighter is prone or unconscious is very short . Mayu landed a big kick which left DASH open for her reverse Frankensteiner. It was a flash finish if sorts, and DASH was right up attacking Mayu until she was restrained, but it wasn't fluky. I don't have a problem with them doing two draws, overall this was pretty well booked with the exception of Mayu vs. DASH not being last. That had the kind of intensity you want to close the match, but I don't care which of the big matchups you put last, Satomura vs. Hojo would have been great (but Satomura would have had to give her win back), just don't give up the opportunity to send the fans home feeling they saw something awesome by sending Mrs. Miyagi out as your closer. Beyond the huge decline in match quality, everyone knows that's game, set, match for STARDOM, might as well just hit the exits right now. Miyagi has the least potential & upside of the Sendai girls because she's just not particularly athletic or fluid, and going from Mayu & DASH beating the crap out of each other because they could to Miyagi stalking around as some lame cross between Super Heel and take your pick of plodding Americans was even shutting Mayu down to some extent. I mean, she always tries hard, but all the challenging & pushing herself came against DASH, a worthy & capable adversary, now Mayu was just waiting for something to happen. Adding to the annoyance of putting this last, because a promotion had to win there was no time limit, so Miyagi got to work the longest segment, thus logging more ring time than Satomura & Jumanjis. Miyagi does some of the same stuff as DASH, stomping, stepping on the face, etc, but DASH makes it work because it's not the move, it's the way you do it, the execution & the attitude, and she's not merely doing things precisely, she's always challenging & inciting the opposition as a good punk should. Also, while DASH isn't going to do a bunch of flips, she's capable of working more or less as fast & athletic a style as any opponent, so she's choosing to humiliate you & then backing it up with great wrestling, whereas Miyagi is more of a Great Muta type psycho character except that she doesn't have the explosion or athleticism to impressively change gears from the idle stalking to the actual wrestling. Anyway, while it's probably too much to expect a match with this many performers to build up over the course of an hour, it's obvious that it's going to be hard to accept & support someone who is an awkward mover & keeps throwing weird bent leg dropkicks after seeing some of the best in the game in top form. You still had Mayu out there, but I don't think it's fair to expect too much from her here because the opponent is one of those big girls that doesn't take much (or well), so basically Iwatani did what she was forced to do, which was wait for Miyagi to drag her around & hit her. Miyagi is no Trevor Hoffman, so eventually Mayu took her out with the Dragon suplex to set up her much deserved World of Stardom title shot on 11/15/15. I don't know how to rate this match because, roughly speaking, the three star vs. star matches that accounted for half an hour were worked at about a 4 star level and, flaws of the format aside, were some of the best joshi of the year, while the other six that accounted for 35 minutes were worked at about a two star level & would mainly have been good candidates for the chapter advance button. ***
STARDOM 10/18/15, Goddesses of Stardom Tag Title Match: Io Shirai & Mayu Iwatani vs. Hiroyo Matsumoto & Kellie Skater 14:57. Skater was a real breath of fresh air at the end of two nights of STARDOM girls being bogged down by opponents who do everything one step at a time & don't seem to know the meaning of fluid & flowing. I was losing what little faith I have left in humanity when I saw Nicole Savoy actually do a float over suplex in 2 parts! While it's a given Thunder Rock were mostly responsible for this being a good spectacular match, to a great extent you are only as good as what you can get out of your opponents assuming they have something to give, and Skater was fast & athletic enough to go with their action sequences & actually pulled off the striking that Matsumoto was kind of too linear & plodding to really make work in an otherwise fast paced match by encorporating bits into an active sequence oriented encounter. Don't get me wrong, Matsumoto is a capable wrestler who is good in the right setting, but her entire offense required the opposition to just stand there while she hit or charged at them, and that doesn't really cut it in an otherwise kinetic match that works primarily because of the interplay. People pay to see Io fly around, holding someone in a headlock is only interesting when you're telling a story with it such as Toshiaki Kawada playing ball control against Jumbo Tsuruta, not just doing it because, I don't know, that's what you've got in the arsenal. Skater, on the other hand, was more than holding her own, doing lucha sequences with Mayu, and generally going back & forth, matching her step for step. I kind of felt bad that she was the one who got pinned in the moonsault because Matsumoto really only added some Kobashi chops in the corner & heaving opponent & partner over the top to the floor for quasi planchas. ***
Strikeforce 9/29/07: Billy Evangelista vs. Clint Coronel 3R. Frank Shamrock, who was doing play by play, described the strengths & weaknesses of his trainee Coronel at the start of the fight. "Well, Clint's problem is he just got into that bangup game, and he got in that punch for punch thing. If he can keep his cool & he can keep his flow, he's a brilliant boxer & he has an incredible amount of experience, 2 time Golden Gloves fighter. Been with me for about 7 years in the submission wrestling. And he's really a well rounded fighter, but his mental game has been slow to develop because he just loves to bang. You can't bang in this game, you got to work the game & work the art." Evangelista is also a strong standup fighter, with impressive power & more kicking & elbow skills than Coronel from his muay thai background. You knew where this was going, it was going to be all too tempting for Clint, and they delivered the only really fun match on what was surely a candidate for worst Strikeforce show ever, boasting a bad mix of low skill level &/or horrible mismatches. Coronel started well, using his footwork & working the jab, which opened up a cut outside Evangelista's right eye. Evangelista was landing the hard blows with his low kicks though, and Coronel soon began pressing to answer with wide power punches. The first 6 minutes were pretty disciplined, but then Evangelista hurt Coronel following a double jab with a big right cross & began to literally run after Coronel throwing bombs. Evangelista charged into a right/left hook combo that hurt him, but he didn't care, he just kept rushing. Coronel had a nice sequence where he charged with straights, backing Evangelista into the cage & finishing with a big right to the chin, but these examples where he put it all together were too few & far between as he wasn't following his jab enough & rarely finished with a kick despite Shamrock harping on how he should be doing that. Evangelista, on the other hand, started to take over by using his punches to set up his low kicks, which Coronel wasn't defending because he was in boxing mode. Evangelista had to leave himself open charging in to close the distance in the 2nd, but in the 3rd Coronel decided to forgoe his bicycle & just stand toe to toe & trade with him. Coronel had moments of brilliance where he'd dodge a power punch & counter with a precise straight, but eating too many low kicks had worn him down, & the more he stood in front of Evangelista, the more the harder hitting fighter would eventually find his target. The match was very much up for grabs with 2 minutes left, and Coronel had gotten back into his more successful game of using his footwork, but Evangelista changed things up, getting in on a double leg, the first takedown attempted by either fighter in the match. Evangelista was almost able to run out the clock here, en route to a 28-29, 29-28, 30-27 split decision. I wasn't really thinking about the joys of mid '00's MMA, but my father said, "guess what judge got it wrong" and then I knew without even paying attention to the names that there was a Cecil Peoples sighting. Good match.
SGPW 7/30/15: DASH Chisako & Sendai Sachiko vs. Io Shirai & Mayu Iwatani 17:47. These four are great talents, & while it's no surprise they delivered a fantastic match, it was amazing just how well they worked with each other. They were figuring it out for sure, giving all the pairings time & everyone equal opportunity to show their best stuff, but this exploration was at their highest level. This is a one-dimensional match, but in the first try they already took the all action workrate match about as far as it was going to go. They didn't care that there were "315" fans, this was close to their best effort, seemingly for the fun of challenging themselves and one another. There was, unfortunately, no home promotion advantage here for the Jumanji Sisters. If anything, Thunder Rock got more reaction because Io is the most charismatic of the bunch, but Io was also on fire as usual, & who would want to root against her??? There was also no downtime here, it was perpetual motion with quick tags to keep pushing the pace. One thing that's so impressive about both teams is that they don't fall prey to working lighter in order to work faster. DASH, in particular, is always accelerating through her blows (striking through the target the way you are supposed to rather decelerating to simply touch the target the way most wrestlers actually do). Mayu, in particular, is a bumping machine who loves to find reasons to jump on impact so it appears that she was blown off her feet. She took a massive Ace crusher off the top from DASH that I kind of felt should be the finisher, especially given how much more impressive it was than the usual hormone splash that did end it, but it seems that the more MMA shows you win with whatever works on a particular night, the more pro wrestling clings to the superhuman notion that everyone can survive every crazy, depth defying stunt only to lose to the same thing everyone else lost to. I might not long for the Freedom Force era of AJW in the sense that the focus shifted almost solely to workrate, during '95-'96 especially, when Manami Toyota was really carrying the company and that style replaced the overall intensity & more diverse nature of the interpromotional era, but it's also been very rare in the current century to see a mindless joshi tag that was impressive enough for what it was that you could say it would perfectly slot in with the high end tags of that late end of the joshi heyday. What's better is they grew from this match, & the 9/23/15 rematch added a lot of the missing tension & fervor to the proceedings, actually slotting perfectly into the '93-'94 era. ****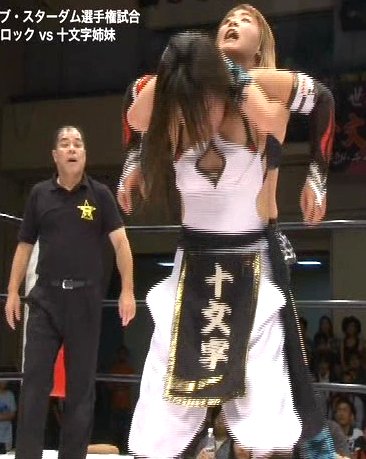 STARDOM 9/23/15, Goddesses of Stardom Title Match: Io Shirai & Mayu Iwatani vs. DASH Chisako & Sendai Sachiko 20:26. There's tons of interpromotional matches in current joshi since every league only has a handful of wrestlers, but here's the extremely rare match that actually felt like it could have been out of '93 because they were able to pull off the athletic, high workrate style and give the general feeling through the intensity, stiffness, & urgency that they upped their game because winning meant more. The Jumonji Sisters earned the title shot by defeating Thunder Rock in Sendai Girls on 7/30/15, an excellent match in its own right, but one that didn't even remotely hint at the intensity & drama they produced here. The initial parity sequence between Io & DASH set the tone for the match as Io did everything in as fast & athletic a manner as she could, which is exactly how everyone worked the 1st match. The difference here mostly came from DASH, who focused on impact & attitude, being purposely methodical & deliberate as a statement of confidence & a way to get heel heat to make this the interpromotional rivalry it could be. One would normally associate DASH's tactics with a larger/stronger bully type rather than a quick 4'11" wrestler, but Satomura trains everyone to put something on all their blows, and by wrestling big & tough we focused on DASH's badass nature & the precision & malicious intent of her execution, thus forgetting she's not our fictitious image of a tough girl. I just loved the dynamics that DASH brought to this match because Thunder Rock were mainly doing the really fast, flashy Manami Toyota match they did 2 months ago, but now you had Jumanji's (mainly DASH) doing an LCO type of match (minus the weapons), slowing it down by playing punk heels & giving Io (mainly) a stiff beatdown. This was all done in a manner that still flowed with what they kept from the first match, but also added dynamics, both styles & tempos, rather than stopping it or taking it in a direction that made it two "separate matches". It wasn't so much the all out start to finish sprint we usually see from Io, they had bursts that were briefly slowed by the bullying & mirroring, the thing is the rudo stuff actually made the match & lent it the atmosphere rather than just stalling it as is the case in most of the Mexican or old school American wrestling, partly because it was well done by wrestlers who weren't doing it because that's all they can do & partly because they weren't wasting time or doing things because they were lazy or wanted to be annoying. The interplay was better because now you kind of had two styles going, and each wrestler is diverse enough that they could do "their" style or they could choose to match their opponent's. DASH's higher impact work prompted everyone to hit harder, which on it's own would obviously be nice, but it's the edge that roughness brought to this match that's important, and was again a difference between the great workrate house show match they did in July & the great "big" interpromotional title match they did tonight. The rematch was also better because they figured out the logical pairings. Mayu & Sendai were perfect counterparts as well, doing a mirror match where they exchanged stiff kicks & beautiful bridging suplexes. Having the match in Senjo helped Mayu especially since she hasn't worked with the Jumanji's much in any form, but there was something beyond mere improved familiarity, it's the rare modern day treat to get a title match where both sides are true teams that are really close to one another in & out of the ring. They busted out some old school double teams such as the double missile kick & stuff piledriver, but I love how the Jumanjis teamwork in particular is actually about sequences where they attacker alternates because they're coming at you from all angles in a much quicker, less deliberate fashion. Down the stretch, of course, it was all out craziness with everyone bringing their best stuff. I'm not sure if there were enough saves, because this was a match where you actually genuinely cared, where you needed the bailout so they'd be forced to continue to come up with more awesome sequences! This match may not have been the greatest recent joshi match at a particular aspect, but it's been a long long time since I've seen a match that moved me, something where everyone was working at a top level, everything was firing on all cylinders, and it was adding up to something dramatic rather than merely being an impressive spectacle. ****1/2
It's Showtime 36 10/24/09: Harut Grigorian vs. Chris Ngimbi 4R. A really high level fight for anyone, much less guys this young. 20-year-old Grigorian, in particular, was really offensive, but both had very solid defensive bases & although this was an extremely high work rate & volume contest, they weren't leaving themselves exposed or really even sacrificing defense. Harut was getting off 1st with fast punch combos, pushing Ngimbi back & keeping him on the defensive. Ngimbi couldn't get his knees off & was having trouble even getting his counters in, really only landing some low kicks in the 1st. Ngimbi did a better job of getting a punch off so he could follow with a low kick that almost always landed in the 2nd, but Grigorian wasn't slowing down much & was still doing great work with his quick hands. The fight was getting better with each round, if only because Ngimbi had to keep elevating himself to another level in order to have a chance to win. The difference in the fight was really Ngimbi's will because Harut was doing everything he could to run away with this, but Ngimbi increasingly refused to be backed up, & in standing his ground he was able to do a better job of firing back & obviously landing with more power. They could have given it to Grigorian in 3, but I love the extra round for close fights like this. The pace was never less than non-stop, but Grigorian pushed through the fatigue better in the 4th to finally secure the victory. Neither guy was landing bombs, but the speed & volume was pretty amazing. This is the kind of match that proves you don't need to have huge shots to produce big time intensity. Very good match.
It's Showtime 39 3/13/10: Giorgio Petrosyan vs. Kem Sitsongpeenong 3R. Petrosyan is the ultimate artist in kickboxing, always moving and angling slightly to finds the spot where he can avoid your strike & land the one available counter. Kem did catch him flush midway through the 1st with a short right hook counter to the left inside leg kick. Generally though, Petrosyan was too quick with too precise & diverse an attack in addition to obviously being incredibly difficult to ever actually hit. Kem was no pushover. He came forward in the 2nd & landed a decent number of single shots, the problem was Petrosyan would then land 2 back. Kem did a good job of taking space away from Petrosyan, keeping him near the ropes so he didn't have as much room to evade. Petrosyan slowed him down by the 3rd landing so many big counter shots, but Kem's will wasn't broken. Petrosyan won every round, but Kem, while never threatening & looking ordinary due to the opposition, certainly made him work, which given the amazing opposition is actually an accomplishment. Good match.
It's Showtime 41 5/29/10
Tomas Hron vs. Rustemi Kreshnik 3R. Usually I have to try to make myself forget it's a heavyweight fight so I maintain some enthusiasm, but with this crazy fight I had to keep reminding myself it was a heavyweight fight because I don't know where Hron found the energy to push this kind of pace in the 2nd & 3rd rounds. Kreshnik appeared poised to make it a short night. He had a knockdown with a distance overhand right followed by a second and another with a right to the body countering a knee. I thought Hron was going to be done. Kreshnik was so confident he'd done his job he climbed the corner & posed for the fans after the 2nd knockdown. I'm pretty sure everyone in the arena thought the result was academic, but Hron had other ideas. He managed to get back to his feet & just put up a block, letting Kreshnik punch himself out going all out for the finish while he got his wind back. Hron not only survived the 1st, he came out strong in the 2nd, pushing the pace & taking over against a punched out Kreshnik. It was crazy seeing Hron fight such an energetic 2nd & the 3rd, just on a mission, stalking his opponent & refusing to be denied. Win or lose, he had to win your respect on sheer determination, but all those knees to the midsection were pretty impressive as well. Kreshnik never got his 2nd win, and Hron pretty much walked all over him in the final 2 rounds. He didn't get any knockdowns though, and you felt bad because he deserved to win the fight, but a 10-7 round 1 is virtually impossible to overcome without putting your opponent to the canvas. It obviously would have been great to see these two actually at their best at the same time, but the fact that they weren't is part of what made it so fascinating. Excellent match.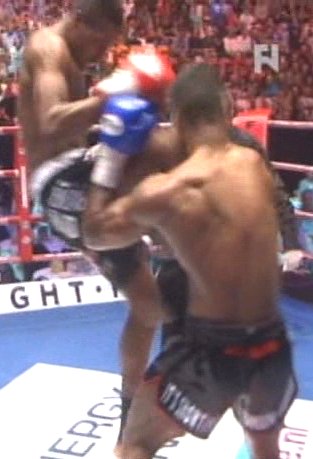 Chris Ngimbi vs. Anthony Nekrui R3 1:33. Good back & forth technical match that got super flashy toward the end. Usually these random guys who show up on one show obviously aren't that impressive because otherwise you'd have heard of them & they'd be regulars, but Nekrui seemed genuinely skilled & disciplined. He showed no fear & did a good job of mixing low & body kicks. Nekrui finally tried to go high with the kick, but Ngimbi slipped it & rocked him with a left hand & followed with a right hook for the knockdown. Ngimbi was on fire now, and there was no stopping him, as he quickly put Nekrui down 2 more times with big right hooks. Nekrui was still determined in the 3rd, & kept coming forward, but Ngimbi backed him with a missed jab then did a jaw dropping super fast flying knee, right straight, left low kick combo for another knockdown. The speed, precision, athleticism, & balance to pull that combo off were just amazing. Nekrui still got up, only to immediately eat another flying knee that finally resulted in the mercy stoppage. Nekrui was right with Ngimbi for more than a round & a half then Ngimbi got the train rolling & there was no stopping him. Definitely one of Ngimbi's most impressive performances, and it set him up for a title shot against Murat Direkci on 9/24/10 that he won, although I thought that was a bad decision. Good match.
STARDOM 8/30/15 5* GP 2015 Red Stars Block: Kaori Yoneyama vs. Mayu Iwatani 9:10. Iwatani is Stardom's most improved wrestler, & I continue to be more & more impressed by her growth. She delivered her best athletic counter laden opening of the year here. I would really love to see her in a World of Sport oriented match where she'd actually develop this style rather than say "ok, now onto my kicks & flying moves". Yoneyama is what you make her as an opponent, she can do most styles really well, &, for better & sometimes worse, she'll wrestle to the level of her opponent. In this case, that's a very high level, & this was a beautiful high speed style sprint. Yoneyama was featured here to the point I further assumed she was losing (she won), & the match was on the level of her challenge against Io on 1/18/15 except she butchered a couple spots. I don't like this 15 minute time limit format for a tournament, but this was certainly fun stuff within those limited parameters. ***
UFC Fight Night 107 3/18/17: Makwan Amirkhani vs. Arnold Allen 3R. These two were really difficult to maintain an advantage upon. Amirkhani wants to get the takedown & go for a choke, but Allen had one scramble after another in him to escape & get into his own offense, and Amirkhani was no slouch when it came to counters as well. Amirkhani had the early takedown, but could never quite get body control for his guillotine attempt. The mostly traded positions after that, each landing 1 notable shot on their feet, but Amirkhani had 2 takedowns to 1 & was more aggressive in trying to advance & finish on the ground so I can't see Allen landing a couple shots on the ground as a good reason not to give Amirkhani the round. Round 2 also saw an early Amirkhani takedown, & he threatened with a chain of submissions, but Allen took the top defending the armbar. Allen mounted quickly, but Amirkhani regained 1/2 guard & kept him from posturing up, so Allen wasn't able to get many clean shots in, but the 2 minutes Allen forced tense defense from Amirkhani had Amirkhani looking the worse for wear by the time he got back to his feet. Amirkhani's shot was so slow that Allen couldn't resist gambling on a choke, which ultimately allowed Amirkhani to rest on top once he escaped. The problem is Amirkhani needed to do more than rest, & since Allen was able to shut down his attempts to pass & throw up a couple submissions, he evened the fight at a round a piece. Allen looked completely fresh dancing around in the 3rd, while Amirkhani was very flatfooted, a status he never recovered from. Amirkhani's strikes were too slow now & his hands were way too low, so Allen was able to crack him with an overhand left counter. Allen did his best to stay patient & pick Amirkhani apart, but Amirkhani found enough energy to do what he does best. He came up with a faster takedown attempt, and they scrambled for position back & forth for quite a while, standing & taking each other down again. Amirkhani finally established top control, & although he was kind of taking a breather it was rather understandable & deserved after all it took to finally secure control, & I couldn't believe Neil Hall just stood them right back up. For me, this was probably the difference in the fight, as Amirkhani probably wins the 3rd if he's able to lay on Allen for the last 90 seconds, which granted is no guarantee given how many times Allen managed to scramble out of harms way. Instead, Allen defended a tired takedown & landed a couple good knees in the clinch then got a takedown, mounted, & locked a rear naked choke in the final seconds to secure the decision. Ultimately, Allen would have won anyway given the scores were 30-27, 28-29, 30-27, but I want to see the fighters decide their own fate unless it's outright Brock Lesnar/Ben Askren stalling. Good match.
STARDOM 8/23/15, 5* GP 2015 Red Stars Block: Io Shirai vs. Mayu Iwatani 15:00. You can't go wrong when the two best workers in the league are going the distance, and Mayu seems to be growing in confidence & capability by the match, but it was kind of an odd match because they wrestled a 15 minute draw using the script for a 30 minute draw except they had to greatly excellerate the rate of damage/fatigue so their near finishes would be credible from a very early point. They were benefits to the long match script in that they were doing more selling throughout & generally putting more effort into making it dramatic, especially early on. However, 15 minutes is, if anything, actually a little shorter than they'd normally work, so the whole idea of suddenly putting over the toll of the match didn't really hold water. Nonetheless, these two are excellent workers, and it was a different really good match than the expected sprint, which is refreshing, it just feels weird typing while it lasted given the story they tried to tell. The offense was great, with several highlights from both including a Dragon suplex on the floor & triple jump reverse hurricanrana by Mayu, but they were some missed opportunities both in terms of what they could have done but didn't. Their 4/23/15 semifinal had better interplay & counter sequences, whereas here they started off great with a series of lightning athletic counters back & forth, but as the match progressed, it was basically just trading sequences of offense. That would be fine if they were working against weaker opponents, but they can do much better than than that together. As they were doing a match with selling, they could have got something out of a worked back injury for Mayu when she was slammed hard on the ring apron & a legit knee thumping because she landed hard only being partially caught on a plancha. Instead, Mayu popped back up & did a great flurry of kicks to show her knee was fine, and although her kicks were a major weapon and very impressive, that wasn't really the moment for her best flurry. In the end, the match just felt so damn short. That shows how good it was because, albeit a little frustrating, in the end it was almost twice as long as their Cinderella Champions Fiesta match, but since they have so much to offer it felt like it should have gone on for another 10 or 15 minutes because there's so much more they can do. On one hand, it was disappointing that this again wasn't the big blowout main event that they're capable of (I question the sanity of rolling Chelsea out there after this), but their having enough diversity that they don't just do the same things in the same manner every match is what makes them so interesting in the first place. ***3/4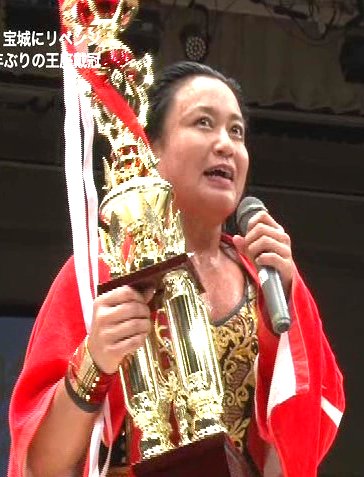 STARDOM 7/26/15, World of Stardom Title Match: Kairi Hojo vs. Meiko Satomura 22:27. They worked together more fluidly in this rematch from last month's draw, pushing a higher pace (since it was a little shorter & someone was winning) & working stiffer with more running & jumping attacks & less flatfooted exchanges. Hojo gave a more confident performance, mainly the difference in impact came from her landing shots that looked more credible against Satomura's bombs, but in general she was more relaxed & willing to trust Satomura to carry her to the best match she could. Satomura kept moving the match forward, forcing Hojo to answer her immediately & constantly. Hojo blew a few spots, but was able to react, & thus at least deviate from her usual setups (even though she still used the same moves) enough that it felt somewhat organic rather than purely rehearsed. Last month's match felt more like a big match in terms of being an epic dramatic battle of the company's top stars, but this match felt more like a great match in terms of building momentum by going all out offensively, upping the ante of big moves because they had to top what they'd previously done to actually get a finish, and also in terms of Satomura challenging Hojo as a performer by forcing her to at least go outside the box to setup her elbows. Basically, Satomura holding back less from her peak skill level forced Hojo to raise her own standard to hang with her. Satomura was not only great here, but great in a way that forced Hojo to swim. ***3/4
GLORY 36: Oberhausen 12/10/16: Michael Duut vs. Danyo Ilunga 4R. Match of the year! Probably the best match in GLORY history! These two don't like each other since Duut told Ilunga to stop whining about the early stoppage in his loss to Tyrone Spong at GLORY 9. This prompted a meeting at GLORY 11 where Dutt lost early because he tore a ligament in his arm in the 1st round. Duut fought in his usual hellbent style, as though he wanted to win this one before his arm gave out again, just throwing bombs the entire fight. This was pretty much the ultimate brawl, as defense was a dirty word here & hitting each other with the bigger, better bomb was the be all & end all. It looked like the fight wouldn't last the first round, certainly that's what Duut always aims for, but man, these guys just wouldn't back down & took helacious punishment. It was almost like a game, like some kind of dare, instead of playing chicken let's play you take my best shot & I'll take yours. Less than a minute in, Duut buckled Ilunga with a right cross then dropped him with a left hook. Duut went for the kill, but Ilunga fired back as though he were fine & had Duut rocked with the right hook within seconds. Ilunga found a nice rhythm, coming in with a punch to set up his powerful step knee. Had it not been for the knockdown, I would have given Ilunga the 1st because he was the more consistent fighter, & generally controlled the final 2 minutes. One of the reasons Ilunga was the steadier fighter is he scored regularly with kicks & knees whereas Duut was mainly just throwing mighty hooks to the head. Ilunga won the 2nd round, so the fight was still up for grabs in the third. These guys didn't need the extra motivation though, & it was just about knocking the other out & refusing to be knocked out yourself anyway. Ilunga started the 3rd coming over the top of Duut's left with a right hand for a knockdown. When Ilunga then buckled Duut with a step knee followed by a short right to the back of the head that Duut's corner was furious was ruled a 2nd knockdown (I think he went down from the knee which then made a legal punch by Ilunga wind up landing to the back of the head), you thought Ilunga surely had this fight in the bag because he's proven time & time again he knows how to win & how to finish. Duut had other plans though, & as Ilunga pressed too aggressively stepping forward with wide hooks looking for the finish, he timed him & caught him with a left hook counter that Danyo tried to walk through but wound up stumbling & falling forward into Duut's thighs. Both fighters had 1 foot in the grave by this point, but as Todd Grishman liked to say "Defense is not an option!" so they kept finding energy from somewhere to continue to bomb away. Power is the last thing to go, and down the stretch of the 3rd Duut had more firepower left as the standup slugger whereas Ilunga was more deteriorated because his power comes more from being quick, explosive, & athletic. You felt this was going to be one of those fights where both guys were going to collapse when the bell rang, and they'd have to be dragged up and/or assisted back to the locker rooms. However, with 2 knockdowns each, there was a good chance they were going to have to come out for a 4th amazing round. I don't know how they did it because even if Ilunga has fought a number of 5 round title fights in his day, each of these rounds was like 2 or 3 "normal" rounds. Shockingly, these guys weren't gushing blood all over, that was about the only thing the fight "lacked" as far as screaming all out battle to the death, but Ilunga's right eye was cut & almost swollen shut from a short right hand. I'd say that was a factor in the final round except Ilunga would have had to have actually tried to defend something for his inability to see to have prevented him from doing so! Ilunga kept coming forward the entire 4th round, but he was slower now, obviously, & Duut had his timing, so Duut was the more consistent fighter, able to land a big hook when he was coming in or when Ilunga had gotten inside & was standing in front of him. Still, it was another close round that could have gone either way until the final seconds when Duut ended this classic in almost the perfect manner, knocking Ilunga down with an overhand right with less than 10 seconds left! Great match.
STARDOM 6/20/15, Wonder Of Stardom Title: Io Shirai vs. Star Fire 14:18. The standard high quality Io match against a vastly inferior opponent, going heavy on her own excellent offense & keeping it simple for the opposition. Shirai did many of her spectacular spots, & Star Fire did her job, taking well & doing enough cool moves to keep it interesting & competitive. It wasn't the most dramatic match since Star Fire isn't on her level & there was no reason for her to win, but it was well executed with a high work rate. The effort was also very good, maybe 85% of what you'd get from a Stardom Korakuen Hall main, but that's much higher than you normally get on the Nico Nico shows, especially since this was a regular length singles match rather than a tag where they might be asked to give a good 3-5 minutes each. ***
Invicta 9 11/1/14: Karolina Kowalkiewicz vs. Mizuki Inoue 3R. This might be the highest skill level striking contest Invicta has ever put on. Certainly it was two of the best female strikers in the world matching each other for 15 minutes. The defense was ahead of the offense, so there weren't many bombs, and in fact, most of the strikes that landed were end of the gloves. Kowalkiewicz supposedly only has a 1" height & reach advantage, but it certainly appeared to be a few inches more. Mizuki is lightning fast though, so what she gives up in size, she makes up for in being so hard to hit. Her problem is Kowalkiewicz can do something that really no one else she's fought in MMA can, which is hit her with the 2nd shot right after she's avoided the 1st, which negates much of Mizuki's best offense (particularly ducking then coming up with a big counter punch). Mizuki always had to close the distance if she wanted to get in range, and though sometimes she'd land coming in with the single or double jab, Kowalkiewicz could hit her with an inside leg kick first virtually anytime she wanted then work on avoiding. Mizuki scored with her own inside leg kicks when Kowalkiewicz was staying on the outside, though that was really the only thing she could reach with at Karolina's preferred distance (where she could still land her punches), and it's hard to defeat a fighter of Kowalkiewicz's diversity with a single shot . Kowalkiewicz was winning the standup fighting because her reach allowed her to be more active and mix her techniques. Mizuki was having a hard time ever getting a combination off, while Kowalkiewicz was regularly throwing combos, even if most of the shots barely connected. Mizuki initiated the clinch game midway through the 2nd, and after they went back & forth failing takedowns, finally got a trip into side mount. Kowalkiewicz stood when Mizuki was taking her back, but Mizuki nearly had a standing rear naked choke & Kowalkiewicz attempt to faceplant her didn't really work out, though possibly it stifled the choke attempt long enough that she survived the round. The pace actually picked up, if anything, in the 3rd because it was a round a piece. Mizuki initiated clinches because she had the advantage on the ground, but that essentially negated her ability use her movement to defend, and Kowalkiewicz doing a great job of not only staying on her feet, but scoring consistently on the inside with knees & uppercuts wound up being the difference in the fight. Kowalkiewicz won a split decision 29-28, 28-29, 29-28. Good match.
UFC 3/11/17
Ray Borg vs. Jussier Formiga 3R. This might not have been the flashiest, most exciting contest, but great defense can be riviting too. Both are highly skilled, super fast technical fighters, and they were so evenly matched they had to keep pushing each other to a higher level in order for anything to really work. They slipped & dodged so many shots, and it seemed like anytime one would connect, the other would do more or less the same thing right back, so the match was incredibly difficult to score. It was truly a match where the slightest little mistake was going to be the difference because literally one good shot or position could sway a round. I don't see Mighty Mouse losing anytime soon, but both of these fighters are better than Wilson Reis or some of his other challengers (I'd hate to see Borg rushed into a title shot way before his time like Kyoji Horiguchi or Henry Cejudo though). Borg has very obviously from the moment he stepped inside the UFC been a tremendous prospect who has impressed at everything but actually making weight, but this was a big step forward for him because it wasn't a fight like pretty much all his other UFC fights other than the Justin Scoggins disaster where he knew he could get it to the ground & once it was there he was going to win. Instead, it was a standup fight because both fighters are much better on the ground, but Borg has improved his standup enough that he believed he could now win in that domain. The first round was almost a toss up, but Formiga likely stole it because he landed the 2 best shots, and they were both at the very end. Borg seemed slightly more in control in the 2nd and landed a coupled good shots, but Formiga's leg kicks were clearly taking their toll, so while I marginally gave Borg the round, Formiga was in better shape going into the third even if the scoring was even. Formiga reversed a takedown against the cage to start the third & literally took Borg down by jumping on his back, but Borg got back to his feet in the scramble. Again Formiga stuffed a takedown & took Borg's back. Borg could, probably should have lost the fight right there as Formiga got the hooks in this time rather than trying to transition to full mount, but Borg somehow managed to defend the rear naked choke long enough to turn into Formiga's guard despite never breaking Formiga's body lock. From Formiga's guard, Borg landed the telling blows of the contest, a series of powerful elbows that busted Jussier open. Borg won a 29-28 unanimous decision. Good match.
Edson Barboza vs. Beneil Dariush R2 3:35. Barboza isn't the best fighter in the Lightweight division, but there may not be anyone in the division who doesn't have to adjust their game to deal with his lethal kicking game. Dariush did a great job of keeping Barboza from being able to set his feet & throw his vicious low kicks, the problem is by the time Dariush changes his whole game to shut down Barboza's brutality, he is out of his own element. Dariush did a brilliant job of pressuring for a round and a half. He kept coming forward, kept attacking, beat Barboza to the shot, but this is a much higher pace than he normally maintains, and more importantly, it's not his pace & is a more dangerous style than he'd choose. Yes, Dariush was often landing when he threw just so Barboza wouldn't get the chance, but he's not a Diaz brother who relies on cardio & volume. Increasingly, trying to keep Barboza from being effective was also reducing his own effectiveness, and when he slowed himself down enough, Barboza was still there waiting to pounce. And few fighters are more dangerous & more capable than Barboza, who is so powerful & explosive. Even though both would rather fight at kicking range than boxing range, round 1 saw both land a number of good shots. The few good kicks mostly came from Dariush, and he was able to get inside because Barboza couldn't use his jab to keep him off. Barboza's legendary takedown defense was in full effect once again, and in a sense that's what killed Dariush. Dariush could get inside at will, but he couldn't get the fight to the ground where at worst he could get some "rest" making Barboza carry his weight, so he had to just keep darting in over and over, and closing the distance is a lot more tiring - and certainly a lot more risky - than simply attempting to set your feet. Barboza was doing a better job of keeping toward the center of the ring & moving more in the 2nd, so Dariush had more distance to close. Barboza was still getting outstruck, but he was beginning to land some brutal body kicks & time Dariush's charges better. Barboza finally caught Dariush coming in with a jab early in the round, but really it wasn't until the finish that he landed a big counter. The thing with Barboza is it only takes 1 shot, and man, this flying knee to the chin when Dariush put out a right straight then dove for a double leg was brutal. Obviously a flying knee is one of the most spectacular ways to finish a fight to begin with, but obviously the perfectly timed out of nowhere finishes such as this are certainly more impressive than the flashy KO when much of the damage has already been done. Very good match.
Maurício "Shogun" Rua vs. Gian Villante R3 0:59. I was excited to see that Rua was fighting Villante because there aren't many guys that are going to stand there without moving their head or really even their feet & just slug it out with Rua. In theory, this is a fight where Villante would just wrestle, but Villante is an entertainer once the bell rings, so Rua's camp of wrestling defense wound up being of little relevance. Needless to say, this wasn't a technical gem, but certainly it was the kind of standup war Shogun & to a lesser extent Villante are beloved for. Shogun was precise & deadly with his strikes here. He mixed it up well when there was reason to & stayed within himself, consistently scoring without taking too many chances. Villante's hands were too low (always exposing his head by recoiling the left hand to his shoulder) & his head was always stationary plus he was rarely faking the jab, so Shogun was able to consistently wait for it to come then get his overhand right counter high enough to connect. I'm not sure if I've seen an MMA fight where someone ate so many overhand rights. Villante is far from the best, smartest, or most athletic fighter, but man he can take a beating & still be competitive. Villante certainly had his moments, hurting Shogun early with an uppercut counter & a big left hook, but he was the much more predictable fighter & less technically sound fighter. Villante's corner was screaming for him to get off first, but he was in a bad situation either way. If he put the jab out, he took a big counter, & Shogun had already dropped him with one of the many overhand rights. If he waited for Shogun to set up, he probably didn't take as powerful a single blow, but then Shogun would throw a 3 strike combination & his accuracy to the body & to the legs was extremely high. Villante was always leading with a single lazy jab, but did a better job in the 2nd of following it & also throwing at about the same time Rua did, so many times neither were really winning the 1st strike & sometimes Villante could get the 2nd strike in and/or finish the exchange with a solid left hook. Rua had moments where he might have been able to finish if he put himself into danger, but there was no need to because he was consistently outdoing Villante. Villante had to press in the 3rd because he was down 2 rounds, and he got caught with a short right hook when he overcommittied to a lunging right hook. Now Shogun went to town on him, mixing body shots & a high kick into a flurry of hooks & uppercuts for the finish. Very good match.
STARDOM 6/14/15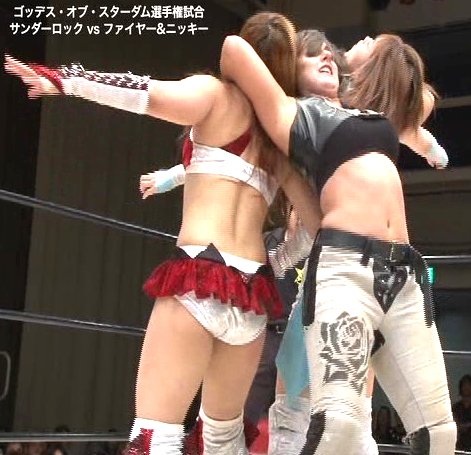 Goddesses of Stardom Title Match: Io Shirai & Mayu Iwatanai vs. Nikki Storm & Star Fire 16:14 of 23:03. Consistently high level action here to be sure, but one of the more oddly structured matches I've seen in STARDOM. It was almost as if they had Shirai unleash her best 10 minutes on Star Fire and Storm unload her best 10 on Iwatani - the bump girls doing just enough to be competitive - with 3 minutes where the other wrestlers interjected themselves to break things up. The clipping added to the feel that the matches weren't totally interconnected, and was surely a shame as none of these wrestlers likely did anything that wasn't spectacular, or in Storm's case brutal. Shirai's match was basically a little more lucha oriented version of her high speed title sprint. It's the highest level I've seen from a Star Fire match, though she was totally along for the ride. Storm was given a more comfortable, in element showcase for her talents here. Her offense looked great anytime she had Iwatani in her grasp, her neckbreakers are really fast & explosive, but apart from her lariat, she struggled the few times she had to set something up with someone on the run. Iwatani helped her out tremendously being a bump girl extraordinaire, and got a good push here picking up the pinfall after taking such a pummeling. I feel like there was a **** match here somewhere, but the way they laid it out & Samurai chopped it up didn't do justice to the quality of the ring work. Nonetheless, it's great to see STARDOM produce a match with foreigners that's at this level, especially after how badly Chelsea is tanking despite their best efforts to get her over. ***1/2
World of Stardom Title Match: Kairi Hojo vs. Meiko Satomura 30:00. STARDOM working with Satomura is a major addition that allows for a whole series of new big matches, keeping everything from just reverting to some version of Io vs. Mayu vs. Kairi. Though Hojo has STARDOM's top title & Satomura is carrying her to one of her best matches, it's nonetheless hard to objectively see why this match is even competitive. I mean, it's mostly a striking match & Satomura has 5 times the impact on her blows, is faster, quicker, crisper, and far more technical & precise. More importantly, Satomura has a whole wide range of techniques & manuevers she can pull out whenever the time/position is right whereas Hojo is totally reliant on Satomura standing in front of her & allowing her to use a ridiculous double chest slap or some variation of an elbow or a spear. I'm going to try to avoid the whole spiel on pro wrestling striking being as dated as the dinosaurs given even the worst amateur MMA & kickboxers figure out not to just stand flatfooted in front of the opponent & wait for them to hit them because Satomura & everyone else are too lazy to learn even the most rudimentary footwork too, but the key point of why Satomura is so far superior is she's 100% effective out of virtually any setup whereas Hojo is only going to revert back to very specific positions to do her same handful of moves. A great example of what Satomura can do in the ring is the spot where she starts out getting whipped into the corner & winds up putting Hojo in an STF. I don't want to rag on Hojo too much because she gives a huge effort in every big match, but it's important to distinguish why Satomura's counters & offensive sequences can be so dynamic & why Hojo's are so linear & predictable. Satomura is miles above Hojo at the start of the match, but Hojo comes on in the 2nd half when she's going through her familiar forms. Hojo is a really good big match wrestler because she takes well & plays an effective underdog, getting the crowd behind her & making things more dramatic. Satomura is so good in this match that Hojo can be somewhat irrelevant. Satomura just keeps the pressure on her with her kicks, armbars to the injured arm, & death valley bombs including a killer one on the stage. STARDOM big matches are remarkable for their lack of downtime, and despite being 30 minutes, this was no exception. Anytime you have Satomura, who has long been one of the top females in the sport, going all out against a more than capable opponent, you are in good shape, and getting a full half hour of this makes it automatically recommendable. They treated this match as pretty much the biggest match in STARDOM history, going back & forth, emptying their arsenals & then some with all sorts of near finishes, mostly Satomura not quite being able to seize the title despite dominating, milking as much drama as they could, except when it came to emphasizing the urgency of time running out. All in all, this was about as good as it could have been given their lack of familiarity unless the lack of a finish annoys you, but STARDOM getting a draw for Hojo rather than having her just immediately lose the title was quite beneficial for her both in the ring & for her overall ranking/name value. ***1/2
UFC 209 3/4/17
Darren Elkins vs. Mirsad Bektic R3 3:19. It's obvious that you can no longer be consistently successful in the UFC by simply being really strong in one area. This isn't the UFC where Chuck Liddell won in standup because you couldn't take him down & Tito Ortiz won with ground & pound because you couldn't stay on your feet. Bektic has an Ortiz level dominant top game, his control is so good & he just punishes you with his hands. When he gets that position, it's usually round over if not fight over. But Elkins is an excellent wrestler too, and literally his only chance was Bektic being willing to grapple with him. Yes, Bektic totally dominated the 1st round by using a few strikes to set up his top control game, but the speed difference in standup was so outlandish that it made no sense for Bektic to do this. I know hindsight is 20/20, but Bektic was a -700 favorite because they start each round on their feet & the difference in his athleticism & standup game is off the charts. If this fight is 15 minutes of striking, Bektic wins 999 out of 1000 times. If the fight is 15 minutes of grappling, Bektic is still the favorite, but he probably wins only 550 out of 1000. Even if you want to boost it to 650 out of 1000, you win fights by making smart decisions that consistently put yourself in the most advantageous positions/situations/scenarios. In round 1, Bektic just bludgeoned Elkins on the ground, trapping him in a crucifix for a while & opening up several cuts around the right eye, including a potential fighter above the eye. In the 2nd round, Elkins was again taken down quickly & easily, but now he was able to wall walk then stuff the takedown out of the clinch, using a guillotine attempt to set up his own takedown. Bektic still won the 2nd, but Elkins was in the fight, at least threatening to counter positions & mount an offense. I would have felt better about Bektic's strategy if he even stuck with using a punch or two to drop down into the takedown, but would disengage right away if Elkins stuffed it because once they got against the cage, Elkins had opportunities to either reverse position or go for a guillotine as Bektic stubbornly clung to takedown attempts. Elkins finally began to scramble on the ground in the 3rd, using a heel hook that was too low to take the top. Bektic got to his knees & began to stand up against the cage, but Elkins kept landing right hands then right knees. Bektic finally stood & began to walk away but he couldn't see Elkins right hand or right high kick because Elkins was behind him, & these finished a fight that Bektic only needed to survive another 1:45 in to win a decision. Just an amazing comeback win! Though it was hard not to think Bektic lost the fight more than Elkins won it, this is the kind of fight Elkins wins. He's not the best athlete, but he's triple tough with a ton of heart. He's not going to overwhelm anyone, he's not going to win quick. He's going to hang in there on guts & determination, and he's going to still be strong in the 3rd round, a round he usually wins, and if he get 1 of the 1st 2 he's good. Good match.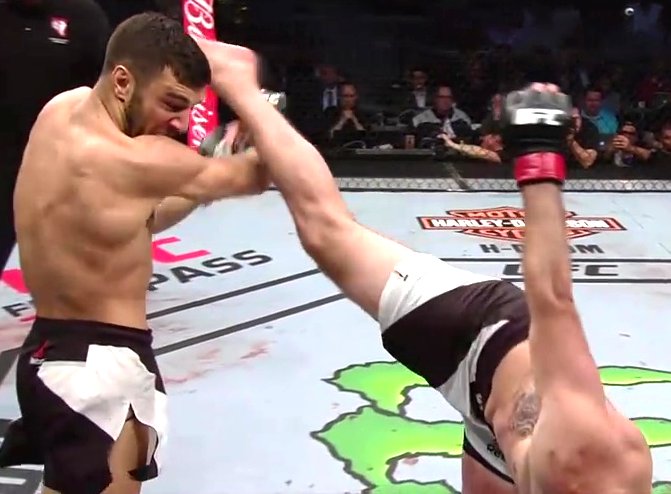 David Teymur vs. Lando Vannata 3R. I want to see fighters going for broke not taking a step forward & watching & waiting, and this was the epitome of the all out effort to finish (even if it was ultimately a decision). Two great strikers who threw everything they could think of at each other for 3 rounds. Brutal wars such as this may not make for the longest careers, but lesser fighters would just go down quickly to this level of skill, technique, power, & persistence. Vannata is one of the most exciting fighters around, he's just so explosive & so wild & crazy in the best possible creative way, similar to his training partner Cub Swanson. Who else is hurting their opponents in the 1st round with a cartwheel kick? Vannata made this a brawl because Teymur is the more technical striker, and he wasn't afraid to get hit to land. The problem with Vannata is he throws so many explosive, high level kicks that his movement declines fronm peak level very quickly. Vannata was winning for most of the 1st round, but just slowing that little bit allowed Teymur to land at a much higher rate, and Teymur somehow stole the round by wobbling Vannata late even though Vannata had landed the big shots throughout & had Teymur in a bit of trouble midway through. We knew Teymur had the skill, but perhaps the most impressive aspect of his performance, and this was a match of the year caliber fight, was just his heart & will to push through. Vannata is such a tough opponent because he's so inventive. I mean, where else will you find a fighter who can eat a high kick & come back with his own spinning high kick as he did to Teymur here? Vannata is so far outside the box because it's not just that he has flashy spinning moves, but that he disguises them so well it's hard to do anything about them. But Teymur hung tough through the early push & a bad cut outside the left eye, & began to beat him on technique, cardio, & general consistency. Vannata is the type of fighter who is very willing to get hit, he's just going to say bring it. It took Teymur landing a big, clean superman punch to get him to acknowledge Teymur had finally done something, but Teymur was going to need to keep landing those kind of shots to hold Vannata off because Vannata was coming & coming no matter what, throwing his most strikes in the 3rd round despite the fatigue & all the punishment he'd absorbed. Teymur had good success using the knee to the body to not only take some of Vannata's wind, but also set up a follow up knee to the head. I had it even going into the 3rd, but Teymur was able to slow the perpetually forward moving Vannata's offense down in the 3rd by mixing takedowns in & continuing with the knees to the body. Teymur won a unanimous 30-27 decision. Excellent match.
STARDOM 1/18/15, NEO High Speed Title Match: Io Shirai vs. Kaori Yoneyama 6:28 of 7:11. Yoneyama lacks the offense of Io, but she can work as fast, and that's really what makes this contest stand out. You get all Io's flashy spots, but chain everything together so well, one spot leading to the next as they countering each other back & forth. Io's style isn't about realism obviously, but this is flowing super well within the context, and fluidity is the difference in a fast paced, high flying match like this, and in Io's work in general. There's none of the usual, you do your spots & I do mine, no one waiting for the other to jump on them, it's all very proactive, with the initial move almost always being countered, and then sometimes the counter is countered as well. They do a particularly good job of building sequences out of Yoneyama's Yone-Zou. Start to finish, this is early 90's level joshi ring work. The only downside is it's sooo short, but I'd much rather they figured out how to make their best stuff work as they did here than lay around on the mat grabbing a leg for 5 minutes then decided it was time to get up & do a totally unrelated match as they so often did in the heyday of joshi. ***1/4
STARDOM 2/22/15, NEO High Speed Title Match: Io Shirai vs. Koguma 16:03. Though nowhere near the evolved level Io was able to attain against former JWP ace Yoneyama last month, this was more of a one woman show that showed how good Io is & how much potential Koguma has. It's a rather "basic" match in construct as you'd expect given Koguma's experience level, but Koguma is someone you can get behind because despite her pint size stature, she fights big & never backs down. They pretty much just threw their best stuff out, though Koguma's offense was toned down over her usual spectacular because that's what she has flying style, probably so she'd be a little more consistent. With Koguma being little more than a rookie taking on the best high flyer in joshi in her own style, it had no real right to even be competitive, much less work as a shocking title change, but Koguma's heart & spunk make it tough to not be happy when good things happen to her. What she lacks in experience & even actual skill, she was able to make up for against a great opponent mainly just by trying so hard & wanting it that bad. She's not nearly as gifted, but she's as close as this generation has to a Momoe Nakanishi type of little athletic girl who overcomes the odds through willpower & skill. Io should be above this title anyway, so this helped cement a new star (who unfortunately once again didn't last long enough to become an old star) while freeing Io up for a run with the more prestigious Wonder of Stardom title. ***
STARDOM 3/8/15, Io Shirai & Koguma vs. Kairi Hojo & Mayu Iwatanai 18:13. With Nanae Takahashi about to leave the promotion, it's pretty clear that these are STARDOM's 4 best workers. It's tragic that Koguma didn't last much longer, as although she's clearly the worst of these four right now, she's also teenager who is about 65 matches into her career whereas the others have more than twice the experience and are more toward their primes. This is a really good Koguma match, fast-paced, all action, highly athletic stuff. This isn't good because of Io's offense, although what she adds is certainly nice. Io mostly takes, letting Iwatani & Koguma shine with their high flying. Shirai obviously facilitates a lot of good work in this Toyota style action match, but Iwatani is the showcase performer, giving the best overall performance. A more one-dimensional match with far less drama than the Korakuen main events, but a good example of the level they can work at when given the proper setting and amount of time. ***1/4
STARDOM 3/29/15, World of Stardom Champion Decision Tournament Final: Kairi Hojo vs. Io Shirai 18:46. The right two performers made it to the final to crown the new champion to replace the rightfully banished Yoshiko, and they quickly exceeded the level of their preliminary matches. Io began teasing a sprint, but Hojo hid under the ring to avoid her dive, which ultimately didn't work out for her as she quickly reinjured her right arm on the ring post when Io avoided her charge. Io did a great job of carrying the match, knowing when to go back & forth between her usual awesome athletic spots & the arm work, and giving Hojo enough comebacks to stay in the match despite being compromised by an injury that effects most of her best offense. Hojo kept avoiding moonsaults & coming back with elbows until she was finally able to steal the match after hitting 2 diving elbow drops. While the finishing segment felt a little lacking, they worked at a really high level throughout. There wre no dull moments, but it was never awkwardly showy, as they found the right times to hit or counter the moves. ***1/2
STARDOM 4/23/15, CINDERELLA TOURNAMENT 2015 Semifinal: Mayu Iwatani vs. Io Shirai 8:21. All the matches in the tournament were short (under 10:00), but Shirai delivered a great High Speed Title style sprint here. Iwatani doesn't have the best offense, but you don't need to against Io, who has offense for days. Iwatani is a great athlete, and her speed & body control are really on display here, allowing Shirai to reach her highest level of interplay. Io is at her best against an opponent such as Iwatani who can match her fast transitions & counters. These two have great chemistry, and the action is faster than CMLL on fast forward (and actually watchable). They still found time to sell here & there, but generally the only things that slowed them down was an early double injury spot where their swinging kicks clashed. As good as the match was given the time they had, the finish was bad as Iwatani countered the Spanish fly by jumping to the floor to invoke the silly over the top rope rule that helped keep the tournament matches so short. Given that Iwatani jumped 1st & pulled Io down with her, she likely hit the ground 1st also (they purposely picked a distant angle where the backs of the audience block the view of the floor), but since Iwatani was supposed to win the tournament the referee ruled that Io touched 1st. ***
STARDOM 5/17/15
Wonder of Stardom Title Decision Match: Io Shirai vs. Nikki Storm 14:37 of 18:37. Stardom has imported a number of sketchy foreigners, but Storm is the UK ace, & she delivered. What makes Io the best is the interplay she's able to get out of her opponents, how she doesn't force her style on them but works the most fluid, back & forth version of both wrestlers styles. This wasn't that typical Io match though, as these two aren't familiar with one another, so they dumbed it down to just trading segments of each other's offense. Storm dominated because she was losing, hitting Io with her vast arsenal of neckbreakers. She's not the most athletic wrestler, but she got the brutal aspect of her arsenal over well. The match worked well enough because of their individual talent, but they could probably add close to a * to this if they had the opportunity to become more familiar with each other. ***1/4
World of Stardom Title Match: Kairi Hojo vs. Mayu Iwatani 19:02. Their familiarity with one another was the key reason this surpassed the previous Shirai/Storm title match. The difference in comfort with one another was so readily apparent from the outset when they crafted a great opening where they matched each other move for move, blow for blow, & counter for counter. They eased into the body of the match, which followed the basic storyline of the 3/29/15 Hojo/Shirai match with Iwatani working over Hojo's injured elbow. Unfortunately, this didn't prompt Hojo to deviate from her signature elbow offense that's actually the weakest part of her game, being not overly convincing and/or dated, but at least Hojo always does an excellent job of playing the underdog in big matches she's actually favored in. Iwatani is better at varying from the standard script, & gave a strong performance here carrying the match offensively with a good mix of themed, signature, & "improvisory" moves. She's such a good athlete that one feels she's only scratched the surface of her potential whereas Hojo is more really good in the programmed manner of Kazuchika Okada. ***1/2
GLORY 38: Chicago 2/24/17
Murthel Groenhart vs. Thongchai Sitsongpeenong R3 1:45. Groenhart is one of the only fighters who can still get away with fighting angry. It's perhaps because he's not always 100% focused & motivated, so sometimes he needs his opponent to light the fire in him rather than it just coming from within. Thongchai was arguably fighting dirty, but I'll give him the benefit of the doubt & say that after 167 fights under muay thai rules, Thongchai just isn't totally comfortable with the differences in the rules, & tends to revert to habit & muscle memory. Thongchai relies heavily on knees, and he's also probably not used to fighting 6'1" opponents, so his knees that would normally be to the midsections were landing low. Groenhart would fire up & throw caution to the wind to go for the kill after these low blows, which made for some great action. Thongchai was winning the 1st round, scoring with a kick (usually) coming in than holding (longer than legal) and working a knee to the body. Groenhart got his boxing rolling after the 1st groin shot that he stole the round, & had Thongchai wobbly & in trouble just with this last 20 second flurry. Groenhart loves to knee too, but this proved, if it wasn't already obvious, that he needed to rely on his hands here because boxing is generally the least focused upon aspect of muay thai. Thongchai seemed to recover well, but he low blowed Murthel again almost immediately. Groenhart fighting emotional combined with referee Paul Nichols good job of warning & taking a point from Thongchai for holding seemed to get the best of Thongchai & he fought too emotionally, abandoning his outside kick game that was working & constantly trying to work the clinch game that was causing all the problems. Still, Thongchai was the more consistent fighter in the 2nd round, and even if it wasn't the consistency that probably gave him the best chance of winning the fight, he did take the 2nd round (though the point deduction made it a 9-9 round). Groenhart did a better job of timing Thongchai's attacks in the 3rd, hitting him with straight punches when he was coming in. Once Groenhart got on a roll with his boxing, he just began overwhelming Thongchai with flurries on the inside. Thongchai managed to get up from his right uppercut & left hooks the first time, but Groenhart then finished him with the second series. This was far from a technical performance, but Groenhart is such a powerful & explosive fighter that most guys can't stand up to his brawling when he's on his game. Good match.
Light Heavyweight Contender Tournament Semifinal: Ariel Machado vs. Danyo Ilunga 3R unanimous decision. Ilunga, a former 95MAX champ, is one of my favorite fighters from the It's Showtime era, a far more consistent period for match quality than we're seeing now in GLORY despite their far deeper coffers & greater reach. I'm somewhat at a loss as to why he's on a five fight skid, as even if he's lost some speed & explosion from his days mid 20's peak as the #1 ranked fighter in the division, he's still a very high quality fighter, & although he's obviously fought high level competition including current champion Artem Vakhitov, 2 of his losses (Mourad Bouzidi & a classic against Michael Duut) were to fighters he beat 2 years earlier when he was on a 17-1 run (losing only to the mighty Tyrone Spong). Ilunga came out looking to press the action, but Machado's lateral movement was ruling the day, as he landed the low kick & was gone before Ilunga could counter, refusing to be trapped against the ropes where Ilunga could use his big knees. Ilunga began to press a bit, throwing wide punches that Machado countered with straights. Machado got a big gash on the top of his forehead, but it was from a collision of heads. The 2nd round was much more competitive as Machado slowed down, & thus the pressuring Ilunga forced him into one of his typical fire fights. Now that Machado wasn't moving laterally nearly as much, Ilunga was able to block many of his low kicks & come back with knees. Machado still landed the most damaging shots in the round, including a big overhand right down the stretch, but this was good action & much more competitive. Ilunga needed to go all out for the finish in the 3rd, but it was Machado who steadied himself in the final round, landing more consistently with his hands against an opponent who wasn't urgent enough. A questionable knockdown where Machado landed a good left hook then 2 more punches were thrown & Ilunga appeared to take a bad step trying to disengage & then fell sealed the deal for Machado. Machado won a unanimous decision 30-26, 30-26, 30-27. Good match.
BACK TO QUEBRADA REVIEWS


* Puroresu, MMA, & Kickboxing Reviews Copyright 2017 Quebrada *