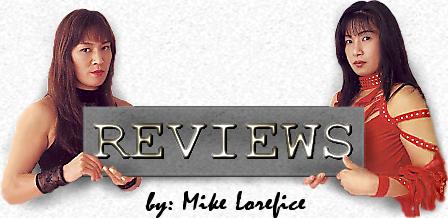 Best of Bellator Fighting Championships Season 9
9/7/13-11/22/13
Bellator 98 9/7/13, Bellator Middleweight Title Match: Alexander Shlemenko vs. Brett Cooper 5R. I'm not sure what changed, but this fight was so much more intense than the rest of the show. I mean, obviously it was a much better, higher level action - it was probably the best Bellator fight beyond Eddie Alvarez vs. Michael Chandler 11/19/11 - but the production seemed to have greatly improved, so you could really hear the blows. I'm sure it was just that these guys were connecting so solidly, but the whole experience just seemed so much richer. I know Shlemenko might be just short of KO power at 185, but there was some really jarring shots, to the point I was wanting to bob and duck them myself. It was just a hell of a grueling standup war. A match like this shows that the lack of KO power tends to actually make for better fights because both guys have to really work and be creative in nailing their opponents repeatedly with one solid combo after another. They have to be prepared to dig even deeper, and boy did they do that here. Both men seemed physically beat and exhausted on so many occasions, but then they'd find the thirty fifth wind and get more aggressive. Shlemenko may not be Cung Le, but he has a lot more stamina, and I'd definitely rate him as one of the most entertaining strikers with his wild spinning backfists and strong knees and body kicks. Cooper's strength is his wrestling, which is the exact opposite of Shlemenko's original opponent, tournament winner Doug Marshall who got injured a few weeks ago, but Shlemenko worked hard on his takedown defense at the end of camp so runner up Cooper was forced to engage. Cooper was happy with things went when he used to spar with Shlemenko, and his confidence in his standup game grew quickly, as while his takedowns were repeatedly stuffed, he hurt Shlemenko 3 ½ minutes in with a left hook counter. Cooper was able to hurt Shlemenko badly from time to time, but he doesn't have a complete or really an attacking standup game so he had trouble following up. Cooper usually needed to counter or brawl to really land a good punch, and Shlemenko is a hard opponent to create chaos with because he's already so unpredictable and unorthodox, but Cooper's other problem is he gave Shlemenko too much credit and bought into his "that all you got?" posturing. Shlemenko was badly cut over the right eye early in round 2, but Cooper's striking got him a flash takedown. Shlemenko didn't want to risk going down 2 rounds, so he upped the pace late in the 2nd, landing some powerful single punches to the body and head. He hurt Cooper with a high kick, even though it was partially blocked, and the subsequent punches. Cooper was momentarily down to a knee and Shlemenko was trying to take him out with big rights. I was just thinking Shlemenko might not be able to finish because there's only 35 seconds left when Cooper dropped him out of nowhere countering a left uppercut with an overhand right! Shlemenko was wobbling around when he got up, but he got on his bicycle and Cooper backed off. Shlemenko recovered in between rounds and went back to walking Cooper down, just grinding away with body punches and knees. Shlemenko finally got a round with a solid third, but it was going to be hard to keep this up without leaving himself open for another big counter. The champ was up for the task though, and continued backing Cooper to start the 4th, dropping him with a left hook 15 seconds in. Cooper was up quick, but his legs weren't with him, and he was getting battered. What saved him is Shlemenko seemed to punch himself out really quickly. Cooper had a few moments later in the round, but the tide had turned in Shlemenko's favor, and it was Cooper who was pressing in the 5th to try to steal the title. Shlemenko still did a better job of finding Cooper's chin from the outside then getting in and working the body though. Overall, he just had too much diversity and desire for Cooper, coming forward and landing so many good shots in the last three rounds to take the fight back after dropping the first two. Shlemenko won a unanimous 48-47 decision. Excellent match.
Bellator 103 10/11/13 Mulvane, KS: David Rickels vs. J.J. Ambrose R3 2:37. The Caveman was just clubbing Ambrose all night, and since it was in his home state, Fred, Wilma, Pebbles, Barney & Bamm-Bamm were all going nuts for him. Rickels really bullied Ambrose, keeping a high pace by walking him down the whole fight and then working him over from the clinch when Ambrose ran out of room. Ambrose was trying to back and counter, but rarely pulled the trigger when he had the chance. His main strategy was to take Rickels down, but Rickels was so aggressive, Ambrose rarely had space for a conventional shot, and wound up finding himself in the pattern of dropping for the leg(s) after getting rocked. Ambrose had some success getting Rickels down here, but, for instance, Rickels drilling him with a push kick and right hand then dropping him with a clinch knee is advantage Rickels even if Ambrose did hit the takedown upon going down. Rickels pretty much tied Ambrose up on the ground, so J.J. Couldn't get much offense going there. Rickels came close to locking a triangle from his back, and had a rear naked choke attempt from his own ground control, but Ambrose made a nice move turning to take the top when Rickels tried to abandon the submission in favor of full mount. Rickels continued overwhelming Ambrose with his pace, power, and aggression, but Ambrose was a very game opponent with an impressive chin. Rickels bucked him with a knee, but again Ambrose managed a takedown on his way down. Rickels dropped Ambrose with a liver kick and tried to finish him with a flurry on the ground, but Ambrose got a double leg when Rickels was setting up a guard pass punch. The finish was unlike any I can recall as Rickels dropped down to stop a takedown and was leaning over Ambrose's back punching the ribs. As Ambrose continued to drive forward to take the top, Rickels hooked an inverted triangle, essentially trapping Ambrose's head between his legs. Rickels rib shots wouldn't have been enough to stop the fight, but as Ambrose couldn't move or do anything to defend them, McCarthy eventually had to call it. Good match.
BACK TO QUEBRADA REVIEWS


* MMA Review Copyright 2012 Quebrada *