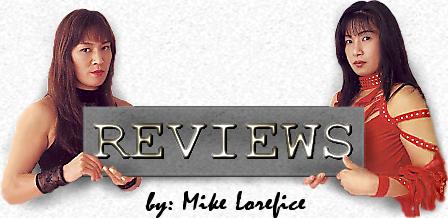 Best of Bellator Fighting Championships Season 4
3/5/11-5/21/11
Bellator 35 3/5/11:
Dan Hornbuckle vs. Brent Weedman 3R. A really close fight where Hornbuckle was the more active and aggressive, leading most of the way only to have Weedman make a big push late in the 1st and 2nd rounds to arguably steal them. Hornbuckle was the better standup fighter, cutting Weedman on the left eyelid in the first round and out kicking him in the third. This was more of a submission match though, with some nice reversals and counters on the mat. Hornbuckle took Weedman down and mounted in the first, which to me was worth much more than Weedman spending much of the round on top but in Hornbuckle's guard, not making any attempt to pass or go for a submission and not landing a single good punch as Hornbuckle tied his wrists up and worked for a triangle. Weedman had a sweet judo throw late in the round and went for an armbar, but Hornbuckle took the top as the round ended. As Weedman's late surge was the defining moment of round 1, I think scoring it even would be fair, but I'd go with Hornbuckle if I were forced to make a pick because he badly outworked Weedman in this round. Hornbuckle had a rear naked choke attempt in round 2, but Weedman reversed, defended another triangle, and had a lengthy heel hold. They exchanged submission attempts, but Weedman mounted late and went for a rear naked choke in the final seconds after Hornbuckle gave his back, so I'd give this round to Weedman. Round 3 was the only clear cut round. Hornbuckle was better in standup, and controlled on the ground after Weedman dropped into a Kimura but couldn't roll Hornbuckle. Hornbuckle had a rear naked choke attempt, while Weedman did nothing of note and couldn't bail himself out with any last minute heroics. Weedman won a unanimous 29-28 decision. Good match.
Waachiim Spiritwolf vs. Jaime Jara 3R. A great display of guts and determination. Neither will be confused with the better fighters when it comes to skill, but they lack nothing when it comes to heart. They delivered one of the bloodiest cage matches since mid 80's AWA. It was also incredibly difficult to score. Jara knocked Spiritwolf down with a left hand early in the first and spent the rest of the first half working for a rear naked choke, but even this round was debatable. Just when Spiritwolf looked out of gas, having given up trying to stand out of the choke, he suddenly got free, scored a double leg, and spent the second half of the first round bludgeoning Jara with elbows that sliced him up. Spiritwolf did his best work in ground and pound, but didn't make much effort to take Jara down after this desperation match saver. This round was by far the best and most dramatic, as their main problem is they aren't very good in standup, and that's where the 2nd and 3rd rounds were primarily contested. Jara has no footwork, just standing in front of the opponent and edging forward with the right leg, dragging the left leg, and throwing a no snap jab. Jara was capable of landing a power punch, but couldn't close the distance unless Spiritwolf allowed him to. Spiritwolf lacked a jab and any technique, but had lots of power, winging power punches throughout the fight. Jara landed a nice shot here and there, but generally it was Spiritwolf who landed the cleaner and more substantial shots. Spiritwolf won a split decision. Good match.
Bellator 36 3/12/11: Patricky Friere vs. Rob McCullough R3 3:11. McCullough's dramatic slide to the bottom continues, although this time it had more to do with the good quality of the opposition rather than the reduced quality of his performance. The Friere brothers are aces on the mat, but Patricky's standup is no joke. He doesn't have a great left jab, but his left hook is formidable. He's a good counter puncher, and he'd step in and land a punch when McCullough wanted to throw his kicks. Friere totally dominated the first round, quickly dropping McCullough with a left hook then mounting and looking for an arm triangle. McCullough gave his back, allowing Friere to spend most of the round working for a rear naked choke, busting both of McCullough's nostrils up with short punches to the face in the meantime. McCullough was able to turn out, but was nearly triangled before taking control in the final minute. I thought it was telling that McCullough didn't back away and force standup, instead standing over Freire and trying to kick his thighs. McCullough may have saved himself a 10-8 round, but as he was mainly missing and stalling I wasn't too impressed. McCullough came on in the second round though, as Freire got hesitant. McCullough was only landing some low kicks, but Freire wasn't checking them so they began to add up by the third, a round in which Freire was noticably slower. Freire had a takedown in the final minute of the second that could have won him a fairly even round, but after giving his back, McCullough was able to roll and turn to top position where he flurried punches for the final 10 seconds to perhaps steal the round back. McCullough seemed to have the timing of Freire's counter punches down, and grew more confident in standup, adding punches to his arsenal and throwing more combinations. Just as the announcers were beginning to think McCullough could win the fight 2 rounds to 1, Freire changed things up, stepping in to counter a left inside leg kick with an overhand right for the KO. Good match.
Bellator 37 3/19/11: Daniel Straus vs. Nazareno Malegarie 3R. Super close, consistently even match with both fighters being as active and aggressive as possible. It was quite diverse, going back and forth through one opportunistic counter after another. They managed to keep the same fast pace throughout 15 minutes despite the all the energy they expended striking and through countless takedown attempts. Malegarie won the first round scoring an early reverse bodylock takedown into rear mount. Straus was able to defend the rear naked choke, but Malegarie transitioned to an arm in guillotine. The submission never had a chance because Malegarie didn't control the body, but he was able to boost Straus off him and stand, only to be immediately slammed. Straus started to come on early in the second, scoring a knockdown with a left hook. Malegarie recovered immediately though, and tried for a leg lock, Kimura, and finally guillotine before Straus popped his head out and took the top. Straus threw the flashier strikes, but Malegarie was having success with the inside leg kick, wobbling Straus with one when Straus saw it coming and shot. He also put Straus down to a knee when his low kick landed as Straus was connecting with a left straight. These were knocked off his feet rather than knocked down, so even though Malegarie outworked Straus and was certainly a lot more creative, it's hard to argue against giving Straus the round for the legitimate flash knockdown. The third round was basically a toss up. Both men landed a few good strikes and were able to take the opponent down but not keep him there. Malegarie's takedown was early in the round, while Straus had two momentary takedowns in the final 70 seconds, so that was probably the difference. Straus won a unanimous 29-28 decision. Very good match.
Bellator 38 3/26/11: D.J. Linderman vs. Raphael Davis R3 2:44. Tournament favorite Davis believed he had the advantage in standup, and certainly on the mat where his All American wrestling and Abu Dhabi submissions skills should have dominated the fight. However, Davis really had no clue how to fight a southpaw, constantly slipping right into Linderman's power punches. Anytime Linderman had distance, he battered Davis with one left hand after another. It made for an entertaining fight, but you almost felt sorry for Davis for being so unable to make a simple adjustment. Even so, both did good damage throughout and had their chances to finish. Davis faired best in round 1, where he was able to keep the standup fighting on the inside, scoring with his dirty boxing and burying knees from the plum clinch. Davis was winning the round, but Linderman stunned him with a left hook in the final 30 seconds. Linderman followed with some tough uppercuts, then tried to finish with a guillotine, but Davis popped his head out just before the bell. Linderman started the 2nd round where he left off in the first, regularly landing solid left hands. His success was only interrupted his takedowns, which either gave Davis a break or the advantage. Linderman gambled on a rear naked choke out of a scramble, but got mounted because he had no body control, and ultimately wound up defending Davis' rear naked choke. Linderman rolled Davis into a Kimura in the final seconds, thinking he had the submission when the ref broke them up. After Davis was stunned for several minutes due to a low blow, Linderman knocked him halfway across the ring with a left straight. Davis tried to wrestle to avoid taking more punches, but Linderman fended it off and insisted on keeping his distance, where he was finally able to finish Davis off. Good match.
Bellator 49 9/10/11 Welterweight Tournament Quarterfinal: Chris Lozano vs. Brent Weedman 3R. An extremely close aggressive, urgent fight that boasted three distinctly different rounds. What was so impressive about this fight is you kept thinking it had to slow down, but no matter how exhausted both men looked, they kept going as hard and fast as they could. Lozano came out throwing, but Weedman floored him with a right straight and took him down. Round 1 was mostly about the takedown as Lozano had a nice judo hip roll, but was looking fatigued within 2 minutes and Weedman was able to answer with a backdrop style takedown and control through a body triangle for the duration. Lozano did a nice job of not allowing Weedman to flatten him out, so he took a number of punches, but had no trouble surviving the round. Round 2 was by far the best, a pretty wild boxing slugfest where every time you thought someone would back off or slow it down they stepped in swinging. Lozano landed a number of heavy close range punches and it was quickly apparent he had more on his strikes, which made it all the more surprising that Weedman didn't do a better job of utilizing his kicks. Weedman did cut Lozano, and landed a number of good blows in his own right, but it was clearly Lozano's round, meaning the fight was up for grabs going into the third. Weedman tried to go back to his first round success on the ground in the third, but Lozano refused to allow him to seize control and wound up taking the top. Lozano couldn't quite get his leg free to mount, and Weedman rolled to his knees, slipped out, and had Lozano's waist. This time it was Weedman who couldn't take full control though, and the match ended without either being able to really go on the offensive in the final round. Lozano spent more time in a more dominant position, so the judges gave him the 3rd round, making it a unanimous decision in his favor. Very good match.
Belator 54 10/15/11 Middleweight Tournament Semifinal: Alexander Shlemenko vs. Brian Rogers R2 2:30. Shlemenko loves wide open slugfests, and being a lefty it's that's much easier for those to occur because he's normally facing righty's such as Rogers. It was power against power, and these two never slowed or held anything back. It was one of those riveting matches where you felt a KO could occur at any time, but it wasn't merely a slugfest, the striking was aggressive but technical and thoughtful. Shlemenko was better from the outside where he had room to try his spinning strikes, but Rogers said he knew Shlemenko's tell and was only caught with the far less common spinning back kick in round 1. In round 2, Rogers even ducked a spinning backfist and went right into a double leg takedown. Rogers had the advantage on the inside as he landed powerful knees and body hooks, but Shlemenko picked up on this later on and would give the body punch in order to Thai clinch Rogers while he had his head down. Round 1 was pretty even. Shlemenko hurt Rogers early with a left straight that had Rogers repeatedly blinking his right eye. Rogers came back momentarily dropping Shlemenko midway through the round when his right cross connected while Shlemenko was trying a left middle kick. Rogers had a nice hip toss, but Shlemenko's ground defense has improved considerably, and he was able to get back to his feet within 30 seconds both times Rogers had him down. Rogers caught Shlemenko with a nice superman punch and another good right late, but Shlemenko fired back. Shlemenko was more diverse and dynamic, but Rogers had better timing, and I'd give him the first round. It was even faster and more furious in the second. Rogers had the early takedown, but Shlemenko hurt him badly following a spinning backfist with a left straight. Rogers came back with a few body punches, but Shlemenko landed a clinch knee. Rogers was rocked, but survived through the cheapness of being allowed to touch his hand to the mat so Shlemenko wasn't able to knee him any more. Rogers seemed to recover as Shlemenko seemed a bit winded and unsure of how to take his opponent out. Rogers went back to the body, but again was clinched before he could back out from his body punches, and this time Shlemenko was able to take him out with knees. Very good match.
Belator 58 11/19/11:
Jessica Aguilar vs. Lisa Ellis 3R. Sometimes it takes a little while for a fight to find it's groove. This one started out pretty hopelessly with no countering at all, and in fact both fighters would simply back out to disengage as soon as the other one threatened to throw a punch. It got going in the final minute of the first round, and was pretty intense from there with great countering from Aguilar. Ellis damaged Aguilar's eye enough that they checked it out in between rounds, and her nose began bleeding noticably early in the second, but it was a big left hook near the end that won the round for Aguilar despite Ellis' increased urgency in the final 30 seconds. Aguilar found her stride in round 2, suddenly timing Ellis and countering everything she threw at her. Ellis left every jab out too long, and Aguilar would come over the top with the overhand right. Aguilar countered Ellis' kicks as well, particularly catching one and landing a right straight. Ellis tried a jumping knee, but slipped after missing and Aguilar began to rain punches down before going for an anaconda choke. Ellis stood, but that allowed Aguilar to pump knees from the front facelock position before tripping Ellis up. This was by far the best round of the right, and also the most convincing round for Aguilar. The big problem for Ellis is that even though she was very active, she was mainly connecting with jabs, and not only doesn't she she possess a particularly powerful jab, but she'd usually eat a power punch in return for her trouble. Ellis stunned Aguilar with a push kick to the face then flurried with punches late in round 3, but knowing she was down, went for a desperation Kimura without any body control and the fight finished with Aguilar once again dropping guard pass punches. Aguilar wound up winning every round, but only the second was decisive. Good match.
Bellator Lightweight Championship Match: Eddie Alvarez vs. Michael Chandler R4 3:06. It's not often that you see a match you could realistically claim is about as good an MMA match as you've seen. It's ever rarer when that match was very nearly over in 10 seconds, but wound up with the guy that almost earned the initial stoppage having to suck it up and make a big comeback win in the later stages. It was a match of remarkable comebacks though, as most fighters would have lost at least a few times before this one was over. The first round was simply outstanding. Chandler surprised Alvarez by putting massive pressure on at the outset, just blitzing him with power shots. Alvarez tried to run away, but Chandler refused to disengage, pursuing quicker than Alvarez could retreat. He knocked Eddie off balance with a right then rocked him with a wicked flurry against the cage, just going back and forth with a left then a right. Alvarez came back with a good right just before Troy Waugh stopped the fight then got off the cage. Chandler had a flash takedown, but no one could keep up that ridiculous pace for long, so once he settled down Alvarez was able to get his bearings and have a more traditional boxing match. And Alvarez may be the best offensive boxer in the sport because he can lead with either hand, will work the body, and has all the kicks and knees so you can't simply sit back and defend his punching. Alvarez kept sneaking the right straight in because Chandler expected him to lead with the left jab, but it wasn't until Chandler finally adjusted in the 2nd round that Alvarez switched to the conventional left lead. Alvarez also used a right low kick to set up a right kick feint left knee that stunned Chandler. Alvarez actually controlled the majority of the first round, and seemed to have taken over the fight, but in the final 15 seconds of round 1 Chandler landed a good right straight then knocked Alvarez down with a right straight just before the bell so I went back to giving him a 10-8 round. Alvarez likely won a close second round, progressively taking the center of the cage and keeping a better when being the aggressor Chandler on the defensive with his feints and diverse striking attack. Chandler was still landing some good straights, but was looking tired 2 minutes into the third when he sustained some sort of injury. Jimmy Smith thought Alvarez's body punch stunned him, but it looked like Chandler twisted his ankle retreating from his own right middle kick. In any case, Alvarez smelled blood and put a big flurry of punches on Chandler against the cage. Chandler failed on a takedown, but was able to clinch for a little while well he at least recovered enough to throw a sporadic power shot and try another takedown. Alvarez pushed for the finish in the final stages of round 3, but couldn't go all out and throw caution to the wind because Chandler was doing enough to maintain Alvarez's respect. Still, you'd have to think this was a 10-8 round for Alvarez to put him in the lead. I didn't figure scoring would matter though, as I fully expected Chandler to be a sitting duck in the 4th.. Chandler recovered nicely in between rounds though, and while he wasn't overly aggressive at the outset, he got himself back into the fight by connecting more and more frequently with his jabs. Alvarez scrambled away from his takedown attempt, but Chandler turned the fight by hurting him with a right hand as Eddie was backing away. The blow energized Chandler, and he was soon able to hurt Alvarez again with a big right hook. Alvarez ducked for a desperation shot, but Chandler saw it coming and plowed him over, taking the top. Alvarez is the master of recovering from getting rocked on his feet, but on the ground he wasn't able to do anything. Chandler crawled right into mount, and Alvarez panicked, giving his back and getting choked out within seconds. I didn't give Chandler much chance going in, and figured Alvarez would win all along once he settled in during the first. I would have never have guessed Chandler would win it early in the 4th, especially after the way the third ended, but this was one of those fights where anything could, and often did, happen. Just fantastic stuff. Great match.
BACK TO QUEBRADA REVIEWS


* MMA Review Copyright 2011 Quebrada *