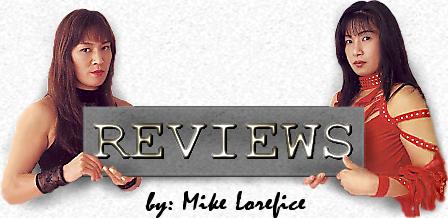 Affliction Banned 7/19/08 Anaheim, CA Honda Center
Mike Pyle vs. J.J. Ambrose R1 2:51. Pyle immediately mounted off his leg trip takedown. He could have won with an arm choke, but couldn't get enough leverage staying in the mount. Ambrose gave his back though, and a calm Pyle punched away until the rear naked choke opened up.
Antonio Rogerio Nogueira vs. Edwin Dewees R1 4:06. Dewees wants to stay on the outside, using low kicks as jabs. That might work against a fighter such as Quinton Jackson who allows his opponent to take the position he wants, but Nogueira is an excellent ring general, patiently walking his opponent into a prone position then unleashing his attack. He'd just back Dewees into the ropes, leaving Edwin few options. The first time, Dewees surrendered a takedown because he had nowhere to go. Later, he chose to stay up despite Nogueira peppering him with punch after punch, and it didn't take long for Nogueira to shred his block. Landing solidly with the elbow, uppercut, and a couple of left hooks, Nogueira earned the stoppage. One-sided but entertaining bout.
Matt Lindland vs. Fabio Negao 3R. I really liked what I saw from Lindland in the first; not simply content to control, he was active, aggressive, and creative, even throwing in a goofy Mongolian chop. He knocked Negao down quickly with a left hook and followed with a guillotine, rolling Negao to his back and trying to mount but Negao maintained half guard, so Lindland released after more than a minute of squeezing. Negao began backing Lindland with hooks in the second, with Lindland looking hurt and tired as Negao continued to inflict elbows. The 15 month layoff was hurting Lindland in the stamina department, but he went back to his bread and butter with takedown and control while he recovered. Lindland dominated boxing in the third, landing repeated low impact blows, then taking Negao down through the ropes onto the hard wood. Both were gassed, but they continued to fight hard. Though it was an easy unanimous decision win for Lindland on the scorecards, Negao certainly made him work. High quality first round, but once Lindland took some shots he wisely became more concerned with what was effective and efficient rather than necessarily entertaining. Above average match.
Renato Sobral vs. Mike Whitehead 3R. They respected each other's wrestling so much that the first half of the fight was largely a boxing match. Babalu can do at least a little of everything, but Whitehead lacks the tools to match him in any position. The problem for Whitehead is he really needs his wrestling, but Sobral's BJJ is so good he tried to avoid it, at one point seeming to hope Sobral would stand up after he took him down rather than stay on his back and try submissions from the bottom, where he at one point hit an omoplata and missed a triangle. Sobral would also get a guillotine attempt whenever Whitehead tried for the takedown, but since Babalu is quicker on his feet and lands a much higher percentage of his punches Whitehead eventually had no choice but to try. The match is worse than I'm making it sound. Though it could have been even going into the third, Whitehead only added to his reputation as a choker, closing up in the third while Sobral finally got active and snatched the fight from him. Sobral won a unanimous decision. Below average match.
Mark Hominick vs. Savant Young R2 4:25. Hominick is a really good technical striker who moves extremely well, but would always get taken down. He's now concentrating on avoiding the takedown, but that's taking the best part of his offense – his kicks – out of the equation. Luckily, Hominick was fighting the kind of fighter who was .500 in the IFL. Young is fast and powerful, but doesn't really know how to fight. His standup consists of right hand haymakers, so round 1 was mostly missed strikes. Wrestling is Young's strength, but once he got the takedown he just punched away, completely ignoring what Hominick was trying. Hominick was able to use a high guard at will, so it was only a matter of time before he went for triangles. Hominick tried one halfway through a sweep, locking it when Young rolled him back to maintain the top, though Young slammed his way out. Hominick soon had an armbar attempt, and went back and forth between that and the triangle until he finished with the armbar. Average match.
Josh Barnett vs. Pedro Rizzo R2 1:44. Barnett, who unlike Tim Sylvia didn't get a free pass from UFC for his roiding and has actually beaten Randy Couture and Antonio Rodrigo Nogueira, was clearly the second best heavyweight on the show. This was a major performance, beating Rizzo at his own game. Everyone knows Rizzo wants to counter, but Barnett managed to stand with him the entire fight without really giving Rizzo any opportunity to fire back. Barnett was very effective with the front kick, but he landed a variety of strikes, even a spinning high kick, without getting overaggressive or out of position. Rizzo is a tough guy to ever hit squarely, and his kicks are like sledgehammers so he can normally afford to wait, though his record when he doesn't have his way in the first is far from stellar. Early in the second, Barnett switched up, throwing a jab with his right (power hand) then decking Rizzo with a big looping left hook he never saw coming for the spectacular KO.
Andrei Arlovski vs. Ben Rothwell R3 1:13. He's back! Arlovski delivered his first good performance since losing to Tim Sylvia at UFC 59 4/15/06. He was stalking his opponent, attacking with power, diversity, and rapidity for the purpose of ending the fight. The only thing that kept him from overwhelming the opposition is Rothwell has an amazing chin. Rothwell was a good opponent to get Arlovski to actually fight because he wants to be the aggressor. He wasn't able to be for long because Arlovski was regularly landing the better blows, hurting Rothwell in each round. He was most cautious attacking after a damaging first round uppercut, but this was smart caution as he isn't going to make the mistake of leaving himself exposed through overeagerness the way he did in the second Sylvia fight where Sylvia scored the comeback victory. Arlovski had good left/right combos early in round 2 then took Rothwell down into mount, though Rothwell quickly got guard. Arlovski bloodied Rothwell's left eye with ground and pound before the first of his two failed heel hook attempts. Though some would say this is bad as he gave Rothwell control the second time, and could have lost the round if he didn't turn it at the finish, the good Arlovski is the one who is aggressive, who goes for the victory. While on the bottom, Arlovski tied Rothwell up until the standup then exploded with 30 seconds of massive full force blows until the bell. It was amazing Rothwell didn't go down because Arlovski emptied the tank on him, landing a high kick, uppercuts, a wicked flying knee, and so on. Finally, Arlovski knocked Rothwell out in the third with a right straight and uppercut. Good fight.
WAMMA Heavyweight Championship: Fedor Emelianenko vs. Tim Sylvia R1 0:36. Sylvia thinking he can succeed without Dana White holding his hand is ROFTLMAO material. Where else could you be the longstanding champ in the top league (even if only because scandal imploded PRIDE) despite getting caught roiding and only beating two upper level opponents - Ricco Rodriguez & Andrei Arlovski - both of whom couldn't get out of their own way in the years that followed? Fedor wasn't going to be intimidated by Roid Warrior Tim's size or his slow pity pat jabs. Fedor almost immediately posterized Tim, getting inside with a left then landing an uppercut and a stunning left hook from half clinch and unloading with hooks until he dropped Sylvia a whopping 18 seconds into the fight. Sylvia gave his back, so Fedor rear naked choked him. I'm sure this was a big disappointment to many, but it's always great when Sylvia fights a real opponent. For me, Sylvia is a lesser opponent than most of the not in his league fighters Fedor has been taking shit for fighting – Mark Coleman at PRIDE 32 10/21/06 (a legend, albeit despite few quality wins), Mark Hunt at PRIDE Otoko Matsuri 2006 12/31/06 (beat Mirko Cro Cop and Wanderlei Silva, always has a punchers chance and showed a ground game in that fight), & even Matt Lindland at Bodog Fight Clash of the Nations 4/14/07 (just lacks the size), but I thought Sylvia had a below average chance to last to the second round. Instead, he was no less a joke than Zulu and Naoya Ogawa.
BACK TO QUEBRADA REVIEWS


* MMA Review Copyright 2008 Quebrada *