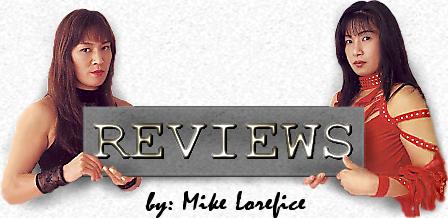 INVICTA FC 2017 Recommended Matches
Chronological Reviews of the Best INVICTA FC Matches
INVICTA has been a tremendously exciting promotion since they began in 2012, picking up where Strikeforce left off & showcasing most of the best talent of this generation as well as giving a home to many of the trailblazers. Despite so many great fighters moving on to UFC, INVICTA started 2017 off strongly with two highly entertaining shows, but they've done such a good job of helping popularize women's MMA that the landscape has entirely changed, overall for the better, but for the fans of the genre rather than the promotion itself. They were still the only major outlet for the Flyweight division, which is one of the most exciting in women's MMA, and the dreadful Featherweight division that has always been mismatch central with normal women fighting up in weight just because there was actually a division & a title then realizing it meant taking on someone whose testosterone level was higher & adam's apple was bigger than Max Holloway's. The landscape totally changed in 2017 with UFC sooner or later signing every woman with a pulse now that they finally got around to adding two of the three missing divisions, and Bellator crowning champions in the Flyweight & Featherweight divisions as well, leaving INVICTA with only the Atomweight division they've done a poor job of promoting in the last few years and whoever they could come up with from the even smaller regional promotions in the US or abroad. There are still good fights to be found in INVICTA, but they now seem firmly cemented in the role of UFC feeder promotion.
Invicta FC 21 1/14/17
Christine Ferea vs. Rachael Ostovich R3 1:29. Ferea was making her debut here, but looked so much more confident than Ostovich, just very relaxed & flowing with her standup game. Her movement was far superior, and she slid in and out, landing the jab and sometimes faking it to set up the low kick while keeping out of range of Ostovich's takedowns. This was an old school striker vs. grappler match, and Ostovich was pretty helpless for most of the 1st round, having her takedowns stuffed & being unable to win the clinch game against the cage to finish them. She had a flash takedown after catching Ferea's kick, but was generally just picked apart by her stalking opponent. Ostovich tried a spinning back kick early in the 2nd, but Ferea literally just laughed it off. Ostovich's weak kicking game helped finally opened up the takedown though, as Ferea finally got overzealous coming in, and Ostovich was able to duck under her jab to secure the double leg & transition right into rear mount. Ostovich kept trying for the choke, but half the time she was so high up Ferea's back her hideous implants were stuck on the back of Ferea's neck. Ferea again remained cool & confident throughout the adversity, also surviving a late armbar attempt, and you felt she wouldn't hesitate in the 3rd because she proved to herself she could handle the worst case scenario. Nonetheless, with 3 1/2 minutes of back control the fight was clearly evened at a round a piece. Ostovich was back to being hesitant in the 3rd, and Ferea was able to keep backing her with her strikes, which allowed her to keep coming forward and throwing more. Ferea worked her way in with punches & blasted Ostovich with a left high kick. Ferea pursued with more punches & Ostovich tried for a double leg, but was so out of it she literally just bent in half for a standing toe touch when Ferea disengaged. I though the fight should be stopped by referee Mike England because you don't see those kind of yoga moves when a fighter is intelligently defending themselves, but Ostovich managed to fall forward with an outside single. Ferea immediately took her back though & just landed a barrage of punches & knees until the overdue mercy killing. I liked that both had their round then Ferea responded to the adversity & finished the diva, but I remember this match being better than it ultimately looks to me now as Ostovich has a lot of fight & can sometimes will herself to succeed, but is just so bad technically that there's probably a match later in that would have been a more worthy inclusion in this list. Somehow though, despite her record dropping to 3-3 after this loss to a debuting fighter, Ostovich was the one who moved on to the UFC. Good match.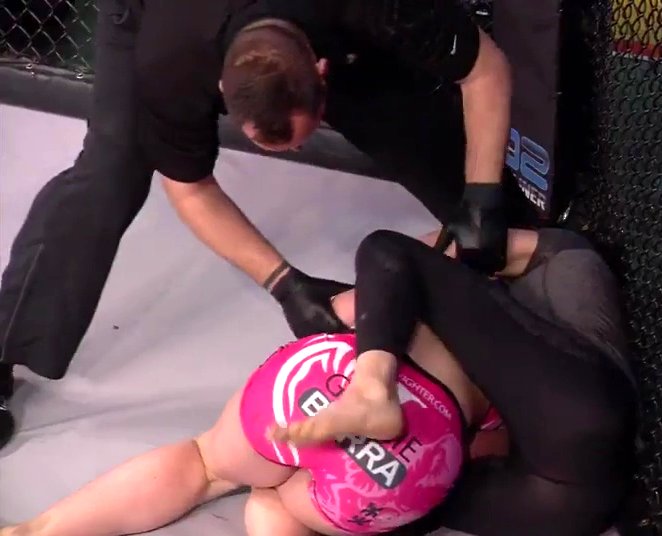 Amy Montenegro vs. Celine Haga 3R. Haga isn't a fighter you can judge by her record, she specialized in poker & started weight training in her 20's just to get into some semblance of shape. Despite having no fighting background & having not even heard of MMA, one thing led to another & she went from training in Joachim Hansen's basement to moving to Japan to train with the legendary Megumi Fujii. Though she lost fight after fight in JEWELS, 11 of her 1st 12, you could see she was no joke & she was progressing, and eventually she turned things around, winning 9 of her next 11 coming into this match & now training out of the Jackson-Wink camp. Haga did a lot of good work to get the takedown in the 1st, switching from inside trip to outside trip to taking Montenegro's back & finally hitting the inside trip into a rear naked choke attempt and then arm triangle choke attempt. Haga owned the round on the ground, but in the final seconds, Montenegro rolled her over into an armbar & there was a huge controversy over whether she tapped or not. The tap, if that's what it was, clearly came after the bell, and Haga claims she just wanted her arm released ASAP, you know, so she could actually use it in the next round, but the lights went out in the building, probably because of the storm but it added to the illusion that the fight was over. The idea Montenegro was fractions of a second from winning poses an interesting scoring question too, as it was a clear Haga round until the final seconds, but Montenegro came much closer to finishing the fight with her armbar than Haga did with her submission attempts so is that enough to swing the round into her favor? Haga was using hook kicks early in the 1st, but Montenegro was ready & caught a high kick to start the 2nd to get the takedown. Montenegro showed a heavy top game in the 2nd, wearing Haga down with short elbows from half guard. Montenegro backed Haga to start the third & tried to capitalize on Haga stumbling, but Haga hip tossed her & went into a belly down armbar attempt. Montenegro stepped over, so Haga made an ill advised transition into a toe hold which just allowed Montenegro to seize top control & go back to bludgeoning Haga with more of the short elbows we saw throughout the 2nd round. I like the original JEWELS style of no closed fist punches to the head because it makes for a lot of scrambles & allows fighters to take a bunch of chances on the bottom, but often leads to bad habits & results when you still fight that way under full contact rules. That being said, this was a fun fight to watch precisely because both women really tried to get the finish. Montenegro had the rear naked choke in, but could never get both hooks in then she was able to readjust & get the leg position but now Haga was able to defend her neck. It was looking really bad for Haga, as she lost the 2nd for sure & was struggling to survive throughout much of the 3rd. Haga was able to get back to her feet as Montenegro tried for a guillotine, and sneak behind her as Montenegro blundered surrendering her back. With just 20 seconds left, Haga pounced on the neck & was so deep under the chin she was able to drag Montenegro down. Haga never got the traditional rear naked choke, Montenegro was on her knees & Haga was to the side of her, so Haga seemed to have no real leverage. However, Haga specializes in that side arm triangle choke we saw earlier, and because of that she doesn't necessarily follow the typical proceedure of getting body control then getting the neck. I still don't know how she managed to choke Montenegro out here, I mean, it was all arm strength & she's just a strawweight, but Montenegro was out cold just before the bell rang. Unfortunately, Rich Franklin's screwup brother Greg didn't see her go limp (you can see her butt drop toward Haga when she goes out & can no longer support herself on her knees) & only eventually declares she's out when Montenegro still isn't moving long after Haga released the hold, seeming to give the fight to Haga but not actually knowing what to do because the fight is already over now. The precident for this was set all the way back at UFC 19 when Jeremy Horn defeated Chuck Liddell with an arm-triangle because Liddell was found to be out after the bell rang, but they just went to the decision, & Montenegro got it 2 rounds to 1. There was a great quote from Haga in a prommanow article, "The decision loss was very difficult for me, I remember what happened, I felt it and heard it and I know from the bottom of my heart that I choked out my opponent before the bell rang. Waiting for my opponent to wake up so she could get her hand raised was very painful for me to watch. Especially because I already have a very messed up record and another loss on the record is a huge setback for me." As is always the case with these kind of things, even though everyone knows Haga really won, the governing bodies always make lame excuses rather than actually stepping up & doing the right thing. Instead of going down as perhaps the most dramatic comeback finish of all-time, as well as being tying for the latest finish in a 3 round fight, it will instead go down as the worst non stoppage of the year, living in infamy alongside Herb Dean's debacle that killed the Abdul Razak Alhassan vs. Sabah Homasi fight at UFC 218 12/2/17. This might not have been the greatest fight minute to minute, but the finishes of the 1st & 3rd rounds, with one fighter being a second away and the other being a competent ref away, make it unlike anything we've seen before. Beyond the drama, chaos, & massive controversy though, this was a fun fight because they took a lot of chances. Many of them backfired, but that made it more entertaining with lots of advantage & position changes, and there were obviously big payoffs for going for it as shown by the round endings. Haga didn't have another fight in 2017, but it would be great to see a rematch between these two when she does return to the cage. Very good match.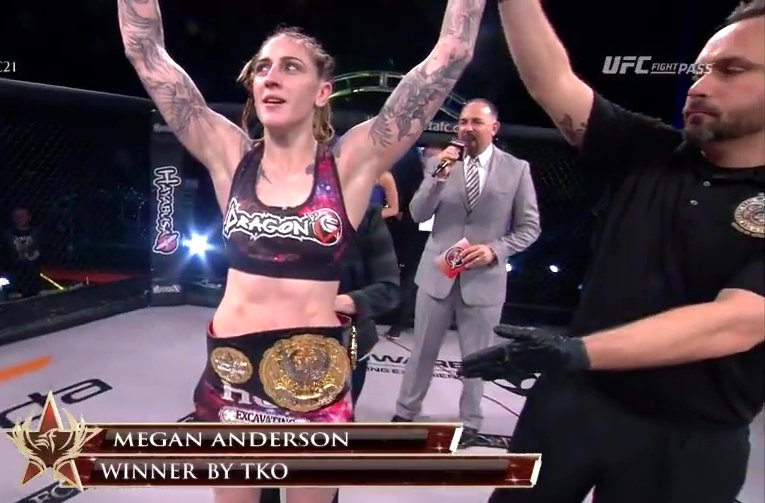 Interim Invicta Featherweight Title Match: Megan Anderson vs. Charmaine Tweet R2 2:05. Anderson has walked through all the opposition so far, except Cindy Dandois who schooled her on the mat. She seems the future of this perpetual disaster of a division that has never had more than a couple decent fighters because everyone who was clean & in shape was fighting at a lower weight class once it was available. Tweet has managed to lose to most of the stars of the division - Rousey (before she dropped down), Cyborg, Budd - mostly by virtue of being a solid & sturdy 6", but is most capable of a spectacular KO against lesser competition, particularly if her spinning backfist finds a home, which makes her a somewhat entertaining & unpredictable fighter even though she seems incapable of fighting in a manner that would lead to any sort of consistency. Anderson stalked her the whole fight, and Tweet always seemed to be on the defensive even when she was actually trying to bait Anderson in, but Tweet being Tweet found those moments to sneak a big shot in despite giving up ground & not using her length or any kind of volume as you'd expect from a former Duke Roufus trained kickboxer with plus height & reach. 2 minutes in, Tweet caught Anderson with a big right hand counter to her own right hand. Anderson wasn't put off her gameplan to keep Tweet against the cage though, tying her up & working knees from the clinch then attacking with big punches after the break. Anderson was rocking Tweet because she was an easy target stuck with back against the cage. Tweet can take a punch though, and she finally started to push forward & attack. Anderson refused to give ground though, so Tweet would find herself right back against the cage when she exited. Still, when Tweet was able to angle out, she could do some good things as although she's not the greatest athlete, she is a lot better trained to use movement & angles than Anderson is. Anderson is pretty much a straight up brawler, and Tweet was able to out finesse her when she committed to her movement. The problem is she's not exactly Dillashaw. Tweet will move effectively if awkwardly, sometimes the former because of the latter, for a number of steps but then pretty much straight up stop to either catch her breath or start a new pattern, it's hard to tell, and that's when Anderson would see a stationary target & gets back into her straight ahead pressure style. Anderson wasn't throwing nearly as much as usual though, and that gave Tweet openings to mark up her nose. James Krause basically told Anderson between rounds that she was letting Tweet stay in the fight by not being active enough. I don't know what Tweet's corner told her, but she was allowing Anderson to win the fight by not moving enough. The story in the 2nd was still similar though, Tweet holding her own when her feet were moving but getting beat up when she got caught against the cage. Throughout the fight, though Tweet wasn't able to make the adjustments to break this pattern, she was at least savy enough to know the moment things were starting to go bad & to tie Anderson up or initiate some such disruption so Anderson wasn't really able to capitalize on her random damaging punches. Things seemed to be following this pattern in the 2nd, but Anderson caught Tweet with a left hand as Tweet was trying to elbow on the clinch break. Tweet was stunned & didn't grab Anderson, which was the beginning of the end as Anderson was able to keep her cut off & land power punches. Tweet wasn't right from the inital shot, and each new punch was just adding to that & keeping her from being able to get her bearings & go back to her smart defense. Tweet tried a couple of her famous spinning backfists, more on instinct than anything else, but they were slow & Anderson just landed punches in between them then finished with a left high kick that injured Tweet's right eye. Anderson was later promoted to full fledged champion, but never defended the title or vacated despite signing to fight Cyborg in UFC then pulling out of that fight. Good match.
INVICTA 22 3/25/17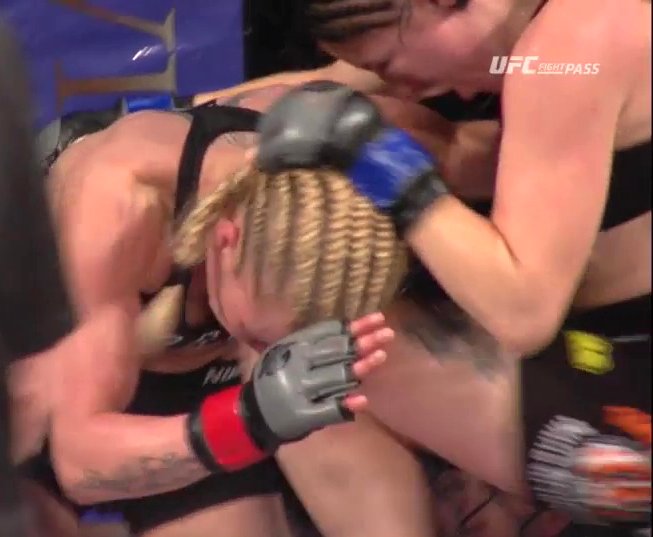 Sunna Davidsdottir vs. Mallory Martin 3R. One of the closest fights of the year (despite the scoring) between two very game, rather evenly skilled & matched competitors. Both fighters were willing to take the center of the cage, to push forward, to work the clinch game, etc. Both did their best damage with the left hand, but neither had an advantage for very long. Sunna won the 1st round with a late sequence where she followed a jab with a big left hook that rocked Martin then worked clinch knees. Martin has good power in her hands, but the base position for her hands is breast height & then she's either punching up or bringing them up as a tell that she's ready to attack, which leaves her prone to big head punches. Davidsdottir's clinch game is also a little stronger than Martin's, but both were effective there at times. Martin's left eye was swollen & she kept blocking too many punches with her face, but she pressed forward all round 2 like a cyborg, walking through Davidsdottir's punches then landing her own. Round 2 was kind of a repeat of round 1 except this time Martin was able to weather the adversity & take over in the 2nd half with the jab/big left hook then clinch work. Davidsdottir seemed to be recovering, but Martin wobbled her for the 2nd time in the round with a big left then cut her with a knee, and now Davidsdottir was looking worn or beaten down. Davidsdottir seemed to be the better overall fighter, but Martin was just so persistent & relentless that you believed willpower & determination could definitely overcome skill. The fight was seemingly up for grabs, and both definitely fought like winning this round was life & death. Davidsdottir stepped it up & made a more concerted effort to push forward & attack in the 3rd, really mixing it up & brawling, landing heavy back & forth hooks, but this opened up Martin's wrestling game, which Davidsdottir ultimately defended brilliantly after the 1st takedown. Davidsdottir was looking increasingly winded & Martin was looking more & more immune to punishment or fatigue, with Julie Kedzie dubbing her the Little Tank, but both kept pushing the pace & fighting desperately. Davidsdottir defended another takedown & got Martin's back looking to bring her down into a rear naked choke, but she was too high on the back & Martin was able to take the top out of the scramble, but as usual with this fight, only momentarily. This was a fight no one deserved to lose, and I couldn't find anything close to decisive to warrant giving either the 3rd round, so I had it 29-29. I was shocked that this was a unanimous decision, and especially that someone gave Davidsdottir even the 2nd round where she was almost knocked down twice. In any case, this was one of the best displays of two fighters willing themselves onward you'll ever see. Very good match.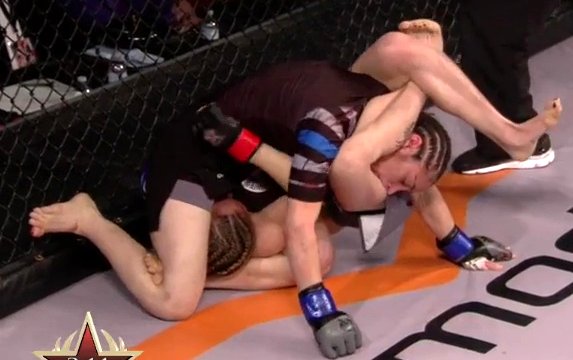 Ashley Cummins vs. Amber Brown 3R. High paced, back & forth competitive fight with lots of counters, sweeps & neat, awkward positions you don't normally see. Cummins was just relentless here, really applying the pressure both in standup with her footwork & movement & on the ground with her constant transitioning into submission attempts. Brown may be the Bully, but Cummins used her angles to put Brown on the defensive throughout the standup, coming in & scoring with punches, which set up her wrestling. Her one problem was you have to grab Brown to take her down, and she has one of the strongest clinch games in women's MMA. Once they locked up the 1st time, Brown just took over with dirty boxing & clinch knees then tripped Cummins up, but Cummins learned her lesson & made sure she got low single legs the rest of the night so Brown could never lock her up. Brown did a good job of reigning punches when she stood over Cummins, but then dropped right back into guard & got triangled. Cummins legs were setup opposite, and it never looked that tight, but she was able to use it to sweep only to have Brown lock her own triangle, which ran concurrent to Cummins until Cummins lost hers. To make things even cooler, as Cummins finally popped her head out to escape, Brown swept back, but Cummins locked an inverted body triangle and reswept, so Cummins decided to do the same thing back! This was just crazy stuff, the kind of scrambling that hasn't been seen since JEWELS went to full MMA rules. Cummins decided to play footsies, which set up yet another triangle attempt as Brown sat up & leaned forward to fight the hands. I don't know if half of the things they tried were really sound effective grappling techniques, but it was super fun to watch & will surely be one of the longest, wildest perpetual scrambles of the year. The 2nd & 3rd rounds weren't nearly as great as the 1st, but these two never slowed down or let up. The grappling continued in the 2nd as Cummins almost immediately caught Brown's kick & converted a single leg, working for the arm triangle. Cummins started on the right side of Brown, but was able to mount then hop over to the left side where she had a real chance to finish. Brown was mostly lying on her side though, & Cummins wasn't able to apply enough pressure with her chest to pin her down, so it was mostly just wrenching on the neck. Nonetheless, Cummins was pressuring Brown the whole round & certainly won it, which most likely put her up 2-0. Cummins was back to the forward pressure in the 3rd, using her angles to keep Brown on the defensive. Brown is the harder hitter, but she was on her back foot most of the time in standup, forced to react rather than step in & get her power going. The blood was increasingly running from Brown's nose down around her mouth & dripping off to her midsection. Cummins easily got the single leg on the first attempt, but Brown did a half monkey flip into an armbar attempt. Cummins stabilized though, taking Cummins back & working for the rear naked choke for the rest of the fight. She finally got the neck crank with 15 seconds left, & now the blood was really leaking out of Cummins nose, but she was able to turn to her knees & get out of trouble before time expired. Cummins won the unanimous decision 30-27, 29-28, 29-28. Very good match.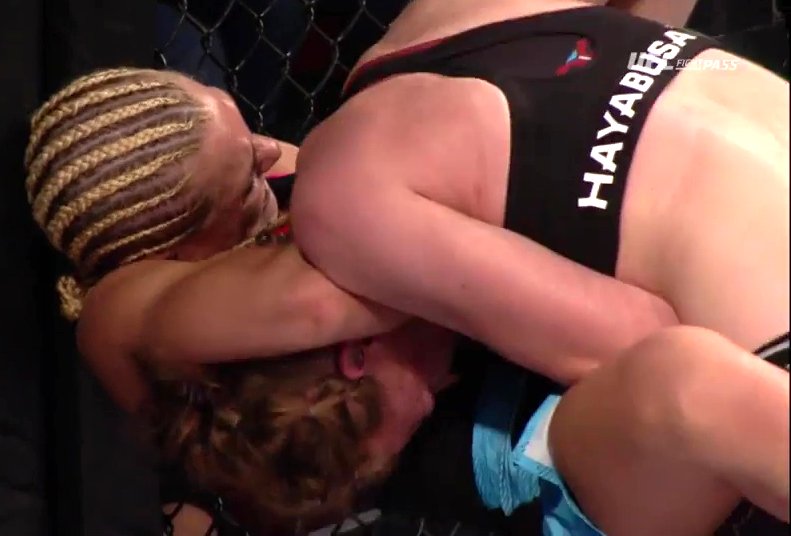 INVICTA Bantamweight Title Match: Tonya Evinger vs. Yana Kunitskaya R2 4:32. Kunitskaya won the first match on INVICTA 20 11/18/16 by arm bar, except referee Mike England apparently hadn't seen Dennis Hallman vs. Matt Hughes UFC 29 12/16/00 or thoroughly learned the rule book to know that stepping on a downed opponents face is legal (stomping is not). Evinger was submitted after England had her break this attempt at submission defense, hence Evinger's petition shockingly overturning the decision & restoring her title. Sometimes old school style fighting can be really dull, but I found the Japanese go for a submission, any submission, at even the slightest opportunity to be the most exciting style of ground fighting. In the early days of shoot fighting, I preferred active ground fighting to see the crazy transitions, sweeps, and feast or famine position & submission gambles, but of course, this was a lot more prevalent in promotions where punching a downed opponent in the face was illegal, which allowed for these all out jiu jitsu attacks. Evinger was in full beatdown mode, looking to make Kunitskaya pay for every risk she took with a healthy dose of punches or elbows, but Kunitskaya seemingly just didn't care if she got punched in the face, her path to victory was through a submission, & she was going to pressure, pressure, pressure. Kunitskaya sold out on almost every attempt to win this fight because in the end, if she was good enough she'd win, & if not she'd lose, but she'd rather go down in a blaze of glory than feel she might have won there if she fully committed to what she was trying to do. This may not be the smartest gameplan ever, and certainly it isn't the safest, but as a viewer, I absolutely loved it! Kunitskaya had a guard pull guillotine, heel hook, kneebar, etc., but Evinger defended everything & landed some heavy fists & elbows from the top. There was never a dull moment, in fact the intensity right off the bat was exceptional, and often you couldn't really tell who was winning because Kunitskaya was torquing on some appendage, but Evinger was beating down on her, and it was almost just going to be a matter of whose body would give out first. Kunitskaya was incredibly active from the bottom in the 1st, throwing her legs up for armbars then shifting to the leg lock when Evinger defended. Evinger won her last 10 fights before the Kunitskaya controversy for a reason, and as is often the case, the longer the fight goes, the more she wears her opponent down with her wrestling & top control game. While Kunitskaya was almost always being offensive in the 1st, which was probably the best round INVICTA produced all year, Kunitskaya's wrestling game was simply no match for Evinger's, and that really put her behind the 8 ball, both tiring her out as her attempts to get a dominant position were thwarted & forcing her into a low percentage gambling game off her back. Kunitskaya really tried not to fall into the same pattern in the 2nd, but Evinger is too strong & well balanced for Kunitskaya's takedown & judo game, and Kunitskaya just worked so hard to try to prevent the standard Evinger control game that once Evinger got on top in the 2nd things were already winding down for her. The matwork in round 2nd more standard Evinger smothering top control with Kunitskaya having to use her guard defensively & having difficulty creating space or a scramble to get a submission attempt. Evinger's grinding was now really breaking Kunitskaya down, and once she got side mount, she used a knee on the face to get Kunitskaya to surrender her back, and from there it was right into the rear naked choke finish. This was Evinger's final defense, her 2 year reign ending when she finally signed with UFC to move up in weight & get mauled, but Kunitskaya proved her meddle defeating Raquel Pa'aluhi to capture the vacant title. Very good match.
INVICTA 23 5/20/17: Roxanne Modafferi vs. Sarah D'Alelio R3 1:37. Modafferi is probably the most improved veteran fighter of this decade. When she was selected for the Ultimate Fighter in August 2013, she was a 10 year veteran with a respectable 15-10 record, but while she had the most likable personality on the show, she just wasn't a good fighter. She had a good submission game if she could actually get you down & work her top game or off her back if you didn't just pound her, but that was about it. Her striking wasn't good, she didn't move well, she was basically a ground specialist in a game that had advanced to the point where that didn't really work anymore without ways to consistently force a dominant ground position. Four years later, having gotten legitimate training at Syndicate MMA, she is an all around fighter, with a good volume standup game that works because she has footwork, movement, and angles. Her ground game is more effective ground game these days because her standup is now strong enough that she can take openings or pass them up, it's no longer just submission or bust. The old Modafferi would have been overwhelmed by D'Alelio's power, either straight out in the standup game, or by getting outwrestled and pounded while she was failing to get submissions of her back. Tonight, Modafferi was dropped immediately by a short right hand following a left jab feint, but she stayed composed & settled into her game, moving & using the low kicks & jabs while staying off the center line & waiting for her opportunity. Modafferi landed a good right cross counter, & followed it up with a straight left & began pressing forward with punches until D'Alelio went to her back after eating another jab, which is exactly where Modafferi wanted her. Modafferi was able to take D'Alelio's back & threaten with armbars. Modafferi countered a left middle kick with a right hand early in the 2nd & took the top off D'Alelio's slip, forcing D'Alelio to surrender her back with a flurry of punches then looking to finish with the choke. Modafferi was looking good here, but it was nonetheless odd how uncomfortable & clutzy D'Alelio was out there, as she should be too much of a veteran to be putting herself on her back so early in these rounds. I really loved the pace Roxy was keeping here, just putting D'Alelio under constant pressure in all areas, and seemingly forcing her into these uncomfortable mistakes. D'Alelio did take the top when Modafferi's belly down armbar failed, but it didn't matter, as Modafferi continued to threaten with submissions, using the armbar, omoplata, & triangle to keep D'Alelio consistently on the defensive until she regained the mount with a Kimura sweep. This was some really fun kinetic grappling, and generally all so impressive from Roxanne because D'Alelio is actually a good fighter who even holds a win over Amanda Nunes, but Modafferi had the answer to virtually everything she tried to the point D'Alelio was hardly even able to attack. Modafferi stunned D'Alelio with a jab early in the 3rd, & might actually have been able to get a stoppage in standup as she continued to work her over with straights, but opted to take her down. Quickly mounting, Modafferi busted D'Alelio open above the left eye with an elbow that led to the stoppage. I really enjoyed this fight from an action standpoint, but it was surprisingly less competitive than the other best INVICTA fights of the year. Modafferi then went back to UFC, losing to Nicco Montano in the the final of their inaugural Flyweight Title Tournament. Good match.
Invicta 25 8/31/17: Livia Renata Souza vs. Janaisa Morandin 3R. The small Tachi Palace cage doesn't really allow fighters to use their movement very well, and just encourages takedowns & clinches because it's seemingly 2 steps from the center to the border octagon & then another 2 steps to the fence. I would have liked to have seen this fight inside the regular 30 square foot cage, as the standup was intriguing with Morandin being the better boxer, but Souza having much better footwork & kicks that she soon decided it wasn't worth trying to use even to set up her takedown. That being said, this was ultimately a very intriguing striker vs. grappler contest, with both looking good in their own areas, but Morandin also having enough defense on the ground to keep things moving. The pace was the most impressive aspect, just constant attacking whether they were on their feet or on the ground. Souza was constantly improving position on the mat & putting a beating on Morandin with her punches, while Morandin did a nice job of initiating scrambles & threating with submissions off her back to keep Souza from just beating on her. One of the reasons Souza won, is she was able to adjust better. I was particularly impressed with Souza sneaking behind Morandin after a failed koshi guruma & dragging her down with something of a jumping rear mount pull, switching to full mount as soon as they hit the canvas. After the 1st, Souza saw what was working & pretty much just looked for the takedown, withstanding Morandin's blitz & waiting until she was prone to duck into the takedown or at least in between combos to go after the legs. Morandin is a good striker, but she needs to work on getting out of the pocket so she can do her damage again & again rather than landing a couple nice combos then getting deposited on her back. Morandin had a pretty good 2nd round though, aided by a bogus almost immediate standup by Jason McCoy, as when Souza took Morandin down after that Morandin was able to throw up a triangle that wasn't threatening as a submission but allowed her to land a nice series of elbows. As Morandin was the aggressor in standup, backing Souza all round, and landing elbows when Souza was trying for a double leg as well as after she took her down, I'd say she evened the fight up. The third round was similar to the 1st, with Morandin starting strong in standup then getting controlled on the ground. Souza got it into her domain quicker though, so it was the easiest round to score. It would have been nice to see Souza fight for the title as was originally planned, but Morandin was a good replacement for Jodie Esquibel, looking good at her new weight class (she was actually the bigger despite moving up from atomweight, but that's because Souza doesn't cut weight). Souza won a unanimous decision 30-27, 29-28, 29-28. Good match.
INVICTA 2017 Top 5 Matches
Ranked in quality order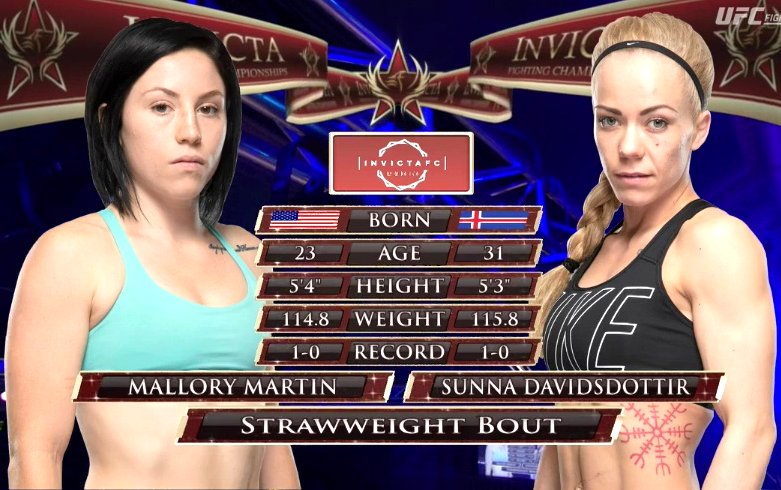 1. 3/25/17, Sunna Davidsdottir vs. Mallory Martin
2. 3/25/17, Tonya Evinger vs. Yana Kunitskaya
3. 3/25/17, Ashley Cummins vs. Amber Brown
4. 1/14/17, Amy Montenegro vs. Celine Haga
5. 5/20/17, Roxanne Modafferi vs. Sarah D'Alelio

BACK TO QUEBRADA MATCHES


* Joshi Puroresu Reviews Copyright 2017 Quebrada *