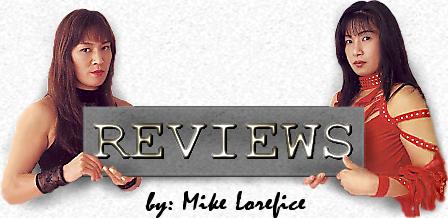 GLORY 2017 Recommended Matches
Chronological Reviews of the Best GLORY Matches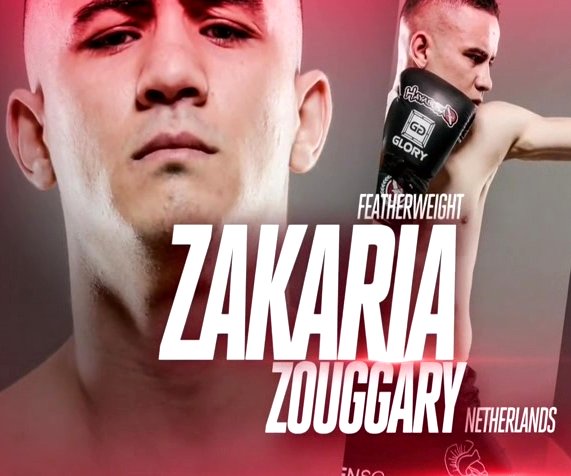 2017 was a pretty solid year for GLORY. While there were no all-time classics to follow up last year's Danyo Ilunga vs. Michael Duut match of the century, or really even signpost matches, you could reasonably expect to see a couple high quality matches per show if you watched the whole thing. Though 5 years later GLORY continues to live off the amazing group of talent assembled by the far superior for match quality It's Showtime promotion, with veterans Rico Verhoeven, Robin van Roosmalen, & Murthel Groenhart both dominating their divisions & delivering memorable matches as well as Jason Wilnis, Danyo Ilunga, Nieky Holzken, Michael Duut, & Jamal Ben Saddik being major players in one aspect if not both, GLORY has finally found a good crop of exciting new performers who have bought into the idea that they'll be brought back if they have exciting fights. In 2017, it was this new guard led by Tyjani Beztati, Zakaria Zouggary, Dylan Salvador, & Massaro Glunder that were delivering spectacular action more consistently then anyone but maybe Ilunga. GLORY's booking has never made any real sense from the perspectives of trying to meet their espoused goals of having either the best and/or most entertaining fighters, particularly allowing Bellator kickboxing to actually have a purpose by having the greatest kickboxer of all time, Giorgio Petrosyan, toil away there while Sitthichai Sitsongpeenong is GLORY's champion, and also giving Bellator arguably the 2 most exciting American fighters, Raymond Daniels & Joe Schilling, after devoting years specifically to trying to become a player in the US market instead of leaving Bellator as the retirement home where decade or more past their prime fighters go to have dreadful bores with other irrelevant hasbeeens as UFC does. The matchmakers had an almost a perfect record in 2017 of the "prelims" being better & more interesting than the "main show", both for the actual lineup on paper & the quality of fights that resulted, with a number of title matches on the Super Fight Series, and even the promotions biggest star, Verhoeven, never actually appearing on the main card. In the end, this promotion has so much talent that even when they're tripping over their own feet, they can't help but be interesting, and even if the tournaments generally weren't stellar, I do much prefer the merit based system GLORY tries to employ for their title shots, especially in comparison to what a joke UFC's titles have become with the once most stacked division in the promotion, middleweight, being dictated by whoever was theoretically over the hill enough for Michael Bisping to eventually agree to get pounded by while a still in his prime great champion like Gegard Mousasi left after 4 years without "qualifying" for a title shot, Conor McGregor showing more interest in taking on referees than defending the titles he wins, and Cyborg on top, middle, & bottom of a non-existent division with no rankings, other matches or even fighters because she'd have to cheat a lot less to fight the opposition at their real weight or just settle for cheap shotting them in the parking lot. GLORY's system may not be perfect, but GLORY's titles are always defended & the challengers are always fighters that are actually both relevant at the moment & have had a peak recently, not years ago or maybe in a couple years if they continue to develop on their promise.
GLORY 37 1/20/17
Glory Featherweight Title Match: Robin van Roosmalen vs. Matt Embree R4 2:00. A very interesting stylistic match as Embree tried to avoid standing in front of Robin by angling & staying off the center line, keeping Robin away largely with body shots, but van Roosmalen kept adjusting & cutting off the ring. I thought Embree fought a smart fight, landing to the body rather than punching van Roosmalen's exceptional block as many fighters do, but the smaller ring was a big advantage for Robin, as there was absolutely no where for Embree to hide, and he'd keep chipping away with low kicks until he got close enough to land his punch combos. Sitthichai had the most success against Robin of any opponent in recent times because he can consistently land when Robin is just starting to come in, which to some extent holds his low kicks & often his punches because Robin is usually blocking a middle kick with his arm rather than deflecting a punch with his glove. Embree did a better job of making Robin follow him, but his first strike came a little later, thus letting Robin get too close to simply keep circling without taking damage. This meant Embree was instead stuck struggling to knock Robin backin order to momentarily regain distance, and given Robin would seemingly rather die than retreat of his own volition, this simply wasn't going to be effective as even when Embree landed a good push kick, Robin was practically right back on him by the time Embree recoiled his leg. Embree did a good job of taking what was available, working the body with hooks & middle kicks & landing some straight head punches between Robin's tight guard. He was active & competitive, but he never really got into his power punching game as he had no opportunity to come forward & it was hard enough to even stay off his back foot. With each round, Robin's constant pressure wore on him a little more, taking his cardio & his legs. Van Roosmalen's style may be simple, but part of his brilliance is that even when his opponent is trying to fight long, he makes them fight short by immediately reestablishing his phone booth distance. Robin really took over at the end of the 3rd getting front kicked while throwing a superman punch but landing a big punch combo on the inside anyway. Embree had landed 1 more strike through 3, but Robin was landing the more powerful shots & Embree looked exhausted slumping & sucking wind on the bench in between rounds. Robin ratcheted up the pressure to start the 4th, now doing good damage with uppercuts that followed his hooks. Embree was starting to hobble from Robin's low kicks, & wasn't moving as much anymore, which drastically increased Robin's connect percentage. Robin landed a liver hook & followed with a series of hooks with Embree hunched over until Embree gave up. In the end, this was exactly how a textbook van Roosmalen fight is supposed to go, starting competitive but edging more in his favor with each round as he wears his opponent down with constant forward movement. The only snafu is it actually wasn't a title match for van Roosmalen because he missed weight by .8 pounds, so by winning he maintained his spot as #1 contender & earned a decision match, defeating Petpanomrung at GLORY 41 to regain the strap. Good match.
Welterweight Contender Tournament Final: Yoann Kongolo vs. Karim Benmansour R3 2:57. Kongolo kept coming forward & applying the pressure to Benmansour, but Benmansour kept moving & throwing his volume. I would have liked to have seen how this would have played out if both fighters were fresh, as Benmansour won their 1st match on 11/23/13 & tonight the 1st round was a very interesting stylistic matchup, but then it was solved as Benmansour wore down from being forced to work so hard for the second time tonight, and now on a leg that was damaged coming into the fight. Benmansour got off to a good start, as he was holding the center of the ring early & using his low kick then move style. Kongolo was just feeling him out though, and Benmansour's biggest problem, other than perhaps the leg, was that Kongolo didn't respect his power, so he was willing to just walk forward all night and land the big overhand right or the knee on the inside. Benmansour is game & wily, with a ton of heart, but Kongolo just had such a power advantage it was hard for him to compete physically when Kongolo was determined. The more Kongolo kept following his jab, the more he kept Benmansour on his back foot where Benmansour was still active but struggling all the more to generate the kind of power that would stunt Kongolo's forward progress. Benmansour had his moments in the 2nd when he was able to use his movement in the center of the ring, circling and landing the low kick, but Kongolo started & finished the round with big power. He hurt Benmansour with an overhand right with Benmansour against the ropes in the last 15 seconds, and mixed his punches between body & head as Benmansour had nowhere to move, dropping him with a left hook to the liver. Benmansour didn't look at all ready to continue, but the round was over. Kongolo picked up in the 3rd where he left off, backing Benmansour into the ropes immediately. Benmansour was able to push Kongolo back to the center at times, but just could never stop Kongolo's forward progress when Kongolo committed to trapping him on the ropes, so it was then a matter of whether Benmansour's footwork would allow him to circle away fast enough or Kongolo could cut off the ring. Benmansour was increasingly red & swollen around the eyes, particularly the left eye from taking all Kongolo's power punches. It looked like Kongolo was going to earn his 2nd title shot via 30-27 decision, but in the final seconds Benmansour was circling away defending Kongolo's level changing combo, avoiding the left liver hook that he was focused on because it was still damaged but getting caught with the right hook to the head for the KO. Kongolo again failed in his quest to capture gold at GLORY 39, losing a decision to Cedric Doumbe. Good match.
GLORY 38: Chicago 2/24/17
Murthel Groenhart vs. Thongchai Sitsongpeenong R3 1:45. While not a technical classic by any stretch of the imagination, this is the sort of fight that people who enjoy old school action movies but aren't really a fan of the art of kickboxing are sure to enjoy. It's really a cliche from an '80's martial arts movie with the evil Thai using his underhanded tactics to pull the brawl out of the hero. Groenhart is one of the only fighters who can still get away with fighting angry. It's perhaps because he's not always 100% focused & motivated, so sometimes he needs his opponent to light the fire in him rather than it just coming from within. Thongchai was arguably fighting dirty, but I'll give him the benefit of the doubt & say that after 167 fights under muay thai rules, Thongchai just isn't totally comfortable with the differences in the rules & the language of the referee, & tends to revert to habit & muscle memory. Thongchai relies heavily on knees, and he's also probably not used to fighting 6'1" opponents, so knees that would normally be to the midsection were landing low. Groenhart would fire up & throw caution to the wind, going for the kill after these low blows, which made for some insane action. Thongchai was winning the 1st round, ironically by fighting on the outside. What was working was the kick he'd come in on, but what wasn't working is much of what happened after that, holding longer than legal and working a knee theoretically to the body. Groenhart got his boxing rolling after the 1st groin shot, stealing the round with a series of thunderous straight punches that were pure violence & anger, wobbling Thongchai this last 20 second flurry & probably having him in some legitimate trouble if there were more time. Groenhart loves to knee too, but this proved, if it wasn't already obvious, that he needed to rely on his hands here because boxing is generally the least focused upon aspect of muay thai, and he also had the physical advantages, with more reach, explosion, & power. Thongchai seemed to recover well in between rounds, but he low blowed Murthel again almost immediately to start the 2nd. Groenhart fighting emotional combined with referee Paul Nichols good job of warning & taking a point from Thongchai seemed to get the best of Thongchai & he fought too emotionally, abandoning his outside kick game that was working & constantly trying to work the clinch game that was the root of his problems. Still, Thongchai was the more consistent fighter in the 2nd round, and even if it wasn't the consistency that probably gave him the best chance of winning the fight, he did take the 2nd round (though the point deduction made it a 9-9 round). Groenhart knew Thongchai was always going to come forward, and he did a better job of timing Thongchai's attacks in the 3rd, hitting him with straight punches when he was walking in. Once Groenhart got on a roll with his boxing, he just began overwhelming Thongchai with flurries on the inside. Thongchai managed to get up from his right uppercut & left hooks the first time, but had no answer & Groenhart was then able to finish him with the second series. This was far from a technical performance, but very few fighters can stand up to Murthel's brawling when he's on his game, as he was here, and Thongchai wasn't offering much disruption when Groenhart fired up, often chasing him or grabbing at him which were the worse things he could do. In the end, this was a very inconsistent fight, when it was bad it was ugly but Groenhart is so powerful & explosive that the wild flurries stand out a lot more in the end then all the times they were tied up trying to bully one another. Good match.
Light Heavyweight Contender Tournament Semifinal: Ariel Machado vs. Danyo Ilunga 3R unanimous decision. Ilunga, a former 95MAX champ, is one of my favorite fighters from the It's Showtime era, a far more consistent period for match quality than we're seeing now in GLORY despite their far deeper coffers & greater reach. I'm somewhat at a loss as to why he's on a five fight skid, falling from longtime perch as #1 ranked light heavyweight, as even if he's lost some speed & explosion from his days mid 20's peak, he's still a very high quality fighter, & although he's obviously fought high level competition including current champion Artem Vakhitov, 2 of his losses (Mourad Bouzidi & an all-time classic against Michael Duut) were to fighters he beat 2 years earlier when he was on a 17-1 run (losing only to the mighty Tyrone Spong). I guess any fighter only has so many wars in them, and this was yet another for Danyo. Ilunga came out looking to press the action, but Machado's lateral movement was ruling the day, as he landed the low kick & was gone before Ilunga could counter, refusing to be trapped against the ropes where Ilunga could use his big knees. Ilunga began to press a bit, throwing wide punches that Machado countered with straights. Machado got a big gash on the top of his forehead, but it was from a collision of heads. Machado was doing better fighting on the outside, but with the blood flowing freely down his face, he began to stand toe to toe & exchange a lot more, which made for some exciting action. The 2nd round was much more competitive as Machado slowed down, & thus the pressuring Ilunga forced him into one of his typical fire fights. Now that Machado wasn't moving laterally nearly as much, Ilunga was able to block many of his low kicks & come back with knees. Machado still landed the most damaging shots in the round, as Ilunga never found an answer for his left hook & he also got a big overhand right in down the stretch. Ilunga needed to go all out for the finish in the 3rd, but it was Machado who steadied himself in the final round, landing more consistently with his hands against an opponent who wasn't urgent enough & wasn't really defending behind his own pressure. A knockdown that was very questionable sealed the deal for Machado. Machado left hook was good, but 2 more punches were thrown before Ilunga appeared to take a bad step trying to disengage then fell. This is one of those fights that's difficult to really rate because there was very good to excellent action throughout, but that consistency was somewhat undermined by Machado always getting the better of things. The rounds were close enough though, especially the 2nd, and although Ilunga was missing too often & not making Machado miss enough, the fight never felt one-sided because Ilunga kept pushing the pace & hunting Machado down. Machado won a unanimous decision 30-26, 30-26, 30-27. Very good match.
GLORY 39 3/25/17
GLORY Lightweight Title Match: Sitthichai Sitsongpeenong vs. Dylan Salvador R4 2:58. These two are extremely evenly matched, splitting decision victories outside of GLORY. The rounds in this third contest were so difficult to score because they just stood toe to toe & exchanged shot for shot. Though both tried to throw combos, neither would allow the opposition to gain traction through activity, and it was rare to see anyone land more than a shot or 2 before getting countered back. Every round saw almost an equal number of blows landed by each competitor, so it was really a matter of what you liked. Sitthichai normally boasts the kick & knee advantage, but his boxing has been improving since he joined the Royal Thai Army Boxing Team. Salvador is also a lefty though, and this seemed to throw Sitthichai more off his usual rhythm more than it did Salvador, with Sitthichai not defending the kicks that were now to his lead leg very well. The result was that Sitthichai wound up with a decided punching advantage, but Salvador evened the overall striking totals with his knee & kick advantage. Though both are muay thai fighters, they started fast, and continued the intense, high paced war throughout, constantly pushing each other harder & further to keep coming up with immediate answers for the latest attack. Round after round, both fighters refused to give an inch, and it just got more and more intense as they continued to bomb from close quarters looking for an advantage that didn't seem to be materializing. Salvador was the one coming forward, but their basic segment would be that he got hit with a punch closing the distance, but could at least land a low kick once he was inside. Sitthichai began to take over in the 4th by concentrating more on the body after Salvador seemed to slow from a knee to the midsection & started backpedalling for the 1st time in the match. With Salvador answering less, Sittichai finally gained momentum & began to headhunt less with his punches while looking to land more knees. Sitthichai finally buckled Salvador with a knee to the body with 12 seconds left, and although Salvador got up, he turned his back to the referee & spit his mouthpiece out in surrender. This was really a shame because although it was a crushing blow, I think he just got the wind knocked out of him rather than a rib injury, so given he wouldn't have actually had to engage before the 4th round ended, he might have been recovered if he gave himself the minute in between rounds. Even with the late run, Sitthichai only wound up outlanding Salvador 102-93. Very good match.
Featherweight Contender Tournament Final: Petchpanomrung Kiatmookao vs. Serhiy Adamchuk 3R. Enjoyable, super competitive high level fight with good strategy. The individual advantages - Kiatmookao's kicks vs. Adamchuk's punches - were marked, but the sum total was razor thin. Kiatmookao took the early advantage, fighting at distance where he could land his middle kicks with Adamchuk out of range. Adamchuk quickly adjusted to this either eating a kick but stepping forward to counter with punches or just taking the lead & coming forward throwing. Kiatmookao, in turn, countered this by clinching then throwing kicks after the break. Once each fighter established their advantage, it was really back & forth with both fighters pressing to maintain their best position. I would have liked to have seen Kiatmookao use more push kicks to help maintain the distance because, though Adamchuk was the better of the two on the inside, the one big advantage here was when Kiatmookao was at range. Though both had fought the full 3 rounds earlier, neither slagged off in the least. Adamchuk landed virtually everything to the head, while Kiatmookao landed virtually everything to the body. Statistically, Adamchuk was landing a few more shots, but Kiatmookao's kicks are more damaging than Adamchuk's punches, and anytime middle kicks are involved you should always factor in that even the blows that are scored as misses are often punishing blows to the arms. If I had to score, I'd give it to Kiatmookao 29-28, but both men rightfully thought they won, and honestly the best outcome given a shot a Robin van Roosmalen's title was on the line would have been to call for another round. I wasn't surprised that it was a split decision, but was very surprised that 2 judges gave Petchpanomrung every round. Most of the other fights on the list are probably more exciting, but I loved how evenly matched these two were, and how hard they had to work to stay in their realm so they had the advantage. Good match.
GLORY 40 4/29/17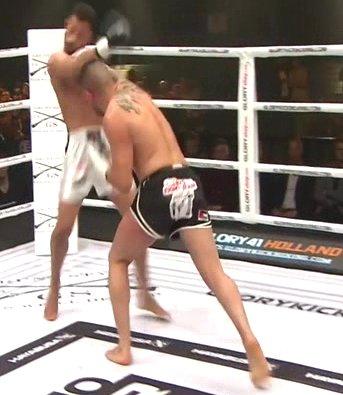 Mohammed El-Mir vs. Simon Santana 3R. High paced, all action contest from start to finish where both fighters had winning strategies, it was just a matter of who could impose theirs more often. Santana started strong, circling right & taking a big quick step to get outside El-Mir's left leg where he could land a mix of overhand rights, right hooks, and low kicks around El-Mir's defenses. Santana was more active, and was landing more combinations, but El-Mir clearly had the power edge. Santana wobbled El-Mir 2 minutes in with a looping right outside El-Mir's defenses, and flurried on him against the ropes, but El-Mir fought his way out of it. Round 1 was close to a 10-8 round for Santana with his flurry of big right hands, but El-Mir stepped it up in the 2nd, which I suppose could be said to be close to a 10-6 round for El-Mir, who had Santana on the canvas 3 times, though all were ruled slips. The change was El-Mir began pressing forward and landing big 1-2 combos down the middle rather than allowing Santana to use his movement & angle in when it was advantageous. Santana had also become such a looping right hook merchant that once El-Mir warmed up & figured out how to take him out of his game by moving forward & applying direct down the middle pressure with the quicker, more compact right straights, Santana was forced to be much more reactive because he wasn't able to stop El-Mir's shots in between his block or damage him enough to keep El-Mir off him. The first of the slips was a knockdown in my opinion, as although Santana was in the process of throwing a low kick which he finished after the punch connected, he was propelled off his feet from a really clean, solid & powerful right straight to the jaw. El-Mir really kept the forward pressure on this round, and Santana was virtually forced to exchange with him to get El-Mir off him so he could escape safely. Amazingly, El-Mir had a 47-46 landed advantage through 2, which you'd often see in a fight that was simply two really close, tough to score rounds, but it's really rare to see in a fight where, without a scored knockdown, each fighter had dominated a round. I'm not sure if El-Mir's conditioning was better or it was just that his style requires less energy, but his pressure & weight of shot were increasingly the differences in the fight, as Santana still had a high volume output in the 3rd, but he was worn down from El-Mir's constant pressure from R2 onward, and was really struggling to find a way to counteract El-Mir's adjustements & keep El-Mir away & off him. The final 15 seconds, which Todd Grisham described as "swing(ing) like Neanderthals", was crazy with El-Mir trying to finish with a big flurry of punches while Santana was trapped on the ropes, but Santana bombing back with right haymakers. Santana got buckled with a right hook at the same time he landed his own right hook. Just great action, definitely the best fight of the first 4 GLORY shows of 2017! El-Mir won a unanimous decision. Very good match.
Glory Middleweight Title Match: Jason Wilnis vs. Simon Marcus 5R. Wilnis vs. Marcus is such a compelling, difficult to score matchup because they can both be doing what they want to be simultaneously. Wilnis will constantly come forward & pressure, and is okay with taking strikes coming in, but does a very good job of blocking them & countering back. Wilnis' style does leave him prone to body shots, especially when he accomplishes his goal of getting inside, and Marcus was mainly scoring with these, while Wilnis had the advantage in head punches & low kicks. Despite Wilnis' pressure, Marcus was the more active fighter of the two because he's the better mover & is going to just circle away in a direction & come around with shots to the legs or body on that side. He's also going to strike to maintain range or come in at the same time with a step knee. Wilnis was able to control the center & keep Marcus circling against the ropes, but Marcus isn't going to allow himself to be cut off very often, so he's capable of winning the fight without needing to take Wilnis out of his pressure game. Most of the rounds could have gone either way because you had Wilnis dictating the pace, applying the pressure, & landing the more powerful shots, but Marcus getting off first & landing more often. It looked like Marcus' left body kicks were better than Wilnis' low kick responses, but after probably winning the 1st 2 rounds, it was Wilnis' pressure & power that began to slow Marcus in the 3rd. Rounds 3 & 4 were still very close with Marcus managing to be the more active fighter, but Wilnis clearly won the 5th on cardio, as Marcus' hands were sagging & he started taking too many clean shots to the face as he shifted more to a failed boxing strategy. Marcus was theoretically better staying on the outside & not getting pulled into a brawl, but at the end of round 4, he got frustrated & just started walking through Wilnis' blows & landed some big knees to the body. This should have been a Wilnis round, but Marcus might have impressed some judges by finally changing things up & closing more strongly. Wilnis was getting inside too easily in the 5th, as Marcus was dramatically slower than at the outset to the point he seemed to have to use all the energy he had left to keep circling away, & thus didn't have much zip on the blows he did connect with. I thought Marcus probably won 48-47 the 1st time I watched it, but the 2nd & 3rd times I had Wilnis winning the last 3 rounds to take it 48-47. The stats back up the later, as Wilnis landed more in rounds 3-5, and although that's not an accurate measure on it's own, it holds more weight in a fight like this where Wilnis is clearly the more powerful striker. What made the fight difficult to score is Marcus was landing more & cleaner, but Wilnis was landing harder & was just the much more consistent fighter over the 15 minutes, declining maybe 15% from the 1st to the 5th whereas Marcus started great & just looked the slicker more fluid fighter, but probably declined 60% by the end of the fight, and certainly some of the credit for that has to go to Wilnis' power & ability to keep walking Marcus down. Marcus won a split decision 48-47, 47-48, 49-46, 46-49, 48-47. With the winner alternating & title changing hands, the idea of these guys stopping at a trilogy is probably out the window, which I'm certainly okay with. Good match.
GLORY 41: Holland 5/20/17
Zakaria Zouggary vs. Yetkin Ozkul 3R. Zouggary is an Andy Souwer protege who won the 2016 S-Cup (which Souwer won 4 times) after being runner up in 2014. He brings a very dynamic, fearless, kinetic style to say the least to the point he might already be the most exciting fighter in GLORY. This had some great action from start to finish, as Ozkul is a banger who doesn't mind taking punishment in hopes of landing big counter punches. Zouggary had huge speed, quickness, & footwork advantages though, which allowed him to get off first & hit some flashy techniques such as an early flying switch knee. Ozkul was the harder hitting boxer, and was very accurate punching the head in round 1, but Zouggary was beating him with low kicks at range then closing the distance with fast combos or crazy unpredictable techniques such as the flying switch kick that weren't as reckless as they sound because Zouggary is so explosive he closes the distance in an instant & has the ability to change attacks midair if necessary. Ozkul is tough as nails, and did a good job of countering with punch combos early on, but as the fight progressed, often all he could do was urge Zouggary to bring on an even bigger beating. Ozkul certainl wasn't losing from lack of effort, he was often firing back something fierce, but Zouggary had such a speed advantage he was simply nowhere to be found. The first round was pretty close, as Ozkul was connecting with a high percentage of his head punches, but Zouggary really began to take over in the 2nd, attacking so often & so fast that Ozkul didn't have much chance to get his offense in before Zouggary had exited. Ozkul's problem was that although he's a powerful puncher, he's only a counter puncher & that just makes for a bad matchup against a fighter as quick, dynamic, and ellusive as Zouggary. Paul Nicholls, who is generally GLORY's best ref, missed a Zouggary's flash knockdown midway through the 2nd with a left hook counter, but luckily it didn't matter. Ozkul, though hurt, predictably just urged Zouggary to bring some more. The workrate in this match was awesome, as Zouggary amazingly never slowed down despite all the flashy, high energy kicks & knees he was throwing & all the territory he was coveringg darting in & out. Ozkul was always waiting for Zouggary to come to him, but Zouggary's diversity & footwork were so good that after round 1 he'd just find the angle for something & then get out without taking much counterfire. Zouggary began having big success with quick body hook combos as the fight progressed, and Ozkul's only answer was to put his hands down & urge Zouggary to hit him in the face so he might have a better chance of countering. This wasn't the most dramatic fight because it was only competitive for a round, but few fights have so much action & such dynamic techniques. Zouggary ultimately outlanded Ozkul 137-43 en route to a unanimous decision. Excellent match.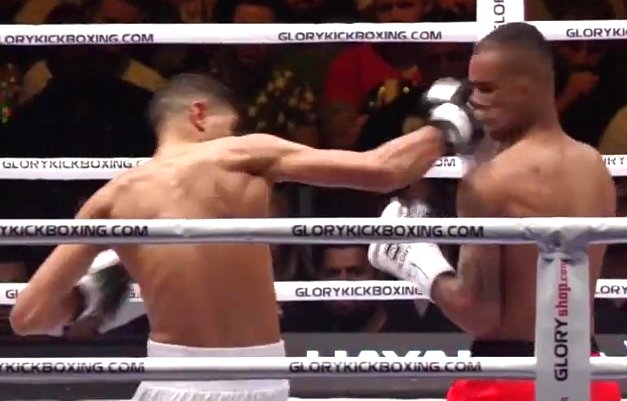 Tyjani Beztati vs. Youssef Assouik 3R. A fantastic battle of two of the best young prospects at 70kg, which was an especially good test because at 6'2 1/2" & 6'3" both are used to having a height advantage. Assouik is an incredibly fluid mover for his height, switching stances constantly, and just effortlessly setting up a wide variety of unpredictable spinning techniques. The first knockdown was just amazing, a definite knockdown of the year candidate not just for kickboxing but rather combat sports in general, as Benzati Matrixed a left high kick, but Assouik kept the momentum going & just flattened him with a spinning right backfist that Benzati never saw coming. Assouik pushed hard for the finish, but one of the many things that makes Beztati so fun to watch is he steps it up whenever he faces adversity. Though he weathered the flurry & began to comeback when Assouik slowed down, he was also doing his best to just fire right back & even things up immediately even though he was still woozy because that's just the way he rolls. Beztati scored his own knockdown with a short left hook when Assouik was throwing his own left late in the 1st. Now it was Beztati who pushed for the finish, but he got dropped with a left straight that was probably rightfully ruled a slip in the midst of his barrage. This was key in the scoring, as every judge wound up giving the round to Beztati, who had say a 51-49% edge if it's one knockdown a piece. In any case, Zouggary vs. Ozkul had the round of the year for literally 15 minutes before being topped here. As with that fight, the 1st round was the best & most competitive, but Assouik ultimately had a lot more for Beztati then Ozkul did for Zouggary, which meant they only had fight of the year for 15 minutes as well. Assouik landed the spinning backfist again after Beztati avoided the high kick to start the 2nd, but this time it didn't connect as cleanly, and Beztati wised up & avoided the combo entirely later on. Beztati was having good success with a right straight to the body followed by a left hook. He hurt Assouik with this midway through the 2nd, and began unloading powerful hooks until he dropped Assouik with a right. Beztati had more weight of shot, especially on his punches, and it was really starting to take its toll on Assouik in the 2nd. That didn't bode well for Assouk because, besides now being down big in the fight, his advantage was kicking, but his kick oriented style was also contributing to wearing himself down & his big kicks were starting to come slower. This may have been part of the reason he switched to a closer range boxing game even though his best advantage was kicking on the outside & coming in off the kick. Assouik really had to keep attacking somehow though because when he allowed Beztati to come forward, Assouik wasn't doing anything to disrupt Beztati's boxing, so Beztati would just see where the block was & land around it. Beztati was really mixing it up in the 3rd, almost always landing the first shot whether punch or kick, so if he hit the follow ups that was just gravy. Although there were no knockdowns, he broke Assouik's will & really began running away with the fight. Beztati won a unanimous decision in a fight of the year contender. Excellent match.
GLORY 42 6/10/17, GLORY Welterweight Title Match: Cedric Doumbe vs. Nieky Holzken 5R. A much better fight than their 12/10/16 bout where Doumbe took the title. I don't know what was up with Nieky that night, but he really just didn't show up, seeming flat & uninspired. Tonight you could tell he trained really hard & was determined to regain his title. He put up a good fight, but ultimately, it comes down to activity. I know Holzken has actually been outstruck on average over the course of his GLORY career that dates back to GLORY 1 & had not lost a fight until the previous contest against Doumbe, but there's getting outstruck by 1 or 2 per round & then there's getting outstruck by 15 or 20 per round, as he did here. Doumbe just put out too much volume, and had too much accuracy. The big difference was his low kicks. Every round felt close while watching it, as Holzken seemed to be applying a lot of pressure & landing solid shots, but he was getting kicked in the leg a lot. When you look at the statistics, Doumbe landed 104 kicks, while Holzken only landed 82 total strikes. Some judges don't score low kicks that highly, but still, when you land 161 strikes & your opponent only throws 216, the activity level is really difficult to surmount. It wasn't actually so much that the low kicks were doing big damage, but that Doumbe was again outmoving Holzken. Nieky wanted him to stay in the pocket & exchange, but Doumbe not only kept moving, but kept scoring while on the move. Doumbe's footwork was so slick that even when Holzken thought the low kick was there, he'd switch stances to take it away before Holzken could connect. So it wasn't that Holzken wasn't trying, but that Doumbe was a little more reflexive & just too ellusive for him, not getting trapped against the ropes & being ready to take away the strike that seemed to be open. Holzken did, however, seem too technical for his own good. He was pressuring consistently with his feet, but when you are coming forward & not actually throwing then getting hit as your opponent circles away or generally exits, it really winds up being a lot of waiting & chasing rather than actually dictating the action. I thought the strategy was fine to start, but at some point he really needed to open up & take more chances, just concede to eating the 1st strike to maybe be able to push forward enough that he could land his own combo before Doumble got back on his bike. What made Doumbe effective is he would constantly move to keep the distance until he was ready to attack, but he'd regularly throw the 1st shot to freeze Holzken, usually some low kick variant, & then either finish his combo & get out of the pocket before Nieky could respond or simply get out of the pocket (especially if it was a side kick), so either way it was tough for Holzken to get into an exchange. The constant pressure style just wasn't really working here because he allowed Doumbe to take him out of his game by simply actually attacking, unlike say Robin van Roosmalen who will hold his ground at worst & make sure he gets a response in that's likely to be the harder shot. Holzken had some of the best moments of the fight though. In the 1st round, he missed a right middle kick, but spun through & followed with a jumping switch kick to the jaw. Holzken also had the moment of the 2nd when Doumbe feinted with a jumping knee & followed with a right hook, but Holzken landed a big left hook counter, and this was a better round for him in general as Doumbe stayed in the pocket for a stretch. Holzken was cut over the right eye in the 3rd, seemingly from a flying knee. Thanks to the brilliance of open scoring, we knew Holzken needed a knockdown in the 5th. Doumbe was still going for it in the 5th rather than sitting on his lead, landing his left uppercuts that had been a key shot. He was up in the round, not that it mattered, but in the final 15 seconds Holzken pulled the proverbial rabbit out of the hat, putting Doumbe through the bottom rope with a spinning back kick. This would have at least evened the fight, but it was a good call by Paul Nichols recognizing that Doumbe ducked & backed trying to defend it & the blow actually landed on the shoulder, so he went down from balance rather than damage. Doumbe won a split decision. Good match.
GLORY 45 9/30/17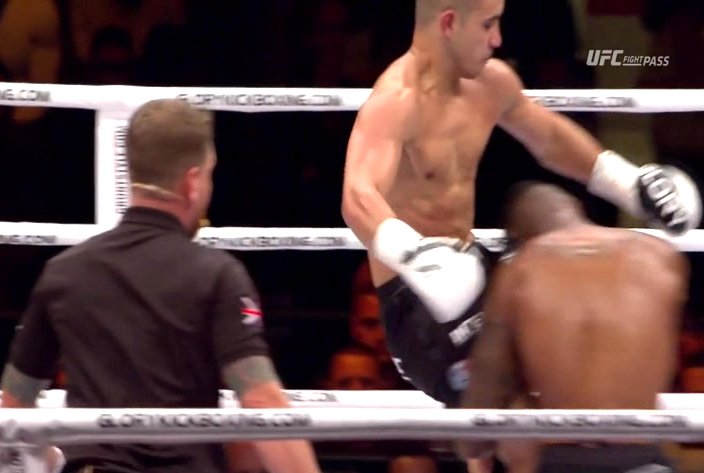 Zakaria Zouggary vs. Massaro Glunder 3R. This matchup of 23-year-olds was billed as a battle of two of the most promising young fighters in the sport. I'm there for sure with Zouggary. Glunder is definitely already a far better fighter than his father Rodney Faverus aka Glunder, who started out with RINGS Holland and managed to have an MMA and/or kickboxing fight is just about every notable organization other than UFC despite more or less being a .500 fighter, but I'm not sure how far he'll go. He definitely has the talent, and almost always has an entertaining fight, but is starting to lose close fights now that the competition has improved. This was another of those really close fights, and although it wasn't as explosive & exciting as I hoped, it was definitely an entertaining, high level contest. Glunder had a 9 inch reach advantage despite supposedly only being an inch taller (I'd say closer to 3" in reality). Glunder fought a very strategic first round, staying long & working the jab to keep Zouggary away, but Zouggary was never there when he tried to follow it. Nonetheless, this was the way Glunder needed to fight as Zouggary is dangerous when he can let his hands go on the inside, and he was able to keep Zouggary from getting anything going until the final seconds when he darted in with a jab & threw a series of hooks, buckling Glunder with a left. Glunder outlanded Zouggary & was controlling the fight with his reach, but I'd still give the round to Zouggary because one damaging punch was worth more than a dozen solid range keepers. Zouggary made good adjustments in the 2nd, moving his head to freeze Glunder's jab then dropping down with a body punch to get inside & following with a kick or a head punch. Entering to the body allowed Zouggary to flurry on the inside, which was clearly to his advantage beyond the obvious reason as he had quicker hands & better defensive movement/reflexes. Glunder finally landed the left hook counter he was looking for, but overall Zouggary seemed the more effective fighter as there were simply more things he could do out there & he did a better job of giving himself opportunities. If Glunder was going to stray from what was working in the 1st, he needed to do something to counteract Zouggary's adjustments & keep him from getting inside through level changes & angles, and that's where he was lacking as he didn't have an answer for Zouggary's speed & creativity once he was no longer keeping him on the outside. Glunder didn't fight poorly by any means after the 1st, each round was pretty close, but he didn't fight as disciplined either. The flying knee was one of the tactics Zouggary would try to get himself inside. It looked like it might have worked, but when he connected in the third it was with soft tissue & Glunder going down was more from his feet being at an off angle & trying to avoid Zouggary's follow up right, so I think Paul Nicholls did a good job calling it a slip. The 1st two rounds weren't super decisive, but Zouggary really stepped up the pressure in the 3rd, using his speed to create chaos & make it more of a brawl. This was the only clear round for Zouggary, even without the potential knockdown. 3 judges also had it 30-27 Zouggary, while the other 2 had it 29-28. Good match.
GLORY Featherweight Title Match: Robin van Roosmalen vs. Serhiy Adamchuk 5R. Former featherweight champion Adamchuk lost to Petpanomrung Kiatmuu9 in the Featherweight Contender Tournament Final at GLORY 39, but apparently they don't have many contenders in this division, as he got a title shot after van Roosmalen successfully defended against Kiatmuu9 at GLORY 41 despite winning just 2 of his last 5. These two have become amongst the hardest fighters to score. Adamchuk tends to have defensive oriented fights where not a lot of clean blows land as he's more about the move than the stick, so whatever lands lands but he's going to use his footwork or clinch when he can't. On the other hand, everyone knows van Roosmalen is just going to come forward relentlessly the whole fight & he's such a force that his opponent has no choice but to try to disrupt him somehow, but that usually means trying to hit him when he's coming in, and results in both men landing almost an even number of strikes but Robin just edging the decision because he's the aggressor & has the reputation for being a huge hitter (which is earned but seems so engrained now that he gets the edge even when he's not landing that cleanly or consistently). I wasn't sure if this fight was going to come off or not, but it turned out to be better than I expected even though it played out as you'd envision, and being another of those close fights was obviously too its advantage. Adamchuk fought a really good first round, using feints to set up a single shot then circle out before Robin could counter. Still, the problem for Adamchuk is he's mainly throwing head punches then moving, and Robin's defenses are so strong to that area that few of them are really getting through his block. That being said, van Roosmalen isn't the traditional stalker in that his defense is really superb everywhere, his block protects his head, he gets his hands back to block so quickly whenever he punches that it makes it really hard for the opponent to counter his counter punches, and he's got a short torso that combined with his forward leaning stance is just hard to find. Adamchuk kept looking for the left knee that should have been open, but wasn't really landing because of van Roosmalen's stance & the general way he's shaped. Meanwhile, van Roosmalen did a great job of attacking the body to take some of the wind out of Adamchuk's sails, which was especially effective given Adamchuk was fighting a style so predicated on cardio with all his backward & sideways movement. Robin will never be detered from walking an opponent down, and he began to adjust to Adamchuk's quick escapes, either grabbing him as he was trying to exit so he could get a punch or two in before the break or spreading his arms somewhat at his sides to impede Adamchuk's exit. Adamchuk was able to hold his position the one time he actually used a body kick, but despite the Thai fighters showing middle kicks were your best chance against Robin, he was only throwing a kick per round & too often he allowed van Roosmalen to keep him backed against the ropes. I know you don't want to trade with van Roosmalen, but he also applies too much pressure to make 5 rounds of circling backwards a viable strategy. The more energy Adamchuk was forced to expend evading, the more he wasn't actually doing much to score any points and van Roosmalen incrementally built up his lead. It felt van Roosmalen was starting to run away with the fight, but early in the 4th round when they showed the strike stats, Adamchuk had outlanded him 48-46 (78-68 for the fight). Adamchuk came out aggressive in the 4th, but it didn't last. In the 5th though, he was forced to stand in the pocket & trade with Robin because Robin was up 3-1, at worst. This was by far the best round of the fight, as Adamchuk landed some good fast punch combos early, with Robin's left eye swelling up quickly. Adamchuk finished strong with his famous rolling thunder setting up a lengthy punch combo that caused bleeding from van Roosmalen's nose. The fight seemed better the 1st time because the last round was considerably more entertaining than the other 4, but overall it was always at least interesting. Van Roosmalen pretty clearly won the fight with his power & ring generalship if you're just looking at the fight as a whole, but I had it 48-47. 3 judges scored it that way, with the other two giving Robin 4 rounds. Good match.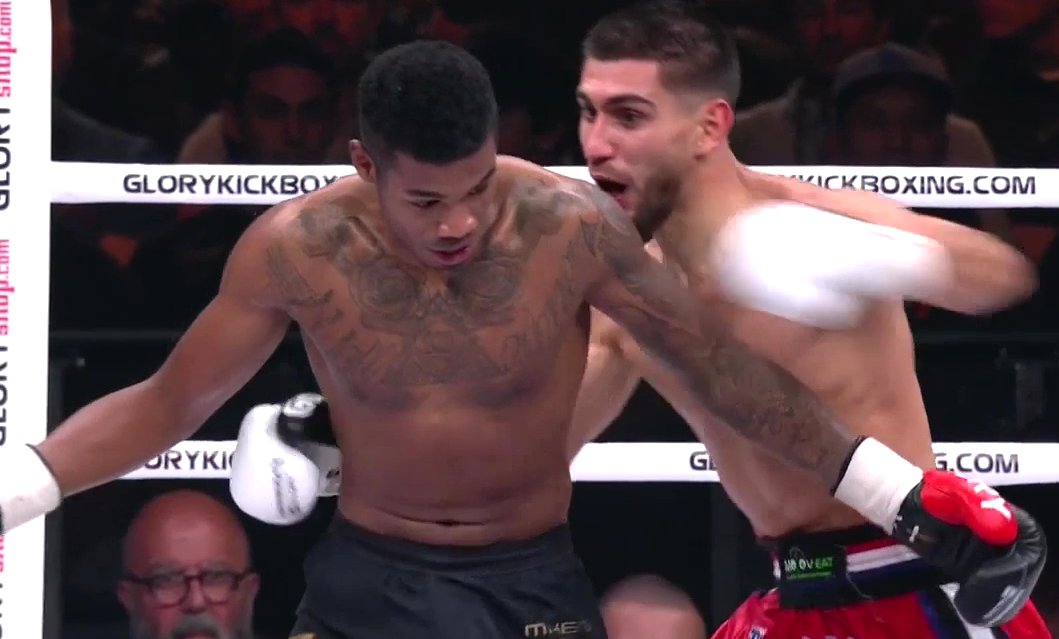 GLORY 47 10/28/17: Dylan Salvador vs. Massaro Glunder 3R. Glunder found himself in a contender match because Zakaria Zouggary, who beat him at GLORY 45 9/30/17, had to pull out, but he really stepped up in more ways than one & made the most of it. It was Glunder's best performance in GLORY, at least for the first 5 minutes. Despite being 1.5" shorter, Glunder had a 6" reach advantage. While he did score on the outside with his jab, it was his inside pressure fighting that was ruling the day, mixing his left hook with his his favorite right step knee, sometimes to the body, sometimes to the chin. Even though Glunder was essentially only using the left hook & right knee, he was mixing the leads & combos up very well, and just keeping Salvador under constant fire. Glunder did a nice job of stepping left & coming around Salvador's guard with a left hook or using a right teep that looked very much like his right step knee until he extended the leg to maintain distance. Salvador was doing a better job of getting either a lead hook or landing a hook on the inside in round 2, but still Glunder was scoring on the outside with his long jab then getting inside without taking any counterfire. The fight turned when Salvador got behind Glunder after landing an inside left hook and hammered him with a cheap shot left hook around the back that a helpless Glunder couldn't see coming after referee Tobias Gerald predictably called for the break because you're never allowed to continue fighting when you wind up behind the opponent. Sure, Salvador was docked a point, but Glunder was never the same, even in the 3rd when he'd recoverd some, he wasn't really attacking or using his knees anymore. Beyond that, Salvador got 2 quick knockdowns once the fight was restarted, so it went from a round he was losing 10-9 to a round he won 9-7. Salvador blitzed Glunder on the restart because he knew he hadn't come close to recovering from the illegal blow, dropping him almost immediately with a left hook. Glunder then tried an ill advised flying knee on the restart, but Salvador caught him in midair with a left hook for the 2nd knockdown. Glunder claimed it was a slip, and while there's not much chance of landing on your feet when you get snipped trying a flying knee, it was a good clean shot so you really have to call it a knockdown as that's just the added risk of leaving your feet to throw a strike. Ironically, Salvador then went down after missing a jumping switch kick, but the difference here is he landed on his feet then went down trying to backpedal away from Glunder's blows that didn't land cleanly. Still, it certainly added to the craziness & chaos of an already wild round. Round 3 was difficult to score because it was one of those Robin van Roosmalen vs. Thai fighter type of rounds where Glunder was blocking Salvador's middle kicks & then answering with a right straight. However, even if to the arm, the impact of Salvador's blocked kicks was likely higher than that of Glunder's straights (most were with the power hand, but he wasn't able to punch through, Salvador was only just in range for the glove to connect). This round was super close, but Salvador probably stole it getting his low kick going late & landing a left hook that was clearly the best shot of the round. Thought the most competitive round, round 3 wasn't really on the level of the other 2 action wise, as they'd expended so much energy in the 2nd round that neither had the extra push to the finish, although the action was consistent. Salvador won a unanimous 28-26 decision. Very good match.
GLORY 49 12/9/17
Lightweight Contender Tournament Final: Stoyan Koprivlenski vs. Tyjani Beztati 3R. Koprivlenski rolled over Maykol Yurk in the 1st round with a spectacular, quick, high kick KO, while Beztati predictably had a tough 3 rounder with Niclas Larsen in a battle of what many people considered to be the 2 best fighters in the tournament. Both came out firing as expected, delivering one of the best rounds of the year, but Beztati has no tournament experience, and is an all out, high energy fighter, so while bouncing back was tough enough, sustaining that pace over another 3 rounds to deliver his type of fight was going to be an exceptional challenge. Koprivlenski has a very strong, albeit somewhat predictable kicking game, and was really just mixing the right low kick with the left body/liver kick as a way of setting up the high kick when suddenly he pulled an awesome spinning backfist out of nowhere to floor Beztati. Beztati isn't the sort of fighter who is thinking about stabilizing & recovering when you knock him down, he's out for vengeance, and he got up firing. Beztati momentarily gained the advantage, avoiding 2 high kicks in the process, but Koprivlenski finally landed a solid liver kick when Beztati was off balance after whiffing on his own spinning backfist. Koprivlenski was really feeling it now, and did a great job mixing punches & kicks into his attack now, and changing levels to suddenly keep Beztati off balance. Beztati was really focused on countering Koprivlenski's kicks, but I thought this was too his detriment because he was winning when he was keeping his volume up and losing when he was exchanging kicks with Koprivlenski, who is simply a far superior kicker. Beztati was the more active fighter, and he actually landed more shots even in the 1st round, but although he was very accurate, fatigue was clearly holding him back dramatically as he'd have the occasional good flurry of offense when he pushed the pace, but mostly he'd stand in front of Koprivlenski hoping to counter a kick with a single power punch while he was trying to catch his breath. Beztati had a better 2nd round, outworking Koprivlenski & landing the two best shots of the round, a right hand early and and uppercut late, but still fatigue was setting him back in a major way, as he was forced to pick his stops to attack rather than firing away constantly as he probably would have if this was a single fight. Round 2 wasn't an obvious Beztati round, especially since he was fighting himself as much as his opponent, but in spite of himself, he had both the activity & the damage. Koprivlenski changed his tactics in the 3rd, waiting for the single power punch & leaning out of harms way then trying to fire back with a kick but almost always missing. This round was basically a stalemate as Beztati was now the clear aggressor, but he didn't really have enough left to fire up, and thus both men were missing with almost everything they threw, though Koprivlenski did get yet another spinning backfist in at the end. I'd give the round to Beztati if I absolutely had to choose just by virtue of dictating, but really think it should be an even round. Overall Beztati outlanded Koprivlenski 73-52, but Koprivlenski won the unanimous decision 29-27, 29-27, 29-27, 30-26, 30-26. 29-27 was certainly possible, but 30-26 was just absurd. GLORY is doing a better job of the decisions than the other combat sports promotions largely because they often have 5 blind mice now rather than 3, but the judges should be given the numbers. Granted defaulting to that wouldn't be great either, but it would produce more reasonable scoring than not having anything to go by, & thus often falling into the trap of giving the nod to the guy who looks fresher and/or less damaged (especially since bleeding isn't necessarily a result of legal and/or hard blows). All in all, this was the best of the tournament finals GLORY put on in 2017, but even though they're only two fights of three rounds these days rather than the three fights of five rounds of the K-1 classics, the reality is we really only had one notable round here because after that they, mainly Beztati, couldn't physically fight the way he mentally knew they needed to. Good match.
Danyo Ilunga vs. Michael Duut R3 2:26. While nowhere near the stratosphere of their all-time great GLORY 36 12/10/16 bout, the third entry in the trilogy was a nice match if you can view it on it's own merits. Ilunga was determined to stay disciplined this time & rely on his technique & 5" reach advantage rather than get dragged into Duut's brawl, despite his desire to have an entertaining fight & it being his nature to want to answer when the opponent gets a good shot in. He had a good first round backing Duut with his jab or step knee & then bringing the overhand right when Duut didn't have much room to evade. Duut tried to land the power shot as always, but was mostly stuck on his back foot trying to defend, which is not his strong suit to say the least. Duut did a better job of pressing forward through Ilunga reach & forcing the action in the 2nd, but Ilunga is a much better angler & mover & was still utilizing his jab, so it's not as simple as just being aggressive, Duut of all people will never have a problem with that. Nonetheless, even though Duut was getting hit, he was getting a lot more in & he wasn't getting trapped on the ropes anymore. Ilunga slipped trying to back away from the attacking Duut & had to grab the ropes to keep himself up. Duut took advantage hurting him with a big right hand as he was bouncing off the ropes, but then just stopped, with one or both seeming to think there should be a break because Ilunga slipped. Melvin Manhoef was going nuts screaming to Duut to not let this golden opportunity slip away, but Ilunga wound up getting his time to recover. Ilunga was still the overall more solid & consistent fighter in the 2nd, but Duut wobbled Ilunga again in the final seconds with a left hand as Ilunga was starting to jab, so I gave Duut the round (2 of the 5 judges disagreed). Ilunga fought with more urgency in the 3rd, looking to regain the momentum, but he was playing right into Duut's hands exchanging on the inside rather than using his length & footwork. That being said, this was the most exciting round as the fight was finally starting to live up to the expectations set by the previous wild slugfest. Ilunga looked a bit unstable bouncing around out there, I'm not sure whether he had a leg injury, was still a little woozy from Duut's earlier big shots, or was simply playing possum, but Duut seemed to sense it also & became even more aggressive. Duut was doing a good job using his jab to set up his power, but he tried to switch it up & enter behind his step knee & Ilunga just sidestepped it & crushed him with a right hook for the KO. A great way to finish the trilogy & a much needed win for the former It's Showtime champion, snapping a 7 fight losing streak after starting off his career 57-6. Though only the 3rd best fight of the night this time, going from the best GLORY fight of the year to maybe the 12th best still isn't too shabby. Good match.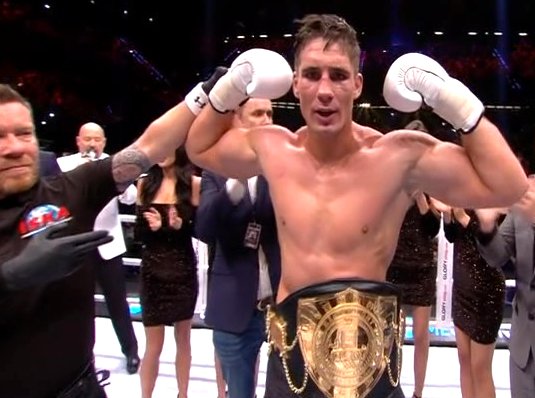 GLORY Heavyweight Title Match: Rico Verhoeven vs. Jamal Ben Saddik R5 1:10. Rico vs. Jamal was that big year end fight that had everything going for it from the large energized crowd to the great early start for the challenger to the revenge factor with Ben Saddik having TKO'd Rico at It's Showtime 46 3/6/11, so although Rico was the heavy favorite this time, the most dominant champion in GLORY actually had something to prove. Verhoeven has come a long way in the 6 years since that loss, and Ben Saddik has hardly been the most consistent fighter since that point, but the fact that Ben Saddik is still fighting at all despite having thyroid cancer & getting shot in the leg trying to break up a fight, much less has actually earned a title shot with 4 straight wins is pretty amazing. He was clearly the sentimental favorite, and this fight had a lot of storyline & drama going for it in addition to being a heavyweight title fight. Ben Saddik has always been a huge threat early, finishing 26 of his 32 wins, but he's improved his cardio of late, and actually won 2 decisions in a row after having not won a decision since the brief 2 rounders over Errol Zimmerman & Remy Bonjasky at GLORY 4 12/31/12, which ironically was the last time Rico actually lost in any way. That being said, you felt Ben Saddik's only real chance was the early stoppage because Rico's stamina, movement, & pace are at another level from any other heavyweight in the business. Ben Saddik was very energized & intense early on, feinting a lot which was good, but also being so overzealous he risked losing a point doing a little headbutt in the clinch & punching Rico two extra times after catching his kick. Ben Saddik's length was a big factor in his quick start, as not only was his jab accurate, but in general, Rico was struggling to gauge the distance he needed to evade, often trying to use his head movement but just being a little too close to actually get out of the way. Rico's strategy was also to slow Jamal down with kicks, but Ben Saddik's arms are so long that instead of these being safe distance shots, he was able to counter Rico's kicks with his own jab, and Rico was losing these exchanges with Ben Saddik stepping inside the kick & landing the punch. Ben Saddik rocked Rico midway through the first answering his jab then landing the right hand on the chin while Rico missed his own right, which really had the crowd erupting. Ben Saddik spent much of the rest of the round pressuring Rico trying to finish him off. Rico blocked or avoided most of these strikes, but Jamal had him under fire & did land another big clubbing right as Rico was trying to back away. This was a great round for Ben Saddik, and clearly if the fight could have continued at this pace, the fight would have been a true standout, but as with the earlier Beztati vs. Koprivlenski tournament final, the problem with the match was one fighter couldn't sustain this energy level or pressure in order to fight the way he needed to, the difference being Ben Saddik didn't have any legitmate excuse for that (being big doesn't qualify). Ben Saddik didn't empty the tank trying for the finish & fall apart, but that being said his normal style of looking for the big shot just wasn't going to cut it against Rico. Verhoeven shifted away from the kicking strategy midway through the second, having much more success fighting behind his jab. Ben Saddik was now hesitant & giving away ground too easily. Once Verhoeven had Ben Saddik retreating from the jab, he was now able to land low kicks following the jab or push him back further with the front kick. Verhoeven went down to his hands getting caught with a right while trying to throw a low kick, but I think this was rightfully called a slip. While the rounds after the first were solid and entertaining enough, the intensity sustained more due to the threat of Ben Saddik, established in the 1st, than the way he was currently able (or at least willing) to fight. Ben Saddik spent too much time waiting, too much time circling backwards against the ropes, trying to lure Rico into the big right hand, but generally just being outscored & put on the defensive. The more Ben Saddik backed, the less he used his jab, and that was really what was working for him early on and allowing him to get the big right hand in that was his main opportunity to win (read finish) the fight. Rico amped up the pressure in the 5th because like Demetrious Johnson he wants to be the greatest fighter not merely the most prolific decision winner, and also because a lot of his greatness is that he's so prepared & conditioned that he can keep amping up the pressure. The fight had gotten a bit stale as Rico's dominance had been reestablished, but here he was in the 5th exchanging on the inside with Ben Saddik even though the fight was in the bag so long as he didn't get KO'd. The beginning of the end was surprising & completely out of nowhere. Ben Saddik was moving forward, but stopped when Rico lifted his left knee then was basically just frozen as Rico brought up the left high kick to stun him. Rico went right in for the kill, and Ben Saddik was dropping his head, which made it easy for Rico to get inside & maul him with overhand rights until Paul Nichols stepped in & gave Ben Saddik a standing 8 count. Rico just charged right in with more overhand rights & uppercuts until the stoppage. In addition to avenging his loss to ben Saddik, this was an important stoppage for Rico because with four of his last five wins inside the distance, it's hard to argue against him being a finisher, and this time he even answered some adversity, coming from behind to do it. This was a good performance from Jamal, the most competitive match Rico has had in a long long time, and even though Rico still only lost 1 round, Jamal had him in a lot more trouble than Schilt did in Rico's lone GLORY loss. It seemed like in a 3 round fight, Ben Saddik might have a chance if he fought actively & aggressively behind his jab, but Rico just gains so much advantage with each passing round because his conditioning is so superb. The fight clearly had the best atmosphere of any GLORY fight all year, and was a fitting closing to 2017. Good match.
GLORY 2017 Top 10 Matches
Ranked in quality order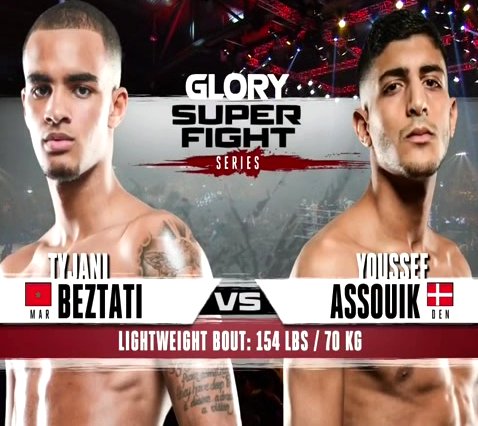 1. 5/20/17, Tyjani Beztati vs. Youssef Assouik
2. 5/20/17, Zakaria Zouggary vs. Yetkin Ozkul
3. 4/29/17, Mohammed El-Mir vs. Simon Santana
4. 3/25/17, Sitthichai Sitsongpeenong vs. Dylan Salvador
5. 2/24/17, Ariel Machado vs. Danyo Ilunga
6. 10/28/17, Dylan Salvador vs. Massaro Glunder
7. 2/24/17, Murthel Groenhart vs. Thongchai Sitsongpeenong
8. 12/9/17, Stoyan Koprivlenski vs. Tyjani Beztati
9. 1/20/17, Robin van Roosmalen vs. Matt Embree
10. 12/9/17, Rico Verhoeven vs. Jamal Ben Saddik
BACK TO QUEBRADA MATCHES


* Kickboxing Reviews Copyright 2017 Quebrada *