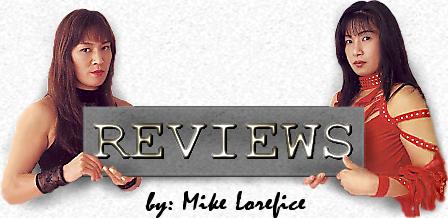 PRO-WRESTLING NOAH 2009 Year in Review
by LUKI
After an exciting 2008, NOAH looked ready to continue rolling. Perhaps not to the heights of mainstream popularity the company enjoyed during Kenta Kobashi's title reign of 2003-2005, but with a dominant core of junior heavyweights and Go Shiozaki ready to take his place as heavyweight ace, continued success seemed a certainty.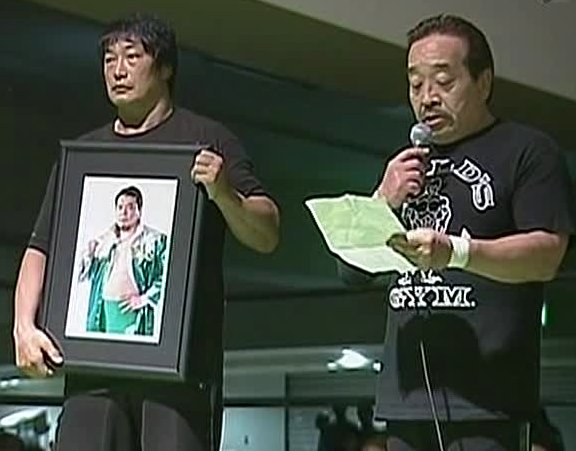 How quickly things can change. In March, NOAH became the first real casualty of the global economic downturn as NTV cancelled their television program, leaving NOAH bereft of key advertising income. Shortly thereafter, Naomichi Marufuji suffered a serious knee injury. By June, things had gone from bad to worse to tragic: the founder of NOAH, company president and pro-wrestling demigod, Mitsuharu Misawa died in the ring. In October, KENTA blew out a knee, as did Kotarô Suzuki less than two months later. Masao Inoue, Ippei Ôta and Akihiko Itô would also suffer injuries; the latter two would never return to wrestling. Kenta Kobashi would return only to be injured again days before he and Akiyama were to win the tag titles. Mitsuo Momota, son of Rikidôzan, the founder of Japanese professional wrestling as a whole, would resign from NOAH in protest following Akira Taue being named to replace Misawa as president.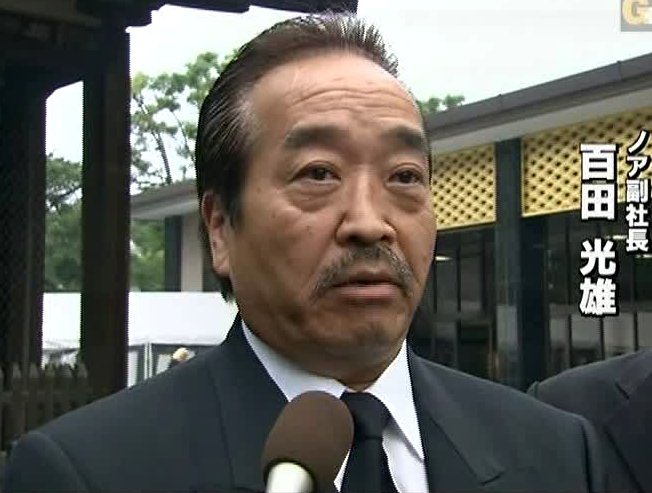 Indeed, Momota may have seen what was coming: the first shows with Taue as president were the worst of the entire year, as NOAH's greatest strength, the junior heavyweights, were relegated to a single battle royal on one show and little more than jobbers the following evening. While no one can truly claim to know what Misawa's plans were, they unquestionably included focusing on the young core of Marufuji, KENTA, Kotarô and Shiozaki- perhaps even with weight classes de-emphasized. A company that had begun the year showcasing thrilling, high level matches from the juniors was replaced following Misawa's death with a noticeable shift in focus to heavyweights such as Kensuke Sasaki, Akitoshi Saito, Takeshi Morishima, Takeshi Rikio and Mohammed Yone, often at the expense of the very juniors that were putting on such great shows earlier in the year. Though Gô Shiozaki - who had been given the heavyweight championship in a hasty, knee-jerk move days after Misawa's death - tried his hardest to pull every last drop out of these wrestlers, the brutal truth is that the best and brightest in NOAH are under 100 kilograms.
We can never know for sure, but perhaps this antiquated thinking was partly responsible for the rash of injuries. KENTA, the indisputable MVP for the first several months of the year (even in losing efforts), as the year wore on not only slowed down, suggesting working through injuries, but also seemed distracted and disillusioned.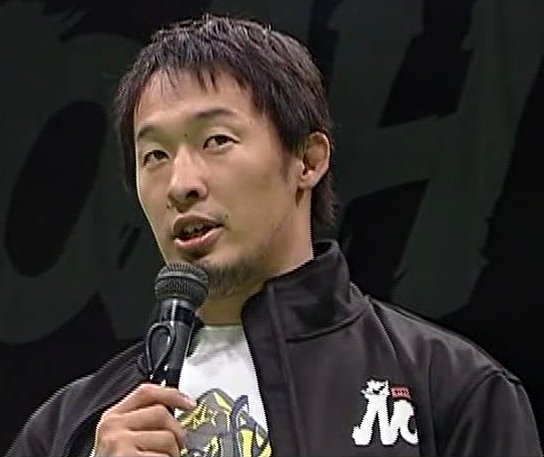 So then, the story of Pro-Wrestling NOAH's 2009 was one of two companies. The first half of the year carried on NOAH's exciting brand of junior focused "oudou" wrestling with an added element of traditional pro-wrestling storylines and feuds. Some of it worked, some of it didn't, but those six months had a distinct spark. After Misawa's death, however, with the change in power structure, the juniors were de-emphasized, the angles were dropped, and what seemed to be a clear, lighted way forward became murky, uncertain, degenerated. However, NOAH's final big show of the year at the Budôkan was a success. Marufuji successfully returned from injury, the juniors were allowed to shine again, and for the first time, two pure NOAH trueborns- Gô Shiozaki and Takashi Sugiura- battled in the main event for the heavyweight title.
* * *
In 2009, NOAH and New Japan renewed their rivalry: Atsushi Aoki reached the semifinals the Best of the Super Junior league. Takashi Sugiura challenged for the IWGP heavyweight title and a month later reached the semifinals of the prestigious G1 Climax. Upon his return from injury, Naomichi Marufuji won the 5th edition of the Super J Cup, becoming only the second man to win the competition twice; indeed, in the first round he defeated the first to do it, Jushin Thunder Liger.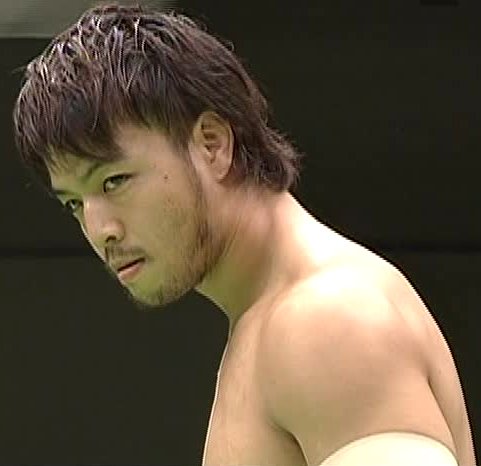 More than any other wrestler, KENTA took the reigns of NOAH and for several months produced the best matches of the year, supplemented by strong efforts from Shiozaki, Kotaro, Yoshinobu Kanemaru, Taiji Ishimori, Ricky Marvin and Atsushi Aoki. Though NOAH's various problems and mistakes are visable and obvious, particularly from August on, for most of the year no matter how these men were booked they worked as hard as they were able and produced numerous highlights for the year.
2009 was tragic, at times frustrating, but what matters to history in the end is the quality of wrestling matches, whatever may come in the future. Looking at things this way, 2009 gave us several undeniable gems for the wrestling fan to enjoy for years to come.
AWARDS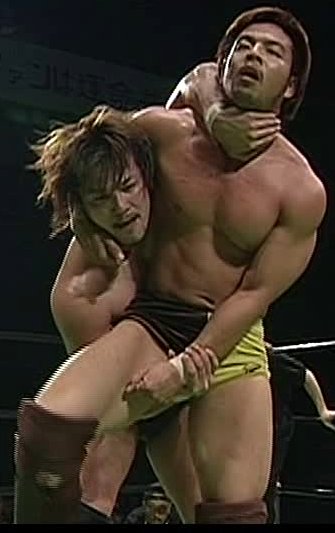 Match of the Year: Gô Shiozaki vs KENTA, 7/5/09 Differ Ariake "Wrestler Union Show 'No Pain No Gain'" (aired near live on Samurai TV)
Strangely enough, this thrilling, 30 minute '90s All Japan Budôkan-level epic not only wasn't on a major show. Not only did it take place in front of less than 2,000 at the Differ Ariake, it wasn't even the main event! Though Shiozaki was heavyweight champion and KENTA junior heavyweight champion, absolutely nothing was on the line. There was no title to win, no feud to blow off, no hated opponent to destroy. No, this was about pure competition and guts: two guys who care deeply about their art and giving the fans every last atom of their ability and love for professional wrestling. This was an epic, plain and simple. It had everything you want in a match: no rest holds, no stalling, but nearly flaw-free maximum effort, hard hitting, dizzying counters and reversals, with Shiozaki even needing to debut a new move to win! So, when all was said and done, a largely pointless semifinal on a minor show booked by Takeshi Morishima was the best match produced by NOAH. Not because the year was weak, but because Shiozaki and KENTA are just plain that damn good. NOAH's match of the year, and high in the running for match of the year in all professional wrestling.
MVP: KENTA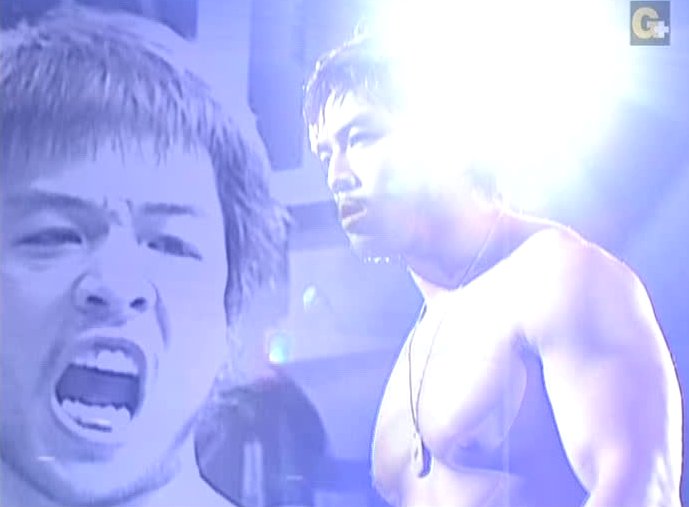 The list of 50 best NOAH matches of 2009 reads like a KENTA best-of compilation. Ironically, many of these matches were losing efforts, but this is professional wrestling, an art more than a sport. What matters is effort, ability, and the ephemeral, difficult to define quality possessed by the best of the best that makes everyone who wrestles with them look better. For the lion's share of shows in 2009, KENTA could yank at least four stars out of virtually anyone who stepped into a ring with him, producing several bona fide match of the year candidates. Though he slowed down - likely due to working through injuries - and finally blew out his knee on October 28, his singles matches against Katsuhiko Nakajima (three times), Kotarô Suzuki, Ricky Marvin, Gô Shiozaki, Jun Akiyama and Taiji Ishimori are highlights all. Any wrestling fan watching NOAH in 2009 ends the year with but one hope: that in 2010 this man returns in top form.
Technique Prize: Taiji Ishimori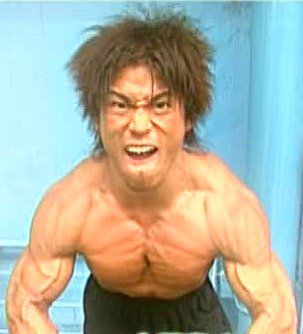 Though often underbooked, underrated and very badly dressed, from the time he has been with NOAH, Ishimori has been a finely tuned precision instrument. Ishimori is exacting, intricate, exhilarating and on a razor's edge: if something were to go wrong, the crash could be worse than an air show. But he never crashes. No matter what situation he's put in, Ishimori's crisp execution, exceptionally high ring intelligence and almost unbelievable body control make him one of the best in wrestling. Not even the gods themselves know why he never receives bigger pushes, but as the best should do, Ishimori is never lazy in the ring, no matter how he is used. When Marufuji was injured, Ishimori replaced him in a main event clash with indy ace Kôta Ibushi, not just admirably filling in, but bringing a psychological level to the match Marufuji himself may not have attained.
Fighting Spirit Award: Gô Shiozaki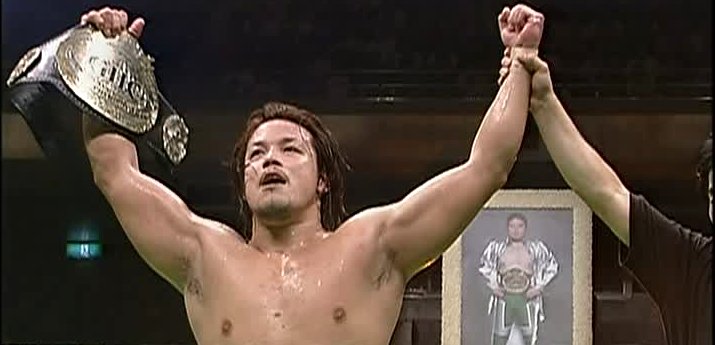 2009 was an awkward one for Shiozaki. After spending most of 2008 in the United States, earning such sterling accolades as the championships of FIP and WLW and a deeply stupid run in ROH as part of a heel stable, Gô returned ready to succeed his mentor Kenta Kobashi as NOAH's ace. With their usual mallet-edged subtlety, in the first tour of the year NOAH booked him in singles matches against Sano, Honda and Rikiô. He won them all in what was surely a prelude to a gradual heavyweight title ascendancy. He was definitely marked for a tag title reign with Misawa following their triumph in the Global Tag League. Instead, Misawa's death in June and resulting panicky booking gave Gô a hasty singles title run, defeating Rikiô in a mid-tour encounter following Akiyama's vacating of the title. His sole defence would be against Akitoshi Saitô before losing the title to Takashi Sugiura in December. It was a situation that had to have been fraught with tension and uncertainty, for NOAH but especially Shiozaki himself. Yet at no point did he ever hang his head, give up, or power down. All year, no matter how nonsensical or awkward the circumstances, Gô gave everything he had in every match. The result? Two inarguable match of the year candidates and a future far more certain than even that of the company that brought him into the wrestling world. Pretty damn good for a guy in just his fourth full year!
Best Show: Winter Navigation '09 Saishûsen, 12/6/09 Nippon Budôkan, Tôkyô (aired 12/7/09 on G+)
1. Shûhei Taniguchi defeated Makoto Hashi 10'38" by pinfall, German suplex hold
2. Akira Taue, Takuma Sano, Junji Izumida & Tsuyoshi Kikuchi defeated Yoshinari Ogawa, Kentarô Shiga, Kishin Kawabata & Genba Hirayanagi 13'47" - Sano pinfall on Genba, Northern Light Bomb
3. Kenta Kobashi, Tamon Honda & Akihiko Itô defeated Bison Smith, Chris Hero & Eddie Edwards 15'43" - Kobashi pinfall on Edwards, short range strong-arm lariat
4. Atsushi Aoki 10 Match Series #10 / Naomichi Marufuji Return Match: Naomichi Marufuji defeated Atsushi Aoki 17'21" by pinfall, Tiger Flowsion
5. 10th GHC Junior Heavyweight Tag Championship: © Yoshinobu Kanemaru & Kotarô Suzuki defeated Taiji Ishimori & Ricky Marvin 22'26" - Kotarô pinfall on Marvin, rolling elbow strike (6th title defence)
6. 18th GHC Tag Championship: Mohammed Yone & Takeshi Rikiô defeated © Kensuke Sasaki & Takeshi Morishima 26'40" Yone by pinfall on Morishima, head kick (failed 2nd defence; 19th champion team)
7. 15th GHC Heavyweight Championship: Takashi Sugiura defeated © Gô Shiozaki 24'39" by pinfall, avalanche-style Olympic Qualifier Slam (failed 2nd defence; 16th champion)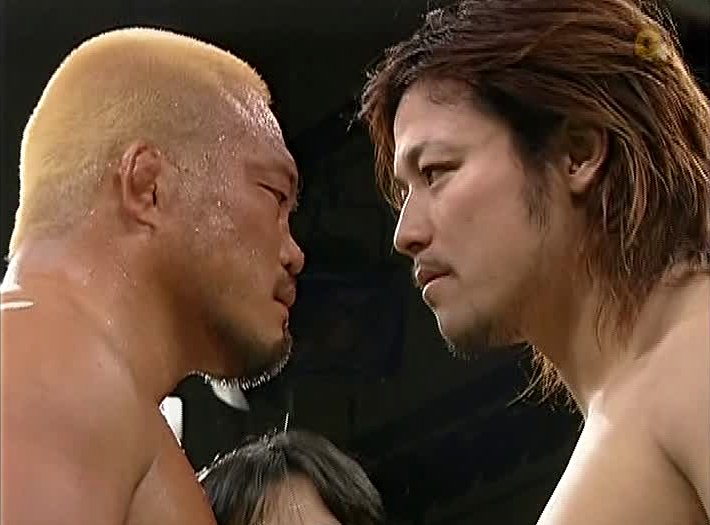 NOAH started 2009 very strong, but by the summer bad circumstances and poor management thereof made it look like the company would be limping to the finish line. Instead, the final big show of the year delivered in virtually every way it should. Though the most learned minds in the most gilded institutions of learning would fail to explain why the first two matches of the show needed to take up a half hour, every match that had to deliver, did. Naomichi Marufuji returned from a nine month injury in fine form, overcoming a spirited Atsushi Aoki, whom NOAH had almost forgotten about after Taue's regime came to power. As though the turgid summer had never happened, the junior tetrarchy of Kanemaru, Kotarô, Ishimori and Marvin shone bright in an exciting title match. Kobashi and Akiyama were to win the tag titles, but an injury to Kobashi forced NOAH to designate Yone and Rikiô as challengers. Shockingly, the DISOBEY pair worked hard and defeated the champions Kensuke and Morishima through a combination of power and psychology. Finally, in the main event, for the first time ever two NOAH trueborns faced off for the GHC Heavyweight Championship. NOAH's first debutant and former junior heavyweight Takashi Sugiura defeated Gô Shiozaki in a thrilling, brutal encounter whose overall symbology was as important as its minutae. After a tumultuous year that shook the very foundations of a company that mere years ago was considered the best in the world, facing an uncertain future, NOAH's new generation put their best foot forward and proclaimed that they would not go down without a fight.
Worst Wrestler: Takeshi Rikiô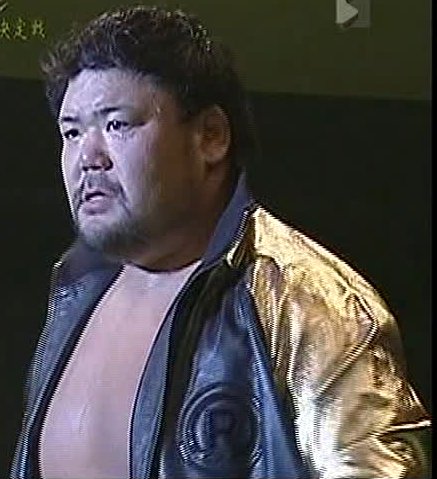 Slow, light hitting, lazy, limited moveset, disinterested, sloppy. Sadly, these words can be used for the bulk of NOAH's entire heavyweight roster, but no one personified those concepts more in 2009 than former heavyweight champion Takeshi Rikiô. This man's effort was so poor for comparisons one has to look at WWE divas, bottom-level backyarders and toddlers trying to mimic what they see on television. In his biggest match of the year, a decision heavyweight title match against Shiozaki, Rikiô was so inept he actually - amongst other horrors - botched selling a DDT, which I didn't believe possible for a trained professional wrestler. For whatever reason, the vast majority of the time he didn't care to the point of refusing to give an effort to even make contact with elbow strikes! On July 5, Kotarô Suzuki (in, laughably, a losing effort) carried him to a vaguely passable match, but that's about it. Any tag team matches Rikiô was a part of succeeded in spite of his weak, apathetic efforts, not because of them. There was a time when Rikiô was capable of passable matches, but clearly over time he stopped caring about wrestling. Hopefully, he can find something in life he does enjoy because on the NOAH roster he is nothing but dead weight.
Worst Major Match: Bison Smith & Akitoshi Saitô vs Kensuke Sasaki & Takeshi Morishima, 9/21/09 "Exceeding Our Dreams '09" tour (aired 9/25/09 on Samurai TV)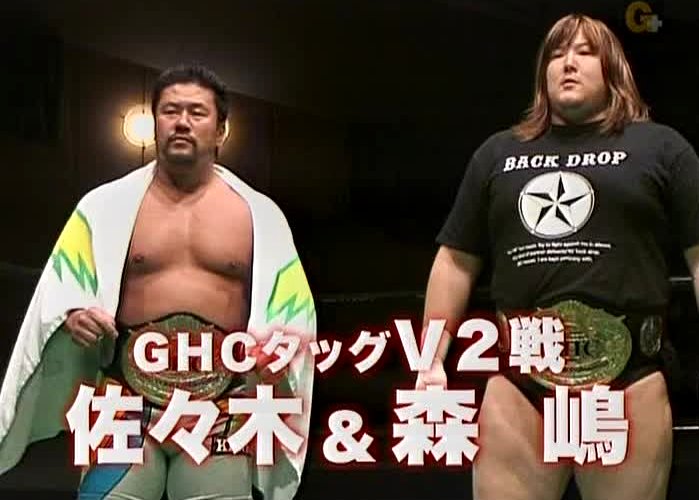 Bison and Akitoshi were supposed to lose their GHC tag titles to Misawa and Shiozaki on June 13, but we know what happened instead. NOAH apparently wanted to have an epic, memorable title change, so they booked this to go a whopping 33 minutes. So what happens when you have four guys with 10 minute movesets lurch around for over a half hour? Beyond pure tedium. Kensuke screamed and frothed and shouted things at the crowd, Morishima did his allegedly surprising bursts of speed for his size, Akitoshi sky pointed to the spirit of Misawa, Bison... did Bison things... but all it added up to was a deeply ordinary 15 minute mid-tour midcard match stretched to more than twice its length and made a main event. Everyone was tired after the first 10 minutes. Bison nearly knocks himself out on a botched top-rope Frankensteiner. Kensuke's lariats were often at a 90 degree angle and missed entirely yet were sold like point-blank shotgun blasts. Everyone landed awkwardly from even the most basic moves. Virtually every sign seemed to be missed or misunderstood. Ultimately, this was too boring to even be considered entertaining in its badness. Post-match, all four men celebrated in the ring as though they had accomplished something extraordinary. In a way, I suppose they did. There may have been undercard matches in 2009 that were equally boring or more poorly executed, but to have this level of bad in what was clearly designed to be an epic title match is inexcusable.
Worst Show(s): Weekend Navigation '09, 8/22/09 Kôbe & 8/23/09 Kyôto (aired 8/28/09 on Samurai TV & 8/29/09 on G+, respectively)
8/22/09 Kôbe Sambo Hall
1. Akira Taue vs Kishin Kawabata - 15'00" time limit draw
2. Takeshi Rikiô defeated Kentarô Shiga 11'45" by pinfall, short range lariat
3. Akitoshi Saitô defeated Takuma Sano 12'31" by pinfall, Death Punish (lariat version)
4. Genba Hirayanagi defeated Kotarô Suzuki 15'28" to win a junior heavyweight battle royal (previous eliminations: Ogawa, Kanemaru, Itô, Marvin, Aoki, KENTA, Ishimori)
5. Takashi Sugiura defeated Mohammed Yone 17'26" by pinfall, Olympic Qualifier Slam
6. Kenta Kobashi, Jun Akiyama & Tamon Honda defeated Gô Shiozaki, Takeshi Morishima & Shûhei Taniguchi 33'1" - Honda pinfall on Taniguchi, Dead End (German suplex version)

8/23/09 Kyôto KBS Hall
1. Taiji Ishimori vs Ricky Marvin - 15'00" time limit draw
2. Kishin Kawabata defeated Genba Hirayanagi 8'17" by pinfall, diving senton
3. Akira Taue & Yoshinari Ogawa defeated Akitoshi Saitô & Takuma Sano, 11'1" - Ogawa side cradle on Sano
4. Takeshi Morishima & Tamon Honda defeated KENTA & Akihiko Itô 15'21" - Morishima pinfall on Itô, backdrop suplex
5. Takeshi Rikiô & Mohammed Yone defeated Yoshinobu Kanemaru & Kotarô Suzuki 14'48" - Yone pinfall on Kotarô, Muscle Buster
6. Gô Shiozaki defeated Atsushi Aoki 15'35" by pinfall, Gô Flasher
7. Kenta Kobashi & Jun Akiyama defeated Takashi Sugiura & Shûhei Taniguchi 24'36" - Akiyama pinfall on Taniguchi, vertical drop Exploder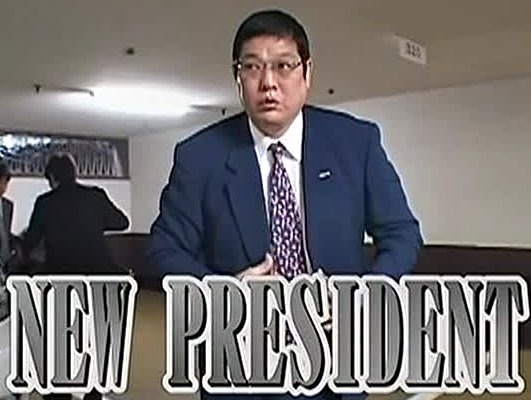 The new regime has been installed: Akira Taue is President of NOAH. His vision? Heavyweights are good, junior heavyweights are bad. Old is good, young is bad. Say "no" to high energy, intricate, exciting wrestling- and say "YES" to big old guys running into each other. The new regime suppressed Misawa's vision of a young, fast NOAH so brutally that the 8/22 show relegated the entire junior heavyweight roster to a single fifteen minute battle royal! The rest of the card featured mostly mid-card level (or lower) older tag team wrestlers in plodding, generic singles matches- including a fifteen minute draw between Taue and Kishin Kawabata. The main event was a 33 minute celebration of obsolescence, as the trio of (what's left of) Kobashi, Akiyama and Tamon Honda crushed the younger generation of Shiozaki, Morishima and Taniguchi.
The following evening in Kyôto started somewhat more promising as Ishimori and Marvin lead off with a spirited match, but went all downhill from there. KENTA, the runaway MVP to that point, was shown to be unable to defeat Honda despite being clearly the superior talent because Honda is older and heavier (the match ended with Morishima beating Itô, however). The very next match, the junior heavyweight tag champions had to get shoved around by Rikiô and Yone - again, the clearly superior, more talented wrestlers being crushed under older heavyweights simply because they're older heavyweights. With the energy sufficiently sucked out of the room, Shiozaki and Aoki were only able to put on a middling, apathetic performance before the main event once again saw Kobashi and Akiyama stand triumphant over the new generation.
While these two shows had their moments- indeed, infurating as the booking was, the junior battle royal was a quality match, and at least some of the heavyweights (Sugiura, Yone, Shiozaki, Taniguchi) tried, what made these shows so terrible was the meaning behind them. Clearly, forces within NOAH were licking their chops once Misawa died, because the change in tone was so neck-snappingly obvious. This was definitely NOAH's low water mark, but up until the final Budôkan show in December, the credo was set - and very obviously, the talented juniors were affected by this reactionary change in emphasis.
THE BEST 50 MATCHES
1. Gô Shiozaki vs KENTA (28:43) - NOAH Wrestler Union (Takeshi Morishima Produce) @ Differ Ariake "No Pain, No Gain", 7/5/09 (Samurai near live)
2. KENTA vs Katsuhiko Nakajima (38:53) - GHC Junior Heavyweight Title - Kensuke Office @ Kôrakuen Hall "Take the Dream Vol 7", 2/11/09 (Samurai 2/15/09)
3. Gô Shiozaki & KENTA vs Kensuke Sasaki & Katsuhiko Nakajima (30:15) - NOAH @ Kôrakuen Hall "Southern Navigation '09", 6/22/09 (G+ live)
4. Naomichi Marufuji vs Kaz Hayashi (32:25) - PWF World Junior Heavyweight Title - All Japan @ Kôrakuen Hall "Excite Series 2009", 2/6/09 GAORA B-Banquet #215, 3/28/09)
5. Katsuhiko Nakajima vs KENTA (25:45) - GHC Junior Heavyweight Title - NOAH @ Nippon Budôkan "The Second Navigation '09", 3/1/09 (G+ 3/2/09)
6. KENTA vs Ricky Marvin (27:02) - GHC Junior Heavyweight Title - NOAH @ Kôrakuen Hall "Southern Navigation '09", 6/4/09 (G+ live)
7. Taiji Ishimori vs Ricky Marvin (27:01) - GHC Junior Heavyweight Title Next Challenger match - SEM @ Differ Ariake "SEMex DIFFER", 5/18/09 (Samurai 6/16/09)
8. Prince Devitt vs Naomichi Marufuji (18:06) - Super J Cup 5th Stage Final - New Japan @ Kôrakuen Hall "Super J Cup 5th Stage ~Land of Confusion~", 12/23/09 (J Sports 1/25/09)
9. Yoshinobu Kanemaru & Kotarô Suzuki vs Atsushi Aoki & Kôta Ibushi (19:49) - NTV Cup Junior Heavyweight Tag League Final - NOAH @ JCB Hall "Summer Navigation '09", 7/25/09 (G+ live)
10. Gô Shiozaki vs Takashi Sugiura (24:39) - GHC Heavyweight Title - NOAH @ Nippon Budôkan "Winter Navigation '09", 12/6/09 (G+ 12/7/09)
11. KENTA vs Taiji Ishimori (25:41) - NOAH @ Differ Ariake "Departure 2009 ~Bound for the Future~", 8/1/09 (Samurai 8/5/09)
12. Kôta Ibushi vs Taiji Ishimori (24:14) - DDT @ Kôrakuen Hall "Judgement 2009", 4/5/09 (Samurai Dramatic Fantasia #219, 4/23/09)
13. Jun Akiyama vs KENTA (29:14) - KENTA Produce @ Differ Ariake "CROSS ROAD", 5/17/09 (G+ 5/18/09)
14. Katsuhiko Nakajima vs Gô Shiozaki (25:11) - Kensuke Office @ Sapporo "Take the Dream Vol 9", 6/28/09 (Samurai 7/14/09)
15. KENTA & Taiji Ishimori vs Atsushi Aoki & Kôta Ibushi (21:11) - NTV Cup Junior Heavyweight Tag League Block A match - NOAH @ Kôrakuen Hall "Summer Navigation '09", 7/12/09 (G+ live)
16. Kensuke Sasaki & Kôta Ibushi vs Jun Akiyama & Taiji Ishimori (25:00) - Kensuke Office @ Kôrakuen Hall "Take the Dream Vol 7", 2/11/09 (Samurai 2/15/09)
17. Mitsuharu Misawa & Gô Shiozaki vs Kensuke Sasaki & Takeshi Morishima (22:53) - Global Tag League Final - NOAH @ Nippon Budôkan "Global Tag League '09", 5/6/09 (G+ 5/11/09)
18. KENTA vs Davey Richards (18:32) - GHC Junior Heavyweight Title - ROH @ Houston, TX "Supercard of Honor IV", 4/3/09 (dvd)
19. Shinsuke Nakamura & Hirooki Gotô vs Mitsuharu Misawa & Takashi Sugiura (15:17) - New Japan @ Tôkyô Dome "Wrestle Kingdom III", 1/4/09 (live PPV)
20. KENTA vs Katsuhiko Nakajima (30:00) - Junior Heavyweight League Block A match - NOAH @ Sapporo "Autumn Navigation '09", 10/25/09 (Samurai 10/31/09)
21. Jun Akiyama vs Gô Shiozaki (27:21) - GHC Heavyweight Title - NOAH @ Tsukisamu "Global Tag League '09", 4/19/09 (Samurai 4/25/09)
22. Akira Taue & Toshiaki Kawada vs Jun Akiyama & KENTA (17:32) - NOAH @ Ôsaka "Great Voyage 2009 in Ôsaka ~Mitsuharu Misawa, Always in Our Hearts", 10/3/09 (live PPV)
23. Yoshinobu Kanemaru & Kotarô Suzuki vs Taiji Ishimori & Ricky Marvin (22:26) - GHC Junior Heavyweight Tag Title - NOAH @ Nippon Budôkan "Winter Navigation '09", 12/6/09 (G+ 12/7/09)
24. Yoshinobu Kanemaru & Kotarô Suzuki vs Atsushi Aoki & Akihiko Itô (28:04) - GHC Junior Heavyweight Tag Title - NOAH @ Kôrakuen Hall "Global Tag League '09", 4/25/09 (G+ 4/27/09)
25. KENTA & Taiji Ishimori vs Bryan Danielson & Roderick Strong (21:32) - NTV Cup Junior Heavyweight Tag League Block A match - NOAH @ Akita "Summer Navigation '09", 7/21/09 (Samurai 7/24/09)
26. Atsushi Aoki & Kôta Ibushi vs Ricky Marvin & Eddie Edwards (13:39) - NTV Cup Junior Heavyweight Tag League Semifinal - NOAH @ JCB Hall "Summer Navigation '09", 7/25/09 (G+ live)
27. KENTA vs Kotarô Suzuki (32:05) - GHC Junior Heavyweight Title - NOAH @ Kôrakuen Hall "The First Navigation '09", 1/25/09 (G+ 1/26/09)
28. Kotarô Suzuki vs Katsuhiko Nakajima (30:00) - Junior Heavyweight League Block A match - NOAH @ Kôrakuen Hall "Autumn Navigation '09", 10/15/09 (G+ live)
29. Yoshinobu Kanemaru & Kotarô Suzuki vs Jadô & Gedô (24:32) - GHC Junior Heavyweight Tag Title - NOAH @ Ôsaka "Great Voyage 2009 in Ôsaka ~Mitsuharu Misawa, Always in Our Hearts", 10/3/09 (live PPV)
30. Naomichi Marufuji vs Atsushi Aoki (17:21) - Atsushi Aoki 10 Match Series #9/Naomichi Marufuji Return Match - NOAH @ Nippon Budôkan "Winter Navigation '09", 12/6/09 (G+ 12/7/09)
31. Masahiro Chôno, Keiji Mutô & Kenta Kobashi vs Manabu Nakanishi, Satoshi Kojima & Jun Akiyama (23:59) - Masahiro Chôno 25th Anniversary Match - New Japan @ Ryôgoku Kokugikan "Masahiro Chôno 25th Anniversary Special Event", 10/12/09 (live PPV)
32. Yoshinobu Kanemaru & Kotarô Suzuki vs KENTA & Taiji Ishimori (19:28) - NTV Cup Junior Heavyweight Tag League Semifinal - NOAH @ JCB Hall "Summer Navigation '09", 7/25/09 (G+ live)
33. Kensuke Sasaki & Takeshi Morishima vs Yoshihiro Takayama & Takashi Sugiura (30:00) - Global Tag League match - NOAH @ Nagoya "Global Tag League '09", 4/27/09 (Samurai 5/2/09)
34. Kensuke Sasaki, Yoshinari Ogawa & Katsuhiko Nakajima vs Jun Akiyama, Mohammed Yone & Gô Shiozaki (25:40) - Marufuji Produce @ Kôrakuen Hall "Shiranui Ikotenyoku ~I no Maki~", 1/11/09 (G+ Di Colosseo 2/23/09)
35. Jun Akiyama & Shûhei Taniguchi vs Kenta Kobashi & Gô Shiozaki (26:01) - SEM @ Differ Ariake "SEMex DIFFER", 5/18/09 (Samurai 6/16/09)
36. Kensuke Sasaki & Katsuhiko Nakajima vs Jun Akiyama & Atsushi Aoki (25:27) - NOAH @ Kôrakuen Hall "The First Navigation '09", 1/12/09 (G+ 1/13/09)
37. KENTA vs Ricky Marvin (1:59) - Junior Heavyweight League Block A match - NOAH @ Kôrakuen Hall "Autumn Navigation '09", 10/15/09 (G+ live)
38. Jun Akiyama, Kenta Kobashi & Shûhei Taniguchi vs Takeshi Rikiô, Mohammed Yone & Kotarô Suzuki (15:26) - NOAH @ Kôrakuen Hall "Southern Navigation '09", 6/4/09 (G+ live)
39. Hiroshi Tanahashi & Kôji Kanemoto vs Takeshi Morishima & Kôta Ibushi (20:25) - New Japan @ Kôrakuen Hall "Divergence", 5/5/09 (Samurai near live)
40. Kensuke Sasaki, Takeshi Morishima & Katsuhiko Nakajima vs Genichirô Tenryû, Yoshinari Ogawa & Kotarô Suzuki (21:05) - NOAH @ Nippon Budôkan "Great Voyage 2009 in Tôkyô ~Mitsuharu Misawa, Always in Our Hearts", 9/27/09 (G+ 9/29/09)
41. Kotarô Suzuki vs Taiji Ishimori (20:00) - NOAH @ Shiodome "Go! Shiodome Jamboree Wasshoi! 2009", 8/2/09 (G+ live)
42. Hiroshi Tanahashi vs Takashi Sugiura (24:14) - IWGP Heavyweight Title - New Japan @ Tsukisamu "Circuit 2009 New Japan Soul", 7/20/09 (TV Asahi)
43. Jushin Thunder Liger vs Naomichi Marufuji (16:21) - Super J Cup 5th Stage 1st Round match - New Japan @ Kôrakuen Hall "Super J Cup 5th Stage ~Land of Confusion~", 12/22/09 (Samurai near live)
44. Yoshinobu Kanemaru vs Jushin Thunder Liger (18:53) - Junior Heavyweight League Final/GHC Junior Heavyweight Title decision match - NOAH @ JCB Hall "Autumn Navigation '09", 10/31/09 (G+ 11/1/09)
45. Yoshinobu Kanemaru & Kotarô Suzuki vs Katsuhiko Nakajima & Kento Miyahara (30:00) - NTV Cup Junior Heavyweight Tag League Block B match - NOAH @ Kôrakuen Hall "Summer Navigation '09", 7/12/09 (G+ live)
46. Yoshinobu Kanemaru & Kotarô Suzuki vs Katsuhiko Nakajima & Kento Miyahara (24:31) - GHC Junior Heavyweight Tag Title - NOAH @ Kôrakuen Hall "Exceeding Our Dreams '09", 9/12/09 (G+ live)
47. Satoshi Kojima, KAI & Hiroshi Yamato vs Kenta Kobashi, Tsuyoshi Kikuchi & Akihiko Itô (29:13) - All Japan @ Ryôgoku Kokugikan "Puroresu LOVE in Ryôgoku Vol 8 ~Keiji Mutô 25th Anniversary~", 8/30/09 (live PPV)
48. Prince Devitt vs Atsushi Aoki (10:51) - Super J Cup 5th Stage 1st Round match - New Japan @ Kôrakuen Hall "Super J Cup 5th Stage ~Land of Confusion~", 12/22/09 (Samurai near live)
49. KENTA vs Atsushi Aoki (22:34) - GHC Junior Heavyweight Title - NOAH @ Nagoya "Exceeding Our Dreams '09", 9/21/09 (Samurai 9/25/09)
50. Kensuke Sasaki & Takeshi Morishima vs Mohammed Yone & Takeshi Rikiô - GHC Tag Title - NOAH @ Nippon Budôkan "Winter Navigation '09", 12/6/09 (G+ 12/7/09)
MATCH SPECTRUM
(chronologically ordered list including all interpromotional matches with NOAH participation)
GREEN (*** to >***¼)
1. Manabu Nakanishi vs Jun Akiyama (10:27) - New Japan @ Tôkyô Dome "Wrestle Kingdom III", 1/4/09 (live PPV)
2. Naomichi Marufuji vs NOSAWA Rongai (14:51) - PWF World Junior Heavyweight Title - Marufuji Produce @ Kôrakuen Hall "Shiranui Ikotenyoku ~I no Maki~", 1/11/09 (G+ Di Colosseo 2/23/09)
3. KENTA & Ippei Ôta vs Kotarô Suzuki & Genba Hirayanagi (16:49) - NOAH @ Kôrakuen Hall "The First Navigation '09", 1/12/09 (G+ 1/13/09)
4. Takuma Sano vs Gô Shiozaki (19:35) - NOAH @ Kôrakuen Hall "The First Navigation '09", 1/12/09 (G+ 1/13/09)
5. KENTA & Ippei Ôta vs Katsuhiko Nakajima & Kento Miyahara (13:38) - NOAH @ Differ Ariake "The Second Navigation '09", 2/15/09 (G+ 2/16/09)
6. Kensuke Sasaki & Takashi Okita vs Bison Smith & Akitoshi Saitô (18:33) - NOAH @ Differ Ariake "The Second Navigation '09", 2/15/09 (G+ 2/16/09)
7. Kenta Kobashi vs Masao Inoue (14:07) - Kenta Kobashi Return Match - NOAH @ Nippon Budôkan "The Second Navigation '09", 3/1/09 (G+ 3/2/09)
8. Akira Taue, Naomichi Marufuji & Atsushi Aoki vs Buchanan, Roderick Strong & Davey Richards (12:08) - NOAH @ Nippon Budôkan "The Second Navigation '09", 3/1/09 (G+ 3/2/09)
9. Kensuke Sasaki vs Jun Akiyama (22:44) - GHC Heavyweight Title - NOAH @ Nippon Budôkan"The Second Navigation '09", 3/1/09 (G+ 3/2/09)
10. Jun Akiyama & KENTA vs Gô Shiozaki & Makoto Hashi (25:59) - Marufuji Produce @ Differ Ariake "Shiranui Ikotenyoku ~Tora no Maki~", 3/15/09 (G+ Di Colosseo 4/20/09)
11. Nigel McGuinness vs KENTA (25:19) - ROH World Title - ROH @ Manhattan, NY "Seventh Anniversary Show", 3/21/09 (dvd)
12. KENTA & Taiji Ishimori vs Yoshinobu Kanemaru & Genba Hirayanagi (8:26) - NOAH @ Kôrakuen Hall "Global Tag League '09", 4/11/09 (G+ 4/13/09)
13. Bison Smith & Akitoshi Saitô vs D-Lo Brown & Buchanan (19:28) - Global Tag League match - NOAH @ Kôrakuen Hall "Global Tag League '09", 4/11/09 (G+ 4/13/09)
14. Jun Akiyama & Shûhei Taniguchi vs Yoshihiro Takayama & Takashi Sugiura (16:12) - Global Tag League match - NOAH @ Niigata "Global Tag League '09", 4/13/09 (Samurai 4/18/09)
15. Takashi Sugiura & Taiji Ishimori vs Katsuhiko Nakajima & Takashi Okita (13:11) - NOAH @ Kôrakuen Hall "Global Tag League '09", 4/25/09 (G+ 4/27/09)
16. Takeshi Rikiô & Mohammed Yone vs Kensuke Sasaki & Takeshi Morishima (30:00) - Global Tag League match - NOAH @ Kôrakuen Hall "Global Tag League '09", 4/25/09 (G+ 4/27/09)
17. Bison Smith & Akitoshi Saitô vs Takeshi Rikiô & Mohammed Yone (5:54) - Global Tag League match - NOAH @ Nagoya "Global Tag League '09", 4/27/09 (Samurai 5/2/09)
18. Jun Akiyama & Shûhei Taniguchi vs Bison Smith & Akitoshi Saitô (19:26) - Global Tag League match - NOAH @ Kyôto "Global Tag League '09", 5/3/09 (G+ Di Colosseo 5/18/09)
19. Takuma Sano & Kotarô Suzuki vs Keith Walker & Ricky Marvin (12:42) - NOAH @ Nippon Budôkan "Global Tag League '09", 5/6/09 (G+ 5/11/09)
20. Yoshinobu Kanemaru & Genba Hirayanagi vs Jushin Thunder Liger & Kôji Kanemoto (15:25) - NOAH @ Nippon Budôkan "Global Tag League '09", 5/6/09 (G+ 5/11/09)
21. Kenta Kobashi & Akihiko Itô vs Hiroyoshi Tenzan & Kazuchika Okada (17:02) - NOAH @ Nippon Budôkan "Global Tag League '09", 5/6/09 (G+ 5/11/09)
22. Jun Akiyama & Shûhei Taniguchi vs Takeshi Rikiô & Mohammed Yone (5:00) - Global Tag League match - NOAH @ Nippon Budôkan "Global Tag League '09", 5/6/09 (G+ 5/11/09)
23. Ricky Marvin vs Atsushi Aoki (13:53) - KENTA Produce @ Differ Ariake "CROSS ROAD", 5/17/09 (G+ 5/18/09)
24. Takeshi Morishima & Takashi Sugiura vs Takeshi Rikiô & Mohammed Yone (30:00) - KENTA Produce @ Differ Ariake "CROSS ROAD", 5/17/09 (G+ 5/18/09)
25. Mitsuharu Misawa vs Atsushi Aoki (9:58) - SEM @ Differ Ariake "SEMex DIFFER", 5/18/09 (Samurai 6/16/09)
26. Akira Taue & Genba Hirayanagi vs Kensuke Sasaki & Katsuhiko Nakajima (10:21) - NOAH @ Kôrakuen Hall "Southern Navigation '09", 6/4/09 (G+ live)
27. Bison Smith, Akitoshi Saitô & Bobby Fish vs Mitsuharu Misawa, Yoshinari Ogawa & Masao Inoue (15:41) - NOAH @ Kôrakuen Hall "Southern Navigation '09", 6/4/09 (G+ live)
28. Takeshi Rikiô vs Gô Shiozaki (22:37) - GHC Heavyweight Title decision match - NOAH @ Hakata "Southern Navigation '09", 6/14/09 (Samurai 6/20/09)
29. Yoshinobu Kanemaru & Taiji Ishimori vs Kotarô Suzuki & Genba Hirayanagi (9:16) - NOAH @ Kôrakuen Hall "Southern Navigation '09", 6/22/09 (G+ live)
30. Atsushi Aoki vs Jushin Thunder Liger (13:45) - Atushi Aoki 10 Match Series #8 - NOAH @ Kôrakuen Hall "Southern Navigation '09", 6/22/09 (G+ live)
31. Davey Richards & Eddie Edwards vs KENTA & Roderick Strong (21:06) - ROH World Tag Title - ROH @ Detroit, MI "Violent Tendencies" (dvd)
32. Kensuke Sasaki & Takeshi Morishima vs Takeshi Rikiô & Mohammed Yone (21:45) - Kensuke Office @ Sapporo "Take the Dream Vol 9", 6/28/09 (Samurai 7/14/09)
33. Takeshi Morishima vs Akitoshi Saitô (14:50) - NOAH Wrestler Union (Takeshi Morishima Produce) @ Differ Ariake "No Pain, No Gain", 7/5/09 (Samurai near live)
34. Takashi Sugiura vs Taiji Ishimori (8:43) - NOAH Wrestler Union (Takeshi Morishima Produce) @ Differ Ariake "No Pain, No Gain", 7/5/09 (Samurai near live)
35. Takeshi Rikiô vs Kotarô Suzuki (11:24) - NOAH Wrestler Union (Takeshi Morishima Produce) @ Differ Ariake "No Pain, No Gain", 7/5/09 (Samurai near live)
36. Yoshinari Ogawa & Akihiko Itô vs Katsuhiko Nakajima & Kento Miyahara (12:47) - NOAH @ JCB Hall "Summer Navigation '09", 7/25/09 (G+ live)
37. Kenta Kobashi, Jun Akiyama & Akitoshi Saitô vs Kensuke Sasaki, Takeshi Morishima & Takashi Sugiura (21:28) - NOAH @ JCB Hall "Summer Navigation '09", 7/25/09 (G+ live)
38. Mohammed Yone vs Shûhei Taniguchi (9:51) - NOAH @ Shiodome "Go! Shiodome Jamboree Wasshoi! 2009", 8/2/09 (G+ live)
39. Kensuke Sasaki vs Takeshi Morishima (21:51) - Kensuke Office @ Kôrakuen Hall"Take the Dream Vol 10", 8/2/09 (Samurai 8/7/09)
40. Yûji Nagata vs Takashi Sugiura (30:00) - G1 Climax Block B match - New Japan @ Ôsaka" G1 Climax 2009 ~New Lords, New Laws~", 8/9/09 (Samurai)
41. Mohammed Yone vs Takashi Sugiura (17:26) - NOAH @ Kôbe "Weekend Navigation '09", 8/22/09 (Samurai 8/28/09)
42. Gô Shiozaki, Takeshi Morishima & Shûhei Taniguchi vs Kenta Kobashi, Jun Akiyama & Tamon Honda (33:01) - NOAH @ Kôbe "Weekend Navigation '09", 8/22/09 (Samurai 8/28/09)
43. Taiji Ishimori vs Ricky Marvin (15:00) - NOAH @ Kyôto "Weekend Navigation '09", 8/23/09 (G+ 8/29/09)
44. Kenta Kobashi & Jun Akiyama vs Takashi Sugiura & Shûhei Taniguchi (24:36) - NOAH @ Kyôto "Weekend Navigation '09", 8/23/09 (G+ 8/29/09)
45. Bison Smith vs Kensuke Sasaki (13:29) - NOAH @ Kôrakuen Hall "Exceeding Our Dreams '09", 9/12/09 (G+ live)
46. Jun Akiyama, Minoru Suzuki & Takashi Sugiura vs Takeshi Rikiô, Mohammed Yone & KENTA (18:33) - NOAH @ Nippon Budôkan "Great Voyage 2009 in Tôkyô ~Mitsuharu Misawa, Always in Our Hearts", 9/27/09 (G+ 9/29/09)
47. Takashi Sugiura vs Yoshihiro Takayama (8:44) - NOAH @ Ôsaka "Great Voyage 2009 in Ôsaka ~Mitsuharu Misawa, Always in Our Hearts", 10/3/09 (live PPV)
48. Kenta Kobashi, Jun Akiyama, Akira Taue & Tamon Honda vs Takashi Sugiura, Takeshi Rikiô, Mohammed Yone & Shûhei Taniguchi (17:40) - NOAH @ Kôrakuen Hall "Autumn Navigation '09", 10/15/09 (G+ live)
49. Shûhei Taniguchi vs Kenta Kobashi (11:17) - Shûhei Taniguchi 10 Match Series #6 - NOAH @ Sapporo "Autumn Navigation '09", 10/24/09 (Samurai 10/30/09)
50. Kotarô Suzuki vs Ricky Marvin (9:40) - Junior Heavyweight League Block A match - NOAH @ Sapporo "Autumn Navigation '09", 10/24/09 (Samurai 10/30/09)
51. Kotarô Suzuki vs Delirious (13:52) - Junior Heavyweight League Block A match - NOAH @ Sapporo "Autumn Navigation '09", 10/25/09 (Samurai 10/31/09)
52. Katsuhiko Nakajima vs Yoshinobu Kanemaru (10:17) - Junior Heavyweight League Semifinal - NOAH @ JCB Hall "Autumn Navigation '09", 10/31/09 (G+ 11/1/09)
53. Jushin Thunder Liger vs Delirious (10:45) - Junior Heavyweight League Semifinal - NOAH @ JCB Hall "Autumn Navigation '09", 10/31/09 (G+ 11/1/09)
54. Gô Shiozaki, Akitoshi Saitô & Akira Taue vs Kensuke Sasaki, Takeshi Morishima & Takashi Okita (17:08) - NOAH @ JCB Hall "Autumn Navigation '09", 10/31/09 (G+ 11/1/09)
55. Akira Taue, Yoshinari Ogawa, Takuma Sano & Ricky Marvin vs Takeshi Rikiô, Mohammed Yone, Yoshinobu Kanemaru & Kotarô Suzuki (13:27) - NOAH @ Ôsaka "Winter Navigation '09", 11/21/09 (Samurai 11/28/09)
56. Yoshinobu Kanemaru, Kotarô Suzuki & Genba Hirayanagi vs Yoshinari Ogawa, Ricky Marvin & Eddie Edwards (12:40) - NOAH @ Hakata "Winter Navigation '09", 11/23/09 (Samurai 11/29/09)
57. Takashi Sugiura vs Bison Smith (15:46) - NOAH @ Hakata "Winter Navigation '09", 11/23/09 (Samurai 11/29/09)
58. Kensuke Sasaki, Takeshi Morishima & Kento Miyahara vs Kenta Kobashi, Takuma Sano & Akihiko Itô (24:56) - NOAH @ Hakata "Winter Navigation '09", 11/23/09 (Samurai 11/29/09)
59. Kenta Kobashi, Tamon Honda & Akihiko Itô vs Bison Smith, Chris Hero & Eddie Edwards (15:43) - NOAH @ Nippon Budôkan "Winter Navigation '09", 12/6/09 (G+ 12/7/09)
YELLOW (<***¼ to ***¾)
1. Katsuhiko Nakajima & Mashimo Kengo vs KENTA & Atsushi Aoki (17:42) - SEM/Kensuke Office @ Differ Ariake "Pro-Wrestling SEM #22", 1/16/09 (Samurai 1/26/09)
2. Mitsuharu Misawa, Yoshinari Ogawa & Gô Shiozaki vs Buchanan, Keith Walker & Bobby Fish (18:00) - NOAH @ Kôrakuen Hall "The First Navigation '09", 1/25/09 (G+ 1/26/09)
3. Kensuke Sasaki & Katsuhiko Nakajima vs Jun Akiyama & Shûhei Taniguchi (18:31) - NOAH @ Kôrakuen Hall "The First Navigation '09", 1/25/09 (G+ 1/26/09)
4. Yoshinobu Kanemaru, Kotarô Suzuki & Genba Hirayanagi vs Naomichi Marufuji, Atsushi Aoki & Akihiko Itô (14:38) - NOAH @ Differ Ariake "The Second Navigation '09", 2/15/09 (G+ 2/16/09)
5. Jun Akiyama & Shûhei Taniguchi vs Takashi Sugiura & Gô Shiozaki (21:02) - NOAH @ Differ Ariake "The Second Navigation '09", 2/15/09 (G+ 2/16/09)
6. Takeshi Rikiô & Kotarô Suzuki vs Yoshihiro Takayama & Ricky Marvin (10:52) - NOAH @ Nippon Budôkan "The Second Navigation '09", 3/1/09 (G+ 3/2/09)
7. Takeshi Morishima, Makoto Hashi & Akihiko Itô vs Mohammed Yone, Yoshinobu Kanemaru & Genba Hirayanagi - NOAH @ Nippon Budôkan "The Second Navigation '09", 3/1/09 (G+ 3/2/09)
8. Takashi Sugiura & Gô Shiozaki vs Shinsuke Nakamura & Milano Collection A.T. (20:30) - NOAH @ Nippon Budôkan "The Second Navigation '09", 3/1/09 (G+ 3/2/09)
9. Nigel McGuinness & Davey Richards vs KENTA & El Generico (19:36) - ROH @ Elizabeth, PA "Steel City Clash", 3/20/09 (dvd)
10. Kenta Kobashi, Takashi Sugiura & Tamon Honda vs Keith Walker, Makoto Hashi & Ricky Marvin (19:55) - NOAH @ Kôrakuen Hall "Global Tag League '09", 4/11/09 (G+ 4/13/09)
11. Jun Akiyama & Shûhei Taniguchi vs Mitsuharu Misawa & Gô Shiozaki (24:23) - Global Tag League match - NOAH @ Kôrakuen Hall "Global Tag League '09", 4/11/09 (G+ 4/13/09)
12. Kenta Kobashi, KETA & Ippei Ôta vs Kensuke Sasaki, Takeshi Morishima & Kento Miyahara (24:45) - NOAH @ Niigata "Global Tag League '09", 4/13/09 (Samurai 4/18/09)
13. Bison Smith & Akitoshi Saitô vs Kensuke Sasaki & Takeshi Morishima (21:47) - Global Tag League match - NOAH @ Tsukisamu "Global Tag League '09", 4/19/09 (Samurai 4/25/09)
14. Jun Akiyama, Kenta Kobashi & Shûhei Taniguchi vs Mitsuharu Misawa, Gô Shiozaki & Ricky Marvin (21:05) - NOAH @ Kôrakuen Hall "Global Tag League '09", 4/25/09 (G+ 4/27/09)
15. Jun Akiyama, Shûhei Taniguchi & Atsushi Aoki vs Kenta Kobashi, Gô Shiozaki & Akihiko Itô (22:51) - NOAH @ Kôrakuen Hall "Global Tag League '09", 4/25/09 (G+ 4/27/09)
16. Mitsuharu Misawa & Gô Shiozaki vs Yoshihiro Takayama & Takashi Sugiura (21:51) - Global Tag League match - NOAH @ Kyôto "Global Tag League '09", 5/3/09 (G+ Di Colosseo 5/18/09)
17. Hirooki Gotô & Kazuchika Okada vs Takashi Sugiura & Atsushi Aoki (16:20) - New Japan @ Kôrakuen Hall "Divergence", 5/5/09 (Samurai near live)
18. Bison Smith & Akitoshi Saitô vs Yoshihiro Takayama & Takashi Sugiura (18:47) - Global Tag League match - NOAH @ Nippon Budôkan "Global Tag League '09", 5/6/09 (G+ 5/11/09)
19. Yoshinobu Kanemaru vs Taiji Ishimori vs Akihiko Itô (segues into) Yoshinobu Kanemaru & Kotarô Suzuki vs Taiji Ishimori & Akihiko Itô (12:31) - KENTA Produce @ Differ Ariake "CROSS ROAD", 5/17/09 (G+ 5/18/09)
20. Gô Shiozaki vs Shûhei Taniguchi (20:18) - KENTA Produce @ Differ Ariake "CROSS ROAD", 5/17/09 (G+ 5/18/09)
21. Prince Devitt vs Atsushi Aoki (11:16) - Best of the Super Junior XVI league match - New Japan @ Tokorozawa "Best of the Super Junior XVI", 6/3/09 (J Sports 6/8/09)
22. Yoshinobu Kanemaru & Taiji Ishimori vs Atsushi Aoki & Akihiko Itô (11:46) - NOAH @ Kôrakuen Hall "Southern Navigation '09", 6/4/09 (G+ live)
23. Gô Shiozaki vs Chris Hero (13:58) - NOAH @ Kôrakuen Hall "Southern Navigation '09", 6/4/09 (G+ live)
24. Takashi Sugiura, Yoshinari Ogawa & Taiji Ishimori vs Takuma Sano, Ricky Marvin & Masao Inoue (16:36) - NOAH @ Hiroshima "Southern Navigation '09", 6/13/09 (Samurai 6/17/09)
25. KENTA & Akihiko Itô vs Kotarô Suzuki & Genba Hirayanagi (13:09) - NOAH @ Hiroshima "Southern Navigation '09", 6/13/09 (Samurai 6/17/09)
26. KENTA & Akihiko Itô vs Yoshinobu Kanemaru & Taiji Ishimori (14:42) - NOAH @ Hakata "Southern Navigation '09", 6/14/09 (Samurai 6/20/09)
27. Hirooki Gotô vs Takashi Sugiura (14:42) - New Japan @ Ôsaka "Dominion 6.20" (TV Asahi)
28. Shûhei Taniguchi vs Bison Smith (15:35) - Shûhei Taniguchi 10 Match Series #4 - NOAH @ Kôrakuen Hall "Southern Navigation '09", 6/22/09 (G+ live)
29. Yoshinobu Kanemaru & Kotarô Suzuki vs Katsuhiko Nakajima & Kento Miyahara (30:00) - NTV Cup Junior Heavyweight Tag League Block B match - NOAH @ Kôrakuen Hall "Summer Navigation '09", 7/12/09 (G+ live)
30. Yoshinobu Kanemaru & Kotarô Suzuki vs Ricky Marvin & Eddie Edwards (17:26) - NTV Cup Junior Heavyweight Tag League Block B match - NOAH @ Akita "Summer Navigation '09", 7/21/09 (Samurai 7/24/09)
31. Shûhei Taniguchi vs Gô Shiozaki (16:03) - Shûhei Taniguchi 10 Match Series #5 - NOAH @ JCB Hall "Summer Navigation '09", 7/25/09 (G+ live)
32. Gô Shiozaki & Shûhei Taniguchi vs Akitoshi Saitô & Takuma Sano (23:44) - NOAH @ Differ Ariake "Departure 2009 ~Bound for the Future~", 8/1/09 (Samurai 8/5/09)
33. Yoshinobu Kanemaru vs Ricky Marvin (7:30) - NOAH @ Shiodome "Go! Shiodome Jamboree Wasshoi! 2009", 8/2/09 (G+ live)
34. Gô Shiozaki & Akihiko Itô vs Kenta Kobashi & KENTA (16:55) - NOAH @ Shiodome "Go! Shiodome Jamboree Wasshoi! 2009", 8/2/09 (G+ live)
35. Shinsuke Nakamura vs Takashi Sugiura (13:51) - G1 Climax Block B match - New Japan @ Ôsaka "G1 Climax 2009 ~New Lords, New Laws~", 8/8/09 (Samurai)
36. Hirooki Gotô vs Takashi Sugiura (13:32) - G1 Climax Block B match - New Japan @ Ryôgoku Kokugikan "G1 Climax 2009 ~New Lords, New Laws~", 8/15/09 (J Sports)
37. Tôgi Makabe vs Takashi Sugiura (11:57) - G1 Climax Semifinal - New Japan @ Ryôgoku Kokugikan "G1 Climax 2009 ~New Lords, New Laws~", 8/16/09 (live PPV)
38. Junior Heavyweight Battle Royal (15:28) - NOAH @ Kôbe "Weekend Navigation '09", 8/22/09 (Samurai 8/28/09)
39. Gô Shiozaki vs Atsushi Aoki (15:35) - NOAH @ Kyôto "Weekend Navigation '09", 8/23/09 (G+ 8/29/09)
40. KENTA, Ricky Marvin & Akihiko Itô vs Yoshinobu Kanemaru, Kotarô Suzuki & Genba Hirayanagi (19:59) - NOAH @ Differ Ariake "GENESIS", 8/29/09 (Samurai 9/2/09)
41. Jadô & Gedô vs Yoshinobu Kanemaru & Genba Hirayanagi (23:29) - Jadô & Gedô 20th Anniversary Match - New Japan @ Kôrakuen Hall "Get Out of My Way ~JG20FTW~", 8/30/09 (Samurai 9/13/09)
42. Satoshi Kojima, KAI & Hiroshi Yamato vs Kenta Kobashi, Tsuyoshi Kikuchi & Akihiko Itô (29:13) - All Japan @ Ryôgoku Kokugikan "Puroresu LOVE in Ryôgoku Vol 8 ~Keiji Mutô 25th Anniversary~", 8/30/09 (live PPV)
43. KENTA & Akihiko Itô vs Atsushi Aoki & Bobby Fish (16:34) - NOAH @ Kôrakuen Hall "Exceeding Our Dreams '09", 9/12/09 (G+ live)
44. Gô Shiozaki, Takashi Sugiura & Shûhei Taniguchi vs Kenta Kobashi, Jun Akiyama & Taiji Ishimori (19:56) - NOAH @ Kôrakuen Hall "Exceeding Our Dreams '09", 9/12/09 (G+ live)
45. Yoshinobu Kanemaru & Kotarô Suzuki vs Katsuhiko Nakajima & Kento Miyahara (24:31) - GHC Junior Heavyweight Tag Title - NOAH @ Kôrakuen Hall "Exceeding Our Dreams '09", 9/12/09 (G+ live)
46. Gô Shiozaki, Takashi Sugiura, Takeshi Rikiô & Mohammed Yone vs Kenta Kobashi, Jun Akiyama, Akira Taue & Yoshinari Ogawa (25:58) - NOAH @ Nagoya "Exceeding Our Dreams '09", 9/21/09 (Samurai 9/25/09)
47. KENTA vs Atsushi Aoki (22:34) - GHC Junior Heavyweight Title - NOAH @ Nagoya "Exceeding Our Dreams '09", 9/21/09 (Samurai 9/25/09)
48. Akira Taue & Keiji Mutô vs Kenta Kobashi & Yoshihiro Takayama (21:53) - NOAH @ Nippon Budôkan "Great Voyage 2009 in Tôkyô ~Mitsuharu Misawa, Always in Our Hearts", 9/27/09 (G+ 9/29/09)
49. Gô Shiozaki vs Akitoshi Saitô (24:42) - GHC Heavyweight Title - NOAH @ Nippon Budôkan "Great Voyage 2009 in Tôkyô ~Mitsuharu Misawa, Always in Our Hearts", 9/27/09 (G+ 9/29/09)
50. Gô Shiozaki, Kenta Kobashi & Masahiro Chôno vs Takeshi Rikiô, Mohammed Yone & Akitoshi Saitô (22:50) - NOAH @ Ôsaka "Great Voyage 2009 in Ôsaka ~Mitsuharu Misawa, Always in Our Hearts", 10/3/09 (live PPV)
51. Taiji Ishimori vs Jushin Thunder Liger (13:08) - Junior Heavyweight League match - NOAH @ Kôrakuen Hall "Autumn Navigation '09", 10/15/09 (G+ live)
52. Yoshinobu Kanemaru vs Jushin Thunder Liger (14:45) - Junior Heavyweight League Block B match - NOAH @ Sapporo "Autumn Navigation '09", 10/24/09 (Samurai 10/30/09)
53. Yoshinobu Kanemaru vs Jushin Thunder Liger (18:53) - Junior Heavyweight League Final/GHC Junior Heavyweight Title decision match - NOAH @ JCB Hall "Autumn Navigation '09", 10/31/09 (G+ 11/1/09)
54. Kensuke Sasaki & Takeshi Morishima vs Gô Shiozaki & Akitoshi Saitô (28:45) - GHC Tag Title - Kensuke Office @ Kumagai "Take the Dream Vol 11", 11/7/09 (Samurai 11/13/09)
55. Gô Shiozaki & Kenta Kobashi vs Takashi Sugiura & Shûhei Taniguchi (20:03) - NOAH @ Ôsaka "Winter Navigation '09", 11/21/09 (Samurai 11/28/09)
56. Prince Devitt vs Atsushi Aoki (10:51) - Super J Cup 5th Stage 1st Round match - New Japan @ Kôrakuen Hall "Super J Cup 5th Stage ~Land of Confusion~", 12/22/09 (Samurai near live)
57. Jushin Thunder Liger vs Naomichi Marufuji (16:21) - Super J Cup 5th Stage 1st Round match - New Japan @ Kôrakuen Hall "Super J Cup 5th Stage ~Land of Confusion~", 12/22/09 (Samurai near live)
58. Naomichi Marufuji vs Tigers Mask (6:36) - Super J Cup 5th Stage 2nd Round match - New Japan @ Kôrakuen Hall "Super J Cup 5th Stage ~Land of Confusion~", 12/23/09 (J Sports 1/25/09)
59. Naomichi Marufuji vs Ryûsuke Taguchi (10:57) - Super J Cup 5th Stage Semifinal - New Japan @ Kôrakuen Hall "Super J Cup 5th Stage ~Land of Confusion~", 12/23/09 (J Sports 1/25/09)
RED (<***¾)
1. Shinsuke Nakamura & Hirooki Gotô vs Mitsuharu Misawa & Takashi Sugiura (15:17) - New Japan @ Tôkyô Dome "Wrestle Kingdom III", 1/4/09 (live PPV)
2. Kensuke Sasaki, Yoshinari Ogawa & Katsuhiko Nakajima vs Jun Akiyama, Mohammed Yone & Gô Shiozaki (25:40) - Marufuji Produce @ Kôrakuen Hall "Shiranui Ikotenyoku ~I no Maki~", 1/11/09 (G+ Di Colosseo 2/23/09)
3. Kensuke Sasaki & Katsuhiko Nakajima vs Jun Akiyama & Atsushi Aoki (25:27) - NOAH @ Kôrakuen Hall "The First Navigation '09", 1/12/09 (G+ 1/13/09)
4. KENTA vs Kotarô Suzuki (32:05) - GHC Junior Heavyweight Title - NOAH @ Kôrakuen Hall "The First Navigation '09", 1/25/09 (G+ 1/26/09)
5. Naomichi Marufuji vs Kaz Hayashi (32:25) - PWF World Junior Heavyweight Title - All Japan @ Kôrakuen Hall "Excite Series 2009", 2/6/09 (GAORA B-Banquet #215, 3/28/09)
6. Kensuke Sasaki & Kôta Ibushi vs Jun Akiyama & Taiji Ishimori (25:00) - Kensuke Office @ Kôrakuen Hall "Take the Dream Vol 7", 2/11/09 (Samurai 2/15/09)
7. KENTA vs Katsuhiko Nakajima (38:53) - GHC Junior Heavyweight Title - Kensuke Office @ Kôrakuen Hall "Take the Dream Vol 7", 2/11/09 (Samurai 2/15/09)
8. Katsuhiko Nakajima vs KENTA (25:45) - GHC Junior Heavyweight Title - NOAH @ Nippon Budôkan "The Second Navigation '09", 3/1/09 (G+ 3/2/09)
9. KENTA vs Davey Richards (18:32) - GHC Junior Heavyweight Title - ROH @ Houston, TX "Supercard of Honor IV", 4/3/09 (dvd)
10. Kôta Ibushi vs Taiji Ishimori (24:14) - DDT @ Kôrakuen Hall "Judgement 2009", 4/5/09 (Samurai Dramatic Fantasia #219, 4/23/09)
11. Jun Akiyama vs Gô Shiozaki (27:21) - GHC Heavyweight Title - NOAH @ Tsukisamu "Global Tag League '09", 4/19/09 (Samurai 4/25/09)
12. Yoshinobu Kanemaru & Kotarô Suzuki vs Atsushi Aoki & Akihiko Itô (28:04) - GHC Junior Heavyweight Tag Title - NOAH @ Kôrakuen Hall "Global Tag League '09", 4/25/09 (G+ 4/27/09)
13. Kensuke Sasaki & Takeshi Morishima vs Yoshihiro Takayama & Takashi Sugiura (30:00) - Global Tag League match - NOAH @ Nagoya "Global Tag League '09", 4/27/09 (Samurai 5/2/09)
14. Hiroshi Tanahashi & Kôji Kanemoto vs Takeshi Morishima & Kôta Ibushi (20:25) - New Japan @ Kôrakuen Hall "Divergence", 5/5/09 (Samurai near live)
15. Mitsuharu Misawa & Gô Shiozaki vs Kensuke Sasaki & Takeshi Morishima (22:53) - Global Tag League Final - NOAH @ Nippon Budôkan "Global Tag League '09", 5/6/09 (G+ 5/11/09)
16. Jun Akiyama vs KENTA (29:14) - KENTA Produce @ Differ Ariake "CROSS ROAD", 5/17/09 (G+ 5/18/09)
17. Taiji Ishimori vs Ricky Marvin (27:01) - GHC Junior Heavyweight Title Next Challenger match - SEM @ Differ Ariake "SEMex DIFFER", 5/18/09 (Samurai 6/16/09)
18. Jun Akiyama & Shûhei Taniguchi vs Kenta Kobashi & Gô Shiozaki (26:01) - SEM @ Differ Ariake "SEMex DIFFER", 5/18/09 (Samurai 6/16/09)
19. Jun Akiyama, Kenta Kobashi & Shûhei Taniguchi vs Takeshi Rikiô, Mohammed Yone & Kotarô Suzuki (15:26) - NOAH @ Kôrakuen Hall "Southern Navigation '09", 6/4/09 (G+ live)
20. KENTA vs Ricky Marvin (27:02) - GHC Junior Heavyweight Title - NOAH @ Kôrakuen Hall "Southern Navigation '09", 6/4/09 (G+ live)
21. Gô Shiozaki & KENTA vs Kensuke Sasaki & Katsuhiko Nakajima (30:15) - NOAH @ Kôrakuen Hall "Southern Navigation '09", 6/22/09 (G+ live)
22. Katsuhiko Nakajima vs Gô Shiozaki (25:11) - Kensuke Office @ Sapporo "Take the Dream Vol 9", 6/28/09 (Samurai 7/14/09)
23. Gô Shiozaki vs KENTA (28:43) - NOAH Wrestler Union (Takeshi Morishima Produce) @ Differ Ariake "No Pain, No Gain", 7/5/09 (Samurai near live)
24. Hiroshi Tanahashi vs Takashi Sugiura (24:14) - IWGP Heavyweight Title - New Japan @ Tsukisamu "Circuit 2009 New Japan Soul", 7/20/09 (TV Asahi)
25. KENTA & Taiji Ishimori vs Atsushi Aoki & Kôta Ibushi (21:11) - NTV Cup Junior Heavyweight Tag League Block A match - NOAH @ Kôrakuen Hall "Summer Navigation '09", 7/12/09 (G+ live)
26. KENTA & Taiji Ishimori vs Bryan Danielson & Roderick Strong (21:32) - NTV Cup Junior Heavyweight Tag League Block A match - NOAH @ Akita "Summer Navigation '09", 7/21/09 (Samurai 7/24/09)
27. Yoshinobu Kanemaru & Kotarô Suzuki vs KENTA & Taiji Ishimori (19:28) - NTV Cup Junior Heavyweight Tag League Semifinal - NOAH @ JCB Hall "Summer Navigation '09", 7/25/09 (G+ live)
28. Atsushi Aoki & Kôta Ibushi vs Ricky Marvin & Eddie Edwards (13:39) - NTV Cup Junior Heavyweight Tag League Semifinal - NOAH @ JCB Hall "Summer Navigation '09", 7/25/09 (G+ live)
29. Yoshinobu Kanemaru & Kotarô Suzuki vs Atsushi Aoki & Kôta Ibushi (19:49) - NTV Cup Junior Heavyweight Tag League Final - NOAH @ JCB Hall "Summer Navigation '09", 7/25/09 (G+ live)
30. KENTA vs Taiji Ishimori (25:41) - NOAH @ Differ Ariake "Departure 2009 ~Bound for the Future~", 8/1/09 (Samurai 8/5/09)
31. Kotarô Suzuki vs Taiji Ishimori (20:00) - NOAH @ Shiodome "Go! Shiodome Jamboree Wasshoi! 2009", 8/2/09 (G+ live)
32. Kensuke Sasaki, Takeshi Morishima & Katsuhiko Nakajima vs Genichirô Tenryû, Yoshinari Ogawa & Kotarô Suzuki (21:05) - NOAH @ Nippon Budôkan "Great Voyage 2009 in Tôkyô ~Mitsuharu Misawa, Always in Our Hearts", 9/27/09 (G+ 9/29/09)
33. Yoshinobu Kanemaru & Kotarô Suzuki vs Jadô & Gedô (24:32) - GHC Junior Heavyweight Tag Title - NOAH @ Ôsaka "Great Voyage 2009 in Ôsaka ~Mitsuharu Misawa, Always in Our Hearts", 10/3/09 (live PPV)
34. Akira Taue & Toshiaki Kawada vs Jun Akiyama & KENTA (17:32) - NOAH @ Ôsaka "Great Voyage 2009 in Ôsaka ~Mitsuharu Misawa, Always in Our Hearts", 10/3/09 (live PPV)
35. Masahiro Chôno, Keiji Mutô & Kenta Kobashi vs Manabu Nakanishi, Satoshi Kojima & Jun Akiyama (23:59) - Masahiro Chôno 25th Anniversary Match - New Japan @ Ryôgoku Kokugikan "Masahiro Chôno 25th Anniversary Special Event", 10/12/09 (live PPV)
36. KENTA vs Ricky Marvin (1:59) - Junior Heavyweight League Block A match - NOAH @ Kôrakuen Hall "Autumn Navigation '09", 10/15/09 (G+ live)
37. Kotarô Suzuki vs Katsuhiko Nakajima (30:00) - Junior Heavyweight League Block A match - NOAH @ Kôrakuen Hall "Autumn Navigation '09", 10/15/09 (G+ live)
38. KENTA vs Katsuhiko Nakajima (30:00) - Junior Heavyweight League Block A match - NOAH @ Sapporo "Autumn Navigation '09", 10/25/09 (Samurai 10/31/09)
39. Naomichi Marufuji vs Atsushi Aoki (17:21) - Atsushi Aoki 10 Match Series #9/Naomichi Marufuji Return Match - NOAH @ Nippon Budôkan "Winter Navigation '09", 12/6/09 (G+ 12/7/09)
40. Yoshinobu Kanemaru & Kotarô Suzuki vs Taiji Ishimori & Ricky Marvin (22:26) - GHC Junior Heavyweight Tag Title - NOAH @ Nippon Budôkan "Winter Navigation '09", 12/6/09 (G+ 12/7/09)
41. Kensuke Sasaki & Takeshi Morishima vs Mohammed Yone & Takeshi Rikiô - GHC Tag Title - NOAH @ Nippon Budôkan "Winter Navigation '09", 12/6/09 (G+ 12/7/09)
42. Gô Shiozaki vs Takashi Sugiura (24:39) - GHC Heavyweight Title - NOAH @ Nippon Budôkan "Winter Navigation '09", 12/6/09 (G+ 12/7/09)
43. Prince Devitt vs Naomichi Marufuji (18:06) - Super J Cup 5th Stage Final - New Japan @ Kôrakuen Hall "Super J Cup 5th Stage ~Land of Confusion~", 12/23/09 (J Sports 1/25/09)
BACK TO QUEBRADA COLUMNS
BACK TO QUEBRADA REVIEWS


* Puroresu Review Copyright 2011 Quebrada *