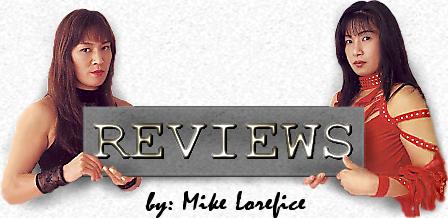 Quebrada #1
History of Japanese Hardcore/Garbage Wrestling
1989-1996
Since IWA Japan, the countries #2 hardcore promotion, has lost Masaji "Tarzan" Goto, Mr. Gannosuke, and Flying Kid Ichihara to Tokyo Pro Wrestling, the group is supposedly shutting down. With their last card being on 10/26/96, I thought it might be interesting to examine the history of the two major hardcore (or garbage) wrestling leagues in Japan.
The first real graduate of All Japan's dojo (Jumbo Tsuruta was trained in Texas by the Funks), Atsushi Onita was a somewhat promising junior heavyweight wrestler in the late 1970's-early 1980' whose career was cut short in 1983 when he blew out his knee performing a tope against Hector Guerrero. Onita attempted a comeback in 1984, but the injury was too severe and he had to call it quits. Onita resurfaced in the late '80's headlining combined puroresu and kickboxing cards run by WKA, headlining in mixed matches vs. martial artist Masashi Aoyagi. Their intense bloody rivarly got over well, leading Onita to hold a press conference on July 28, 1989 announcing the formation of his own promotion - Frontier Martial Arts Wrestling or FMW – that would follow the same wrestling and martial arts format.
Initially carrying over his feud with Aoyagi, which was the most even of his early fueds (Aoyagi not only got the better of him in WKA, he got another win over him on 10/6/89, the first ever FMW card) the group was built around credible wrestlers who would fight bloody brawls until they dropped. Onita recruited a crew of veterans wrestlers other leagues weren't booking, martial artists who could give the league an aura of legitimacy through supposed wrestling vs. martial artist mixed shoot matches, and green wrestlers who would do what was asked of them. Though the style was eventually short on skill and long on gore, the group wasn't so much built around gimmick matches from day one, as they were a means to guarantee the blood and brawling other leagues weren't delivering.
Onita only had $400 when he formed the company, but powered by the already established money program against Aoyagi, the first 2 shows sold out, so the league was able to stay afloat. The undercards were diverse with women's matches, "shoots" between boxing, kickboxing, sambo, and judo stars, lucha libre sometimes mixing the minis in, and of course brawls where they bladed to mask the lack of skill. The weak undercard didn't really matter to the fans though, as they were there to see their new cult hero Onita.
Onita fueded with Masanobu Kurisu and Tarzan Goto in 1990, the later delivering a fairly good technical match that worked the gimmicks in as displayed in the first exploding barbed wire match on 8/4/90, before starting his signature feud with Mr. Pogo on FMW's 1st Anniversary show on 11/5/90. Their initial match, a Texas Death Match, saw Onita use his junior heavyweight offense on a thinner version of Pogo that actually did some wrestling and I believe only used one weapon that wasn't a standard ringside prop. As time went on, their matches developed into gruesome barbed wire death matches with various other pleasantries. Pogo would dominate the match, using his machete to carve up one of Onita's body parts and then blow a fireball on Onita. However, the heroic Onita would eventually come back using the DDT and win with his Thunderfire Powerbomb. A bloody Onita would grab the microphone (like Terry Funk used to do) and scream and cry while they played his theme song, Wild Thing, pouring water over his cut up body before he was through.
FMW's popularity grew enough that Onita was able to run Kawasaki Baseball Stadium on 9/23/91 for a death match against sometimes #2 face sometimes bitter enemy Tarzan Goto. The show was a major success drawing 33,221 fans. Onita was known for having a gigantic ego, which was at least one of the reasons Mickey Ibaragi split with FMW to form his own group W*ING (Wrestling International New Generation). W*ING was very similar to FMW in that they had the same type of workers and tons of gimmick matches, booking but though Victor Quinones had been involved with FMW, as Mr. Pogo's manager among other duties, he booked better foreign talent for W*ING and later IWA Japan.
FMW was back at Kawasaki Stadium on 5/5/93 with Onita vs. Terry Funk with more stipulations added to the death match including a bomb going off at the 15:00 mark. The show was even more successful than last time drawing 41,000 and $1.8 million gross. Funk did the job, but whatever promises Onita made to Funk for putting him over were never fulfilled. The best thing about 1993 FMW is they were trading talent with All Japan Women, highlighted by the excellent undercard match where Megumi Kudo & Combat Toyoda upset Manami Toyota & Toshiyo Yamada in what's probably the best straight women's match in the history of the company.
FMW had another baseball stadium show, this time in Nishnomiya Stadium (suburban Osaka) on August 22, 1993. The show drew 25,000, which at the time was an Osaka area record. The main event was Onita vs. Mr. Pogo for the vacant WWA World Brass Knuckles in an no rope barbed wire exploding ring explosive match. Small bombs (like M 80's) were interlaced in the barbed wire. Onita won this one when he DDT'd Pogo on a burning torch. Neither man could escape the cage before the 15-minute mark when the huge explosion was set to take place. The explosion was very dramatic, with Onita covering the ref to protect him.
While W*ING arguably delivered a better day to day product, they lacked a charismatic top star and apparently weren't run that well so they wound up folding in 1994. Meanwhile, Onita pinned Genichiru Tenryu, a former Sumo star turned top wrestler in a tag match on 3/2/94 at Sumo Hall. This set up the main event for the now annual Kawasaki Stadium Show on 5/5/94. Since Tenryu was a mega star who ran WAR and had already done a job to Onita, it was obvious to the Japanese fans that Onita would be doing the job here. Onita added the stipulation that he would retire if he lost the match to try to garner more interest and throw off the fans. The show drew a turn away crowd of 52,000 with Tenryu going over. Onita didn't retire though, instead he said he would retire a year to the day at the next big Kawasaki Stadium show.
On 5/23/94 the International Wrestling Association-Japan (IWA Japan) held their first card at Tokyo Korakuen Hall. IWA ran more diverse gimmick matches than FMW. The group seemed to have barbed wire boards or panes of glass outside the ring for every main event. With Quinones as booker, IWA Japan used many of the same workers as W*ING. Quinones built the company around foreigners using some really good workers like Miguel Perez Jr. and Los Cowboys (Silver King & El Texano), as well as the interesting (at the time) team of The Headhunters, who looked something like smaller Abdullah The Butchers but in addition to brawling they might do a tope con hilo or moonsault their opponents through tables. Their primary notoriety came from using top American brawlers Cactus Jack and Terry Funk, who by this time was glad to work for an Onita rival. Similar to W*ING, IWA was really lacking in native babyfaces. They had Shoji Nakamaki, who had little technical skill but made up for it by having absolutely no regard for his body. Nakamaki was noted for taking crazy bumbs such as being sandwiched between barbed wire boards and moonsaulted by a 350 pound Headhunter. They also had Hiroshi Ono, who also had little technical skill but wasn't quite as out of his mind as Nakamaki.
FMW drew good houses for the first part of 1995 because fans wanted to see Onita for the last time. Onita was a total one man draw, which was a problem because he was on his way out. The undercards generally weren't good and the gimmick matches were getting stale because they had already used everything from fire to time bombs to explosive barbed wire to machetes. Even the main events weren't the same as the Onita vs. Pogo match had been done so many times that it worn out. Onita had been grooming Hayabusa (Eiji Ezaki) to be the groups top star, but he was a Lucha Libre style aerialist not a brawler/bleeder. Second year wrestler Masato Tanaka was more similar to Onita, but even more so than Hayabusa, his potential was more to be a really good wrestler than Pogo's sacrificial lamb.
W*ING attempted a comeback, but their return show on 3/26/95 using ECW and IWA wrestlers drew a whopping 400 at Tokyo Theater. They ran two tours in 1995, neither of which were successful.
IWA's first big victory over FMW came on 4/2/95 at Weekly Pro Wrestling's Tokyo Dome Show in which 13 different promotions sent one match each. IWA's match of Funk & Nakamaki & Leatherface (Rick Patterson) vs. Cactus Jack & The Headhunters was one of the best on a great show (JWP was the best followed by AJW). The IWA brawls weren't as dramatic as FMW's, but this one was exciting with one wild spot after another. Even though the finish was blown when the board wouldn't light, Funk more than saved the finish when he became by far the oldest wrestler to ever perform the moonsault off the top rope to the floor. FMW's match of Great Nita (Onita doing the stupid Muta gimmick) vs. King (Mr.) Pogo was hampered because they didn't allow fireballs in the Tokyo Dome, so Pogo was missing one of his greatest hits. The match would have sucked anyway because Pogo was doing nothing but running through gimmick spots at this point and Onita had given up trying to actually wrestle him, but certainly didn't hold up on a show with such talent.
Onita's retirement match was set for 5/5/95 at Kawasaki Stadium against Tarzan Goto with the same stipulations as the previous two years. Goto, who was a better technical wrestler than Onita but was thus better suited to being a face and thus was generally Onita's right hand man rather than rival, was expecting to come into power with Onita gone. However, he wasn't that popular with the wrestlers and Onita wound up choosing Katsutoshi Niiyama as road manager instead. About two weeks before the show, Goto and his friends Gannosuke and Ichihara walked out on FMW in favor of IWA. Onita was going to fight former AJ wrestler Takashi Ishikawa who now runs Tokyo Pro Wrestling, but that would have been a big letdown because Ishikawa, while pretty good in the 1980's, Ishikawa was never more than a midcarder in All Japan and is really more suited to solid but unspectacular straight matches than bloody brawls. Before Ishikawa could sign the contract at the press conference, Hayabusa challenged Onita and Ishikawa bowed out. The show sold out for the 2nd straight year and grossed $2.5 million. For reasons that only Onita can explain he had to retire by beating the guy he wanted to be the companies top star.
FMW's best in ring period was the first year after Onita retired with Megumi Kudo & Combat Toyoda stepping it up and Hayabusa, Tanaka, The Gladiator, W*ING Kanemura, Hisakatsu Oya, & Koji Nakagawa beginning to come into their own. Though the Grand Slam Brass Knuckles Championship Round Robin Tournament that Gladiator won, beating Hayabusa in the finals on 9/26/95, delivered some of the best FMW singles matches, FMW's attendance plummeted as Hayabusa and Gladiator may have brawled, but they weren't cutting each other to pieces in crazy death matches. Their attempts to follow in Onita's footsteps by performing crazy stunts just led to injuries. IWA's attendance got a bit better because their style contained more blood, gimmicks, and stipulation matches than FMW was running.
IWA's August tour was very successful. They were able to sell out Korakuen Hall without the use of foreigners. This was probably a bad thing because it may have put the idea that they didn't need the foreigners to draw in their head.
IWA's biggest and most famous show was on 8/20/95 at Kawasaki Baseball Stadium drawing 28,757 for the King of the Death Match tournament. Cactus Jack won the 8-man tournament which had seven different death matches defeating Terry Funk in a no rope barbed wire explosive time bomb death match. The card was stacked with big name outsiders such as Dan Severn, Tiger Jeet Singh, Terry Gordy, though obviously these guys didn't improve the quality of the show any. Hiroshi Ono, one of their top natives retired on this show to become a chiropractor. It was about this time that IWA claimed to be the #3 group in Japan behind New Japan and All Japan, which was hardly the case but Quinones isn't exactly known for being the most truthful guy around.
The demise of FMW continued, and in September they were forced to get rid of Mr. Pogo because they couldn't afford his $120,000 contract (he wound up returning in a few months). On 10/28 with the main event of Hayabusa & Mitsuhiro Matsunaga vs. W*ING Kanemura & Masato Tanaka they failed to sell out Korakuen Hall for the first time in years. The group finally began to pick up in December selling out 5,500 seat Yokohama Bunka Gym (with the help of Michinoku Pro) on 12/21/95 for a very good Lucha style match where Great Sasuke, Hayabusa, & Koji Nakagawa defeated Taka Michinoku, Super Delfin, & Riki Fuji. The card was highlighted by an excellent AJW Class of 1986 reunion match where Megumi Kudo & Aja Kong beat Combat Toyoda & Bison Kimura
FMW's 1995 house show attendance figures claimed 153 shows averaging 2,622 to IWA's 81 shows averaging 1,200. FMW's figures seem way too high as even though the first 4 months were mainly sellouts, there were a lot of 500, 1000, or 1500 announced post Onita attendances.
IWA basically killed themselves by getting rid of booker Victor Quinones and almost all the foreign talent (Cactus and Leatherface were still booked) in favor of Akio Sato (aka Shinja or Sato from Orient Express) became the booker. They figured they could pit Goto against a bunch of chair swinging dinosaurs or has-beens and still draw as well, but save on salary and travel. The groups only remaining draws were Nakamaki and Goto and they had about three decent workers in Gannosuke, Keisuke Yamada, & Takashi Okano. I understand that they group had some financial trouble and needed to get rid of some high priced talent, but I question the replacements. Wrestlers like the Great Kabuki and Umanosuke Ueda were years past their prime and meant little at the box office (they did eventually manage to find drawing power in Kabuki). Nakamaki left for Big Japan a few weeks later, so Gannosuke was probably the #2 native.
FMW retook whatever advantage IWA had achieved by hiring their booker Quinones and much of their foreign talent. FMW, with draws like Funk, had a strong tour leading up to their annual stadium show. The 5/5/96 Kawasaki Stadium show had their best women's match ever, the 1st woman's no rope electrified explosive barbed wire death match where Megumi Kudo beat 28- year-old retiring star Noriyo "Combat" Toyoda. Generally, men are known for laying out dramatic matches and women delivering action, if only because that's the All Japan vs. All Japan Women style, but this was one of the smartest, best laid out, most dramatic death matches ever, really using the gimmick spots to add threat and intensity to their wrestling match. In the main event, Funk & Pogo defeated Hayabusa (who returned prematurely from injury for this show) & Masato Tanaka in a brutal no rope electrified explosive barbed wire time bomb land mine double hell death match when Hayabusa was stuff powerbombed on a burning chair. After the match, Hayabusa needed 110 stitches while Tanaka needed 65. This was more toward the Pogo style though it wasn't heel domination because Funk was a willing seller and Hayabusa & Tanaka did their best to work their offensive strengths into the match limited by no ropes. The excellent undercard brawl between W*ING Kanemura and Cactus Jack where they did all their wrestling moves on or into the barbed wire and glass really showed the main event up.
IWA continued to flounder thinking people might still want to see the Great Kabuki (Ueda was forced to retire after being in a severe car accident). In August, they got ECW to come to Japan for two shows. Even though it was ECW's first official appearance in Japan they could only draw 1,800 in the 4,900 seat Yokohama Bunka Gym the first night. They did sell out Korakuen Hall for what on ECW TV appeared to be an awful show.
This basically leads us back to today with FMW once again the dominant force in garbage wrestling and IWA basically finished. Even if IWA comes back, they will have to pass other garbage promotions such as Big Japan and Tokyo Pro Group before they will be taken seriously. I wouldn't be surprised to see Onita in the ring again though.


* Puroresu Review Copyright 1996 Quebrada *