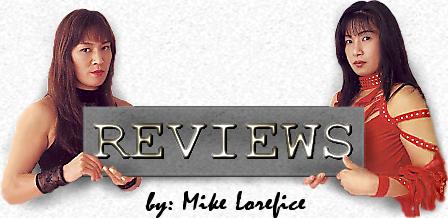 NJPW 2010 G1 CLIMAX Preview
by Luke Merritt
G1 Climax 2010 ~XXth Anniversary~ Overview
In our current age, the G1 is without a doubt the premier professional wrestling tournament in the world. Every year, the competition not only brings the world fantastic, hard fought matches, but serves as New Japan's departure point for the rest of the year and into next. Winning this tournament is a huge push unto itself, and those who earn it find themselves automatically in the title picture and the pinnacle of New Japan Pro-Wrestilng, if not the pro-wrestling world in general.
The first edition of the world's only pro-wrestling honbashou was in 1991. A revival of sorts of the International Wrestling Grand Prix of the mid-80s, this ten-man tournament climaxed in a classic match between Chouno Masahiro and Mutou Keiji. From that point on, the tournament was held annually, though the format has changed with nearly every competition. Indeed, in 1992, 1993, 1997 & 1998, the tournament was not even a round robin, but a single elimination knockout tournament. Since 1999, however, each edition has been a round robin of a format only slightly altered from season to season. The smallest G1 was the eight man, two-blocks-of-four 1995 tournament, won by Mutou Keiji; the largest, Sasaki Kensuke's 2000, where twenty players were divided into four groups.
This year, the G1 returns to 16 men for the first time since 2005. It will be two blocks of eight with - contrary to last year's edition - only one advancing to the final. Essentially, then, the competition is two congruently running leagues where the winners meet in a decisive grand final.
As has been the case with every round robin version, each league match will have a thirty minute time limit. A victory of any kind earns 2 points, a loss 0 points; a double ring out, double knockout, and time expiration earns each contender 1 point, while none are awarded to a double disqualification. The wrestler with the most points advances to the final. In the event of a tie, head to head results are compared; if the deadlock remains (usually from draws), then - depending on the tournament and situation - a coin toss or emergency decision match determines who moves on.
This year, with eight men to a block, each contender will have seven league matches, bringing the tournament total to 57 matches including the final, which takes place on the same day as the final round of league play.
A Block: Makabe, Tanahashi, Nakanishi, Anderson, Yano, Naitou, X, Strongman
Makabe Tougi
Age: 37 (born 9/29/72 Sagamihara)
Debut: 2/15/97 (13 years pro)
2010 Record: 28-3, 35 no-decisions (15-20); singles record: 8-1 (including 3 heavyweight title victories)
Seventh G1 Climax participation, seventh consecutive tournament
2009 G1 Climax Champion
54th (reigning) IWGP Heavyweight Champion
Rank: main event
Previous G1 Climax: 2009 Champion (defeated Nakamura Shinsuke in final)
Best G1 finish: ibid.
Schedule
1. 8/6 Kourakuen Naitou Tetsuya
2. 8/7 Osaka Yano Tooru
3. 8/8 Nagoya TBA
4. 8/10 Yokohama Strongman
5. 8/13 Kourakuen Karl Anderson
6. 8/14 Ryougoku Nakanishi Manabu
7. 8/15 Ryougoku Tanahashi Hiroshi
Makabe enters the competition as both the reigning IWGP Heavyweight Champion and G1 Climax Champion, having defeated the same man, Nakamura Shinsuke, to win both accolades. Indeed, Makabe's 28-3 record in 2010 includes two straight title match victories over Nakamura, including both man's final match before the G1. If one believes in momentum or, more accurately, if one believes that those booking the tournament believe in booking momentum, Makabe seems in prime position to find himself in the G1 final for the third consecutive year, especially considering the relative weakness of Block A (depending, that is, upon who replaces Marufuji). One would be very hard pressed to bet against Makabe having a strong showing here. However, New Japan's recent history is of booking the unexpected to keep things fresh, and the G1 has always been fertile soil for strange upsets and results counterintuitive to observered performance. While it seems a 100% guarantee that Makabe will crush Anderson and Strongman, the matches against Tanahashi, Nakanishi, Naitou & Yano will be absolutely key to the group as a whole. With just one man advancing out of the group stage, single points are crucial. An upset loss here and a draw there could be enough to send the champion home early. It all depends on what New Japan wishes for the tournament and the rest of 2010 leading into the Tokyo Dome in 2011. If the company wishes to push the newer generation - Naitou, Gotou, perhaps even NOAH's Shiozaki - anything could happen. If, however, they wish to play to recent history, Makabe could win here to set up a revenge match against Gotou (from both the 2008 final and this year's New Japan Cup final) or look for Nakamura to avenge his recent defeats. Still, I'm not sure a Makabe-Nakamura final makes sense, as not only is it a repeat from last year, the pairing was also New Japan's final match before the G1 itself. Nor would another Makabe-Gotou be particularly interesting in a year when their other big singles tournament featured that very match-up. The likely scenario is that Makabe misses the final by a single point. This wouldn't really hurt him since he's already the champion, though don't be surprised if the winner of the G1 takes that title before the end of the year.
Tanahashi Hiroshi
Age: 33 (born 11/13/76 Gifu)
Debut: 10/10/99 (11 years pro)
2010 Record: 26-3, 28 no-decisions (15-13); singles record: 7-2
Ninth G1 Climax participation, ninth consecutive tournament
2007 G1 Climax Champion, 2005 New Japan Cup Champion, 2008 New Japan Cup Champion
45th, 47th, 50th & 52nd IWGP Heavyweight Champion
Rank: main event
Previous G1 Climax: 2009 semifinalist (lost to Nakamura Shinsuke)
Best G1 finish: 2007 Champion (defeated Nagata Yuuji in final)
Schedule
1. 8/6 Kourakuen Karl Anderson
2. 8/7 Osaka Strongman
3. 8/8 Nagoya Naitou Tetsuya
4. 8/10 Yokohama Nakanishi Manabu
5. 8/13 Kourakuen Yano Tooru
6. 8/14 Ryougoku TBA
7. 8/15 Ryougoku Makabe Tougi
Tanahashi has had a rather strange year. After his excellent title reign in 2009 ended with injury, he returned that November to challenge Nakamura in a spectacular but losing effort. Since then, despite his 26-3 record and seemingly permanent main event status, Tanahashi has been nowhere near the championship picture. The highlights of his 2010 have been a feud with Yano, and- perhaps highly relevant to this tournament- a stunning loss to upstart heavyweight and fellow A Block contender Naitou in the New Japan Cup and two matches against B Block and NOAH's hopeful golden boy Shiozaki. Tanahashi and Shiozaki are 1-1 against each other, each winning a home singles match. In fact, Tanahashi's most recent professional wrestling loss was against Shiozaki in Pro-Wrestling NOAH on 7/10, just one day before the G1 lineup was announced. With his sensational technical ability, charisma and perpetual presence in main event matches, Tanahashi feels like an uncrowned champion. Considering the sidetrack of his feud with Yano and the rest of Chaos and the relative inertia of his 2010 as a whole, this G1 seems like a very ripe opportunity for him to scissor his way back to his championship, perhaps even a mighty thrust to another Tokyo Dome main event in January. As Tanahashi will be eager to punish Yano and Naitou, get a decisive result on champion Makabe after their 30 minute draw last year, and not to mention his technical outclassing of the rest of the field, he is a very easy pick for making the 2010 final. The one question will be if Yano and/or Naitou resort to chicanery to spoil his chances; indeed, A double ring-out with Yano especially may be a likely result. In the final analysis, however, barring any unforseen problems, Tanahashi may be better poised to take this group than even the IWGP champion Makabe Tougi and set up the lucrative possibility of another big match against his rival Nakamura in the final.
Nakanishi Manabu
Age: 43 (born 1/22/67 Kyoto)
Debut: 10/13/92 (18 years pro)
2010 Record: 21-2, 37 no-decisions (11-26); singles record: 5-2
Fourteenth G1 Climax participation, fourteenth consecutive
1999 G1 Climax Champion
51st IWGP Heavyweight Champion
Rank: mid card
Previous G1 Climax: 2009 group stage, 3-3
Best G1 finish: 1999 Champion (defeated Mutou Keiji in final)
Schedule
1. 8/6 Kourakuen Yano Tooru
2. 8/8 Nagoya Karl Anderson
3. 8/10 Yokohama Tanahashi Hiroshi
4. 8/12 Sendai TBA
5. 8/13 Kourakuen Strongman
6. 8/14 Ryougoku Makabe Tougi
7. 8/15 Ryougoku Naitou Tetsuya
Despite winning and briefly holding his first IWGP title last year, a record fourteenth try will not be a charm for the man old WCW fans would know as Kurosawa. While the forty-three year old has impressively overcome his immobility to perform more than passably against decent opponents, Nakanishi's presence in the weaker of the two blocks will serve just to fill out the tournament. Last year's .500 record should be about repeated, perhaps with a slight improvement given the personnel, but the victories he does earn will not be enough to make an impact in the finals scene. As New Japan moves further and further away from the olden generations, Nakanishi's presence in the G1 becomes less and less relevant. His consecutive appearance streak may end here in 2010 as his role becomes solidified as a developer of talent (three of his five singles victories are against rookie King Fale). Last year, Nakanishi had a surprising highlight match with Nagata - look for something similar in Yokohama against Tanahashi.
"The Machine Gun" Karl Anderson
Age: 30 (born 1/18/80 Asheville, NC)
Debut: 5/10/02 (independents - 8 years pro)
2010 Record: 18-13, 20 no-decisions (8-11); singles record: 1-3
First G1 Climax participation
57th (reigning) IWGP Tag Champion with Giant Bernard
Rank: regular gaijin, low-mid card
Schedule
1. 8/6 Kourakuen Tanahashi Hiroshi
2. 8/7 Osaka TBA
3. 8/8 Nagoya Nakanishi Manabu
4. 8/10 Yokohama Naitou Tetsuya
5. 8/12 Sendai Strongman
6. 8/13 Kourakuen Makabe Tougi
7. 8/14 Ryougoku Yano Tooru
Last year, on the opening day of the G1 Climax, Karl Anderson worked the very first match of the tour as a five minute warm-up for Makabe. Now, despite losing to Naitou in the first round of the New Japan Cup, The Machine Gun's half of the tag team championship is apparently enough to make the cut in the big show. The truth is that the IWGP Tag Championship continues to mean less and less, perhaps cursed by its appearance in TNA last year and Anderson has meant very little in the grand scheme of New Japan besides being an annoyance during teammate Giant Bernard's singles matches. Anderson himself has only had four singles matches in 2010, including one three-way. His sole win was over rookie King Fale, and every loss has been from Naitou Tetsuya, whom he'll be facing in this tournament. While Anderson does not lack talent, and though he holds the tag title, I can't help but wonder if he's only involved with the G1 because a deal for a bigger name outsider fell through. I do not anticipate he'll even be able to avenge some of his losses to Naitou. If there is a God, he'll pick up two points over Strongman, but beyond that it is virtually guaranteed that that is as far as his tournament will take him. Depending upon that match in Sendai against Strongman, Anderson is possibly the best candidate in A Block for finishing with zero points.
Yano Tooru
Age: 32 (born 5/18/78 Tokyo)
Debut: 5/18/02 (8 years pro)
2010 Record: 14-2, 47 no-decisions (11-36); singles record: 5-2
Fifth G1 Climax participation, fourth consecutive tournament
Rank: mid card
Previous G1 Climax: 2009 group stage, 3-3
Best G1 finish: ibid. (3rd place in group)
Schedule
1. 8/6 Kourakuen Nakanishi Manabu
2. 8/7 Osaka Makabe Tougi
3. 8/8 Nagoya Strongman
4. 8/12 Sendai Naitou Tetsuya
5. 8/13 Kourakuen Tanahashi Hiroshi
6. 8/14 Ryougoku Karl Anderson
7. 8/15 Ryougoku TBA
Despite his talent and interesting demeanor, Yano never seems able to move out of mid-table. In five tournaments, the best he's ever done is 3-3, though that did include an entertaining upset of Nakamura in 2008. While his block this year is relatively week, the former tag champion's chances once again seem rather low. The focus for him will be the continuation of his feuds with Tanahashi and Makabe. Yano's good at what he does, including spitting sake in people's faces, which he will most assuredly do, but easy wins over Anderson, Strongman & Naitou won't be nearly enough to make the final, and his career shall stay in the parking spot it has been in.
Naitou Tetsuya
Age: 28 (born 6/22/82 Tokyo)
Debut: 5/27/06 (4 years pro; 1st heavyweight year)
2010 Record: 18-5, 37 no-decisions (19-18); singles record: 4-1
First G1 Climax participation
Rank: mid card
Schedule
1. 8/6 Kourakuen Makabe Tougi
2. 8/8 Nagoya Tanahashi Hiroshi
3. 8/10 Yokohama Karl Anderson
4. 8/12 Sendai Yano Tooru
5. 8/13 Kourakuen TBA
6. 8/14 Ryougoku Strongman
7. 8/15 Ryougoku Nakanishi Manabu
Naitou earned the biggest win of his very short career in the second round of this year's New Japan Cup, where he honestly defeated Tanahashi in a 23 minute main event. While Tanahashi was slightly hobbled from a knee injury, it was a competitive, real match that Naitou won with his own skill and guts. Though predominantly a tag team wrestler with Takahashi Yuujirou, Naitou seems much more poised for a strong singles breakout than his partner, despite being the least experienced wrestler in the tournament. A Block is much less contentious than B, and while his inexperience alone is enough to prevent Naitou from being considered an honest contender, he is probably the leading candidate to be the next Gotou. He won't make the final here, but expect at least one strong upset and a reasonable finish of right around .500 with a firm look ahead to an ascendent 2011.
X
Whither Marufuji?
Pro-Wrestling NOAH's hottest commodity and de facto New Japan member (being one of their bigger draws this year) Marufuji Naomichi was supposed to be in the tournament, but suffered a shoulder injury at DDT's Ryougoku Kokugikan show on July 25th. As of August 2nd, no announcement has yet been made who this person will be, which is certainly cutting things very close. Though highly regarded by New Japan management and well respected in the world of wrestling, it must be admitted that Marufuji would not likely have advanced to the final. His matches would've been highlights, all, but his final record would've been mid-table at best. This means that whoever replaces him will just be slotted into whatever Marufuji's results were to be without the overall picture of the group being distrupted. One final comment on Marufuji must be that this unfortunate injury in no way ends his New Japan participation. Once he returns, he will most definately be booked once more. I predict a strong showing late in the year or early next year, assuredly including a spot at the January Tokyo Dome show to eventually set up a highly delayed, highly anticipated debut in the 2011 G1 Climax.
Note: Prince Devitt, who ended Marufuji's reign as IWGP Junior Champion, was named Marufuji's last minute replacement on 8/5.
Strongman (CMLL)
Age: 38 (born 1/8/72 San Francisco)
Debut: 2003 (independents - 7 years pro)
2010 Record: 2-3, 1 no-decision (0-1); singles record: 0-2
183 cm, 140 kg (6', 309 lbs)
First G1 Climax participation
Rank: outsider gaijin
Schedule
1. 8/6 Kourakuen TBA
2. 8/7 Osaka Tanahashi Hiroshi
3. 8/8 Nagoya Yano Tooru
4. 8/10 Yokohama Makabe Tougi
5. 8/12 Sendai Karl Anderson
6. 8/13 Kourakuen Nakanishi Manabu
7. 8/14 Ryougoku Naitou Tetsuya
Strongman has appeared for the Inoki Genome Federation under his real name, Jon Andersen (no relation to the vocalist of prog rock legends Yes). He currently works for Mexican promotion Consejo Mundial de Lucha Libre, whom he is representing in this his first ever G1 appearance. Strongman's only other New Japan appearance was earlier in the year for the New Japan Cup tour, where he was promptly eliminated in the first round by Tanahashi in less than nine minutes. Six days later he was Bomaye'd by Nakamura. To be blunt, Andersen is not a professional wrestler, he is a steroid-filled science experiment bodybuilder who can barely move. Because he has done nothing whatsoever to elicit a spot in this prestigious tournament, his presence is likely due to New Japan's working agreement with CMLL. Having had just five total matches in New Japan, Strongman could uncynically be considered an unknown wildcard, but in actual booking fact will shock the world if he finishes with more than 4 points, and even that may be pushing it considering the presence of promising upstart Naitou, whose pushing is far more important than a one-off outsider. Strongman has no chance whatsoever of advancing. Even with some miraculous carrying work by opponents, his matches will be decidedly the worst in the tournament.

B Block: Gotou, Nagata, Inoue, Bernard, Nakamura, Takahashi, Shiozaki, Kojima
Gotou Hirooki
Age: 31 (born 6/25/76 Mie)
Debut: 7/6/03 (7 years pro)
2010 Record: 19-1-6, 37 no-decisions (29-8); singles record: 9-1-3
Third G1 Climax participation, third consecutive tournament
2008 G1 Climax Champion, 2009 New Japan Cup Champion, 2010 New Japan Cup Champion
Rank: upper card
Previous G1 Climax: 2009 group stage, 3-3
Best G1 finish: 2008 Champion (defeated Makabe Tougi in final)
Schedule
1. 8/7 Osaka Nakamura Shinsuke
2. 8/8 Nagoya Inoue Wataru
3. 8/10 Yokohama Giant Bernard
4. 8/12 Sendai Takahashi Yuujirou
5. 8/13 Kourakuen Nagata Yuuji
6. 8/14 Ryougoku Shiozaki Gou
7. 8/15 Ryougoku Kojima Satoshi
Gotou's standing in New Japan has risen meteorically since his return from Mexico, but despite shockingly winning his first ever G1 in 2008 and back to back New Japan Cups in 2009 & 2010, he has yet to truly cash in on the opportunities created by these victories. Since late 2007, he has challenged for the IWGP title four times and the GHC title once, losing every time. While he certainly has looked fantastic in these and other losing efforts, his career seems to have stalled. In 2009, he finished a disappointing 3-3 in the G1 and over the rest of that year and into 2010, found himself less in the title picture and more in a feud with outsider Tanaka Masato. Nevertheless, in 2010 his record stands at 19-6 and he seems to have cemented a place in the upper card. His future is very bright and he should be a main eventer for New Japan for many years to come. That said, Gotou finds himself in the very tight, very contentious Block B. Making the final will require more than a couple victories against serious contenders; while Gotou is certainly capable of this, for the sake of a fresh final, I doubt he'll find himself advancing unless Tanahashi is his opponent - if Makabe makes the final, I don't think Gotou will be there. In any case, he will be competitive and look very strong, assuredly taking a major scalp or two; to show that he's definately one of the company's aces, expect a big opening win over Nakamura.
Nagata Yuuji
Age: 42 (born 4/24/68 Chiba)
Debut: 9/14/92 (18 years pro)
2010 Record: 9-3, 50 no-decisions (29-21), 1 no contest; singles record: 3-1
Twelfth G1 Climax participation, twelfth consecutive tournament
2001 G1 Climax Champion, 2007 New Japan Cup Champion
31st & 46th IWGP Heavyweight Champion
Rank: upper card
Previous G1 Climax: 2009 group stage, 2-1-3
Best G1 finish: 2001 Champion (defeated Mutou Keiji in final)
Schedule
1. 8/6 Kourakuen Nakamura Shinsuke
2. 8/7 Osaka Giant Bernard
3. 8/10 Yokohama Shiozaki Gou
4. 8/12 Sendai Kojima Satoshi
5. 8/13 Kourakuen Gotou Hirooki
6. 8/14 Ryougoku Inoue Wataru
7. 8/15 Ryougoku Takahashi Yuujirou
Though Nagata has had an extremely unspectacular year where he's focused more on talent development than anything, history's most successful IWGP champion remains the most skilled and non-degenerated worker of his generation. He will look to improve on his two wins from last year's tournament, but it seems unlikely he'll be pushed into the final considering who he's sharing the group with. The simple fact that that he is Nagata Yuuji is enough to make him an outside favorite, but his role here should be similar to what it has been the past couple years: to carry younger talent to fantastic matches. Certainly, a surprising storm to his first final since 2007 would be quite interesting, New Japan prefers the young to the old, so look for Nagata to finish with a robust, well worked amount of points but miss the final. Every one of his matches should be must-see highlights, as they almost always are each year.
Inoue Wataru
Age: 37 (born 8/27/73 Tokyo)
Debut: 10/10/99 (11 years pro)
2010 Record: 21-13, 30 no-decisions (11-19); singles record 4-3
Second G1 Climax participation, first since 2008
Rank: mid card
Previous G1 Climax: 2008 group stage, 2-4
Best G1 finish: ibid.
Schedule
1. 8/6 Kourakuen Giant Bernard
2. 8/7 Osaka Shiozaki Gou
3. 8/8 Nagoya Gotou Hirooki
4. 8/10 Yokohama Kojima Satoshi
5. 8/12 Sendai Nakamura Shinsuke
6. 8/13 Kourakuen Takahashi Yuujirou
7. 8/14 Ryougoku Nagata Yuuji
At thirty-seven years of age, Inoue Wataru is in only his third year of heavyweight competition. In 2010, he has been predominantly a tag team wrestler, picking up the victory in most of the matches he's wrestled while paired with his Aogi-gun leader Nagata. His 4-3 singles record is as unimpressive as his wrestling game overall. In the first round of the New Japan Cup, Inoue picked up his biggest singles win of the year, defeating a man he'll open the G1 against, Giant Bernard. Bernard avenged this loss in the tour preceeding the G1, so their opener in Kourakuen hall will serve as something of a rubber match. Indeed, despite a potential victory over Takahashi, this de facto final of a best of three with Bernard will be about all Inoue has to play for this tournament. By the time he faces Takahashi, he will likely have lost at least four matches in a row. Though he won't be remotely close to the final, in his last match don't be shocked if he pulls out a consolation upset over tag partner Nagata. In the end, though, Inoue will remain a permanent fixture in the lower mid card or tag team competition with superior partners.
Giant Bernard
Age: 36 (born 11/14/73 Boston)
Debut: 1999 (11 years pro)
2010 Record: 7-1, 39 no-decisions (16-19); singles record: 4-1
Fifth G1 Climax participation, fifth consecutive tournament
57th (reigning) IWGP Tag Champion, 2006 New Japan Cup Champion
Rank: regular gaijin, upper card
Previous G1 Climax: 2009 group stage, 2-1-3
Best G1 finish: 2006 semifinalist (lost to Tenzan Hiroyoshi)
Schedule
1. 8/6 Kourakuen Inoue Wataru
2. 8/7 Osaka Nagata Yuuji
3. 8/8 Nagoya Nakamura Shinsuke
4. 8/10 Yokohama Gotou Hirooki
5. 8/12 Sendai Shiozaki Gou
6. 8/13 Kourakuen Kojima Satoshi
7. 8/14 Ryougoku Takahashi Yuujirou
The former entertainer Albert has in the past several years become a professional wrestler in Japan, and a damn good one, at that. Bernard is the current IWGP Tag Champion with Karl Anderson. His best year as a singles wrestler was four years ago, where he won the New Japan Cup and reached the semifinals of the G1. Last year, however, the best he could manage was two wins and a double ring out with Tanaka Masato. While Bernard is a quality superheavyweight who should perform well from a workrate perspective, the way things are arranged makes it unlikely his record will be much different from last year. Inoue and Takahashi should be easy victims, but it will be a rough go against the rest. As he is both reigning tag champion and a gaijin, an appearance in the final would make little sense. Bernard is worthy of a singles title shot here and there, but he won't be winning the G1 in 2010. His role of enormous white obstacle will likely continue relatively unchanged from 2009.
Nakamura Shinsuke
Age: 30 (born 2/24/80 Kyoto)
Debut: 8/29/02 (8 years pro)
2010 Record: 15-3, 32 no-decisions (5-27); singles record: 5-2
Seventh G1 Climax participation, fourth consecutive tournament
34th, 48th & 53rd IWGP Heavyweight Champion
Rank: main event
Previous G1 Climax: 2009 finalist (lost to Makabe Tougi)
Best G1 finish: ibid.
Schedule
1. 8/6 Kourakuen Nagata Yuuji
2. 8/7 Osaka Gotou Hirooki
3. 8/8 Nagoya Giant Bernard
4. 8/10 Yokohama Takahashi Yuujirou
5. 8/12 Sendai Inoue Wataru
6. 8/14 Ryougoku Kojima Satoshi
7. 8/15 Ryougoku Shiozaki Gou
As shocking as it is to realise that Nakamura has only been in wrestling eight years, it is perhaps just as shocking that he's never won a G1 Climax, despite having participated in every one from his sophomore year on. Last year, he became the first man in history to win seven consecutive matches and lose none en route to the final but was upset by Makabe, a man who has recently become his nemesis, having lost three of four matches over the past year. While the CHAOS leader will definately want revenge, a repeat of last year's final does not feel likely simply due to New Japan's general progressive booking philosophy. However, as rough a group as B Block is, Nakamura must be considered a clear favorite not just to reach the final, not just to win, but to recapture the IWGP Heavyweight championship he lost to Makabe. His final match before the G1 was a title match loss to Makabe, and rather than precipitate a losing streak, this should serve to ignite the fires of vengeance. In 2009, Nakamura ran the table due in large part to his surprise debut of the brutal Bomaye knee strike finisher. Over the past year, New Japan has gotten wise to it. This, coupled with the presence of Nagata, Gotou, Kojima & Shiozaki likely mean Nakamura's extreme dominance of 2009 will not carry over, but he must be considered the tournament favorite even over the IWGP Champion. Do not expect more than one loss, but do expect a fierce, lengthy match with Shiozaki, moving on to the final in a single day performance that New Japan will hearken to Chouno's epic victory in the first ever tournament, then continuing on to win his fourth IWGP title in Kobe and another match of the year candidate with Tanahashi at the Destruction '10 pay-per-view in October.
Takahashi Yuujirou
Age: 29 (born 1/13/81)
Debut: 7/26/04 (6 years pro; 1st heavyweight year)
2010 Record: 14-6, 40 no-decisions (21-19); singles record: 2-3
First G1 Climax participation
Rank: mid card
Schedule
1. 8/6 Kourakuen Shiozaki Gou
2. 8/7 Osaka Kojima Satoshi
3. 8/10 Yokohama Nakamura Shinsuke
4. 8/12 Sendai Gotou Hirooki
5. 8/13 Kourakuen Inoue Wataru
6. 8/14 Ryougoku Giant Bernard
7. 8/15 Ryougoku Nagata Yuuji
Having returned with tag team partner Naitou from an expedition to drink of the magical waters of enheavyweightening in mythic Aztlán and armed with a highly dubious heel victory over Nagata in the New Japan Cup (recently avenged with gusto), Takahashi finds himself in far and away the most brutal of the two tournament groups. While his heavyweight wrestling is certainly coming along, Yuujirou is nowhere near advanced enough to make even a minor impact in B Block. While upsets are always possible in New Japan - one of the few wrestling promotions where anyone is a threat to do the job - the competition here will handily and heartily overwhelm young Takahashi. A major success for him would be to finish with more than zero points; his only possible course would be to attempt to win by underhanded means as he did in the New Japan Cup, but even then he has no chance of being in the final.
Shiozaki Gou (Pro-Wrestling NOAH)
Age: 28 (born 1/21/82 Kumamoto)
Debut: 7/24/04 (6 years pro)
2010 Record: 1-2; singles record 0-2
NOAH Record: 22-3, 22 no-decisions (13-9); singles record 5-2
First G1 Climax participation
15th GHC Heavyweight Champion (NOAH)
Rank: upper card (NOAH)
Schedule
1. 8/6 Kourakuen Takahashi Yuujirou
2. 8/7 Osaka Inoue Wataru
3. 8/8 Nagoya Kojima Satoshi
4. 8/10 Yokohama Nagata Yuuji
5. 8/12 Sendai Giant Bernard
6. 8/14 Ryougoku Gotou Hirooki
7. 8/15 Ryougoku Nakamura Shinsuke
NOAH's sole representative after Marufuji's injury, Shiozaki returns to the New Japan ring carrying a massive victory over Tanahashi. Since then, he has lost a 34 minute match against Sasaki Kensuke, but it is important to remember that New Japan likely isn't interested in how NOAH is booking him. Indeed, New Japan pushed titular NOAH vice president Marufuji Naomichi much harder than his own company, and given the ever-widening gap (in both finance and prestige) between the two promotions, who can say how much power NOAH even has to influence Shiozaki's New Japan performance? Certainly, New Japan's president has proven honest when he said his company would help NOAH following the tragic passing of Misawa Mitsuharu; as NOAH is forced to scale back more and more, Shiozaki will likely see more time in New Japan, where his style and youth certainly fit. Having said all that, Gou is both a serious wildcard and a serious contender in this G1. He will likely have an impressive showing, but his chances at the final rest on how he does against Kojima, Nagata, Gotou & Nakamura. A win over Nagata feels unlikely, but a win or even a draw with Gotou may be enough for Shiozaki to sneak into the final, even without an upset over Nakamura. I wouldn't consider Shiozaki a lock for the final, but he's certainly a strong favorite alongside Nakamura and Gotou.
Kojima Satoshi (freelance)
Age: 39 (born 9/14/70 Tokyo)
Debut: 7/16/91 (19 years pro)
2010 Record: did not compete in New Japan
Ninth G1 Climax participation, first tournament since 2008
41st IWGP Heavyweight Champion
33rd & 40th Triple Crown Heavyweight Champion, 2003 Champion Carnival winner (All Japan)
Rank: upper card
Previous G1 Climax: 2008 group stage, 3-1-2 (did not advance, finished 1 point behind Makabe)
Best G1 finish: 2006 finalist, lost to Tenzan Hiroyoshi
Kojima returns to the land of his wrestling birth after a vague departure from All Japan, the company he had called home since 2002. Though he has participated in New Japan shows during that time, this is his first appearance as a free agent. The circumstances surrounding his All Japan exit are vague but irrelevant to this competition save for one detail: fitness. Over the past couple years in All Japan, Kojima has looked rather depleted physically, having lost both weight and energy. Around the time he was set to end his All Japan career, reports appeared suggesting he may need surgery on his shoulder. However, in the press leading up to the G1, Kojima has insisted he is healthy and even publically worked out to prove it. Thinking cynically, that could actually suggest there is something wrong, but New Japan has punched his ticket and he's booked in the tournament, here to bolster the waning generation with Nagata and Nakanishi. Kojima is an interesting entry. If fit, he can certainly work spectacular matches and is a decorated, acknowledged main eventer. But how will New Japan consider him? It seems doubtful his first tour with the company will lead to the final of the biggest tournament of the year. In his final Champion Carnival with All Japan this past April, Kojima finished 2-2 and in the process put over some of that company's young talent. While New Japan assuredly does not use All Japan's booking as a factor, especially considering Kojima is freelance, it would be a reasonable assumption that he will be used in a similar function here. He'll have good, perhaps great matches, look strong enough to justify continued participation in New Japan, but he will miss the final by a point or two. 30 minute draws are likely against Shiozaki and Nagata.

Final Breakdown
While it is not the intent of this column to fantasy-book the rest of the year for New Japan, it is necessary to think ahead while analysing the G1 Climax, especially this year for a couple important reasons. Firstly, Makabe cannot be considered a long term champion. He is a late blooming 37 year old in a company with far better and younger workers in Tanahashi, Nakamura and Gotou, with even more promising young heavyweights waiting in the wings (including Marufuji Naomichi). The winner of the G1 may not immediately end Makabe's reign at the end of the next tour in Kobe - and this point must be emphasized, for I do not believe that Makabe will reach the final - but they most certainly will be in the picture leading into the major Destruction '10 show on October 11th, the main event of which will likely set up the main event for the Tokyo Dome in January. One way or another, it seems to me inevitable that Tanahashi or Nakamura will be champion leading into this important stretch and that the rivals will meet in a championship match in October. Whoever comes out as champion will assuredly defend at the Tokyo Dome against an interpromotional opponent. With all this in mind, the only reasonable option to come out of A Block is Tanahashi Hiroshi, however, for argument's sake I will include Makabe's options though I must repeat that I do not believe he will make the final. B Block is a much stronger, with twice as many options: Gotou Hirooki, Nagata Yuuji, Nakamura Shinsuke & Shiozaki Gou. Our potential finals, then, are, in descending order of likelihood:
Tanahashi vs Gotou is a very intriguing concept. These two have had two epic championship matches in 2007 and 2009, and most of the wrestling world would be eager to see them hook up again. Given the current configuration of New Japan, if this were to be the final, a Gotou victory would probably set him up to be a transitional champion - defeating Makabe only to lose in October or December to Tanahashi or Nakamura. On the other hand, a Tanahashi victory brings him back into the title scene and gives New Japan tried and true drawing options going into 2011. Either way would work fine, especially considering New Japan's willingness to change champions with greater frequency than other promotions.
Tanahashi vs Nakamura is the match of the late 00s and now the 10s. Every time these two meet, not only is the match fantastic, it is unique. Like the great rivalries in wrestling history, it is a major event when Tanahashi & Nakamura step in the ring against each other and they never wrestle the same match twice. Because the G1 final unto itself is already a draw and because this match is better served with both guys being completely fresh going into it, New Japan will probably save this for the Destruction '10 show, which would mark one year since they last met in singles competition. Still, a very salivating prospect.
Makabe vs Nakamura has certainly been the talking point lately, but this would be their fifth big match meeting in a year, the last match being each man's last before the G1. Since this would additionally be a rematch of last year's G1 final, I don't really see it happening nor, for the sake of freshness, should it happen at this point.
Tanahashi vs Shiozaki happened as recently as July 10th in Pro-Wrestling NOAH, wherein Shiozaki nearly broke Tanahashi's jaw with a moonsault. These two also had a great match at the 2010 Tokyo Dome show and would be a worthy final but for the fact that interpromotional G1 finals rarely happen - due likely to reasons such as the championship situation I've already outlined. NOAH's Akiyama made the final in 2003, but his presence was more to establish Tenzan as elite. Tanahashi doesn't need such a boost and New Japan isn't going to give their biggest tournament to an outsider unless they thought he may not be an outsider for long. Hmm...
Makabe vs Gotou would be a rematch of the 2008 final and the 2010 New Japan Cup final. Would New Japan book their two big tournaments to have the same final? Not likely, and even that aside, if Gotou were to win the G1 again, it would probably be on the way to winning the title for the first time, so it wouldn't serve for him to beat the current champion.
Tanahashi vs Nagata would be a rematch of the 2007 final, Tanahashi's sole G1 championship. While it would be a cracking match, Tanahashi is already established and doesn't need a victory over Nagata or any of his generation for legitimacy. Nagata is just plain not going to win this competition, so his presence would only be booked for a surprising change of pace. As such, this would be a good match, but will not happen.
Makabe vs Nagata is unlikely but intriguing as the two have not had a major singles match since 2007, and Makabe's career has been seriously on the up since then. As already suggested, it doesn't serve for the champion to even be in the final, and in a youth-based company as New Japan now is, Nagata is probably not in long term plans for the title scene beyond a big match challenge here or there.
Makabe vs Shiozaki would be a rematch of an IWGP title match from 6/19. Since the likelihood of an outsider winning New Japan's biggest tournament is quite low (not even Akiyama managed it in 2003) for long term booking plans there isn't much purpose in the champion winning the G1, this will probably will not happen.
Conclusion
Ultimately, this is set up to be a great tournament, though A Block is seriously damaged by Marufuji's absence. Even with everything that has been written, it is hard to pick a definate winner, which is a huge compliment to New Japan's booking and talent pool. Nakamura seems due to win this competition, but I only see him doing so if Makabe makes the final for the third straight year, a situation I neither foresee nor recommend. Nor do I recommend playing the major arcana trump of Tanahashi-Nakamura at this point. Therefore, your 2010 G1 Climax final should be Tanahashi Hiroshi vs Gotou Hirooki, with your New Japan Cup champion winning the double. But by the time October 11th rolls around, Tanahashi or Nakamura will be the IWGP Heavyweight Champion. Regardless of who the final two will be, the twentieth anniversary of the G1 Climax will be the best edition of the tournament in many years.
by LUKI (8/2/10)



* Puroresu Review Copyright 2010 Quebrada *