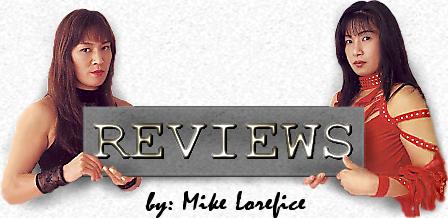 UFC Ultimate Finale 2 TV Special
11/5/05 Hard Rock Cafe
Matt White: Howdy from the Lone Star State with a recap of the Ultimate Fighter Finale. WOW. This was probably one of the best shows UFC has ever put on, maybe even THE BEST. Of course, the stakes and the scarcity of fights compared to a usual PPV might have had something to do with it. Nevertheless, as Bryan Alvarez stated, this was a great week for you if you're sick of the WWE product. This show provided what WWE is certainly lacking these days (intensity, excitement, mark out moments etc.).
ML: I don't think it was even one of their fifteen best shows. The talent has declined every year since Dana White took over, and now he conceeded more of the few skilled fighters they had remaining to the PRIDE Bushido shows. This show was similar to the ones John Peretti booked when UFC was really good in that the fighters were evenly matched, but in those days you had some evenly matched guys that were capable of delivering in all facets. Ground skills are almost completely absent from the current UFC. If it's not some form of boxing/kickboxing that you might as well just watch K-1 to see it's the worst of Mark Coleman with no real attempt to finish the opponent off (though these days they are often so bad and have such lame stamina they manage to lose quickly anyway), just a lot of dull pounding to secure a decision while the audience dozes off. In the last few years if there was one really good fight it was someone like Yves Edwards or Karo Parisyan tacked on to the end of the show because the supposedly interesting matches ended early. Now these smaller skilled fighters are either gone are bloated for no reason other than their division has been scrapped, and in their place you get green fighters that in the old days would have spent a few years trying to develop in a league like King of the Cage.
MW: When I say a great show, I mean from a fighting standpoint. The venue and production values for this show left a little to be desired. It aired live from the Hard Rock Café, Hotel and Casino. For starters, it might be a great place to do weigh-ins, but it sure isn't good for fights. It looks like your watching studio wrestling from Memphis or something. Because Hard Rock is so small, they couldn't do fighter entrances and had to cut to commercial every time the fighters made their way to the octagon. Also, I don't know if the venue had anything to do with it (sometimes it does), there were production mistakes throughout the show. It started with over modulated (too loud where the voices hiss) audio commentary that whoever in production never corrected (maybe the crowd was too hot but I doubt it). UFC should really be conscious of putting on an A-game presentation. One of the main reasons WWE beat out all the territories was because their production looked top notch.
ML: I have never actually come across anyone who said they watched one product over the other because the production values were better. The more money you put into buying the media the more supposed value and quality your promotion has, which is why the independents always lose in all forms of entertainment. I do know a lot of people who have given up on UFC because of the WWE mentality of the promotion. Tim Sylvia is a good example of what turns people off. A freak that got a title shot right away despite never beating anyone decent, and then we find out (big surprise) he didn't even do it cleanly yet they actually keep the heavyweight title in limbo waiting for this roider to be cleared like he was some kind of Mohammed Ali and he simply had to postpone due to a training injury. Ever since Tank Abbott UFC has promoted much like WWE, guys with no class are made important while guys you could respect are buried, guys that look like rejects from the circus or gay porn are in the featured matches while guys that look human are buried. I know shooting and pro wrestling are supposed consist of the same fans, but initially shooting got most of the fans that gave up on pro wrestling because it became synonymous with the WWE idea of "entertainment". Now a lot of these people watch PRIDE, if anything.
MW: Mike Goldberg, fresh off a new UFC contract thanks to WWE, started stating he wanted another "Forrest and Stephan," fight for this show. I thought he asked the impossible. He then discussed with Joe Rogan about the trash talking between Nick Diaz and Diego Sanchez. It all started with alleged emails~! getting only worse from there. They also discussed about a confrontation at the weigh-in, but they never showed it!!! Bummer. This all led to the first fight of the evening.
Kenny Florian vs. Kit Cope
MW: Kenflo seemed a little over his head here against a world Muay Thai champion, but he held his own in the stand-up. Cope, who's been working with submission expert Dean Lister, did a good job of trying to defend the takedown. Kenflo finally got him down with a trip and got in Cope's guard. After a short stand-up they were back on the ground and Kenflo landed some nice body shots to get an armbar. This was at the very end of the round and Cope tapped a second after the buzzer. Even though Cope's arm was pulled out of its socket, we went to Round 2, where Kenflo easily choked him out. Good Fight. You know what? This fairly exciting fight was the worst on the card.
ML: Florian was able to stand with Cope enough to get the takedown, which was the end of Cope. Despite working with an excellent ground fighter that would have been in UFC years ago if they cared about quality fighters, Cope is nothing on the ground. This should have been stopped between rounds because Cope was the one-armed man in round 2.
MW: They then showed a shot of "musical geniuses," KORN sitting down. Next was a "get to know your Ultimate Fighter," piece with Luke and Joe. Luke has a girlfriend (Sellout. Live your gimmick dude.). Joe has a baby. Luke trains with Matt Serra (who should be fighting more in UFC, IMO).
ML: Serra is another skilled fighter that's been completely wasted by UFC the past several years. Despite losing to Shonie Carter he got over quickly because of his fairly unique skills and the quality of the match, unlike the Koscheck loss last month it was memorable for more than the finish out of nowhere. His record is not the greatest, but he lost to high quality fighters (Penn, Din Thomas) and his matches were usually high quality which is the most important thing (and something PRIDE understands).
MW: Joe trains with Mark Laimon (that really charismatic guy from "Inside the Octagon," or whatever you call it, UFC used to show on their PPV's). This show started at 8:00 pm CST. At 8:46, the second fight started. Think about that.
ML: It's gotten to the point where I can no longer stand to watch a UFC live. 50 minutes of action over 3 hours just doesn't cut it, and that's really not because it's on TV. The PPV's seem to only take 1:25 to watch.
Ultimate Fighter Welterweight Finals: Joe Stevenson vs. Luke Cummo
MW: During the staredown Joe said, "Luke, I am your father!!!" Unfortunately, he said it without the bass tone of James Earl Jones. The fight started with Luke charging Joe, getting him down with a PIMP Judo throw. Joe then passed the geeks guard and I thought this was going to be another short fight. However, after a missed ankle lock, Luke got up but taken down again via a single leg from Joe. Luke, trying to keep away from the fence, borrowed from Ken Shamrock by pushing his feet against the fence, allowing him to spin free from being pinned against it. Near the end of the round, Joe got a full mount and Luke held on by never getting pinned down. Great round with a good ground defense by Luke, thwarting Joe's gameplan at every turn.
Round 2 started with Luke ROCKING Joe with a punch. The crowd went nuts as Joe quickly recovered for a takedown. Luke managed to fight his way out of an armbar and brought the fight back to the stand-up!!! Joe managed to get it back to the ground with Luke on top, attempted another leg lock and then managed to get on top but appeared gassed. Awesome round. A lot of ground action where I couldn't keep up with it in my notes. These guys were giving 200%.
Round 3 of course went to the ground. Luke got on top and delivered some short elbows, while Joe attempted a transition to a kneebar. Luke never let up by just punching and elbowing Joe at every turn. Joe maneuvered excellently on the ground always going for a submission. By the end of the round, all of the work seemed to take its toll on him because he just controlled Luke on the ground by staying on top and not trying much. The fight ended after a few closing punches by Joe. The judges awarded the victory to Joe, but the crowd wanted Luke to win. Both were winners because Luke never gave up, never let himself get totally dominated and rocked Joe a couple of times.
In the post-match Joe admitted he took Luke lightly. Well, it seems everyone made that mistake. Dana White then took the mic and said it was the ground version of Forrest/Stephan but he didn't award a six-figure contract to Luke like he did to Stephan. Oh well, Luke will be back, just for lesser money.
ML: A good match, but let's not get carried away with the idea it was another Forrest/Stephan. Stevenson was too strong a ground fighter for Cummo. Cummo had one chance in round 2 when Stevenson tried an arm bar, but he escaped to his feet. He landed some good blows, but made the mistake of going to the ground, where Stevenson quickly regained the advantage. Stevenson was tired in the second round, and completely gassed in the third. Luke did enough in standup early in the third that I believed he still had a shot at the decision (I'd give him round 2 for the damage he did even though Joe was in control more), but when Joe took him down again I knew it was over.
MW: They then aired this AWESOME promo by Matt Hughes for UFC 56. When asked if the fight was going to be tough, Matt responded, "I'm the world champion. Of course all the guys I fight are going to be tough." YAY MATT!!!
Another "Get to know your Ultimate Fighter," package gave us the info on Rashed and Brad. Rashed trains with the Michigan State wrestling team. Brad trains with Rich Franklin, Tim Sylvia and Jorge Gurgel at Meat Truck Inc. Well, no wonder he shows a lot of potential.
Ultimate Fighter Heavyweight Finals: Rashad Evans vs. Brad Imes
Man, these guys had a tough act to follow. Well, they followed by keeping most of the fight standing. Rashad rocked Brad, who in turn rocked Rashed. Brad tried to keep Rashad in the clinch and give him some knees. He also tried a couple of kicks that didn't work out. I thought Brad was gone after Rashad nailed him to the ground, but he managed to survive. Good round with lots of action.
In Round 2, Brad pressed but got met with a well-timed counter jab. It seemed that by mid-round both guys were tanked and just started running on pure heart. Brad started swinging to the fences with sloppy punches. Rashad was winning on pure skill alone, but the burden of fighting a guy significantly bigger seemed to take its toll during the round. When it ended, Rashad breathed heavily while Brad seemed to have more in the tank. Another action packed round of with both guys giving their all.
Round 3 started with Rashad once again nailing Brad to the point where the Missouri native was on the ground stunned. However, Rashad seemed so gassed he couldn't finish him off. Brad recovered and managed to take Rashad down but once again got nothing. At the end of the round, the guys were so tired but just kept on punching each other where it looked like Don Frye vs. Yoshihiro Takayama in slo-mo. Both guys fought their hearts out. Decision went to Rashad and Matt Hughes didn't seem too happy to give the award to him. Of course, Dana was happy as anything because this show has already had two great fights.
ML: This match did nothing for me. They were equally mediocre, delivering a standup fight worthty of the tough man contest. In that vein, both were ill prepared to go three rounds. The third round was dramatic because both were ready to keel over, but ready to keel over simply because you started out with 2 gallons of gas doesn't cut it. Evans did hurt Imes about 3 1/2 minutes in with a flurry of punches, but lacked the ground skills to finish him off. After that nobody really came close unless close is defined by both being so spent one good punch could end it.
MW: Next was an awesome package detailing the feud between Nick Diaz and Diego Sanchez. Nick is jealous of Diego's contract because he doesn't think he is even in the top ten. WHOO!!!
ML: What I was saying earlier would look a lot better if Diaz beat overhyped Sanchez like he beat past creation Robbie Lawler. Diaz was one of those guys with a series of solid to good wins you thought deserved a title shot, but it seems like they always go to some guy that's fought like one match in UFC until there's no one even that worthy left and then they might finally concede to someone they've been neglecting (for instance Arlovski). The good thing about the superficreality show is Dana White isn't completely left to his devices, where he chooses to downplay Randy Couture and hype some Cabbage patch punk (remember they only hyped Couture after he topped the fan popularity contest). Because they have to win a tournament you are likely to get the better guys coming into the main show, but then they are so financially committed to them that they wind up having to gear the promotion around them because they can't afford to dump that kind of money into what they would otherwise be, opening match filler that reduces the quality of the show. Already we are seeing the promotion being built around these green minor leaguers. You hear a lot more about them than even the champions, who unless they are defending on the next show they mostly talk about for their coaching. So it's no wonder that even the other fighters are sick of these guys already. They've been around longer and accomplished more, not just beat a few other rookies or jobbers people didn't even know where still fighting.
Main Event: Nick Diaz vs. Diego Sanchez
MW: This fight immediately went to the ground and Diego got Nick's back who then reversed to a guard. These guys worked at 100 mph here. There were a lot of SWANK reversals followed by an awesome inside takedown by Diego and excellent defense by Nick. Sanchez tried to stand up in Nick's guard and throw punches but just kept hitting the ground. Nick then kicked Diego from his guard. AWESOME FREAKING ROUND!!!! I guess Diego won that one but it was too close to call.
Round 2 began reminding me of Antonio Nogueira vs. Fedor Emelianenko except this was just a welterweight version (being 100 times faster). Diaz, a Brazilian Jiu-Jitsu specialist, felt comfortable in his guard while Diego, a wrestler, felt comfortable working in the guard. Diego tried a mini power bomb but had no luck in phasing Nick. It then reversed to Diego in guard with Nick on top. They both tried some submissions and reversed out of said submissions, working at the speed of light.
Round 3 found Nick blocking Diego's takedown and trying to keep it standing. Diego finally got the takedown and eventually got Nick's back but didn't get anything. It somehow went back to stand-up and a clinch ensued where Nick opened up a gusher on Diego's forehead. I was surprised that John McCarthy didn't stop the fight. He didn't even stop for a check of the cut. These guys just kept reversing out of each other's positions. With :10 seconds left Nick tried an armbar but couldn't get the submission. Great fight with no dull moments. Diego won the decision because he was on top most of the time and proved that he is legit.
ML: This is the first time I've been disappointed with Diaz. Though Diaz is an excellent ground fighter, he's proven more than capable of beating opponents in standup. I'm certainly not sold on Sanchez's standup, he seems never to need it. That was the case once again, as Diaz simply couldn't avoid the takedown. Credit there goes to Sanchez though, he might not be well rounded but he's dominant at what little he can do and once again that was more than enough.
Diaz's ground defense was tremendous early. If you look at the first 3 or so minutes of round 1, he avoids almost every ground and pound shot Sanchez attempts. Of course, over the course of 15 minutes no one is going to be able to keep that up, but Diaz was forced to try because with little exception he couldn't maintain or attain any other position. Sanchez was not only in control almost the entire match, he was relentless. It was closer than the 30-27 decision suggested because Diaz is so at home on the mat with strong defense and the potential to submit, not to mention he cut Sanchez's face bad enough the fight could have been stopped. I found this fight to be much better than Evans vs. Imes because even if it was seemingly onesided, Diaz always has the potential to end it quickly. Speaking of submissions, what is up with Joe Rogan these days? I know there are a lot of new people watching, but he's so worried about getting the submissions over that it seems like anytime a guy is even thinking about trying to hook one he's shouting that he's got him. I have to wonder if it doesn't do submissions more damage than good because they are hard to escape once they are locked, but he's probably got people thinking they are locked 10 times to every one they really are.
MW: During the post-match replay Diego was silent for awhile and finally said, "Pretty action packed." Great description of the fight. He then thanked Xyience and Joe told him that was a no-no and he replied, "They said we could thank them," and was then cut off by Mike Goldberg in commentary as he tried to thank a non-profit organization. Next was Nick who said, "Well, he had some extra help…." The crowed booed and he replied, "No, it's not like that!" WHAT A HEEL~!
All in all, this was the best Ultimate Fight Night yet with three great fights in a row. Overall, it was probably the best UFC show since either UFC 47 or 49. Even though this seasons wasn't as good as the previous one, it produced a great finale with fighters who wanted to win and fighting with all their heart. In a time with a floundering WWE product, this was quite a breath of fresh air..
BACK TO QUEBRADA COLUMNS
BACK TO QUEBRADA REVIEWS


* MMA Review Copyright 2005 Quebrada *