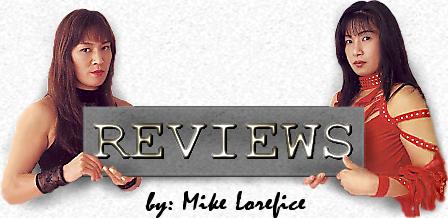 DSE SKY PerfecTV! LIVE SPECIAL
PRIDE Open Weight GP Kesshosen
DSE PRIDE FC THE FINAL CONFLICT 2004 PPV
8/15/04 Saitama Super Arena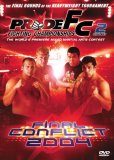 Matt White: The final round of a tournament that has had its moments, both pathetic (anything with Giant Silva or Naoya Ogawa) and memorable (Kevin Randleman KO`ing Mirko, any of Antonio Rodrigo Nogueira`s fights, etc.) ended on the same mixed note has the previous two rounds. This time is was due to a more UFC 46 like moment at the end, acting like a punchline for a joke of a tournament.
ML: I've been more into the Bushido shows this year because they are more action packed, generally with fighters of a higher skill level (though anything PRIDE is putting on these days has 100 times more skill than UFC prison boxing) and haven't been marred by certain shenanigans. However, I was really into most of this show. Had the final been anything close to decisive, this would have been one of PRIDE's better if not best shows.
Kazuhiro Nakamura defeated Murilo Bustamante by 3-0 judges decision
MW: The only matches I`ve seen of Bustamante is from PRIDE, which I know is a horrible measuring stick, but I am impressed by a guy who almost beat Quinton Jackson (even that is disputable) on three days notice. Nakamura is good and has shown lots of improvement (I wonder if he`s next in the Wanderlei Silva line). Anyways, Murilo took Nak down immediately but the Judo champion used a good reversal. Bustamante was clearly the better guy in the stand-up, and at times I thought it was a stalemate until the very end when Nakamura got a flurry on Bustamante on the ground. I assume that`s what got Nak the decision. Not the most thrilling fight in the world.
ML: Bustamante is one of my favorite fighters because he is cerebral. He's comparable to Randy Couture in that he's about gameplan and patience. He's not as physically dominant, but in the past he'd been much better at making adjustments. With this in mind, Bustamante's performance was quite disappointing. He got the takedown right away, but did nothing and allowed Nakamura to escape to his feet. He ducked a left and scored another takedown, but on the ground he was again very inactive.
Part of Bustamante's problem was Nakamura is improving by leaps and bounds. His judo skill was completely negating Bustamante's ground offense, almost to the point it looked like Bustamante was stalling. Bustamante tried to switch to boxing, which led to many of his big UFC victories, but his normally strong takedown defense couldn't negate Nakamura. Nakamura came on toward the end of the first round including an impressive jumping punch that he changed up in the air so Bustamante couldn't block it, and held a slight edge for the rest of the fight. As always, Bustamante defended well, but Nakamura was far more aggressive. The fight was very close with neither doing any damage, but Nakamura appeared to be the better fighter largely because he was more energetic and more obviously attempting to win.
This was a good match to watch without knowing the result because these two have the skill to win at any time. Even though little wound up happening, if you are familiar with these fighters there was that intensity certain fights have because the combatants can finish from any position. That said, it's not a good match to watch again, and it was frustrating because Bustamante is worlds better than he showed here. Previously his losses were decisions (Liddell, Jackson) where he made a great showing of his ability and many felt he should have won. Again, you could make the argument for him (more that it was a toss up), but not with any passion because he didn't look like the fighter we are used to and he was losing ground as the fight progressed.
PRIDE Open Weight GP Junkessho: Antonio Rodrigo Nogueira defeated Sergei Kharitanov by 3-0 judges decision after 2 rounds
MW: This fight however, was pretty great. I just wish we had a third round, which I think would have decisively given us a winner. The tournament has only made one new star, Kharitanov, and he shined in probably his biggest test in Nog. In the standing, Nogueira got some good shots in but Kharitanov used some great body shots (rarely used in MMA for some unknown reason) with his superior reach advantage. Actually, I`m surprised that two ground guys would keep it standing like this (it made for a great match though). The last ditch submission attempt by Nogueira at the end probably sealed it for him (well, I`m sure PRIDE judges wanted him in the finals as well), but the Russian did a great job of rolling out of the armbar attempt. One of the best matches of the year.
ML: First 3 min were standup, but it took Bas all of 90 seconds to declare this a great fight. Sergei had the advantage on their feet, but not to the extent one might think. Amazingly fast paced and exciting throughout. Excellent match that neither deserved to lose.
PRIDE Open Weight GP Junkessho: Fedor Emelianenko defeated Naoya Ogawa in 1R 54 seconds with a cross arm scissors
MW: This is the greatest match of all time!!!! I guess Fedor wasn`t in a bribe mood or something, but he just exposed Ogawa like nobody`s business. To add evidence that Ogawa/Leko was worked, Fedor just unloaded on Ogawa with a flurry of haymakers (but for some reason Ogawa was able to drop one of the greatest kickboxers in the world???), and then easily apply a cross-arm scissors immediately shutting the crowd down in a moment that seemed ripped from Ivan Drago killing Apollo Creed in Rocky IV. Then in a moment from Wrestlemania VI, Ogawa completely steals Fedor`s spotlight by staying in the ring and doing one last "Hustle."
ML: Andy Kaufman could have put up a better fight.
GP Reserve fight Ron Waterman defeated Kevin Randleman in 1R 7:44 via submission with an armlock
MW: Randleman`s headband reads "Hissho," which means, "Never lose", so I guess he kind of contradicted himself on that one. Randleman took down H20, but the wrestler from Colorado managed to neutralize his ground and pound. This resulted in a yellow card!!! Near the end of the match, Waterman did a good reversal, leading to his getting the arm lock. I don`t know if Randlman totally botched it, but I don`t know if Waterman is much of a submission expert either. I don`t know how much time Randleman has left with PRIDE, but I think they still want him and Coleman for the Hustle shows (because for shooters, they can work better than most), so I guess we`re still going to see him around.
ML: zzzzzzzzzzzzzzzzzzzzzzzzzzzz
Mirko "Cro Cop" Filopovic defeated Aleksander Emelianko in 1R 2:04 via KO with a high kick followed by a flurring of punches on the ground
MW: Alexander came out to the same music as his brother. I guess they are the Russian version of the Steiners or something. Mirko really impressed me in this match because he was taking on a guy significantly taller than him, and for a kickboxer, that is a daunting task. Rather than try a lot of quick inside strikes, Mirko decided to keep his distance most of the time but I guess it fit in to his strategy because he likes to put guys down with the his high kick, so he needs a little distance to begin with. This naturally sets up a match with Fedor, which I am looking forward to lots.
ML: Sad to see Mirko in the freak show match. Finally facing legitimate competition, Aleksander put up about as good a fight as you'd expect from a guy they came up with at the Sturges PPV. Bas tried to act like he did something, but all I remember is he grabbed Mirko once. He was way too slow, uncoordinated and unskilled. Mirko more or less beat him with footwork.
Wanderlei Silva defeated Yuki Kondo in 1R 2:46 via KO after consecutive footstomps
MW: Poor Kondo. He`s beaten top guys like Frank Shamrock (a great match on the 9/7/96 Tokyo Tough PPV) and Mario Sperry at Otoko Matsuri 2003, but has also lost to top guys like Tito Ortiz, Josh Barnett and now Silva. He's a good ground fighter, but often not good enough to get the fight there, especially against much larger overpowering fighters such as Ortiz & Barnett. Surprisingly, he didn`t even attempt a takedown (afraid of a knee perhaps?). Fighting like this with Silva doesn`t become a matter of "if he will lose" but rather "when he will lose." The question was answered in 2:46. It seems now the next two contenders for Silva are Jackson and maybe even Couture (I heard it was teased on the UFC show). Both guys have a chance of beating him but if either of them do, it won`t have the impact of a Sakuraba doing it because neither guys are Japanese.
ML: Kondo loses to guys that are too big for him or kickboxers that can stay up, though in a major contradiction to that statement he beat Semmy Schilt in 3 of their 4 meetings. He looked good, but as we've seen before once Silva explodes with strikes that's it. One amazing aspect of his striking is he doesn't lose power or accuracy while chasing. The latest episode of Quinton Eye for the Straight? Fighter focused on distracting Silva with superficiality so he wouldn't be able to match his usual focused training regiment going into the big Halloween match with Jackson.
PRIDE Open Weight GP Kesshosen: Antonio Rodrigo Nogueira no contested Fedor Emelianenko Fedor due to accidental headbutt
MW: This is not the way to end a tournament. Unfortunately, the match was going pretty good until the ref stopped the match for Fedor`s cut. I bet Nogueira is really wishing this match was under "First Blood," rules. I don`t know how long this lasted on the American broadcast, but on the Japanese broadcast it took forever and a day to make an announcement and end the show. Mario Sperry was arguing with the officials because I think he wanted them to rule it in Nog`s favor like the Couture/Belfort match from UFC 46. However, that came from a legal move, not something like a head butt, which occurred here. Also, a no contest was ruled on 5/22/04 at ROMANEX, the first all MMA K-1 show, when Don Frye head butted Yoshihiro Nakao.
ML: Major bummer, but at least next time one won't be coming off a virtual bye. Nogueira was able to keep Fedor far away or tie him up, but Fedor's balance was too good for reversals.
Special Thanks to: Matt White
BACK TO QUEBRADA COLUMNS
BACK TO QUEBRADA REVIEWS


* MMA Review Copyright 2004 Quebrada *