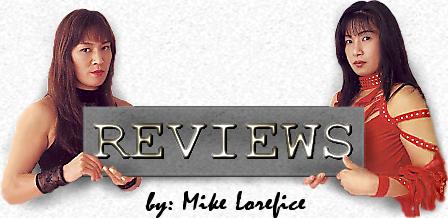 DSE SKY PerfecTV! LIVE SPECIAL PRIDE.26 Bad to the Bone
6/8/03 Kanagawa Yokohama Arena (17,187 sellout)
Nino "Elvis" Schembri vs. Kazuhiro Hamanaka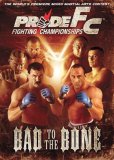 I thought this was good booking. Yes, Elvis might only be better than his namesake and there is money in a rematch with Sakuraba now that would greatly be lessened if Elvis lost first. However, Sakuraba's days of carrying the company are nearing their end, if they haven't ended already. What this match does is give Hamanaka a chance to become a star. If he succeeds in doing something Sakuraba couldn't, he makes an immediate name for himself and there's now some money in him.
Hamanaka came out wearing a mask ala Sakuraba, so the connection was more obvious. If Hamanaka won, he'd be avenging Sakuraba's loss. If he didn't win, Sakuraba would be needed that much more. Hamanaka isn't the fighter that Sakuraba was or even is. He's got nothing beyond strikes, and that doesn't bode well against a guy that has no interest in standing up. Elvis would just pull guard and try for submissions from the bottom. He's very flexible, but Hamanaka was well schooled in submission defense.
Schembri showed he could indeed do some striking. Against Sakuraba it seemed like it was possibly a fluke, but here we saw him connect with a right high kick when Hamanaka stepped in to throw a right hand. Hamanaka had Elvis in the corner and was throwing wild punches until Elvis turned him around and did the now famous knee lift. Hamanaka fell, and though he got right back up, he had a bloody nose and was clearly slowed. My conclusion on Schembri right now is that he isn't a striker, but if you give him an opening he's competent enough to capitalize.
The first round was quite good, but it took its toll on the competitors. They couldn't sustain that fast pace, so the second round was somewhat stagnant once they got in Schembri's guard. Schembri was just holding on during this round after Hamanaka scored with a few right hands, and he was given a yellow card for stalling. Though Hamanaka looked more like a journeyman boxer than the champion wrestler he is, Elvis' face got all marked up. Schembri was better in the 1st round, but Hamanaka, who at one point was looking out of breath, came on in the 2nd and easily took the third. Pretty good match that Hamanaka won via unanimous decision. 3R
Anderson Silva vs. Daiju Takase
On paper this looked to be a Silva rout, but for once something surprising happened in one of these PRIDE jobber matches and the stiff managed to win. Takase was able to score the mega upset because he took Silva down repeatedly. Takase was very active in the mount, throwing a few knees while in the guard, getting side mount and trying to straighten the arm, going for the headscissors, etc. Silva was able to defend, but couldn't get any offense in from his back and his attempts to reverse all failed. After one of these many failures, Takase got his left arm behind Silva's, and with Silva on his side Takase stepped over into a triangle. It looked like Silva was going to try to slam his way out, but he had to tap before he could try. No, this one fluke doesn't somehow justify all the enhancement matches PRIDE sticks us with. 1R 8:33
Mike "Batman" Bencic vs. Alistair Overeem
Overeem landed a jumping knee fairly early. Bencic locked him up, but had nothing for the takedown and Overeem fell on top. Overeem didn't realize he hurt Bencic that much until Bencic rolled to his side grimacing. Overeem was going back to standup, but then pounced on Bencic and hit him a few times. Overeem wasn't connecting well, but Bencic was just flailing since he was so hurt and he soon tapped. 1R 3:44
Quinton "Rampage" Jackson vs. Mikhail Ilioukhine
Jackson actually gave the ref a yellow card before the match as a joke since they always give him one or more. Mikhail could get the position that he wanted early, his problem is Jackson kept powering right out. As the match progressed, the quickness, strength, and superior sprawl shifted it in Jackson's favor. Eventually Mikhail's takedown didn't succeed, he only got Jackson against the ropes, and Jackson reversed him and started blasting away until Mikhail crawled under the rope for a yellow card. After this Mikhail wasn't able to control position, and he can't beat Jackson without doing so. Mikhail was willing to take to get guard, but Jackson made him fight standup. As Mikhail doesn't have very good footwork, Jackson was able to connect even when Mikhail was backing away. Mikhail showed a lot of heart and kept trying different things, but Jackson got side mount when Mikhail went for a triangle and started throwing knees. Mikhail tapped after one to the liver. Mikhail was overmatched, but he didn't just let Jackson have his way, and that made it good. 1R 6:26
Mark Coleman vs. Don Frye
If you didn't know this was going to be boring I don't know where you've been all these years. This wasn't even one of Coleman's more exciting fights, it was just about him getting back in the ring and getting a win under his belt. Coleman was very careful, and content to continue dominating en route to an easy decision win.
The match was a big deal for Frye because he's been waiting forever for the chance to avenge his UFC loss to Coleman. Coleman still isn't a good opponent for Frye. He's the better wrestler and more powerful, so Frye isn't going to be able to bully him, and Frye still can't do anything to win from or get off his back.
Frye was better in standup and controlled early because he was able to avoid the takedown. Coleman wasn't in any hurry, so the main thing was that Frye wasn't able to do damage in standup. The Hammer knew he'd get his takedown soon enough, and once he had Frye down The Predator would be easy prey. This was the usual tedious Coleman ground and pound with nothing but punches and those punches not even doing much. Frye was pesty from the bottom, using the Maurice Smith smother, keeping his arms in the way, and throwing knees of his own. Frye isn't a guy that's going to win without being in dominant position though. Coleman wasn't going to give Frye any opportunity to reverse, but his inactivity seemed more that he wasn't confident in his stamina. Even when he had great position, he was very conservative with the knees he was throwing and didn't try to win with them. Coleman apologized that it wasn't very good to watch, but the main thing is he accomplished what he set out to do and won. 3R
Heath Herring vs. Mirko Cro Cop
This was Mirko's first fight under PRIDE rules. As usual, he was taking on a guy who isn't that good and whose style plays right into his hands. Herring was way too overexcited and aggressive, so Mirko just felt him out and got Herring's timing down. Herring tried several shoots, but Cro Cop has great reflexes and moves diagonally and laterally as well as anyone. He uses his body to push on his opponent's head when they shoot, so they often wind up being the one that goes down. Herring walked into a left middle kick and dropped to his back before Mirko could punch him, but Mirko followed him down. Herring didn't try to get guard, he just lay on his side defenseless getting drilled until the stoppage. 1R 3:17
Fedor Emelianenko vs. Kazuyuki Fujita
Exciting fight. Fujita was able to do his job in standup over the short haul, but couldn't take Fedor out on the ground. Fedor caught Fujita with his right hand lead and followed with a soccer kick, but Fujita got right up and came close to a single leg takedown. Fedor got Fujita with a left jab and left hook, but after the later a big right hook from Fujita rocked and cut Fedor. Fedor was wobbled and tried a takedown, but Fujita was the one that got it. Fujita's ground and pound is lame though, so Fedor just tied him up and recovered. Fujita might have won this match if he had more weapons, but instead Fedor was able to regroup and get a second try.
Fedor took Fujita apart on try two, connected with a left middle kick then going over Fujita's late defense with a left/right combo. Fujita stumbled to his knees and Fedor went down after him with two punches to the face from the side then a rear naked choke for the win. 1R 4:17
BACK TO QUEBRADA COLUMNS
BACK TO QUEBRADA REVIEWS


* MMA Review Copyright 2000 Quebrada *